VeChain Price Prediction – VeChain Forecast 2021, 2022, 2025 & 2030
The popularity of blockchain technology is now being harnessed by companies across the globe, using it to improve traditional business processes and make them safer. One platform that is doing just that is VeChain, which focuses on solving many of the issues presented within supply chain management.
In this article, we'll discuss our VeChain Price Prediction in detail. We'll touch on what VeChain is and how it works before showing you where to invest in cryptocurrency today – with no commissions!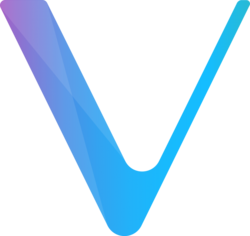 VeChain (VET)
Price
VeChain Price Prediction 2021 to 2022
If you read this VeChain stock forecast to the very end, you'll get a solid understanding of what VeChain is and how the token may perform over the short and long term. However, if you're just looking for a brief outline of our VeChain prediction 2021, the bullet points below highlight our projections for the months ahead.
One Month – The current VeChain price seems to be forming a bull flag on the daily chart. If the bull flag plays out, we may see a push towards $0.15 over the next month.
Three Months – The area around $0.15 may be a strong resistance level, so the price could struggle here. However, if the price closes past this area, we estimate that VeChain could reach $0.24 over the next three months.
Start of 2022 – The VeChain price live will need to finish the year strongly if it has any chance of breaching all-time highs. As such, we estimate that VeChain could reach $0.27 by early 2022, paving the way for new highs throughout the year.
67% of retail investor accounts lose money when trading CFDs with this provider.
VeChain Price History – the Story of 2021 So Far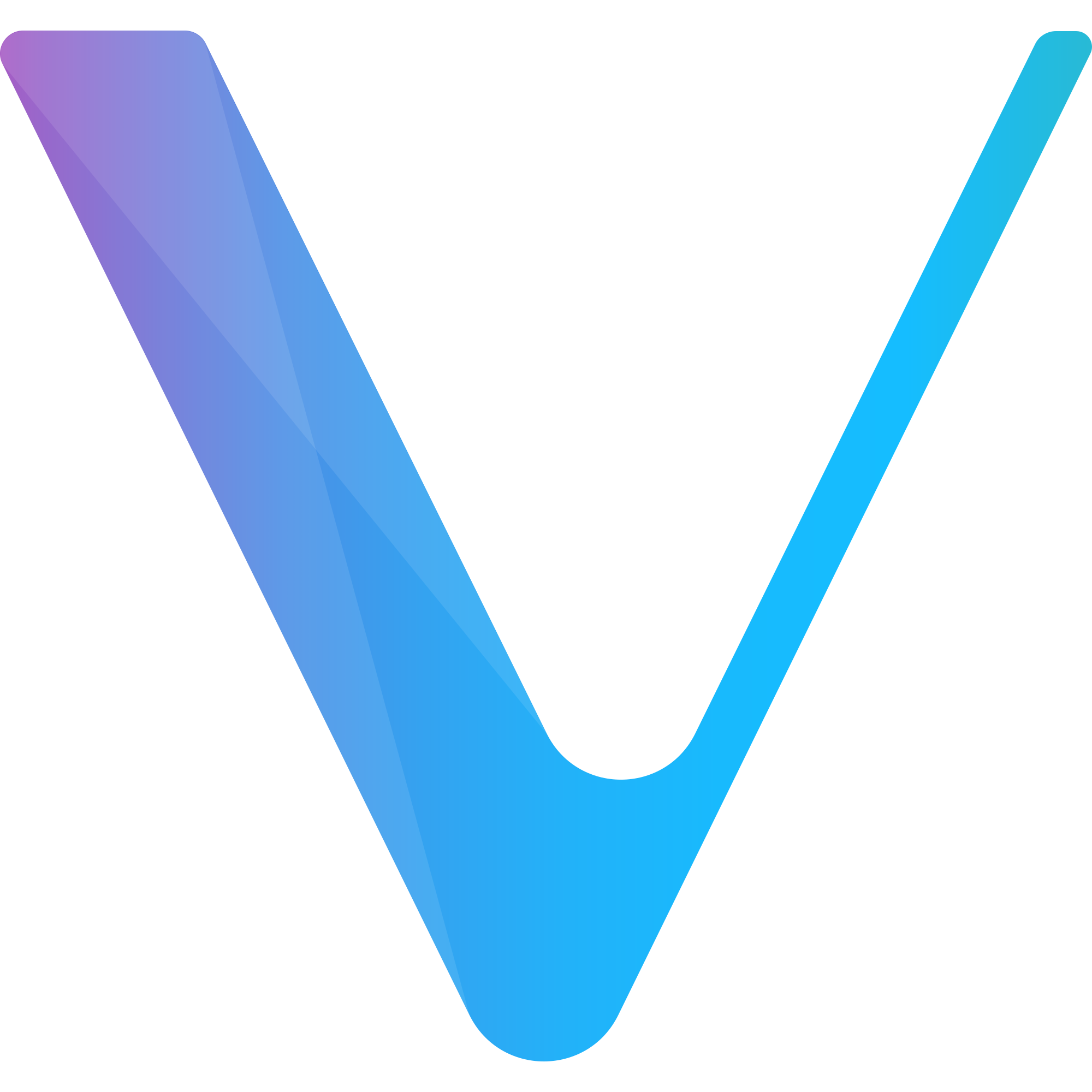 Like with all of our cryptocurrency price predictions, this guide will ensure you have all of the information you need about VeChain and its outlook. VeChain works a little differently than most blockchain platforms, giving it a 'unique selling point' within the cryptocurrency market. So, let's dive into what VeChain is and how the price is looking currently.
VeChain is a blockchain platform aimed at solving many of the issues posed in supply chain management. As you'll most likely be aware, blockchains use distributed ledger technology, which allows information to be stored and validated in a decentralised manner. VeChain uses this technology and applies it to supply chains and other business processes, making them safer and more manageable for all stakeholders.
VeChain was founded in 2015 by Sunny Lu, who is the former CIO of Louis Vuitton China. As you can imagine, there is a significant problem in the luxury goods industry of 'fakes' being sold to consumers, which hampers the revenues of large brands. Sunny Lu developed the VeChain ecosystem to combat this by giving each product a unique identity that can be tracked at each stage of the supply chain. Furthermore, as the data is safe and cannot be tampered with on the blockchain, it's more efficient than current processes.

The native cryptocurrency of VeChain is VET, which is used to transfer value on the network. VeChain also has another token called 'VeChainThor', or VTHO, and is used to power the network. In this sense, VeChain is similar to Ethereum (ETH), as Ethereum uses Ether and GAS in much the same way.
Another difference in VeChain's platform is that the consensus algorithm it uses is called Proof of Authority (POA). This differs from the method used by Bitcoin (BTC) and Ethereum (ETH) and combines the best of both worlds. Essentially, those who hold large amounts of VET and have completed KYC checks are given the authority to validate transactions on the blockchain. As such, only the users who have a significant stake in VeChain can participate in the network in this manner.

Looking at the price chart, we can see that VeChain coin ramped up massively in early 2021, rising by 1434%. However, the token's progress was hampered by the mining ban in China and Elon Musk's inflammatory comments. The VET price dropped by around 79% between April and July, reaching a low of $0.055.
However, since then, VeChain has been on the rise once more. The price of VeChain has climbed by around 111% at the time of writing and is looking likely to push even higher. As such, the future definitely looks bright for this coin.
VeChain Price Forecast
Before you buy cryptocurrency, it's a good idea to understand the factors that may shape price in the future. This is known as doing your 'due diligence' and is a vital part of the investment process. With that said, let's look at the technical and fundamental elements that relate to VeChain.
Technical Analysis
As you can see from the price analysis below, VeChain's price is currently trapped in a wide range between $0.06 and $0.15. Price was rejected from the top of the range in early September 2021 and pushed lower – which also happened in June. Furthermore, price bounced from the bottom of the range in May, June, and July, highlighting how strong these support and resistance levels are.

67% of retail investor accounts lose money when trading CFDs with this provider.
However, the good news is that price looks as if it may break above the 50-day and 200-day EMAs. If we saw this price action, it would represent a solid bullish sign as these EMAs measure the overall trend. As such, any break above would represent a shift from a bearish to a bullish trend, which may entice more investors to enter the market.
If we wanted to see some long-term price increases in VeChain, the price would have to break the top of this range. We'd likely see some consolidation around this area, so don't panic if the price rejects but then comes back up to try again. Ultimately, if VeChain can break through this range, then it would have a clear path back to the highs of April and May 2021.
Fundamental Analysis
According to data gathered from CoinMarketCap, VeChain has a market cap of $7.79bn. This makes VeChain the 24th largest crypto in the world at the time of writing. The trading volume in the last 24hrs totalled $743m – up a remarkable 69% from the previous day.
There are 64.32bn digital coins currently in circulation throughout VeChain's ecosystem. However, there is a maximum supply of 86.71bn tokens. This means that VET has an element of scarcity to it, which tends to be a good thing for the price.
Finally, VeChain has some fantastic partnerships already, one of the platform's main selling points. VeChain already works with major brands such as BMW and PwC, which adds considerable credibility to the platform. Furthermore, as VeChain is well established in China, this provides a vast target market to work with.
VeChain Price Prediction 2025 – Long Term Outlook
Investing in cryptocurrency can mean that you have to put up with large amounts of volatility. However, if you take a long-term approach, this will help you effectively deal with the volatility. In VeChain's case, like other cryptos, the price has been on a wild ride in 2021 – so investors who can't stomach these price swings may be suited to investing elsewhere.
The team behind VeChain are incredibly experienced and know precisely what needs to be solved and how to solve it. Furthermore, VeChain is one of the few legal coins in China, a huge selling point for the token. If the Chinese government were to even utilise VeChain to track certain things, this would likely give VET a considerable price boost.

As VeChain grows more prominent, more and more companies will likely utilise the platform. Luxury brands, winemakers, car manufacturers and more can use VeChain to improve their processes. This will ensure that items are not lost during production and that areas of concern can be identified and fixed rapidly.
Finally, as VeChain uses PoA, it is theoretically much faster and cheaper than using other algorithms, such as those used by Shiba Inu or Litecoin. However, there is still the worry that the users with authority on the network could manipulate the process and wreaking havoc. Thus, VeChain's developers are working on PoA 2.0, which looks to solve this issue and make the network more scalable.

So, as you can imagine, we are pretty bullish on VeChain as the technology behind it has real-world use cases and strong partnerships already. Furthermore, the technicals are also good, which combines with the fundamentals to paint a rosy picture of VeChain. As such, our VeChain price prediction 2025 values the coin at $0.50.
In addition, our VeChain price prediction 2030 is also pretty hopeful. By this point, we'd imagine that many more major brands will be using VeChain's technology to prevent fraud and stop fake products from flooding the market. This will therefore increase the price of VET, which is why we estimate that VeChain could reach $1 by 2030.
VeChain Price Chart
As you can see, VeChain certainly fits the bill as one of the best investments UK right now. Our VeChain forecast is optimistic about this token, thanks to real-world utility and a capped supply. Furthermore, the fact that VeChain is so well established in China is a massive boost to them and the broader economy.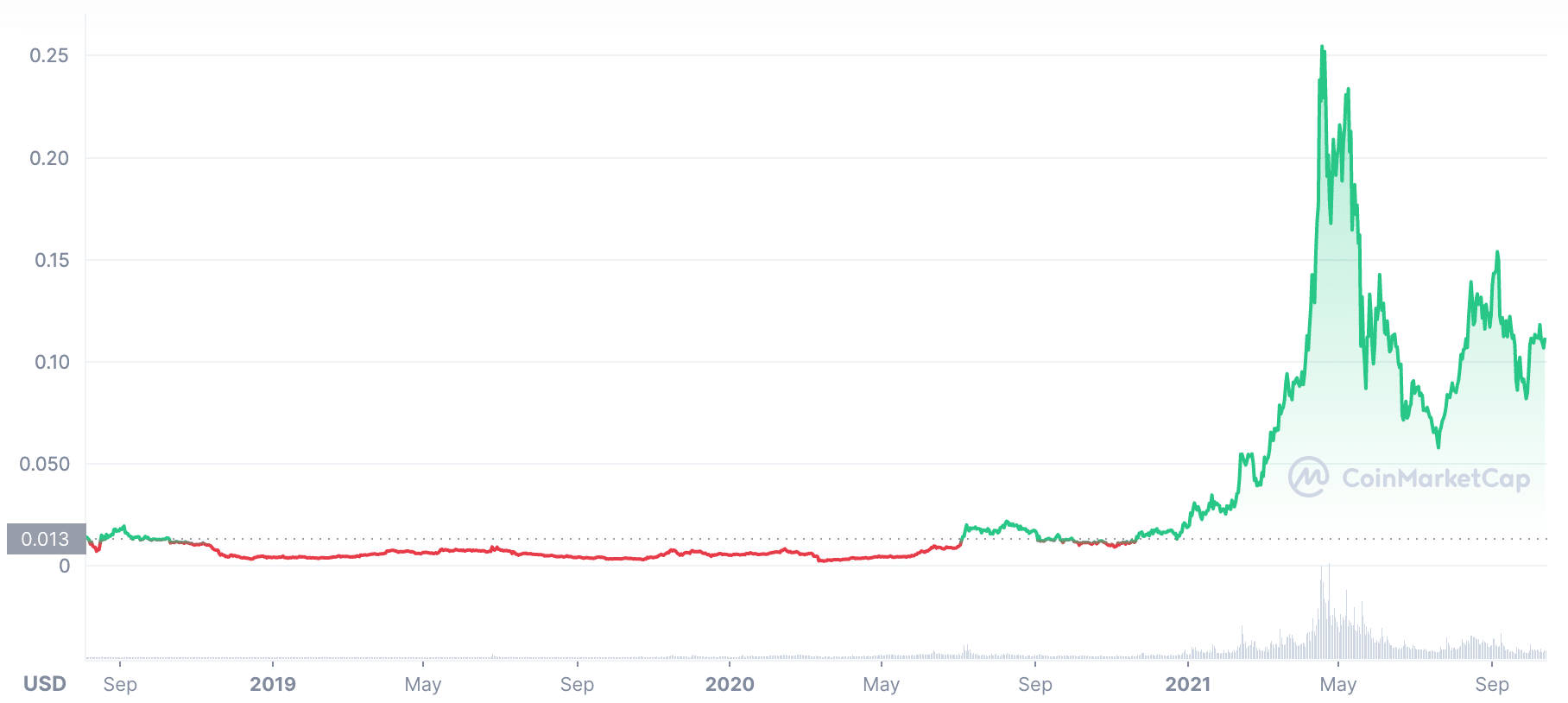 67% of retail investor accounts lose money when trading CFDs with this provider.
The price chart highlights how low VeChain's price is right now, meaning it is in an excellent position for speculative investors to get involved. Think about it this way – if you invested today and the VeChain price increased to $0.50, that would represent a return of 314%!
As long as VeChain continues adding partnerships, then we'll likely see more price appreciation in the years ahead. The dual token system that VeChain uses is also a good thing, as it helps to stabilise price more than if only one token was used. As such, we feel the future looks exceedingly bright for VeChain, so it may be worth keeping an eye on this crypto going forward.
Where to Invest in VeChain
The final stage of this VeChain forecast is to discuss the process of investing in VET. Right now, only a few of the best investment platforms UK will offer VeChain as a tradeable asset. VET doesn't have as much widespread appeal as other coins, such as Cardano (ADA), meaning that you'll have to use a crypto exchange to invest in VET.
Major exchanges such as Binance and Coinbase will allow you to buy VeChain. You'll have to deposit FIAT currency (e.g. USD) into your account and then transfer that into VET. Alternatively, if you already hold crypto, you can send it from your wallet to the exchange and convert it into VET.

Having said all that, if you wish to buy a different crypto, then our recommended platform is eToro. eToro is regulated by the FCA, ASIC, and CySEC and has over 20 million users around the globe. What's more, eToro is covered under the FSCS, ensuring UK-based traders are insured up to £85,000.
One of eToro's main strengths is its fee structure. Users can trade with 0% commissions on eToro, which contrasts with the hefty fees charged by some other platforms. In addition, eToro does not charge any deposit or monthly account fees either.
Finally, eToro accepts many deposit methods, such as credit/debit cards, bank transfers, and e-wallets (including PayPal). The minimum deposit amount is only $50 (£37), which is one of the lowest in the industry. Finally, eToro even offers a free demo account too, ideal for beginners looking to practice before trading for real.
VeChain Price Prediction – Conclusion
In summary, this VeChain forecast has discussed what VeChain is, how it works, and the token's outlook for the future. VeChain holds a unique position in the cryptocurrency market, as the platform offers real-world solutions within supply chain management. With notable partnerships already, combined with an impending upgrade to VeChain's consensus protocol, this cryptocurrency's future looks exceptionally bright.
So, if you'd like to buy crypto today, we'd recommend using eToro. eToro is one of the world's most popular online brokers and boasts regulation from various top-tier entities. What's more, eToro offers 0% commissions when trading and accepts deposits from as little as $50!

67% of retail investor accounts lose money when trading CFDs with this provider.
FAQs
What is the price of VeChain right now?
What drives the price of VeChain?
What will VeChain be worth by 2022?
What will VeChain be worth in 2025?