Solana Price Prediction – Solana Forecast 2021, 2022, 2025 & 2030
Due to Ethereum's high transaction fees, many developers have searched for an alternative platform to build their decentralised applications (dApps). One of the most exciting options out there right now is Solana, which aims to rival Ethereum and offer faster transactions with lower fees.
In this guide, we'll explain our Solana Price Prediction in detail. We'll cover everything you need to know about Solana, and its price history, before highlighting the best place to buy crypto today – with no commissions!
No coins selected
Solana Price Prediction 2021 to 2022
As you'll find out later in this Solana stock forecast, the blockchain network has an extremely bright future ahead. However, if you just want a quick overview of the findings of our Solana prediction 2021, then the bullet points below showcase our projections for the months ahead.
One Month – The current Solana price is hovering around the $139 level, following a pullback from September's highs. If momentum picks back up, we project that Solana could reach $170 over the next month.
Three Months – Once momentum spikes, more hype should arise related to Solana, pushing price higher. With that in mind, our price forecast for Solana sees the token reach $200 within the next three months.
Start of 2022 – Assuming the previous two points prove accurate, we'd likely see the SOL price try and retest September's all-time highs. This would give Solana a price of around $215 by the beginning of 2022.
67% of retail investor accounts lose money when trading CFDs with this provider.
Solana Price History – the Story of 2021 So Far
If you are looking to buy Solana UK, it's a good idea to understand what Solana is and how it works. Solana is a fascinating project, offering benefits that can help it rival Ethereum (ETH) and Bitcoin (BTC). Let's explore Solana's uses and look at the token's price history.
Solana is an open-source blockchain platform that offers developers a way of creating and launching decentralised applications (dApps). Solana is fully decentralised and has smart contract functionality, meaning it provides a similar use-case as Cardano (ADA). Solana's native cryptocurrency is SOL, which is used for a variety of uses within the network.
One of the most exciting things about the Solana network is that it runs on a Proof-of-Stake (PoS) algorithm. This is compared to the Proof-of-Work (PoW) algorithms utilised by cryptos such as Bitcoin, which tend to be highly energy-intensive. In fact, the Harvard Business Review recently noted that Bitcoin consumes as much power as a small country!

As Solana uses PoS, the ecosystem consumes much less power and offers lower fees on transactions. One of the main drawbacks of Ethereum right now is that transactions can cost extremely high amounts just to process. On the other hand, Solana can process transactions for a fraction of a cent and process a theoretical 60,000 transactions per second!
This scalability is one of the main reasons that investors are so hyped about Solana. Much like if you were to invest in Cardano, an investment in Solana is likely to be successful if the 'traditional' way of operating in specific sectors is shifted towards a blockchain-based approach. Fortunately, this seems to be how things are heading, especially with the rise of areas such as decentralised finance (DeFi).
Overall, the SOL token looks likely to have a bright future as the platform seems to improve on all of the areas that Ethereum falls short in. As Ethereum has the 'first mover advantage' in the area of decentralised apps, it's unlikely that any power shift will happen soon. However, if Solana can hang in there, we may see some exciting developments over the long term.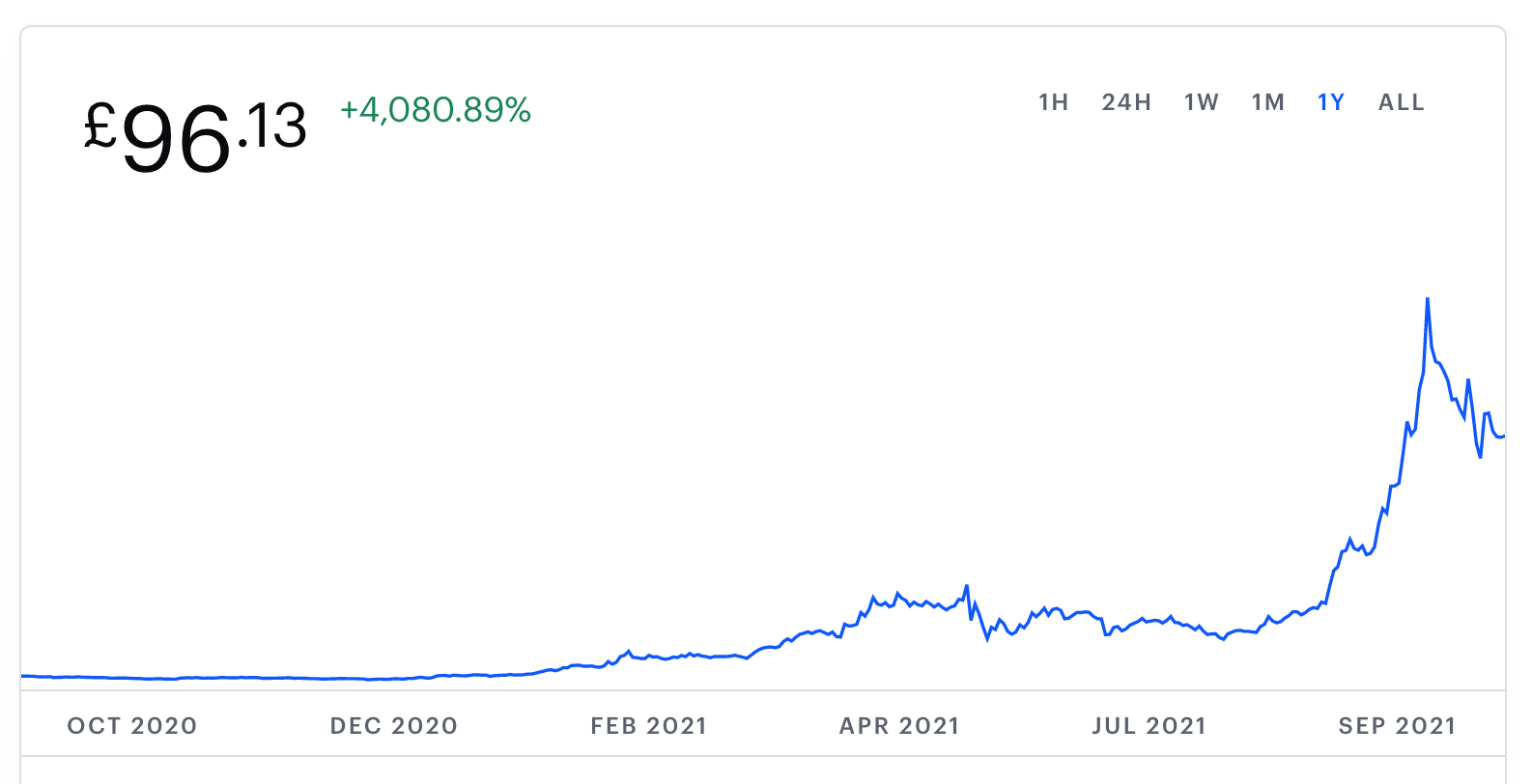 Looking at the price chart, you can see that Solana has had an incredible 2021 so far. The Solana price live grew a staggering 6147% between January and September – which is impressive even for the cryptocurrency market's standards. Since the all-time highs of September, Solana has fallen by around 35%, offering investors an attractive level to buy at.
Solana Price Forecast
If you buy cryptocurrency regularly, you'll know the importance of researching the various factors that can shape an altcoin's price. These factors need to be understood to invest effectively. With that in mind, let's dive into the technical and fundamental elements that may affect Solana's price.
Technical Analysis
Due to Solana's price only really becoming prominent over the last six months, the daily chart doesn't offer much in the way of technical factors. To combat this, the image below highlights our price analysis of the 4H chart for Solana, where we can see that there has been some bearish momentum in recent weeks. A clear downtrend is occurring on the 4H chart, with lower highs being followed by lower lows.
However, there seems to be a strong support level around $125, which the price has rejected three times this month. This level is where price will probably be attracted to in the short term, as there will likely be many buy orders waiting to be triggered here. If this proves to be correct, it'll provide the impetus needed for an upwards push.
There is some resistance around $170, which would be an area to keep your eye on if we see some bullish momentum. Should price break through this easily, there is then a clear path towards the all-time highs of September. Although we'd need to see some strong impetus to break these, it's entirely possible given the hype surrounding Solana at present.
Fundamental Analysis
According to CoinMarketCap, Solana has a market cap of $41.5 billion at the time of writing, making it the 7th largest cryptocurrency in the world. A total supply of just over 297 million digital coins are currently in circulation. Notably, Solana has had over $2.7 billion in trading volume during the last 24 hours, which is exceptional for a crypto this young.

Due to Solana's hype, many top developers have chosen the platform to build their projects on. Solana now hosts hundreds of exciting blockchain projects, ranging from NFT marketplaces to investment funds. As time passes, we'd expect even more significant projects to utilise Solana, making the platform even more valuable.
Although most people will choose to invest in Ethereum, Solana may be a better bet if you are more risk-seeking. Ethereum is now well established in the market, meaning that it tends to have lower volatility than other platforms. As Solana is still growing, we'll likely see higher returns from this crypto – which is excellent news for speculative investors.
Solana Price Prediction 2025 – Long Term Outlook
So, putting all of the points mentioned previously together, let's look at our Solana forecast over the long term. As noted, Solana is much faster and cheaper than current platforms, with many analysts speculating that it will still be more efficient than ETH 2.0 when that is released. Combine this with the fact that nobody knows when the Ethereum upgrade will finally be released, and you can see why many developers are opting for Solana over Ethereum.
Solana offers a great way to buy NFT tokens easily, which is an area that looks set to change the way that specific sectors operate. NFTs offer a way of making physical assets 'digital', enabling seamless trading and ownership transfer to take place. If Solana can solidify its position in this area, it'll stand the platform in good stead in the future.
Overall, our Solana prediction for the future is very bright. As more large institutions migrate to blockchain-based processes, they will require platforms that are extremely fast and cheap. Right now, Ethereum can't handle these requirements due to congestion and high fees, which is why Solana offers such an attractive prospect for these institutions.
With that in mind, our Solana price prediction 2025 is exceptionally bullish. By this point, elements such as NFTs and DeFi protocols will likely be much more prevalent than they are right now. Due to this, Solana's popularity will continue to rise, which is why we estimate that the token could be worth $400 by 2025.
Looking further ahead, our Solana price prediction 2030 projects that the coin could hit a valuation of $600. The incredible rise in Solana has brought the platform into the public consciousness – and it shows no signs of slowing down. Over the next nine years, we'd imagine the platform will just grow and grow, providing the basis for this estimation.
Solana Price Chart
When investing in cryptocurrency UK, the price chart can be an essential piece of the puzzle when determining if a currency is worth investing in our not. As this Solana forecast has highlighted, this token has been on a wild ride over the past year. The historical data presented on the price chart is quite limited, so we are yet to see any patterns on the daily chart that can provide insight into future movements.
However, as Solana cryptocurrency is a vital part of the Solana system, the token will undoubtedly rise in value as the platform becomes more popular. The PoS system used by Solana means that users must 'stake' their Solana tokens to help validate the completed transactions on the platform. Users receive rewards for doing so, but overall, this process makes holding SOL more attractive.
One point to note is that if Solana does experience a downturn, the underlying fundamentals are still there – so it may be a good thing. The impressive bullish run that Solana went on was always going to end at some point, but that's not to say that price can't go on another significant uptrend. If the price rejects off the upcoming support level, we could see an excellent opportunity to buy in at.
Where to Invest in Solana
The final part of this Solana prediction will look at the process of buying Solana. Right now, major exchanges such as Binance offer Solana as a tradeable asset. Binance is the largest cryptocurrency exchange globally at present, offering many smaller coins that other brokers do not.
However, on the whole, our recommendation if you are looking to invest in the cryptocurrency market is eToro. At present, eToro doesn't offer Solana as a tradeable asset. Although this may seem like a negative, eToro is often quick to add cryptocurrencies that users wish to trade. So, with that said, we'd imagine that eToro will shortly add Solana as a tradeable asset due to the token's hype.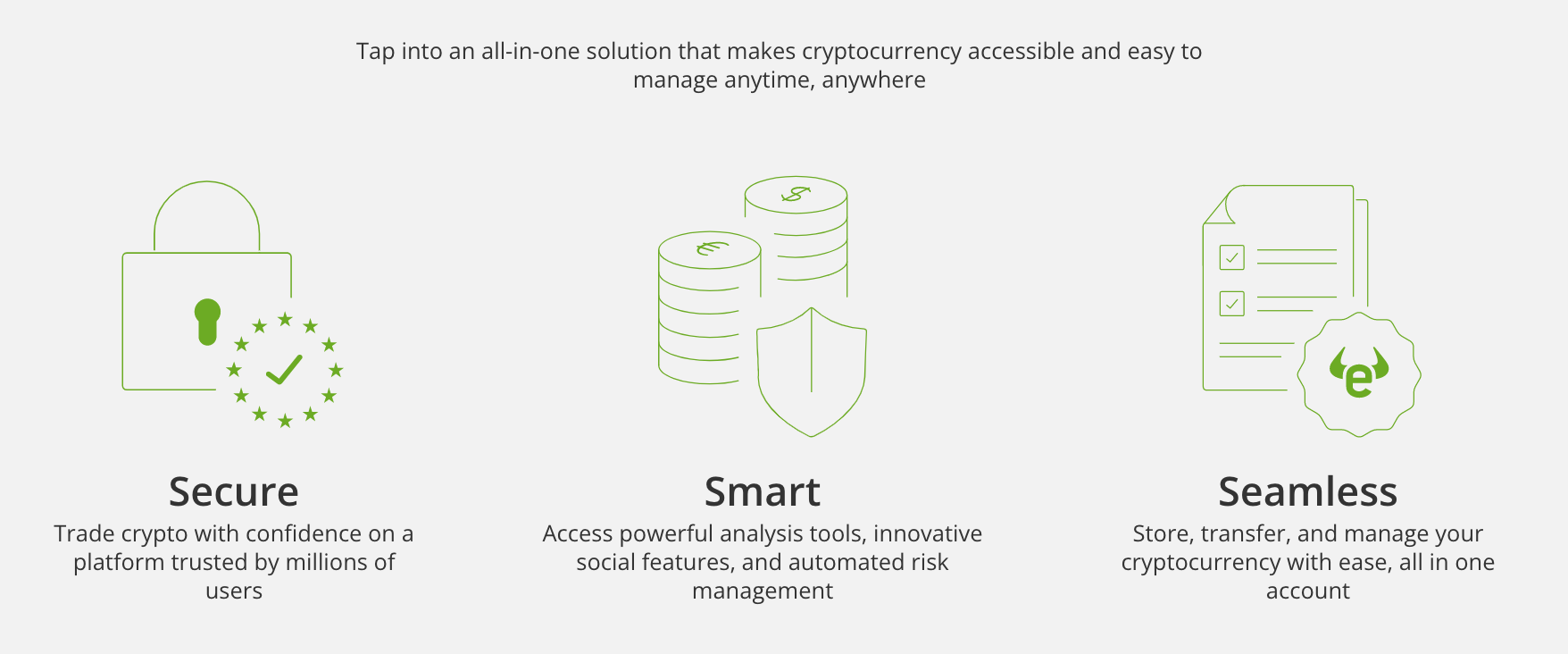 We recommend eToro because no commissions are charged on the platform. This is pretty rare in the crypto space, as many brokers and exchanges will charge a percentage of the position size as their fee. eToro doesn't do this and instead includes their cost in the spread, which is quoted next to every asset.
eToro is one of the most appealing CFD brokers for beginners, as the minimum deposit is only $50 (£37). Users can make deposits via bank transfer, credit/debit card, or a selection of e-wallets – including PayPal! In addition, users can even utilise eToro's free demo account first, offering a way to practice trading before the real thing.
Finally, eToro offers a useful crypto wallet feature that is entirely free to use. This wallet enables users to store their holdings safely and prevent any unauthorised access. Notably, users can even exchange one coin for another within the wallet – removing the need to convert your holdings to USD and then back again!
Solana Price Prediction – Conclusion
Overall, this Solana forecast has highlighted the various elements of the platform that set it apart from its rivals. Solana offers fast transaction speeds at a fraction of the cost that Ethereum charges, making it an appealing option for developers worldwide. Although Ethereum is still the most established presence in the space, Solana is making great strides in the area – which is why we are so bullish on this crypto.
So, if you'd interested in buying cryptocurrency today, we'd recommend opening an account with eToro. eToro is regulated by the FCA, ASIC, and CySEC, ensuring all users can trade safely. What's more, eToro is a 0% commission broker and allows deposits from only $50!

67% of retail investor accounts lose money when trading CFDs with this provider.
FAQs
What is the price of Solana right now?
What drives the price of Solana?
Why is Solana going down?
What will Solana be worth by 2022?
What will Solana be worth in 2025?