How to Buy Solana UK – Buy SOL in Under 5 Minutes
Recently, Solana has been making headlines, and it's easy to see why. With gains of almost 100x since January 2021 ($1.84 – $182.21), you can't afford to ignore Solana. Solana is a decentralised blockchain technology, designed for developers to create dApps with a primary focus on the DeFi (decentralised finance) space, the SOL token is used to facilitate transactions on the network. With a focus on scalability, Solana aims to be around for the term and provide real value to investors, only officially launching in 2020 Solana is already making parabolic movements. 
Cryptocurrency in the United Kingdom is quickly gaining popularity, and as such more and more people are wondering how they can buy Solana UK. Amid tightening regulations it's Definitely getting harder to purchase crypto in the UK, but with this guide we aim to make it simple, providing you with all the information required to buy SOL now.
#1 Broker to Buy SOL – eToro
How to Buy SOL in the UK – The Quick Four-Step Strategy
eToro now supports the SOL token as of October 2021, and with the rate at which demand is increasing, it's certainly a coin to buy and keep your eye on. Just follow these easy steps to register with eToro.
Register with eToro:

In order to take advantage of the blend of security, convenience, and extra features offered by eToro, you'll first have to navigate to their website and sign up by clicking the "Join Now" button and providing some basic details.

Verify your account:

Once you've completed the initial sign-up, you'll have to verify your account. As cryptocurrency is heavily regulated in the UK you'll have to complete a quick KYC (know your customer) questionnaire.

Fund your eToro account:

Following the verification of your eToro account, you can then fund your wallet and begin trading over 120 different crypto-asset

Purchase your SOL:

Simply search for SOL, set the amount you want to buy in USD/GBP and click "Buy" – it's as simple as that.



What is Solana?
Solana is a decentralised blockchain technology that aims to give developers the perfect platform to create infinitely scalable DeFi apps. The DeFi sector is exploding at the moment, with some projects doing a 10x incredibly quickly, this is because of the huge amount of intrinsic, real-world value they provide. 
Solana fits the Ethereum killer narrative perfectly, with the capability to process over 50,000 transactions per second, it's the fastest blockchain currently available. This is at least in part due to Solana's ingenious Proof of History (PoH) system. Without getting too in-depth, the standard Proof of Work (PoW) system commonly used in cryptocurrency requires nodes to agree on the time and order of transactions, which while works fine isn't the fastest way of doing things. The PoH system instead relies on a cryptographic method of ordering transactions/events and recording them to a 'ledger' that allows transactions to be settled almost instantly, thousands of times a second.
The issue of scalability is important when looking at any blockchain technology, as the Solana network grows it aims to solve this issue, by increasing the number of validator nodes operating on the network. There are currently 969 validator nodes running, more than doubling in the past year. By using GPUs and more efficient algorithms, the transaction ​​throughput can scale proportionally alongside the network bandwidth while still maintaining the same levels of security and decentralisation. This technology makes Solana a very interesting project, and with backing from some big names it's no surprise so many people are asking the question "how to buy Solana UK".
Where to Buy Solana in the UK
Now you have an understanding of the technology that makes Solana such a promising project, you can take a look at our picks for the 4 best exchanges to buy Solana now. 
1. eToro – Overall Best Way to Buy SOL Now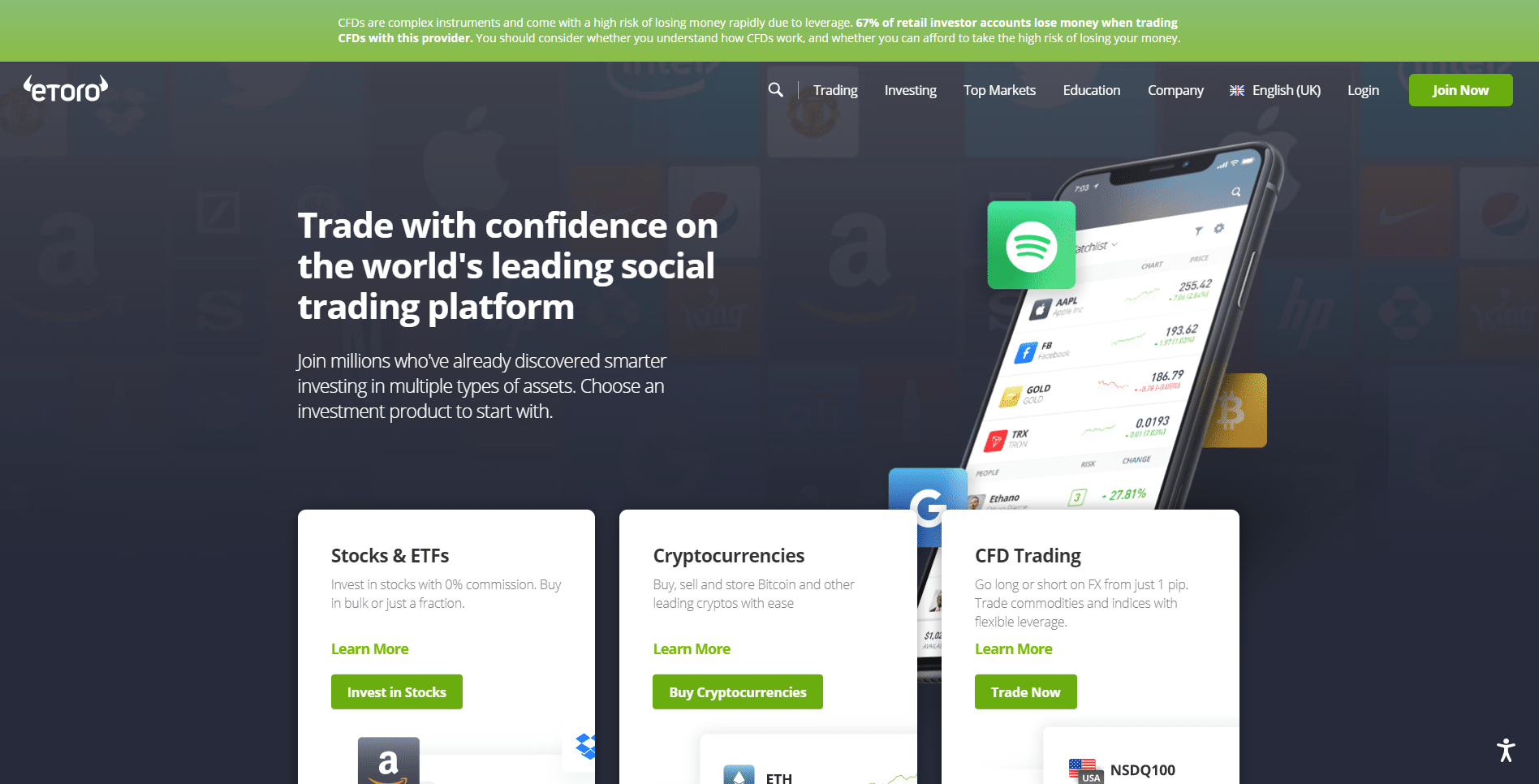 eToro consistently ranks among the best exchanges and nothing here has changed. By creating an easy-to-use platform, with a great blend of security, convenience, and additional features, eToro has catered to both advanced and beginner traders. As an exchange regulated by the FCA, eToro has industry-leading security features and protects private keys by keeping them in cold storage and SSL encrypts all personal details.
Because eToro operates all over the world, they need to support a wide range of deposit options. Currently, eToro supports credit/debit cards, wire transfers, and PayPal. PayPal is the best option for most users, thanks to the extra level of security they provide. 
If you're a first-time user in the United Kingdom, eToro has a minimum deposit of just $50, making it easy for anyone to get started with investing. There is a flat withdrawal fee of $5 and a minimum withdrawal amount of $30, both of which are pretty competitive figures in the world of crypto. Something to note, if you want to use a bank transfer to deposit fiat into eToro they have quite a high minimum; regardless of what country you reside in, you will have to transfer at least $500.
Pros
industry-leading security

Mobile and web platform

Spread only fees

Copy trading

Cold storage for private keys

Indicators and charting tools
Cons
Lack of MT4/MT5 Support

Solana is not currently available
67% of retail investor accounts lose money when trading CFDs with this provider. 
2. Binance – Fully Featured way to Buy SOL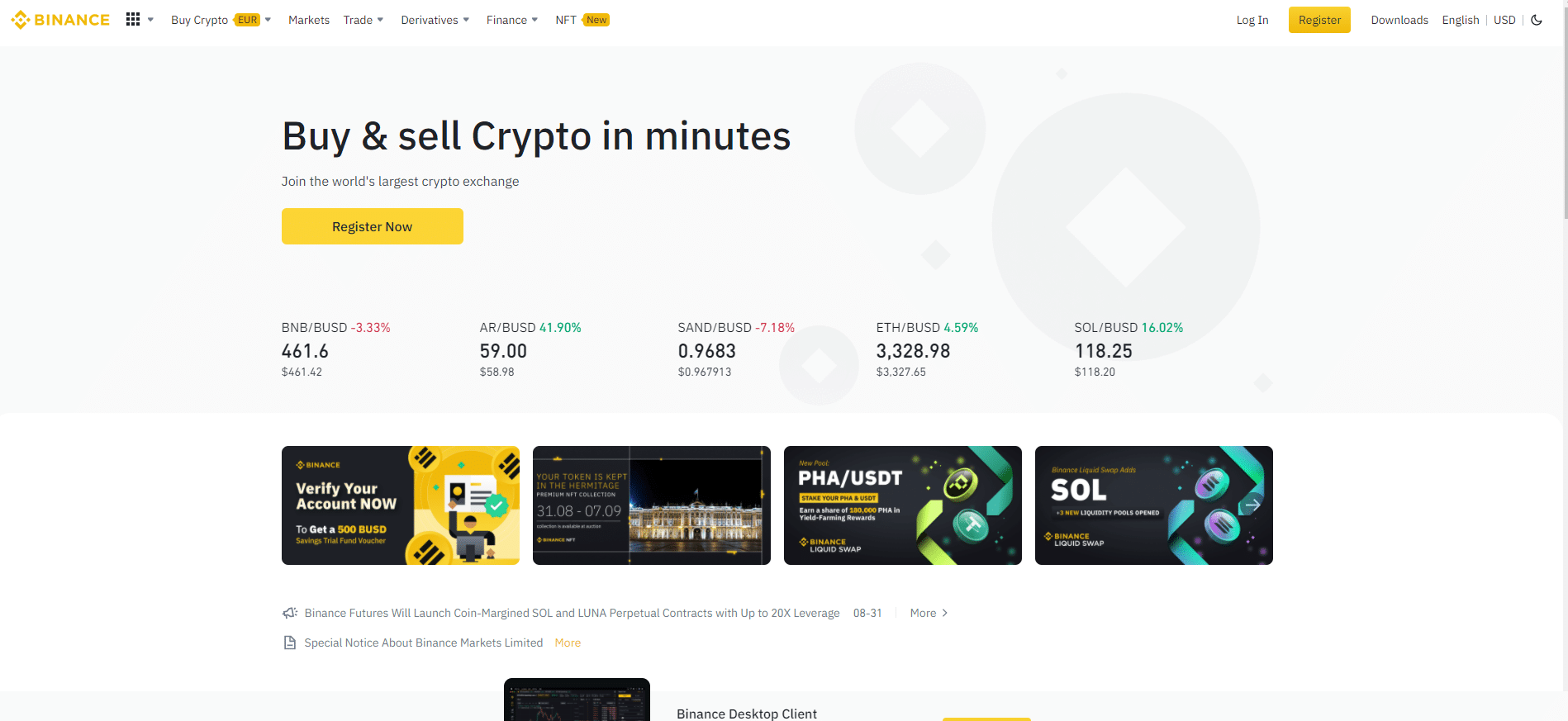 Binance is a huge name in the crypto space and is an excellent platform, especially in the UK. Although they have recently had some issues with regulations, meaning you can't withdraw fiat if this isn't a huge problem for you then the wide range of features they offer might more than make up for it.
Binance is a fully regulated exchange, meaning you have the benefit of high-end security and good data protection. You will have to confirm your identity when first signing up but this is common-place in the UK. The platform has 2FA, staking, a wide range of technical indicators, TradingView integration, futures trading, and several order types, making it a great platform for advanced traders.
Pros
Staking

2FA

Indicators & charting tools

Huge range of assets
Cons
Can't withdraw fiat

Limited deposit options
67% of retail investor accounts lose money when trading CFDs with this provider. 
3. Coinbase – Easiest way to Buy SOL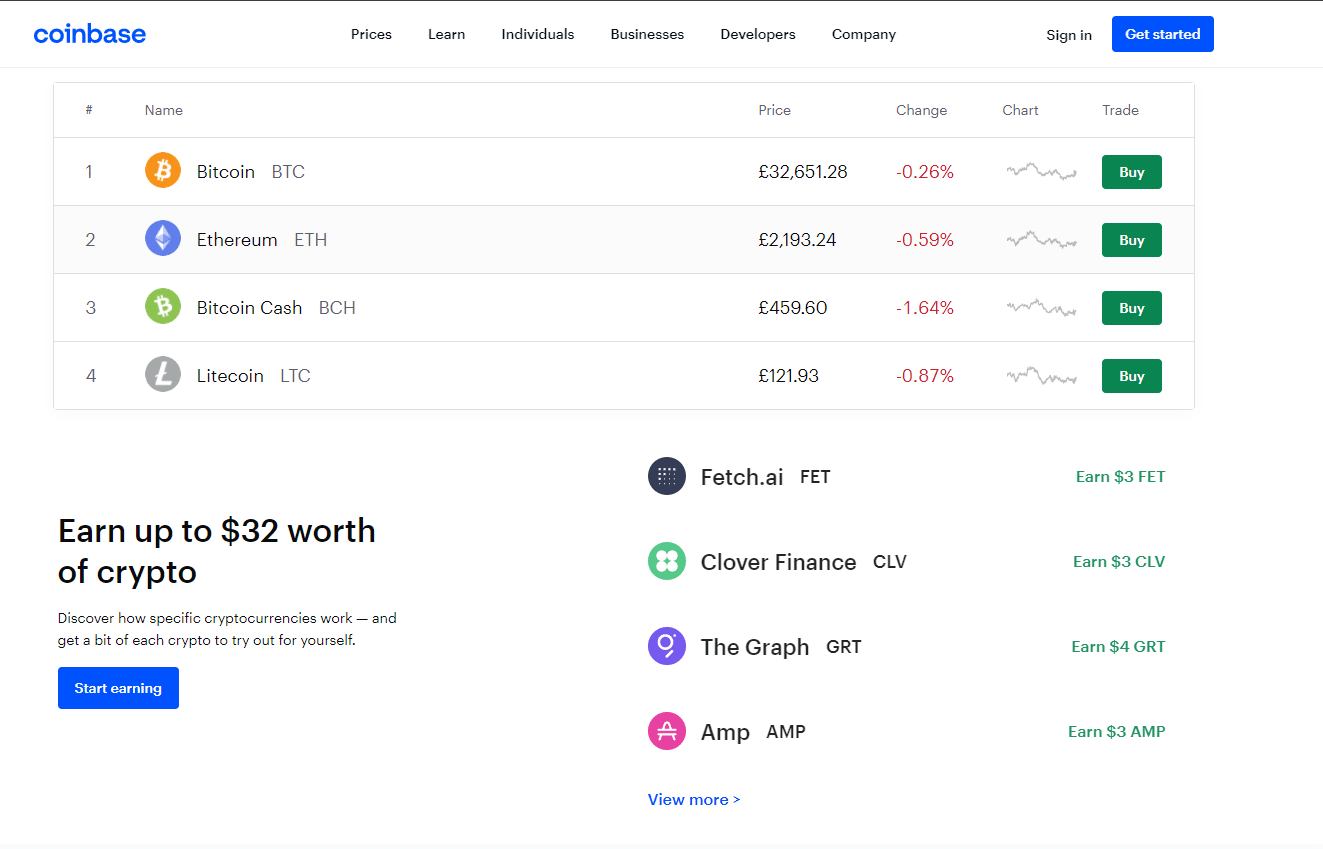 One of the most popular trading platforms in the world, Coinbase offers an easy way into the world of crypto, while still having enough features to satisfy more advanced traders. If you're still learning about crypto, Coinbase is a fantastic option, one of my favourite features is the ability to get rewarded for learning about crypto. You earn crypto by watching some informative videos and then answering a 5-10 minute questionnaire, you'll typically be rewarded with whatever currency you're learning about. Combine this with the incredibly easy-to-understand interface and you have an extremely enticing platform for beginners to buy Solana UK.
If you're after some more advanced features, Coinbase has you covered. They also offer the "Coinbase Pro" platform, designed for, you guessed it, pro traders. It's important to note that the fee structure on the Pro platform is a little different, it's geared more toward frequent, high volume traders, so it can be more worthwhile to buy SOL UK on Coinbase Pro. Technical traders may however find that the range of indicators and charting tools to be a bit lackluster.
Pros
easy-to-use

Rewards system

Large user base

Good security
Cons
Confusing fee structure

Lack of indicators 

Fees higher than average
67% of retail investor accounts lose money when trading CFDs with this provider. 
Purchasing SOL – Is it a Good Investment?
In just the past week (03/09/21 to 10/09/21) SOL has risen from $140 to $210, before settling at around $180, marking an increase of about 28%. The big picture for SOL follows a similar pattern rising from about $1.80 at the start of the year to the current $180, it's hard to argue with numbers like this, SOL is clearly one to watch. Part of the reason for this huge growth is the consensus technology the Solana network uses, as we discussed earlier the PoH system solves a big problem for blockchain technology and greatly speeds it up. 
Interoperability and scalability are two words currently getting thrown about a lot, and for good reason. Interoperability is essentially making all the different blockchain technologies work together, rather than independently of one another. Another crypto. Quant, which focuses on universal interoperability has also had a meteoric rise this past year going from $10 to $340. While Solana currently only offers interoperability between itself and the Ethereum network, you can still clearly see this narrative playing out.
Scalability is another area the Solana network aims to dominate in. Currently, the Solana network is the fastest blockchain technology, at over 50,000 TPS, while this is impressive Ethereum 2.0 aims to hit 100,000 TPS. Where the two networks differ is that Solana is already capable of much higher numbers, over 700,000 TPS (or so they claim) this means that as Solana grows in popularity and more nodes are added to the network, they're ready to achieve higher numbers without any updates and therefore without suffering any splits in the network. 
Although this technology is massively interesting and could have huge ramifications in the crypto space, it's important to remember the volatile nature of the market. Sometimes seemingly irrelevant news can cause massive swings in the market, because of this, it's crucial to do your own research when deciding if you want to buy SOL now. 
The Advantages of Investing in SOL
As of September 2021, SOL is the 6th largest cryptocurrency with a market cap of over 50 billion dollars. This year has marked a parabolic rise for SOL and as the Solana network is massively scalable, as it gains popularity (and validators) the transactions per second the network can handle are also set to drastically increase. This is important if Solana wants to remain competitive when Ethereum 2.0 drops, which Vitalik has boasted will be able to support over 100,000 TPS.
Some of the areas Solana performs well are:
High Scalability:

As we've discussed, the Solana network is ready to be scaled up, so as more and more people hear about it, we should in theory see some performance gains.

Speed:

Nothing compares to the Solana network's speed, at over 50,000 TPS the only potential competitor is the rollout of Ethereum 2.0.

Amount of Growth:

In this past year the price of SOL has increased by nearly 100x, while this isn't always good, it's a mark of a severely undervalued platform.

Technology:

Solana is leaps and bounds ahead of competitors when it comes to technology, with the PoH system only scratching the surface, Solana has resolved some big hurdles blockchain technology was facing.
The Disadvantages of Investing in SOL
When deciding if you want to buy Sol UK, you can easily be blinded by the numbers, but it's also important to consider the disadvantages. We've summarised some of the key issues with the Solana network below.
Lots of competition:

The smart contracts sector has a lot of fierce competition, between Ethereum 2.0 and Cardano releasing smart contracts on September 13th there is a lot of potential for other networks to come for the title of "fastest network".

Big gains:

As the saying goes, "what comes up, must go down" and crypto is no exception. Although often the mark of an undervalued technology, an extreme increase in price could also be highlighting a bubble.
How Much Does it Cost to Buy SOL in the UK?
Luckily, if you want to buy Solana UK you shouldn't face any additional charges. That being said, as with any cryptocurrency, you will be subject to drastic price swings, which if you're not careful could cause you to lose some money. Currently, one SOL would set you back £127 which means if you invested £1000 you could expect to get 7.85 SOL back. Make sure you lookout for the spread fees exchanges charge, as the difference between the buy and sell price could prevent you from getting as good of a deal as you thought.
Purchasing Solana – How to Pay for It
If you're wondering "how to buy Solana UK", you'll likely also be wondering how to pay for it. Luckily, you have a range of options when it comes to paying for SOL, the most popular are bank transfer, credit/debit card, and e-wallet. Bank transfer tends to be the cheapest option but can incur high minimum deposits. Credit/debit cards are the most convenient option, however often you will be charged high fees (1.99-2.99%). E-wallets like PayPal offer you an extra layer of protection and prevent you from having to give out your bank details.
Buy SOL using PayPal
If you want to purchase SOL using an e-wallet, PayPal is the way to go. A lot of exchanges don't accept Paypal due to fees associated with it, so make sure to check whether your exchange will. 
A big bonus to using PayPal is the extra level of protection it offers. In the event of fraud, it can be a pain getting any money back from banks, but PayPal is a very buyer-orientated business. This means that they tend to side with the buyer, and are very helpful when it comes to recovering lost funds.
Buy SOL using Paypal with eToro from just $50 Now >
Buy SOL using a Credit/Debit Card
Using a credit/debit card can be the fastest way to buy SOL now, and for many is the most convenient option. Although you'd think you could use a bank card to buy crypto in the same way you'd shop online, you will likely be subjected to fairly high fees. While this isn't necessarily a deal-breaker, if you want to regularly invest in SOL, the fees will quickly eat away at your total.
Buy SOL using Credit/Debit Card with eToro from just $50 Now >
How to create a SOL Wallet in the UK
If you want to invest in Solana, arguably the most important step is choosing a wallet that's right for you. We've analysed 3 different types of wallets, so you can make an informed choice on what one is best for you. It's worth taking a few minutes to think about your requirements before picking a wallet. Once you've done this, give the section below a read and you'll have all the knowledge required to choose the perfect SOL wallet.
Online/Hosted Wallet (Hot Wallet)
An online wallet is the most common type of wallet you will find, most exchanges will automatically provide one for whatever coin you're holding. Most online wallets are custodial meaning that they look after your private keys for you. While this isn't an inherently negative factor, for security-centric individuals it may not be ideal. However, the level of convenience an exchange wallet offers can make it worthwhile for some users. For anyone buying and selling on the move, or needing more advanced trading features, an exchange wallet is hard to beat. eToro provides SSL encryption and cold storage for private keys, meaning some of the security concerns are alleviated. 
To create an online/hosted wallet, just follow these simple steps:
Navigate to the eToro website, press "Join Now" and enter your details.

You'll have to verify your account by uploading your photo ID (driving licence, passport, etc), as well as proof of address. You will have to complete a brief KYC (know your customer) questionnaire.

Once you're verified, you can purchase some crypto. Simply, deposit fiat, choose what token you want, and once purchased a wallet will be automatically created for you.

Make sure to use 2FA when using any custodial wallet, as it offers an additional layer of security for your crypto.
Non-Custodial Wallet
A non-custodial wallet offers a balance between security and convenience and just goes that extra bit further to put the control in your hands. A non-custodial wallet differs from a custodial wallet as you have full access to your private keys. While this offers a greater deal of privacy, if you lose your private key, you're going to have a bad time, which is why it can be beneficial for beginners to use a custodial wallet.
A non-custodial wallet is easy to create all you have to do is:
Download the relevant app or software for your chosen wallet.

Follow all instructions to ensure your wallet is correctly set up.

It's important to choose a strong password. With a non-custodial wallet, the password is the primary weak point.

Transfer your SOL into your new wallet. Most wallets have a built-in exchange, although they can be more pricey than a dedicated exchange. 
Hardware Wallet
A hardware wallet offers users un-rivaled security features, at the cost of convenience. A hardware wallet provides you with your private keys, but goes a step further in protecting your assets, by keeping them offline. A hardware wallet differs from most other wallets as it's a physical item, meaning you're completely safe from online attacks. 
If you want to secure your coins with a hardware wallet, here's what you have to do:
Firstly, navigate to the website of your chosen wallet. The 2 biggest players are Ledger and Trezor, both are similar but with a few key differences.

If you haven't already, purchase your wallet and wait for it to arrive.  

Download and install the relevant software, this is where you'll manage your funds.

When setting up the wallet, make a note of your recovery phrase as well as the pin, as these can provide access to your coins even if you lose the physical device.
Buy now
CFDs are complex instruments and carry a high risk of losing money quickly through leverage. 75% of retail investor accounts lose money when trading CFDs from this provider.
Buy now
CFDs are complex instruments that have a high risk of losing money quickly due to leverage. 72.6% of retail investor accounts lose money trading CFDs with this provider.
Buy now
CFDs are complex instruments and carry a high risk of possible rapid loss of capital due to their leverage. 71% of retail investor accounts lose capital when trading CFDs with this provider. You should consider whether you understand how CFDs work and whether you can afford to take high risk in losing your capital.
| | | | |
| --- | --- | --- | --- |
| N/A | Yes | CBI and MiFID in Europe | |
| | | | |
| --- | --- | --- | --- |
| N/A | Yes | 1:2 for cryptocurrencies | |
| | | | |
| --- | --- | --- | --- |
| $49288.73 | $49333.08 | $49456.29 | |
Conclusion
To summarize, buying SOL in the UK doesn't have to be a confusing experience. Due to the UK's strict financial regulations, you'll most likely have to verify your identity, but this shouldn't be an issue for most people. It's also advisable to try and avoid using a credit/debit card as they tend to have high fees associated with them. Other than this, it's relatively straightforward to purchase SOL in the UK. When storing your SOL, It's important to keep yourself protected, for this, we recommend using a combination of an exchange wallet like eToro for day trading and a hardware wallet for long-term storage.
FAQs
Is it illegal to buy Solana in the UK?
What is the future of the SOL coin?
How many SOL coins are there?
Is Solana better than Ethereum?
What type of crypto is Solana?