Maker Price Prediction – Maker Forecast 2021, 2022, 2025 & 2030
Due to the emergence of smart contracts, many compelling use cases have been developed that aim to improve current business processes. The Maker platform uses these smart contracts in an innovative way, offering a variety of crypto lending services to consumers in a seamless fashion.
In this article, we'll cover our Maker Price Prediction in depth. We'll touch on how Maker works and the coin's future outlook before showing you where you can invest in Maker without paying any commissions!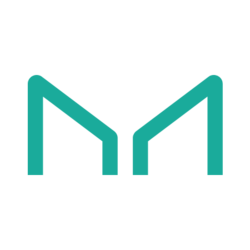 Maker (MKR)
Price
Maker Price Prediction 2021 to 2022
Maker is an exciting cryptocurrency, meaning our Maker stock forecast will cover the various elements that contribute to Maker's price. However, if you are looking for a quick overview of our Maker prediction 2021, then the bullet points below present our findings for several upcoming timeframes:
One Month – The current Maker price seems to be forming a bear flag on the daily chart, indicating another push down. In the short term, our analysis speculates that Maker could head to the $2150 region within the next month.
Three Months – The $2150 region should provide a solid support level for the Maker price to rebound from. With that in mind, our Maker forecast suggests that the price could bounce back up to the $4000 area within the next three months.
Start of 2022 – Assuming the broader crypto market begins showing some bullish momentum, there's certainly scope for Maker to increase further. By the beginning of 2022, our Maker prediction states that the coin could be valued at $5000.
67% of retail investor accounts lose money when trading CFDs with this provider.
Maker Price History – the Story of 2021 So Far
Maker is a very interesting platform, differing from many of the major cryptos on the market. Due to this, it's essential to understand how the platform works before you begin investing in cryptocurrency. With that said, this section covers what Maker is and how it works whilst highlighting how price reached this point.
The first thing to note is that Maker is known as a decentralised autonomous organisation (called MakerDAO), which is basically an organisation collectively owned by the users and has no central leadership. Maker is hosted on the Ethereum blockchain, with the native token of the platform being called MKR. This token is what you will invest in with the best trading platforms UK, as it will provide exposure to the Maker platform's success.
The primary reason Maker exists is to stabilise the platform's other token, Dai. This token is known as a stablecoin, meaning that Dai is pegged to the US dollar. Breaking this down, it means that 1 Dai will always equal 1 USD. Stablecoins are an essential part of the cryptocurrency ecosystem, as they allow for various services (such as crypto lending) to take place.

The MKR token, which is what we will be focusing on in this article, is a utility and governance token. The utility aspect relates to MKR's use in paying for any fees on the Maker platform, whilst the governance aspect allows token holders to vote on any proposed changes within the network. Thus, MKR has real value for holders and investors.
People and companies who invest in MKR are indirectly investing in the Maker platform's success. Due to the necessity of stablecoins to allow for various services, the Maker platform is expected to remain an essential part of the ecosystem in the future. Thus, many people speculate that MKR will rise in value over the next decade as Dai becomes more prevalent.

Following a similar trend to other cryptos such as Bitcoin, Ethereum, Cardano, and more, Maker began rising at the beginning of the year. Between January 2021 and May 2021, the Maker price live rose by a staggering 1006%, reaching an all-time high of $6391. Since then, the price has retreated to the original levels, although there does seem to be some upwards momentum beginning again.
From July 2021 until September 2021, the price increased by 77%, which many people believed was the beginning of another bull run. A significant drop occurred on 7th September, which wiped a substantial amount off of Maker's value. The Maker price today is now hovering around the $2800 mark in anticipation of the next move.
Maker Price Forecast
Now that you understand what Maker is, let's take a look at our Maker forecast for months and years ahead. Much like when you buy stocks, various factors can influence a crypto asset's price. With that in mind, the sections below cover the technical and fundamental elements that may shape Maker's price.
Technical Analysis
As you can see from the current price analysis below, there does seem to be a bear flag forming, which tends to indicate that bearish momentum might be imminent. The next support level is around the $2100 level, which the price has rejected three times previously. If there was another downwards push, the price would likely head here before pushing back up.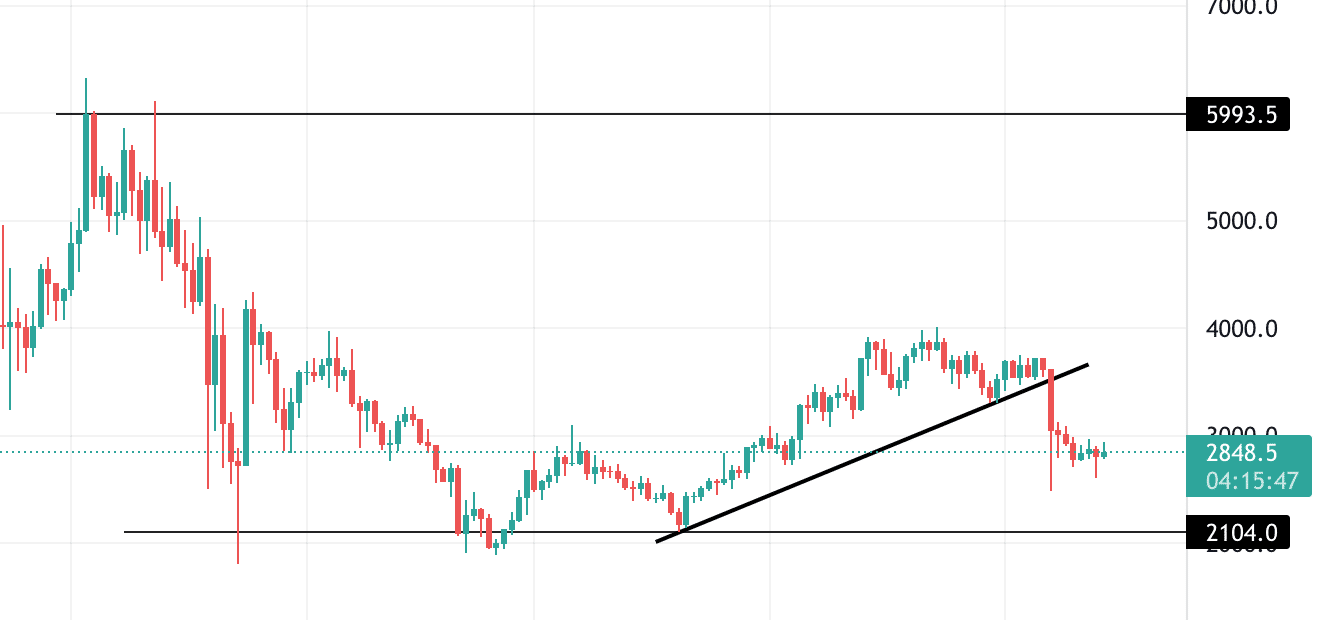 67% of retail investor accounts lose money when trading CFDs with this provider.
A short-term target on the uptrend would be a return to the $3800 level that price was at in August. This may be a strong resistance level now, so there's a chance that price could struggle here. If it does, then the Maker price may end up trading in a sideways range.
However, if the price breaks this level, there's certainly scope to head back to the high of $6000 that was reached in May 2021. The last time this price point was reached, the Maker coin price was very volatile, so this may not be the case the next time. Overall, the key is to be patient and let price dictate what will happen next.
Fundamental Analysis
Unlike when you buy Bitcoin, an investment in Maker is not just an investment in one crypto's use case. In fact, if you buy Maker, you are essentially gaining exposure to both MKR and Dai. Dai is a fascinating concept and could be the key to unlocking Maker's value in the years ahead.
Due to the volatility of crypto, many finance-based projects don't want to use digital currencies. This is because, if you were to lend BTC to an individual, the price might decline during the lending period, meaning that when you receive the money back, it may be worth less than when you initially had it.
Stablecoins such as Dai aims to solve this issue by reducing the risk associated with these sorts of services. If a crypto loan was denominated in Dai, the lender could rest assured that their return will be pegged to the dollar. This provides a level of stability that many individuals and businesses will want – meaning the Maker platform could be a good investment for the future.
Maker Price Prediction 2025 – Long Term Outlook
As you can see, Maker differs from most other cryptos as the Maker ecosystem functions to provide a stablecoin to the masses. According to coinmarketcap, Maker has a market cap of $2.8 billion, making it the 53rd largest crypto globally. At the time of writing, over $131 million worth of Maker was traded in the past 24 hours, highlighting the growing popularity of this crypto.
Over the long term, Maker will likely battle with other stablecoin providers to see who comes out on top. The critical difference between the Maker platform and others is that the Maker token is fully decentralised. This means that Dai coins are not actually backed by the underlying dollar, which is how most stablecoins function. Instead, Dai is backed by ether (ETH), which is the native token of the Ethereum platform.

This decentralised nature makes Maker much more appealing to crypto enthusiasts. Other stablecoins, such as Tether, are not fully 'decentralised' as they still rely on the power of USD to function. As Maker relies on Ethereum, the emphasis is taken away from external sources and given to the community.
Keeping that in mind, our Maker price prediction 2025 is very optimistic. Over the upcoming years, we can expect to see a gradual shift from centralised systems to decentralised systems, which crypto was intended to be. Due to this, Maker could reach a valuation of $8000 by 2025.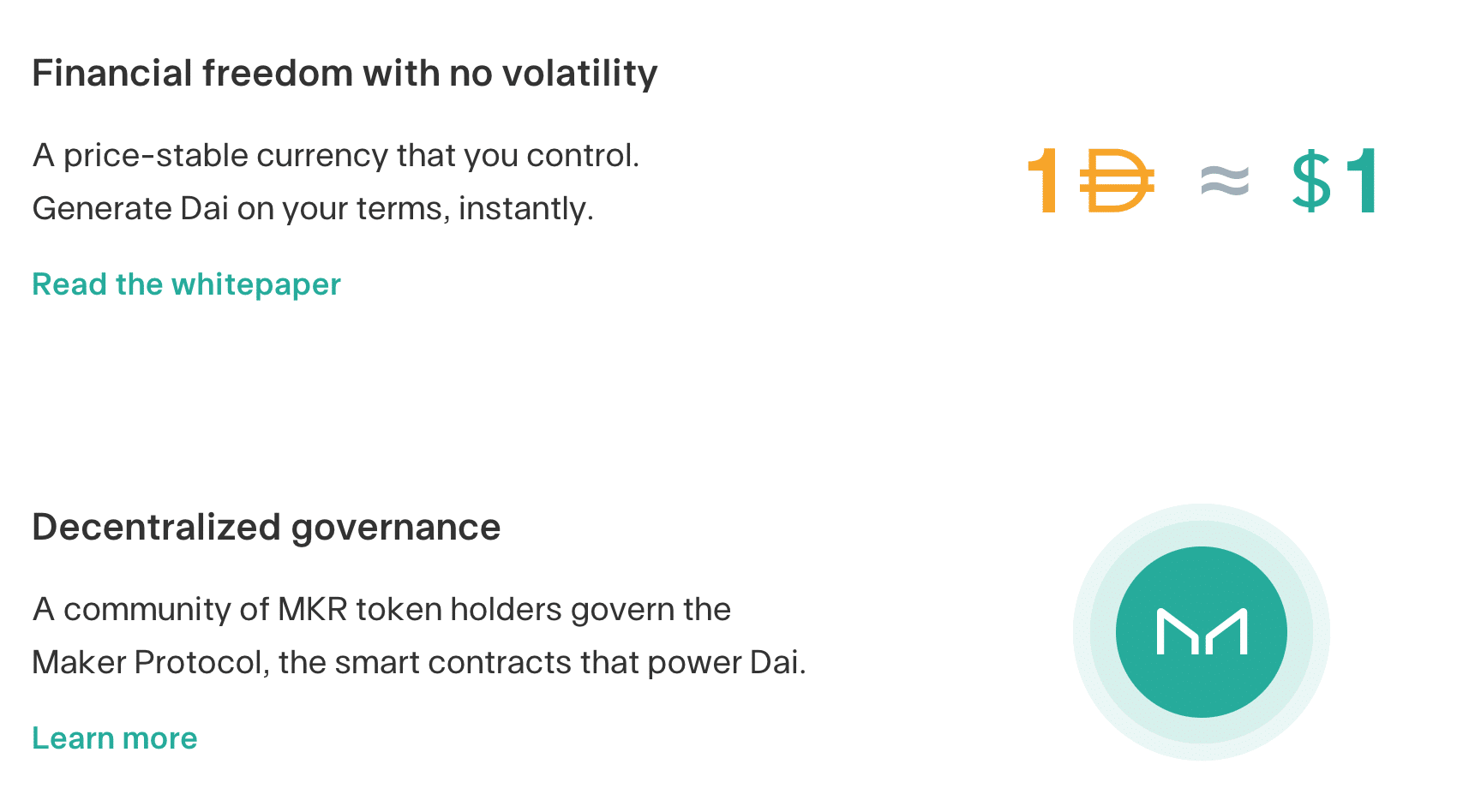 Looking further ahead, our Maker price prediction 2030 is also rosy. With the rise of smart contracts expected to change industries, an investment in MKR is also an investment in the success of Dai, which will undoubtedly be used in many smart contracts. Due to this, our analysis estimates that Maker could reach the $10,000 mark by 2030.
Maker Price Chart
As you'll be aware by now, our Maker forecast is very encouraging. As MKR is both a utility and a governance token, it will always have real-world value if the Maker protocol grows in stature. Furthermore, many large investors (such as Marc Andreesen) have pledged their capital to MKR, adding more credibility to the system.
This is reflected in the price chart, as you can see that Maker only began making waves in 2021. Before this point, there was minimal momentum in the market, and price was trading sideways for a good few years. Since the beginning of 2021, the Maker price has begun generating substantial momentum – which is a sign that more people are taking notice of this cryptocurrency.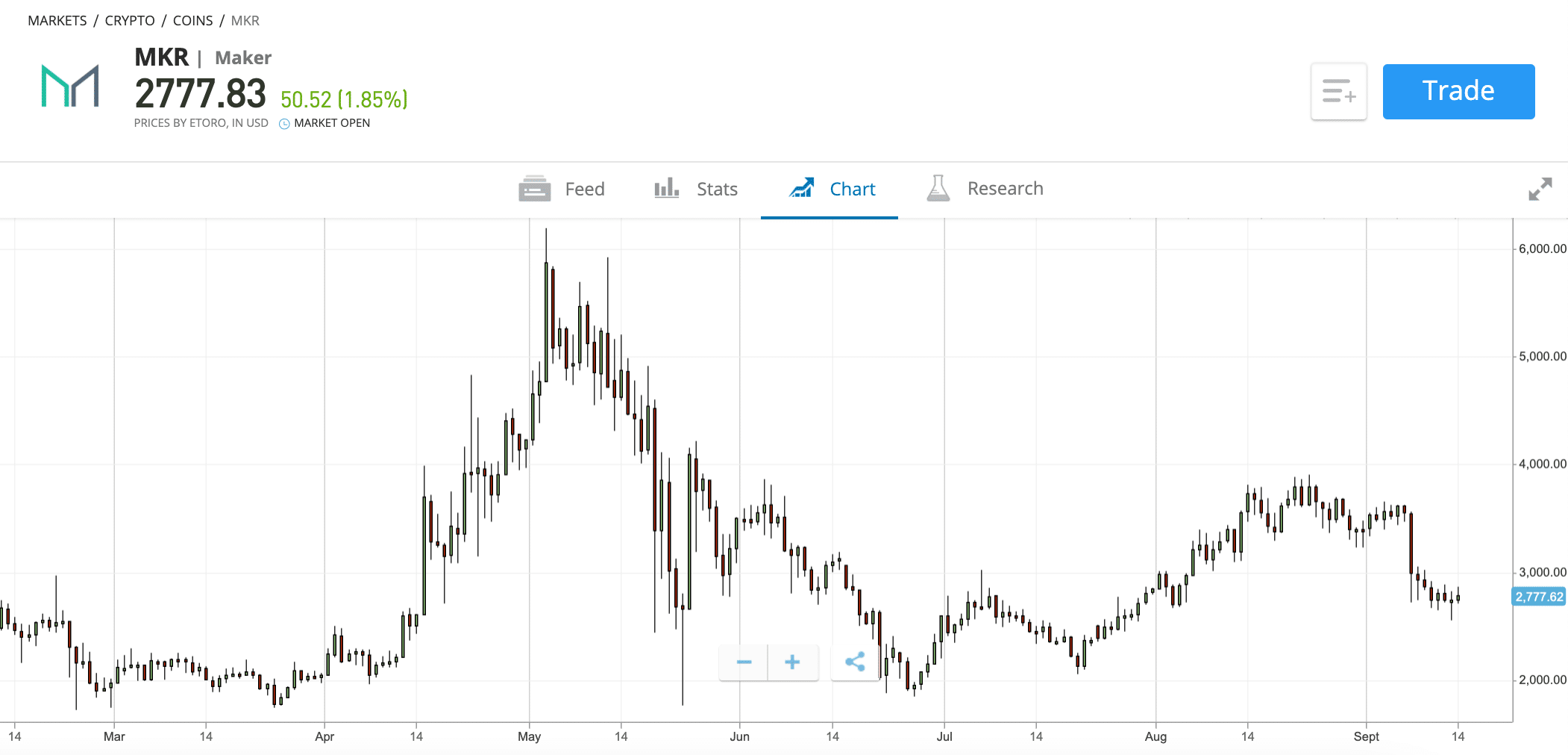 67% of retail investor accounts lose money when trading CFDs with this provider.
As we know, the cryptocurrency market is inherently volatile, so there's always a chance that Maker could head lower before going higher. However, this doesn't have to be seen as a bad thing! If the Maker price were to head down to a recent support level, it would allow you to buy in at a better price. This is especially useful if you are employing a dollar-cost averaging approach, as it'll help reduce your average investment price and generate more significant returns over the long term.
Where to Invest in Maker
Rounding off this Maker prediction is a detailed look at where you can invest in Maker this year. As you can imagine, due to the rise in cryptocurrency's popularity, many stock brokers will now offer digital currencies to trade. However, that means that there is a vast selection of brokers and cryptocurrency exchanges to choose from, making narrowing down the options quite tricky.
Through our research for this Maker price prediction, we've found that eToro offers the best platform to buy Maker. eToro is a very popular trading platform, with over 20 million users around the world. All users are protected through regulation from the FCA, ASIC, and CySEC, which means that personal details and trading capital are offered the highest levels of security.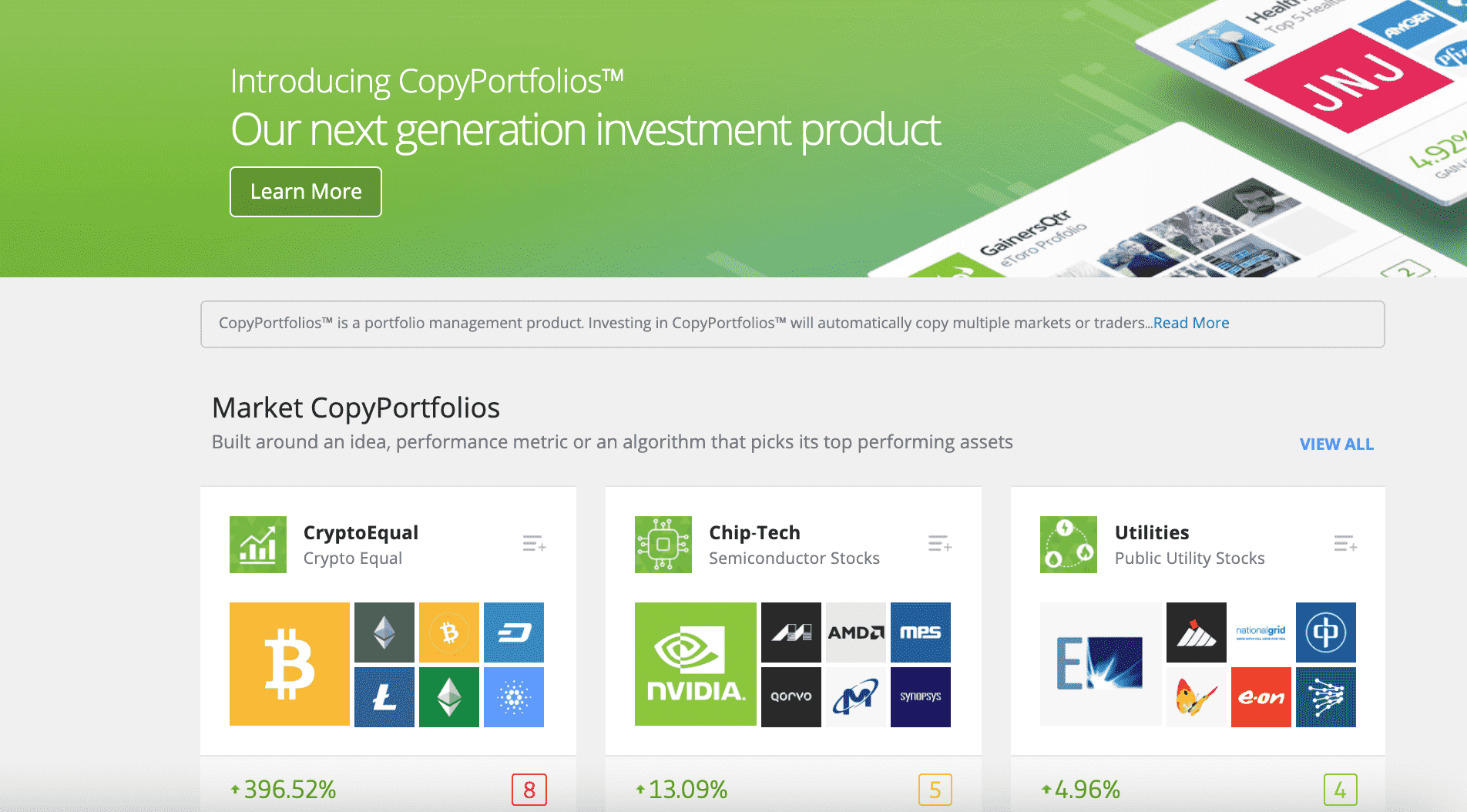 One of the great things about eToro is that they offer a 0% commission structure. This means that when you place a trade on the platform, you won't have to pay any fees whatsoever. All fees are included in the spread, which is the difference between the bid and ask prices.
Users also won't have to pay any deposit fees or monthly account fees, making eToro a great option if you are looking for a low-cost broker. In terms of deposits, eToro accepts most major credit/debit cards, along with bank transfers and e-wallets. PayPal and Klarna are also accepted, making eToro particularly accessible for traders.
Finally, eToro also offers a helpful feature known as CopyPortfolios. This feature allows you to invest in professionally managed portfolios without having to pay any hefty management fees. eToro even provides a 'CryptoPortfolio', which comprises many major digital currencies – ideal for those of you looking to gain broad market exposure!
Maker Price Prediction – Conclusion
In conclusion, Maker is an exciting cryptocurrency that differs from many of the major options on the market currently. Used as both a utility and a governance token, MKR provides exposure to the Maker platform, which looks set to be in high demand in the years to come. Although an investment in Maker must have a more long-term outlook, the signs are there that this crypto could make waves in the future.
So, if you'd like to invest in Maker today, we recommend opening an account with eToro. As one of the world's largest brokers, eToro offers a vast range of cryptocurrencies to trade (including Maker) – all with 0% commissions! What's more, the minimum deposit at eToro is only $50, making the platform accessible for beginner traders.

67% of retail investor accounts lose money when trading CFDs with this provider.
FAQs
What is the price of Maker right now?
What drives the price of Maker?
What will Maker be worth by 2022?
What will Maker be worth in 2025?