Filecoin Price Prediction – Filecoin Forecast 2021, 2022, 2025 & 2030
The possibilities that have come to light due to blockchain technology are remarkable, with innovative ideas launching every day. One of the most exciting platforms launched over the past year is Filecoin, which looks to decentralise data storage and make the entire process cheaper and safer.
In this article, we'll discuss our Filecoin Price Prediction in detail. We'll explore what Filecoin is and how it works before highlighting the best place for you to buy cryptocurrency today – totally commission-free!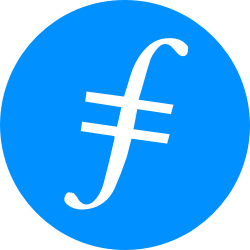 Filecoin (FIL)
Price
Filecoin Price Prediction 2021 to 2022
Throughout this Filecoin stock forecast, we'll ensure that you receive all of the information you need to make an effective investment decision. With that said, if you're simply looking for a quick overview of our Filecoin prediction 2021, then the bullet points listed below present our price analysis for the months ahead.
One Month – The current Filecoin price is hovering around the $64 region and is looking likely to head slightly lower to find support. We project that Filecoin will likely head down to the $51 area over the next month before pushing upwards once more.
Three Months – If Filecoin rejects the support level created in late September, we'll likely see some bullish momentum re-enter the market. Should this occur, a likely price target over the next three months would be the $140 level.
Early 2022 – Assuming Filecoin finishes the year strongly, we may see this sentiment continue into 2021. Our Filecoin forecast estimates that the token could reach a valuation of $160 by early 2022 – which is a 149% increase from today's price.
67% of retail investor accounts lose money when trading CFDs with this provider.
Filecoin Price History – the Story of 2021 So Far
As more people buy cryptocurrency and the wider population becomes more aware of blockchain technology, the potential for innovative uses grows larger and larger. One of the most exciting uses of this technology is being offered by Filecoin, which looks to decentralise the data storage sector. Let's take a look at what Filecoin is and how the price arrived at this point.
Filecoin is a decentralised protocol built on top of the Interplanetary File System, a network created by Protocol Labs that allows users to store and share data. Filecoin's primary use is to allow users to rent out spare storage space on their computers and earn a return in the process. The native token of the Filecoin protocol is FIL, which is used to reward miners and make payments.
The creators of Filecoin envisioned a world where users could rent out storage similar to Airbnb users renting out spare rooms in their houses. The critical difference between Filecoin and other cloud-storage ecosystems is that Filecoin is entirely decentralised. This means that when you store files on Filecoin's network, they are 'split up', and portions are sent to a variety of different locations. As such, cyberattackers would be unable to steal files as they're both encrypted and located in different spots.

This decentralised nature contrasts with the centralised storage network offered by companies such as Amazon, Google, and Dropbox. As reported by the BBC, Dropbox was hacked back in 2012, which resulted in 68m users' passwords being stolen. To combat this centralised structure, Filecoin uses nodes, much like Bitcoin (BTC), to store data safely. Other users can then 'retrieve' the data through mining, which earns them rewards in FIL tokens.
Overall, Filecoin offers a safe and rewarding way to use your extra storage space and give it some utility. As more and more people provide their storage, it will naturally create a market where the prices to use this storage will come down for buyers. Ultimately, this will be a rewarding experience for all users, as buyers can receive storage at a fair price whilst sellers will still be reimbursed in FIL for storage that would have just been going to waste.

Much like other cryptos, the Filecoin price live took off in early 2021 and rose 893% between February and May. However, a long and gradual descent followed, seeing Filecoin's price decrease by 83% over the subsequent months. Although there was a small spike in early September, Filecoin's price is still depressed right now and is trading around the same price that it was back in June 2021.
Filecoin Price Forecast
Now that we've discussed what Filecoin is, let's look at the price chart. When investing in cryptocurrency, various factors can affect price, so it's a good idea to research these beforehand so you know what to look out for. With that in mind, found below is an analysis of the technical and fundamental factors that may impact the Filecoin price.
Technical Analysis
As you can see from the image below, the price of Filecoin has been pretty volatile in the last few weeks. The spike in September 2021 was very short-lived, with the price immediately retreating and turning bearish once more. The two support levels to keep an eye on in the coming weeks are located at $53 and $42 – both of these areas could represent a place where Filecoin may reject and turn bullish.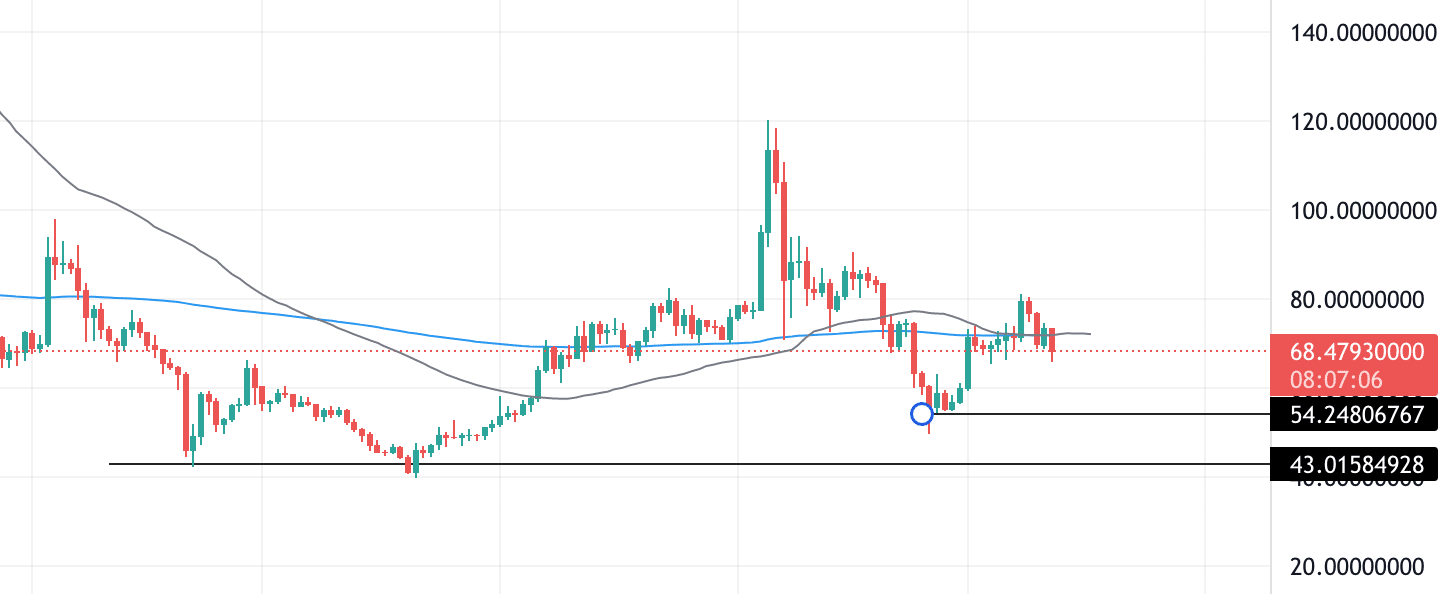 67% of retail investor accounts lose money when trading CFDs with this provider.
Right now, the Filecoin price is trading below the 50-day and 200-day EMAs. These moving average indicators take the average price of the last 50 and 200 trading days, respectively. This provides an idea of the medium and long-term trend that price is showing. As the price is below both, this is a pretty clear indicator that the crypto market sentiment is bearish right now, so we'd need to wait for a push above these EMAs for that to chance.
On the upside, if we did see some bullish momentum, then the first resistance level to note is located at $80. As this is a round number, it will likely have an added psychological element, making it harder to breach. However, if FIL did close past this area, there would be a clear path back to September's highs around $112 which is achievable over the next few months.
Fundamental Analysis
According to CoinMarketCap, the FIL market cap right now is $7.14bn. This makes FIL the 25th largest crypto in the world right now, although this will likely change as the price fluctuates. Notably, the trading volume of FIL was over $1.3bn in the last 24 hours – up 21.75% from the previous day.
Filecoin has a circulating supply of just over 112m tokens. The critical thing to note here is that Filecoin has a maximum supply of 2bn tokens. As such, there will be a lot more FIL mined in the coming years, thereby pushing the supply up. Due to the laws of supply and demand, this will naturally make the FIL price go lower (if tokens are not burned). This aspect is worth keeping in mind as it could significantly affect the price in the future.
Filecoin Price Prediction 2025 – Long Term Outlook
Much like when you buy stocks, you may decide to opt for a long-term investment horizon. Taking this approach can help you weather the inevitable volatility that comes with crypto trading. Furthermore, it is definitely helpful in Filecoin's case, as this protocol is still growing and will need more time before reaching its full capabilities.
According to Cybersecurity Ventures, by 2025, there will be 100 zettabytes of data stored in the cloud. This is hard to comprehend, as one zettabyte equates to 1 trillion gigabytes! This figure serves to highlight how prevalent cloud storage will be in the coming years as individuals and companies transition from hard drives to cloud-based systems.

This is where Filecoin comes in, as the protocol offers a blockchain-based alternative to the current systems. As more people become aware of elements of the space, such as DeFi and NFTs, they will naturally look to the blockchain for solutions to other issues. Filecoin can help with the data storage aspect, and the great thing is that the protocol will appeal to a vast user base, from individuals to large companies.
With that in mind, our Filecoin price prediction 2025 is optimistic. The marketplace for storage that Filecoin aims to create will be appealing to consumers, as it will allow them to shop around and find the cheapest rates. As such, our Filecoin prediction values the coin at $300 by 2025.

Looking further ahead, our Filecoin price prediction 2030 is similarly encouraging. By this point, many systems we use today will likely transition to the blockchain, leading to a higher demand for decentralised methodologies. As such, our Filecoin forecast projects that the coin will reach $500 by 2030.
Filecoin Price Chart
As you'll now be aware from this cryptocurrency price prediction, Filecoin had a bright future ahead of it. Many market participants tend to be more interested in coins with 'hype' around them, such as Ethereum or Shiba Inu. As such, coins with real-world utility can sometimes fall by the wayside, even though they are incredibly valuable.
67% of retail investor accounts lose money when trading CFDs with this provider.
Unfortunately, this does seem to be the case with Filecoin at the moment, as the price chart highlights that much of the bullish momentum that we saw back in early 2021 has evaporated. As such, the creators of Filecoin must try and generate some publicity for the protocol, which tends to have a knock-on effect and boosts the price. Furthermore, if we begin to see larger companies utilise Filecoin, it'll increase the protocol's credibility and tempt more users to use it.
Where to Invest in Filecoin
Before we finish off this Filecoin price prediction, let's discuss the process of investing in the token. Many of the best investment platforms UK will not offer FIL as a tradeable asset, as it hasn't yet reached the popularity of other coins. As such, you'll need to create an account with a reputable cryptocurrency exchange if you wish to buy FIL.
Once you create an account with an exchange, you can deposit FIAT currency (such as USD) and transfer that into FIL. Alternatively, if you already hold crypto, you can send it from your wallet to the exchange and transfer it into FIL. Thus, using a crypto exchange gives you multiple ways to make your investment.

However, if you wish to invest in alternative cryptocurrencies, we'd recommend creating an account with eToro. eToro is regulated by the FCA, ASIC, and CySEC, three of the most respected organisations in the industry. What's more, with over 20 million users worldwide, eToro is well respected and has an established history.
We recommend eToro due to the platform's 0% commission structure. This means that when you place a trade, you avoid paying hefty commissions that some other platforms charge. All eToro's fees are included in the spread, which tends to be competitive with other CFD brokers.
Finally, eToro offers all users a free crypto wallet to store their holdings in. This wallet features high-level security and protects you from cyber-attacks. In addition, you can even exchange one crypto for another directly within the wallet, saving you great deals of time!
Filecoin Price Prediction – Conclusion
In summary, this Filecoin forecast has explored what Filecoin does and the token's outlook for the months and years ahead. Filecoin is an exciting project, as it offers some incredible benefits that will be appealing to both individuals and companies. Although the project doesn't seem to have the hype that others do, if Filecoin can improve the marketing side of things, we could see some price appreciation in the years to come.
So, if you'd like to begin investing in crypto today, we'd recommend using eToro. eToro has over 20 million users worldwide and boasts regulation from the FCA, ASIC, and CySEC. In addition, eToro users can invest commission-free and from as little as $50!


67% of retail investor accounts lose money when trading CFDs with this provider.
FAQs
What is the price of Filecoin right now?
What drives the price of Filecoin?
Where can I buy Filecoin?
Why is Filecoin going down?
What will Filecoin be worth by 2022?
What will Filecoin be worth in 2025?