Ethereum Classic Price Prediction – Ethereum Classic Forecast 2021, 2022, 2025 & 2030
If you are familiar with the cryptocurrency market, chances are you'll have heard of Ethereum. However, the original platform (named Ethereum Classic) has recently fallen by the wayside yet still offers substantial speculative potential for crypto investors.
In this article, we'll explore our Ethereum Classic Price Prediction in detail. We'll touch on what Ethereum Classic is and the coin's future potential before discussing where you can invest in Ethereum Classic with no fees!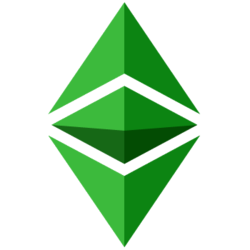 Ethereum Classic (ETC)
Price
Ethereum Classic Price Prediction 2021 to 2022
Ethereum Classic has excellent future potential, offering a viable alternative to a traditional Ethereum investment. With that in mind, the bullet points below present our Ethereum Classic stock forecast over the coming months, providing you with valuable insight into where this digital coin could head.
One Month – Given the current downturn in the crypto market, it's likely that we'll see some more bearish momentum over the short term. Within the next month, expect Ethereum Classic to head down towards support around the $40 level.
Three Months – If the digital coin can find strong support, then our Ethereum Classic prediction 2021 looks a lot more promising. Should the overall market rebound strongly, we could see the coin head back to the $75 level.
Start of 2022 – Given the Ethereum Classic price today is looking pretty shaky, an investment in this coin must have a more long-term outlook. With that said, we could potentially see Ethereum Classic be valued at around $90 by the beginning of 2022.
67% of retail investor accounts lose money when trading CFDs with this provider.
Ethereum Classic Price History – the Story of 2021 So Far

Many people are unaware that Ethereum Classic even exists – and it's understandable why. Most crypto investors will instead opt to buy Ethereum without a second thought given to the alternatives. However, let's take a look at what Ethereum Classic has to offer and the coin's recent price history.
Simply put, Ethereum Classic is an open-source blockchain platform that is entirely decentralised. The platform offers a medium to develop and launch smart contracts, which are self-executing contracts that remove the middleman from many transaction types. Ethereum Classic was created in 2016 thanks to a 'fork' from the original Ethereum blockchain, resulting from a significant security breach.
Essentially, back in 2016, the Ethereum blockchain was hacked, and $50 million worth of funds were obtained. As a result, the blockchain was split into two pieces, also known as a hard fork. This meant that two 'versions' of Ethereum were running simultaneously – the newer version (Ethereum) and the original version (Ethereum Classic).

The platforms are relatively similar, as they both operate using proof-of-work algorithms. However, Ethereum uses ether (ETC) as its cryptocurrency, whilst Ethereum Classic uses its own form of ether, known as ETC. Thus, when you invest in Ethereum Classic, you'll be purchasing ETC rather than ETH.
We'll cover the platform in more detail later in this article, although the key thing to note is that Ethereum Classic provides similar services to Ethereum. Still, it is much less popular due to the security concerns that arose following the hack. These concerns have loomed over Ethereum Classic since 2016, meaning that most developers opt to partner with Ethereum instead, as it is seen as the 'safer' platform.

ETC rose to prominence in April 2021, as the coin's value increased a staggering 1198% over one month. An ATH (all-time high) of $178 was reached, thanks to the bull run that was taking place in the broader crypto market. However, the spike was short-lived, and ETC began falling back down to the $40 level over the following months.
Since then, ETC has traded sideways, trapped in a range between $40 and $80. Price did show upwards movements throughout July and August; however, the large drop on the 7th of September eradicated most of the gains. Right now, the Ethereum Classic price live seems to be forming a bull flag in preparation for another drop – which could provide a solid buy opportunity at a more attractive price point.
Ethereum Classic Price Forecast
Many people who invest in cryptocurrency will do so without completing any due diligence. This refers to the process of researching a potential investment and analysing the essential factors that may influence the price. With that in mind,  this section explores the technical and fundamental elements that make up our Ethereum Classic forecast.
Technical Analysis
Much like when you buy Bitcoin (or any other crypto), it's essential to look at the chart and conduct price analysis to provide insight into future price movements. As you can see, recent price action has been pretty bearish for ETC. The sharp drop in September has come at the end of an ascending channel pattern, which usually forms just before a bearish breakout.

67% of retail investor accounts lose money when trading CFDs with this provider.
On the daily and 4H chart, the ETC price is now forming a bear flag, which signifies that there is more downwards momentum to come. However, there is a strong support level around the $40 mark, where price has rebounded three times before. If a bear flag forms and price heads downwards, it will likely gravitate towards this area.
This support level could be a great time to buy ETC. The current Ethereum Classic price is essentially in 'no man's land', meaning it would be a risky proposition to buy right now. However, as the $40 level is strong support, a buy within this region would provide a solid opportunity to generate a return on the resulting uptrend – especially if ETC heads back to the $75 level.
Fundamental Analysis
Fundamental analysis is commonly used when investors buy stocks, yet it can also be helpful when researching the crypto market. As noted earlier, Ethereum Classic is a hard fork from Ethereum, so the two are inextricably linked. However, ETC is still plagued by the reputational effects of the platform's security breach, which has meant that reputable companies have not adopted the platform.
The Ethereum Classic ecosystem does have smart contract functionality, which is a huge plus point. These contracts enable companies to save time and money by removing the intermediary from many transactions. Only a few platforms offer smart contracts right now, such as Ethereum and Cardano, so this is a significant advantage that ETC has.
ETC is also an excellent alternative to investing in Ethereum. The two pairs (ETC and ETH) are positively correlated, yet ETC is considered the more risky option. However, if you were looking to gain exposure to ETH, then an investment in Ethereum Classic is a good way of doing so without investing directly.
Ethereum Classic Price Prediction 2025 – Long Term Outlook
Given the Ethereum Classic price today, you'd be forgiven for thinking that this coin doesn't have much of a future. Yet, the research we've conducted for this Ethereum Classic prediction has highlighted that the opposite is true. Although the platform has had a rough couple of years, there is undoubtedly scope to grow its list of partners and produce some solid returns.
As noted in the previous section, one of the main things that go in ETC's favour is the positive correlation with Ethereum. Essentially, this means that when ETH goes up, so will ETC. This correlation will be a permanent element of Ethereum Classic's price action – which isn't a bad thing, considering Ethereum is being touted as the world's most promising platform.

Ethereum Classic has a market cap of just over $7 billion, making it the 28th largest crypto globally. This provides greater scope for gains compared to larger coins such as ETH, BTC, or XRP. Furthermore, since the hacks in 2016, many of the developers that maintain the Ethereum Classic platform have implemented much-needed security changes that have made the network much safer. If these upgrades can continue, it will certainly help ETC improve its reputation amongst larger firms.
Finally, ETC has a capped supply of 210 million tokens, meaning that there is a level of scarcity to the coin. This scarcity makes it a good store of value – similar to an investment in gold. Although ETC is not at that level yet, there is definitely scope for it to become a good hedging investment in the years to come.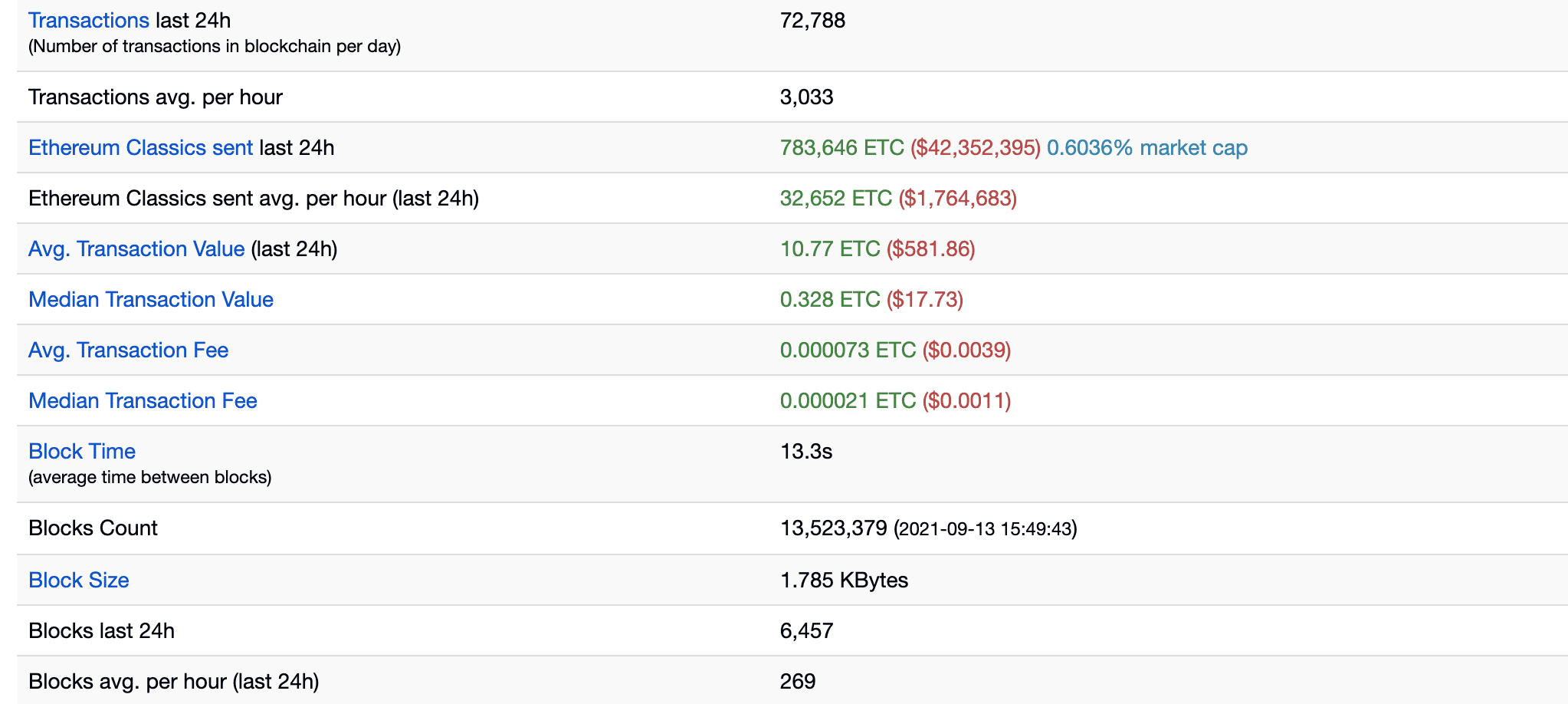 Considering these points, our Ethereum Classic price prediction 2025 speculates that the coin will head back towards the $160 level that was breached in May 2021. Admittedly, ETC will likely benefit from positive gains in ETH – although that is still a good thing for ETC investors! Further safety improvements will also lead to more partnerships, creating a 'snowball effect' of adoption.
Our Ethereum Classic price prediction 2030 takes a more long-term view on things. It's unlikely that ETC will ever topple ETH, given how well-established the latter coin is. However, as both platforms grow, the 'brand awareness' aspect of ETH will have a knock-on effect on Ethereum Classic. For this reason, we estimate that ETC could be worth around $200 by 2030.
Ethereum Classic Price Chart
If you were to buy Ethereum Classic UK, it's important to have a long-term investment timeframe. As you can see from the price chart, ETC has only really begun showing momentum since April 2021, with the coin's price being negligible before this. As a result, there is always a chance that this momentum is temporary, and price may return to these levels.
However, if ETC can capitalise on the awareness generated by these moves, it'll reinforce any bullish sentiment in the market. On the daily chart, we can see that price is ranging and trading sideways, which is a classic sign that the asset needs something to 'push' it in a specific direction. Our Ethereum Classic price prediction is relatively optimistic in this regard, believing that the overall sentiment in the market will inevitably help ETC.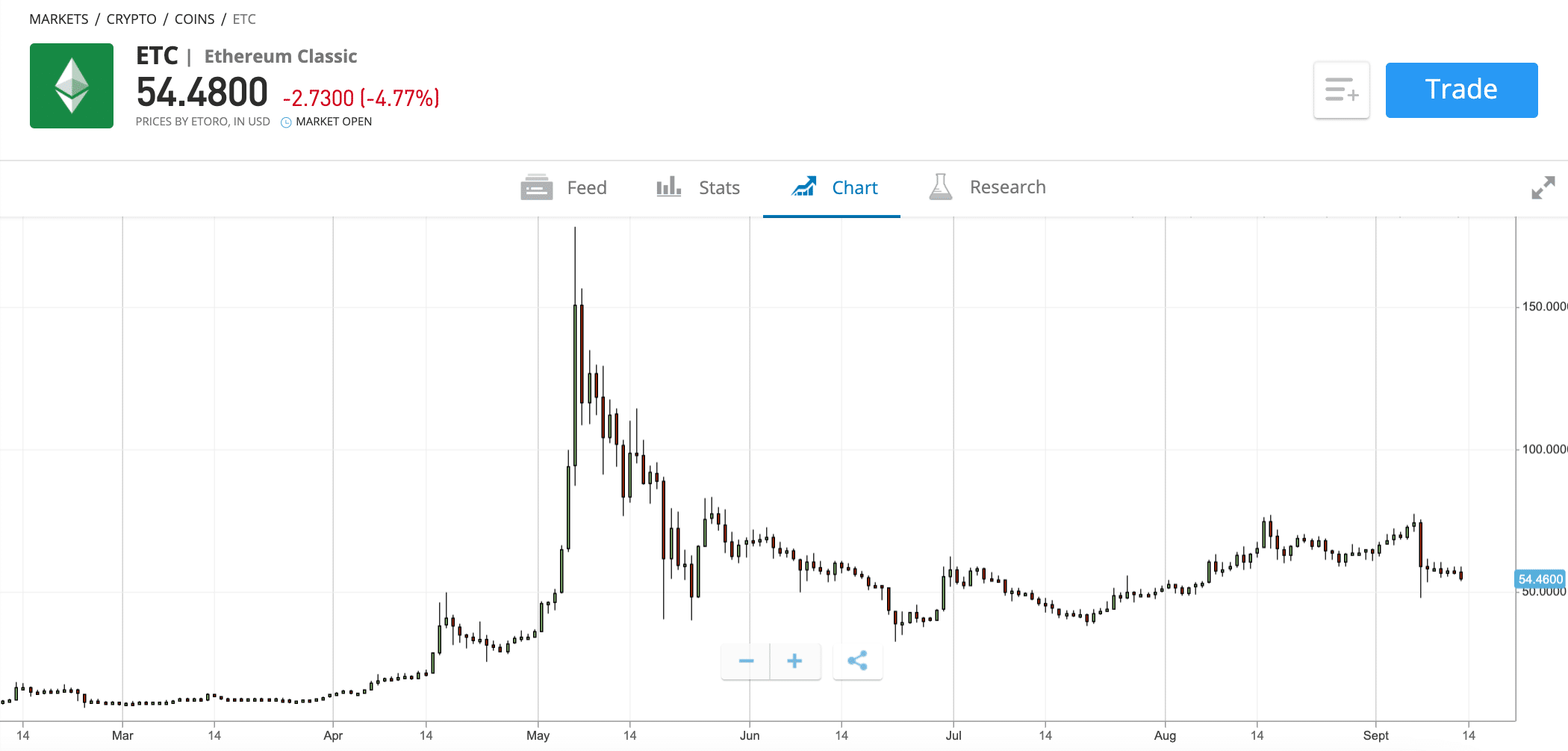 67% of retail investor accounts lose money when trading CFDs with this provider.
Overall, the factors highlighted by this Ethereum Classic forecast posit that ETC is a good investment if you are more risk-seeking and looking for an alternative to Ethereum. The platform does have its merits, although it still has to improve its reputation and scalability. If these can be handled, we could head back to the $75 level over the short term – and potentially beyond.
Where to Invest in Ethereum Classic
A crucial part of investing in cryptocurrency UK is choosing an appropriate broker to invest with. As you can imagine, there are many cryptocurrency exchanges to choose from, given the crypto market's popularity. Each broker will have its pros and cons, so it's crucial to do your research beforehand.
However, we believe that eToro is the best option when it comes to buying Ethereum Classic. eToro is one of the world's top brokers, offering a user-friendly and cost-effective platform to trade on. Notably, eToro is regulated by the FCA, ASIC, and CySEC, three of the world's top regulators.
Users of eToro can trade cryptos (including ETC) without paying a penny in commissions. This is thanks to eToro's 0% commission structure, which extends to many other assets on the platform. In addition to charging no commissions, eToro also doesn't charge any monthly account fees or deposit fees.

You can fund your eToro account with as little as $50 (£37), which is one of the lowest minimum deposit amounts in the industry. Deposits can be made using credit/debit card, bank transfer, or e-wallet – including PayPal! What's more, you can even use eToro's free demo account first before trading with real money.
Finally, eToro even offers a built-in crypto wallet to store your investments. This wallet is incredibly safe and allows you to exchange one crypto for another directly within the wallet. These factors combine to make eToro our recommended broker when it comes to investing in Ethereum Classic.
Ethereum Classic Price Prediction – Conclusion
This Ethereum Classic prediction has highlighted both the strengths and weaknesses of the blockchain platform. Most investors will opt for an ETH investment rather than an ETC investment, mainly due to reputational factors. However, if Ethereum Classic can continue its security upgrades and partner with some reputable companies, it'll provide the impetus needed for some solid gains in the future.
So, if you'd like to buy Ethereum Classic today, we'd recommend using eToro. As noted, eToro is regulated by the FCA, ASIC, and CySEC, ensuring a safe and reliable platform to trade with. What's more, all cryptos can be traded without paying any commissions, making eToro one of the most cost-effective brokers on the market.


67% of retail investor accounts lose money when trading CFDs with this provider.
FAQs
What is the price of Ethereum Classic right now?
What drives the price of Ethereum Classic?
Where can I buy Ethereum Classic?
Why is Ethereum Classic going down?
What will Ethereum Classic be worth by 2022?
What will Ethereum Classic be worth in 2025?