Enjin Price Prediction – Enjin Forecast 2021, 2022, 2025 & 2030
Non-fungible tokens (NFTs) are an innovative way of digitising real-world assets, which could potentially change areas such as asset ownership and trading permanently. Enjin is a software that allows people to manage NFTs and other digital assets, making the platform's token valuable for a wide range of applications.
In this article, we'll explore our Enjin Price Prediction in detail. We'll discuss what Enjin is and how it works before highlighting where you can invest in Enjin today – with no commissions!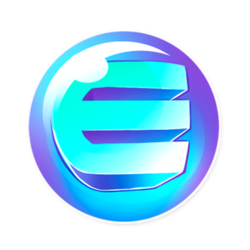 Enjin Coin (ENJ)
Price
Enjin Price Prediction 2021 to 2022
This Enjin stock forecast incorporates various types of analysis to arrive at predictions that are as logical as possible. We'll discuss this analysis in detail throughout the article. However, if you're looking for a quick overview of our Enjin prediction 2021, then the bullet points below present our findings for the months that lie ahead:
One Month – Following a similar trend to other cryptocurrencies, Enjin may go down in the short term. Due to this, we believe that Enjin could drop to the $1 level over the next month.
Three Months – The $1 level represents a strong support area, meaning that the price is likely to rebound from here. We'd expect Enjin to return to the $2.50 level over the next three months if this happens.
Start of 2022 – If the bullish momentum continues, there's certainly scope for the Enjin price to finish the year strongly. By the beginning of 2022, our Enjin forecast predicts that the token could be valued at $3.50.
67% of retail investor accounts lose money when trading CFDs with this provider.
Enjin Price History – the Story of 2021 So Far
Before you buy Enjin UK, it's essential to understand what the digital coin is and how it works. Enjin differs from the most popular cryptocurrencies such as Bitcoin (BTC) and Cardano (ADA) in various ways, making it innovative and unique. Let's explore what Enjin is and how price reached this point.
So, what is Enjin Coin? Essentially, Enjin is software that allows developers to create digital assets on the Ethereum blockchain (ETH). The Enjin platform is primarily targeted at the gaming industry, which is expected to grow exponentially in the years ahead. Thus, Enjin helps manage blockchain assets such as in-game items, in-game currencies, and many other assets.
Video game developers will buy the Enjin token (called ENJ) and design items using it. Players can then purchase these items using ENJ tokens and can also trade the items with one another. Furthermore, developers can even use the ENJ token to create their own in-game currency, which will be backed by ENJ and smart contracts – ensuring that the currency has an appropriate level of value, safety, and liquidity.

Enjin has created software development kits (SDKs) that allow developers to create digital assets on the Ethereum blockchain easily. These kits help to standardise the creation process, making it much more cost-effective to do. Through these SDKs, Enjin hopes to empower game developers and contribute to the popularity of the sector.
Finally, as Enjin is an ERC-20 token, holders can quickly transfer it to others using their Ethereum wallet. This ties into the digital asset side of things, as users could sell an in-game asset for ENJ and then transfer this ENJ to their wallet, which they can then exchange for any other digital currency they please.

As you can see, Enjin is a software that could be in high demand in the years to come as the blockchain gaming sector expands. However, as Enjin uses Ethereum's blockchain technology, transactions come with a fee that users must pay in GAS. At present, GAS fees are pretty high, although this is expected to be being remedied when Ethereum 2.0 is released.
Looking at the ENJ price chart, you can see that the Enjin price live began taking off in February 2021. Price rose by 882% between February and April, reaching an all-time high (ATH) of $3.99. However, a significant price decline then followed, highlighting the volatility that the Enjin coin has.
Our Enjin coin price prediction is still encouraging, as the price did gradually creep upwards following this decline. Between May and September, the price rose by 219%, again showing the returns potential that this token has. Although there has been a sharp drop in recent days due to the ongoing situation with Evergrande, the future still looks bright for this token.
Enjin Price Forecast
In the future, people who buy NFT tokens will likely require software that allows them to be compatible with various other digital platforms. This is where Enjin comes in, as the developers aim to help promote connectivity between various enterprises within the Ethereum blockchain. Let's take a look at the technical and fundamental factors that may drive Enjin in the months and years ahead.
Technical Analysis
With the current Enjin price hovering around the $1.38 level, you may be wondering what direction the price may head next. As you can see from the price chart, the minor support level around $1.50 has been broken, with the impetus provided by the negative news related to the Evergrande situation. Furthermore, the significant drop on 7th September meant that Enjin's price broke the ascending trendline, which usually means substantial bearish momentum.

67% of retail investor accounts lose money when trading CFDs with this provider.
The next major resistance level is around $1. This level is also a round number, meaning it has a strong psychological element to it. So, if the price was to head lower, it'll likely be attracted to this area. Notably, this can be seen as a good thing – it provides a better entry point for long-term investors.
Looking ahead, if Enjin goes down to $1 and rebounds, it'll likely provide the impetus needed to head back to the $2 range. This short move also represents a 100% return, highlighting just how much potential this token has. Furthermore, if the Enjin coin price was to break resistance here, there's a clear path back to $2.80 and potentially beyond.
Fundamental Analysis 
According to data gathered from CoinMarketCap, Enjin Coin has a market cap of just over $1.1 billion. This makes Enjin the 81st largest cryptocurrency in the world at the time of writing. Although this means Enjin has enormous potential to grow, it also means that an investment in Enjin is higher risk as the price will be more volatile.
Enjin already has partnerships with huge companies, including Microsoft and Samsung. These partnerships add huge elements of credibility to Enjin's software and pave the way for further collaborations in the future. In addition, the partnership with Microsoft is constantly rumoured to become something larger – so it's worth keeping an eye on that going forward.
Finally, as we've noted previously, the crypto gaming sector is set to explode in the coming years. The global blockchain market is expected to grow to $23.3 billion by 2023, highlighting the potential of this area. If Enjin can perfect their software over the coming years, it'll ensure they are first-choice for game developers – meaning great things for the price.
Enjin Price Prediction 2025 – Long Term Outlook
When you buy cryptocurrency, due to the asset's volatility, it's essential to have a long-term projection of where the price may go. As you can imagine, this is hard to do with smaller cryptos such as Enjin, as they are still developing and improving on their technology. However, we can still make some logical predictions for the years ahead.
The Enjin network already has over $1.1 billion worth of assets housed on its marketplace, comprised of over 800,000 digital assets. Furthermore, Enjin has been around since 2009, meaning that this company isn't suddenly springing up out of nowhere. The company's founders, Maxim Blagov and Witek Radomski, are both passionate about the project's future, meaning Enjin has a strong development team behind it.

Looking ahead, NFTs are likely to change the way that we see assets. If gamers were to create a piece of art, the Enjin software would enable them to monetise it and exchange it for usable currency. Furthermore, as Enjin can work across various games, the potential for monetisation is essentially limitless. This aspect is what makes the Enjin ecosystem so exciting.
With that in mind, our Enjin price prediction 2025 projects that this coin could be valued at upwards of $5. This would represent an increase of 260% from current levels, which is a far higher return than you'd expect to get in the equity market. Although volatility is much higher in cryptocurrency, returns are also much higher – making this asset class a good investment for risk-seeking investors.

Even further ahead, our Enjin price prediction 2030 sees the price of Enjin coin potentially reach $10. By this point, we'd expect blockchain-based gaming to be a crucial part of the crypto ecosystem – especially for the younger generation. This will mean that Enjin's software should be in high demand, leading to significant value increases for the ENJ token.
Enjin Price Chart
As our Enjin prediction has hinted at, we are pretty optimistic about this software. It's hard to visualise just how valuable it could be in the future, as only a tiny percentage of people are aware of concepts such as NFTs and blockchain gaming. However, as these concepts become more popular, companies such as Enjin are likely to benefit greatly.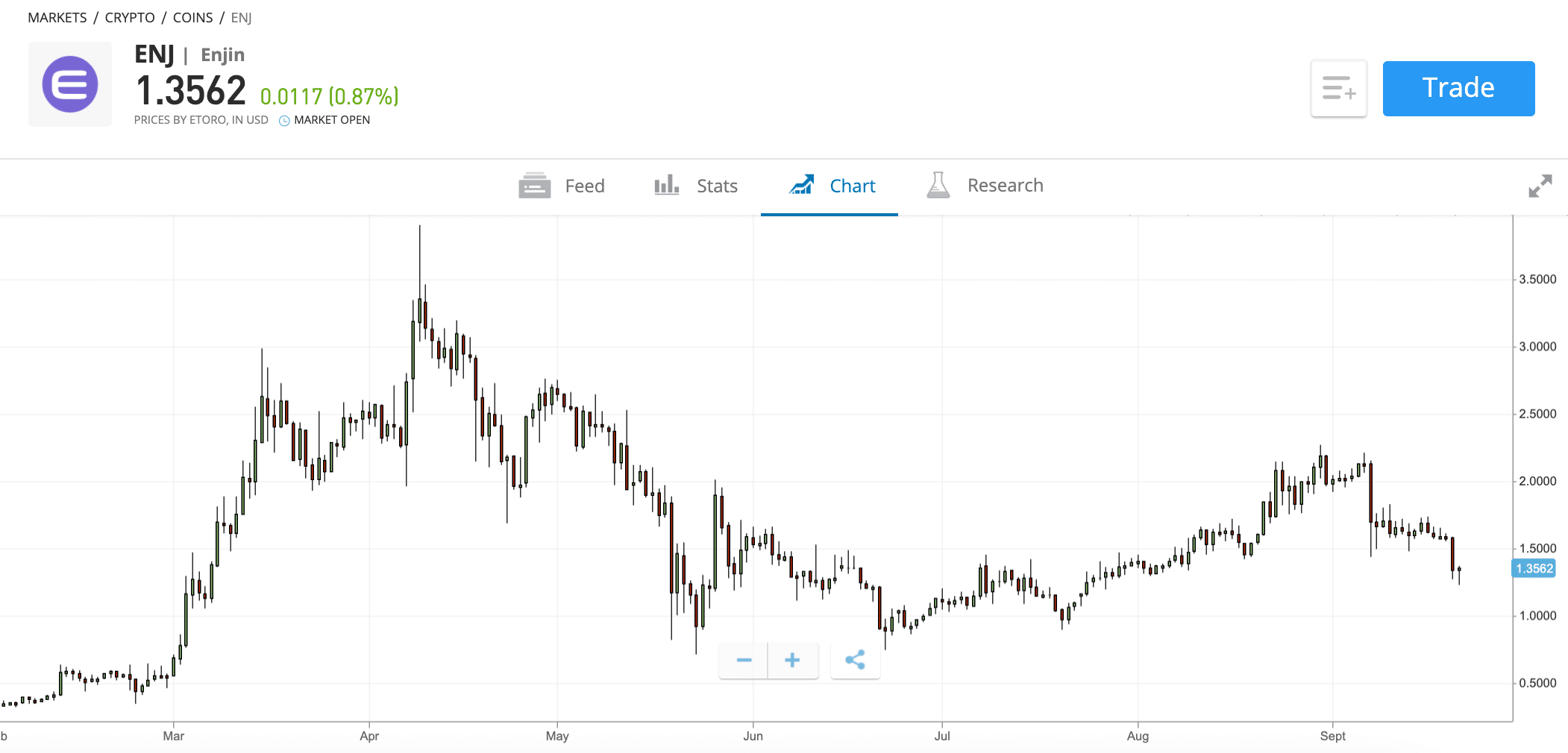 67% of retail investor accounts lose money when trading CFDs with this provider.
Looking at the weekly price chart, you can clearly see that Enjin only really began showing any momentum in early 2021. Before this, the price was trading between $0.1 and $0.2, and liquidity was negligible. This is important to note, as it shows that Enjin has not even been in the public consciousness for a year yet. As it is still so early in Enjin's lifecycle, there isn't too much historical data to base price analysis on.
However, much like when you buy stocks, it's still important to pay attention to the price chart and use it in conjunction with fundamental and news-based analysis of the broader cryptocurrency market. Any hype around Enjin will likely boost the price due to the coin's low market cap. This also works the opposite way, as any negative news (either direct or indirect) will probably decrease price drastically. Thus, it's crucial to have a long term outlook for your Enjin forecast and don't place too much emphasis on short-term moves!
Where to Invest in Enjin
If you are interested in investing in cryptocurrency and would like to purchase Enjin, you must partner with a respected and trustworthy broker. Many brokers and crypto exchanges will now offer Enjin as a tradeable asset, meaning you'll have no shortage of options. However, there are so many to choose from, so the choices can be overwhelming.
To smooth this process, we've conducted the necessary research and found that eToro offers the best way to buy ENJ coin right now. eToro is one of the world's largest online brokers, boasting over 20 million users. What's more, eToro is regulated by the FCA, ASIC, and CySEC – three of the most respected institutions in the industry.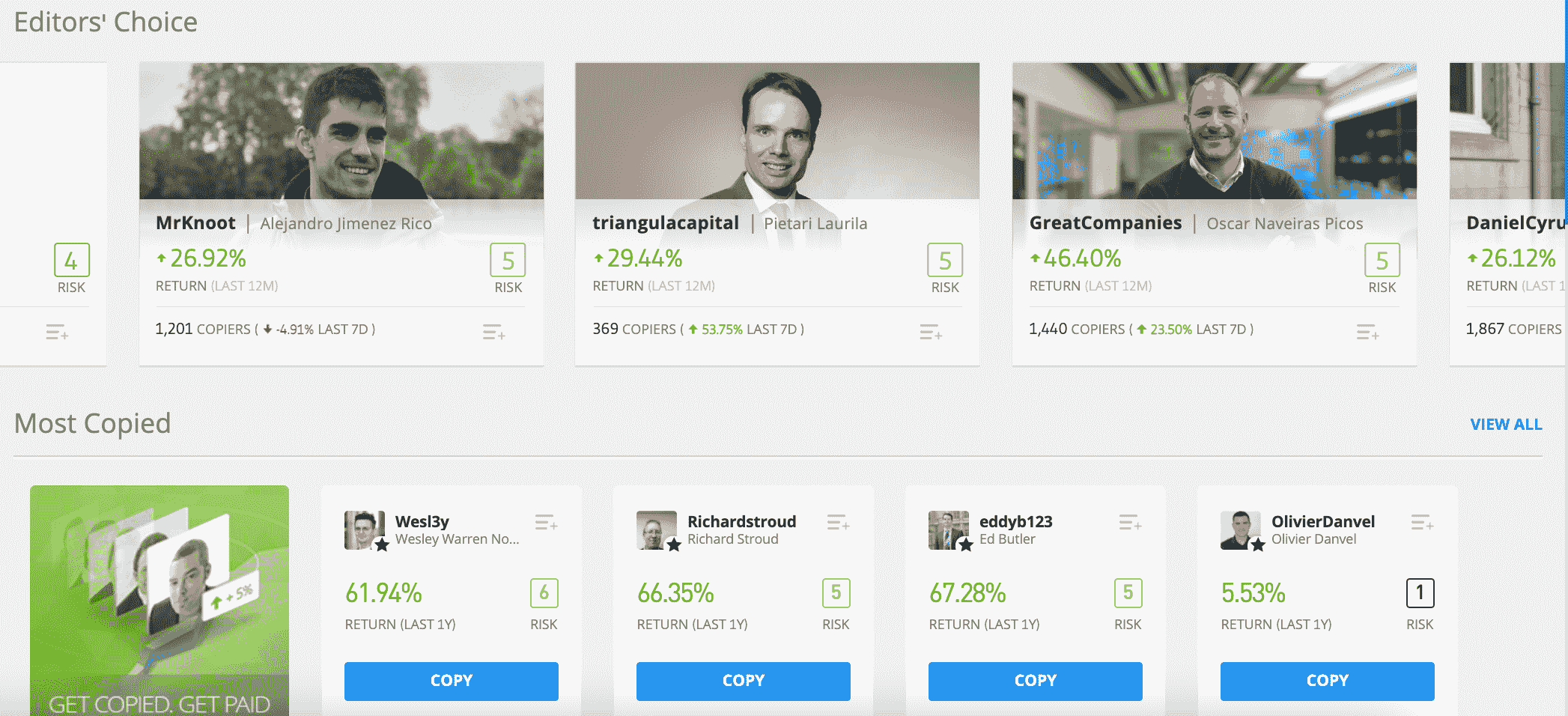 eToro is well-known due to the platform's attractive fee structure. Users do not have to pay any commissions when trading with eToro, making the entire process extremely cost-effective. What's more, spreads tend to be competitive with other brokers – although they can fluctuate during certain conditions in the crypto market.
Users can deposit as little as $50 to fund their eToro accounts, meaning the platform is accessible to beginner traders. Deposits can be made via credit/debit card, bank transfer, and e-wallets such as PayPal, Skrill, and Neteller. eToro also provides a handy demo account feature that offers a risk-free trading experience.
Finally, eToro sets itself apart from other CFD brokers as they offer a valuable CopyTrader feature. This feature allows users to automatically copy the trades placed by other eToro users – thereby creating a passive income. The CopyTrader feature is suited to traders of all experience levels, especially those who do not have time to be present at the charts all day.
Enjin Price Prediction – Conclusion
As our Enjin forecast has highlighted, this software could have massive value for developers in the years ahead – making Enjin coin a very sought after asset. The crypto gaming industry is projected to grow rapidly, meaning Enjin's software is set to be in high demand. So, although recent price action has been adverse, the long-term prospects for this token are still highly encouraging.
So, if you'd like to purchase Enjin today, we'd recommend opening an account with eToro. We recommend eToro because they don't charge any commissions and allow deposits from only $50. Moreover, eToro is regulated by numerous top entities, ensuring all users are protected whilst trading.

67% of retail investor accounts lose money when trading CFDs with this provider.
FAQs
What is the price of Enjin right now?
What drives the price of Enjin?
What will Enjin be worth by 2022?
What will Enjin be worth in 2025?