Elongate Price Prediction – Elongate Forecast 2021, 2022, 2025 & 2030
The most popular cryptocurrency that originated from a meme is Dogecoin, which went on to reach incredible heights. However, another digital coin initially created as a joke is Elongate, which aims to channel its newfound popularity into charitable acts.
So, in this guide, we'll explore our Elongate Price Prediction in detail. We'll touch on what Elongate is and how it works before highlighting the best place for you to invest in cryptocurrency today – with 0% commissions!
Elongate Price Prediction 2021 to 2022
As you'll see throughout this Elongate stock forecast, various aspects influence this crypto's price. With that said, if you're simply looking for a brief overview of our Elongate prediction 2021, then the points below highlight our projections for the upcoming months.
One Month – Given the current Elongate price is trading at a fraction of a cent, we can't foresee any substantial price increases over the next month. Thus, our analysis estimates that Elongate could show a modest boost to $0.000000030 within the next 30 days.
Three Months – Elongate requires some fresh impetus that will help increase trading volume and push price higher. If the token receives this, we estimate that Elongate could reach a valuation of $0.000000040 over the next three months.
Start of 2022 – Assuming we see some positive development moves coming from the Elongate team, then the coin has the potential to grow going into 2022. This would give Elongate a valuation of $0.000000050 by this point.
67% of retail investor accounts lose money when trading CFDs with this provider.
Elongate Price History – the Story of 2021 So Far
Many people choose to buy cryptocurrency in the hope of generating triple-digit returns – and an investment in Elongate would likely be based on similar thinking. As a meme coin, Elongate does have certain reputational factors to overcome before being able to nail down a solid spot in the crypto ecosystem. Let's take a look at what Elongate is and the token's price history.
Elongate was launched back in April 2021, with its basis stemming from a joke tweet by Elon Musk. Musk tweeted that "if there's ever a scandal about me, *please* call it Elongate". Following this, the developers got together, and Elongate was born.
Essentially, Elongate is a deflationary coin created and hosted on the Binance Smart Chain. Deflationary coins are those in which they have a maximum supply that is capped – no additional coins can be mined. Theoretically, this adds a level of scarcity to the token, meaning that if Elongate were to become very popular, then tokens would be in high demand – pushing the price even higher.

Following a similar methodology to Safemoon and Bonfire, users are charged a 10% fee when they sell Elongate. However, what sets Elongate apart is that part of this fee is donated to various charities to aid in environmental protection and help prevent hunger in certain areas. According to the Elongate website, the developers have already donated $3.49 million to charity since launch.
A more detailed look at Elongate's website highlights that the developers tend to make donations every month, with the most recent donation being a $240,000 contribution to a Youth Hospital in August 2021. In addition to aiding charitable causes, Elongate holders can also use the token to vote on specific proposals. Right now, holders can vote on whether to implement an auto-burn on Elongate, which will reduce the supply further.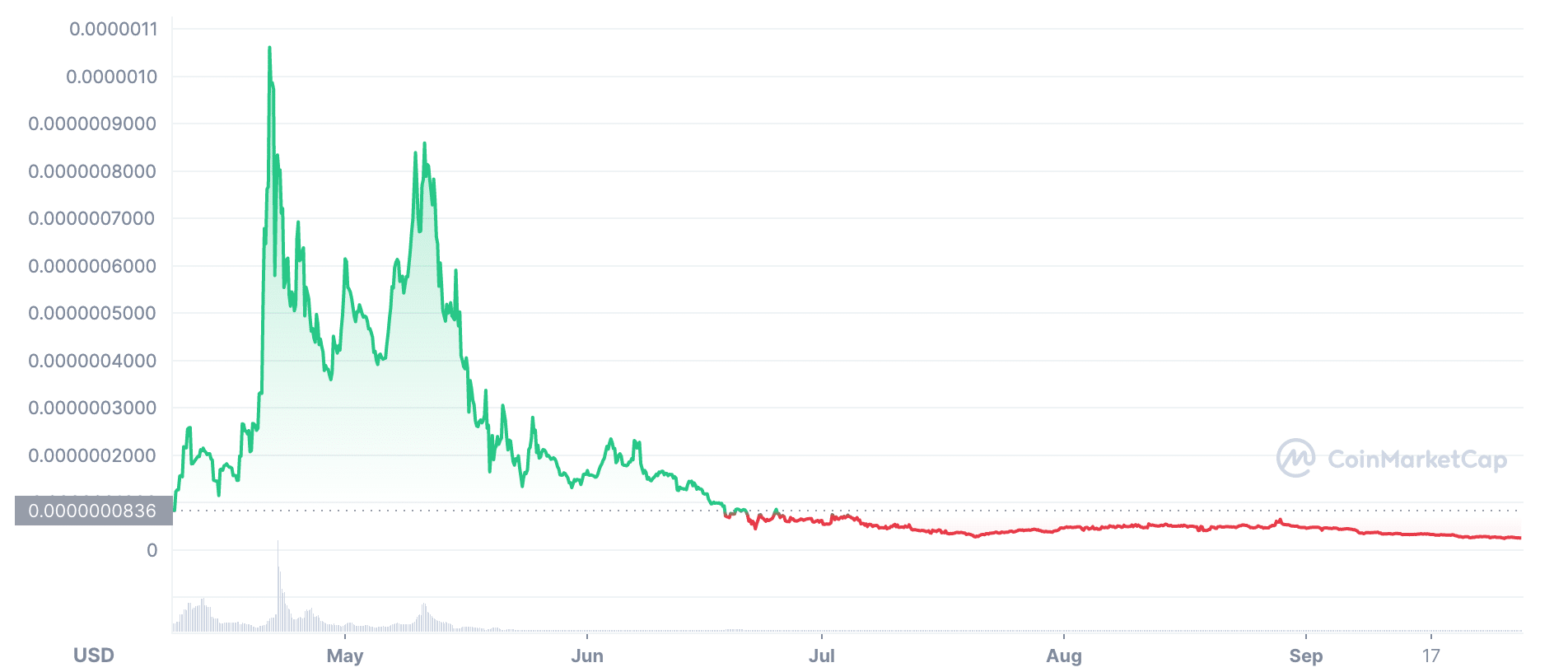 Right now, Elongates price isn't doing as well as the developers and investors would have hoped. The coin burst into the cryptocurrency market in April 2021, immediately rising to a high of $0.00000109. This high proved only to be short term, as the price immediately retreated from this peak. As you can see from the price chart, the following months saw Elongate gradually lose value, with the Elongate price today being 97% lower than April's highs.
Elongate Price Forecast
Regardless of whether you're investing in cryptocurrency short term or long term, you must have a solid idea of your price targets. This is an essential element of our Elongate forecast, as they provide logical milestones for investors to aim towards. With that in mind, let's look at the technical and fundamental factors that shape these targets.
Technical Analysis
As the price chart in the previous section has highlighted, Elongate had an immediate price rise after being launched, followed by a steep decline. Due to this, many market commentators have suggested that Elongate could have been a 'pump and dump scheme', which is when the developers build hype around a project, pushing price higher. Once the price reaches an appropriate point, the developers will sell their tokens, generating huge returns. After this happens, the price naturally decreases, leaving other investors with significant losses.
There's undoubtedly scope that this crypto coin could have been a part of a scheme such as this. However, looking at the website and the solid community backing, Elongate does have many credible points to suggest otherwise. So, although the price is trading relatively flat right now, it seems to have 'bottomed out'. Thus, if Elongate were to receive some positive impetus from significant developments, it's likely that the price will move upwards quickly – providing excellent returns for investors.
Fundamental Analysis
According to CoinMarketCap, Elongate has a market cap of just over $12 million. This doesn't even put Elongate in the top 4000 cryptocurrencies, highlighting just how small Elongate token is at present. The 24-hour trading volume for Elongate was only around $35,000 at the time of writing, showcasing the lack of hype surrounding this coin.

67% of retail investor accounts lose money when trading CFDs with this provider.
One thing to look out for is the proposed NFT drops that Elongate developers are claiming to perform. These drops will see a portion of the proceeds donated to charity, highlighting the Elongate developers' strong morals.
These NFTs can be purchased with BNB (Binance Coin), although Elongate's developers state on the website that they intend to use the Elongate token as a payment method in the future. Time will tell whether this happens, although if it doesn't, it'll provide a much-needed use case for Elongate, ensuring it's not just a vehicle for static rewards.
Elongate Price Prediction 2025 – Long Term Outlook
Like with all cryptocurrency price predictions, it's crucial to have a long-term vision of where your chosen coin could go to. In the case of Elongate, the token is very similar to Safemoon and Bonfire, in the sense that it doesn't have any 'real' use at present. Although the token does offer a way for investors to support charities, unfortunately it doesn't provide any utility in the same way that Bitcoin (BTC) or Ethereum (ETH) do.
Furthermore, no major exchanges (such as Binance) currently offer Elongate as a tradeable asset. This makes it difficult for users to buy Elongate, as the current process involves going through PancakeSwap, which is pretty complex for beginners to accomplish. Thus, if Elongate were to regain some hype and momentum, it may prompt some larger exchanges to list it – allowing for much greater liquidity levels.

So, will Elongate reach some significant heights over the coming years? It's difficult to say right now, as there are no major developments in the works, such as a native app or a blockchain platform. Developments such as these are why investors opt to buy Cardano and other large cryptos instead of smaller tokens such as Elongate, as they offer valuable use-cases.
With that in mind, our Elongate price prediction 2025 is slightly apprehensive. Although we believe that this coin could rise if the hype of April 2021 were to return, we'd need to see some notable improvements in the platform beforehand. If this does happen, we could see the Elongate price live rise to  $0.000000090 by 2025.

Looking further ahead, our Elongate price prediction 2030 is also hopeful. By this stage, we'd imagine that cryptocurrencies will form a large part of society, with the broader market's popularity helping to increase the price of Elongate. If this were to occur, we could see Elongate's price reach $0.00000012 by 2030.
Elongate Price Chart
If you were to invest in stocks, you'd be aware of the importance of the asset's price chart. Unfortunately, in the case of Elongate, there isn't much price data to go off of, as the token was only launched in April 2021. The considerable spike after launch and subsequent drop makes technical analysis difficult, so we'd advise against placing too much emphasis on this area.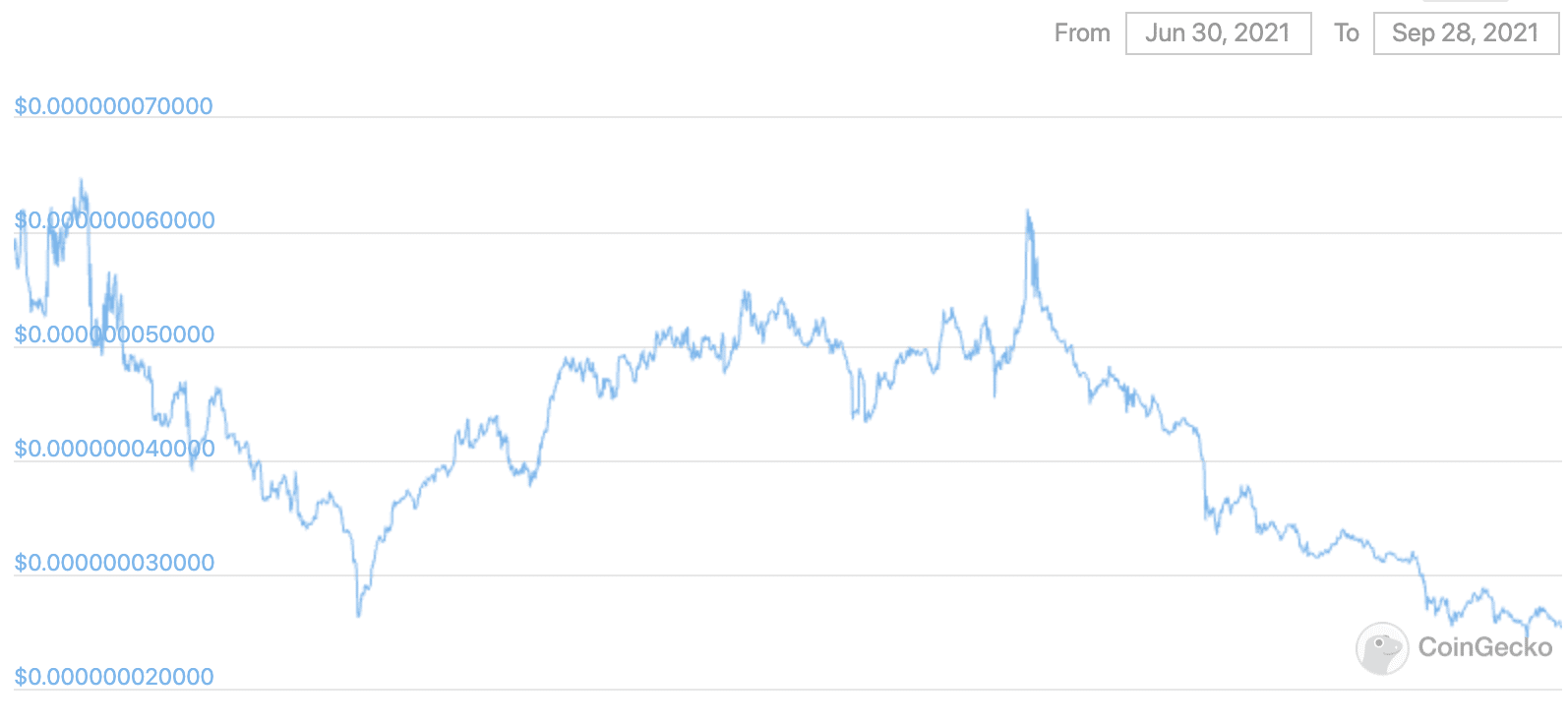 67% of retail investor accounts lose money when trading CFDs with this provider.
The good thing is that, due to Elongate coin's small size, any noticeable price moves will result in substantial returns. A move from today's price to $0.000000050 (which isn't too far away) equates to a return of 95%! So, even if you were to invest some spare cash in Elongate as a purely speculative investment, there's still scope to make notable returns.
Where to Invest in Elongate
The final thing to consider when you buy cryptocurrency UK is where you will make your investment. As we touched on earlier, the process of buying Elongate isn't as simple as creating an account with a reputable broker and then making your purchase. As Elongate is a small crypto, it involves going through a decentralised exchange (such as PancakeSwap) and then transferring BNB or USDT into Elongate.
However, if you opt to invest in an alternative cryptocurrency and are looking for a broker, then we'd highly recommend using eToro. eToro is one of the major players in the crypto trading scene, having more than 20 million users worldwide. What's more, users can trade safely knowing that they are protected by oversight from the FCA, ASIC, and CySEC.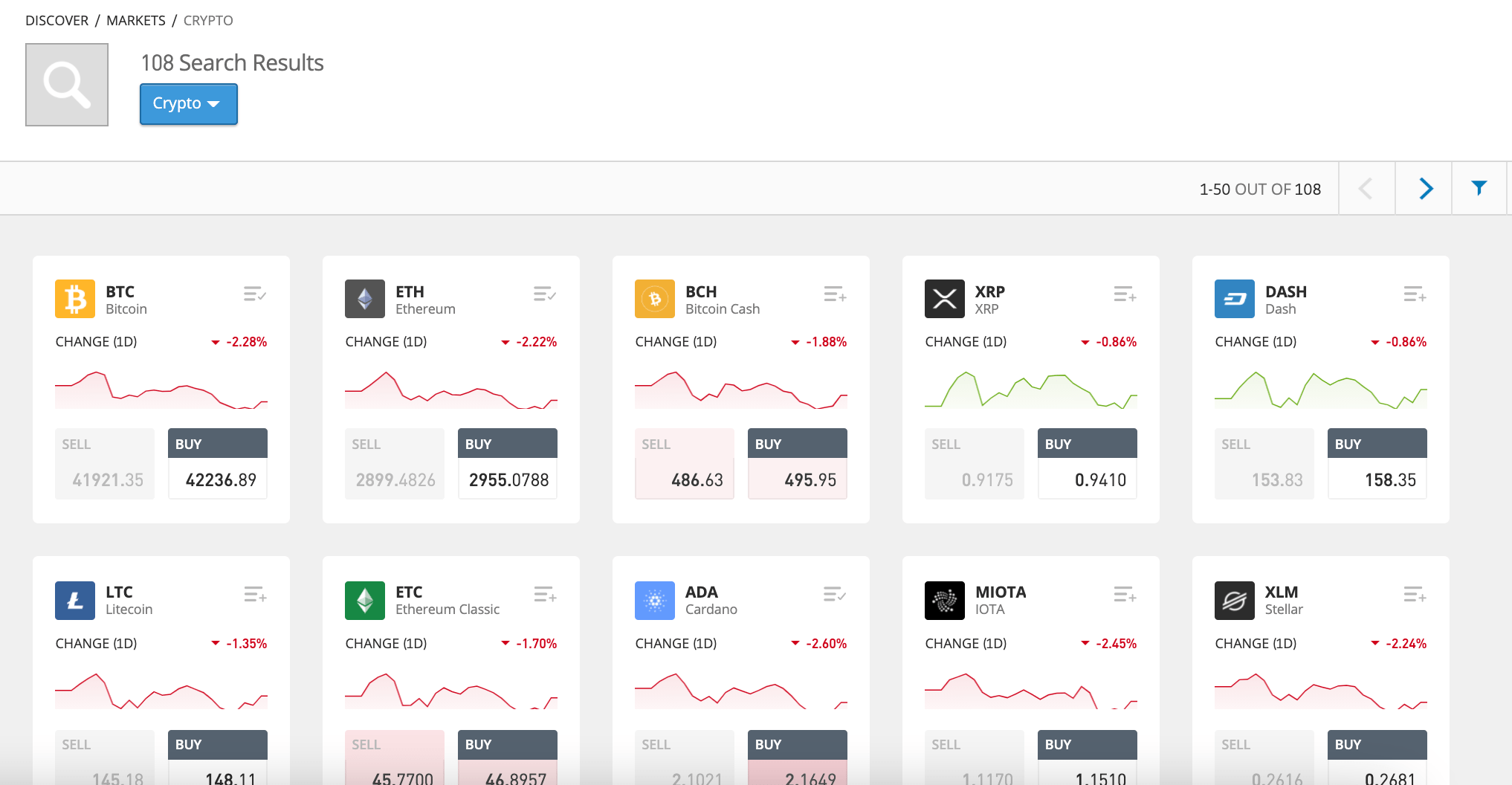 We recommend eToro due to the broker's attractive fee structure. Users can invest in cryptos commission-free, which is a rare feature in the trading industry. What's more, investments only need to be a minimum of $50 (£37), meaning you can start small and work your way up. Due to this, eToro is suitable for both beginner investors and experienced traders.
In terms of funding your account, eToro accepts deposits via credit/debit card, bank transfer, and various e-wallets – including PayPal and Neteller. The minimum deposit threshold is only $50 (£37), and deposits are entirely free to make. Notably, you can even utilise eToro's free demo account first if you wish to gain some risk-free trading experience.
Finally, eToro offers a vast selection of cryptocurrencies to trade, along with various crypto-to-crypto pairs. In this sense, eToro provides many of the same features that the best Bitcoin trading platforms offer whilst simultaneously providing a user-friendly experience. For these reasons and the reasons listed above, we'd highly recommend using eToro if you're looking to trade the cryptocurrency market.
Elongate Price Prediction – Conclusion
In conclusion, this Elongate forecast has covered the token in detail, discussing what it is and how it functions. As you can see, our Elongate prediction is still slightly apprehensive, given that some of the developers' promises have not yet been met. However, if we see some positive moves in this area, the hype will likely begin building around Elongate again – meaning great things for the token's price.
So, if this Elongate forecast has got you interested in crypto trading, then we'd recommend opening an account with eToro. As touched on earlier, eToro is a top-rated broker and boasts regulation from various reputable entities. What's more, all trading at eToro is commission-free, and users can begin investing from as little as $50!


67% of retail investor accounts lose money when trading CFDs with this provider.
FAQs
What is the price of Elongate right now?
What drives the price of Elongate?
Where can I buy Elongate?
Why is Elongate going down?
What will Elongate be worth by 2022?
What will Elongate be worth in 2025?