CAKE Price Prediction – CAKE Forecast 2021, 2022, 2025 & 2030
Due to the world growing more decentralised, innovative and exciting platforms have begun offering services that stick to these principles and move away from the 'single point of authority' model. One of these platforms is PancakeSwap, which uses CAKE as its native token.
In this guide, we'll explore our CAKE Price Prediction in detail. We'll discuss what PancakeSwap and CAKE are and how the future looks for them before discussing where you can buy cryptocurrency today – in under ten minutes!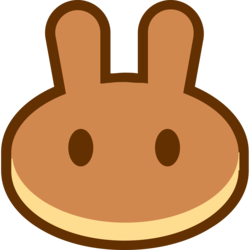 PancakeSwap (CAKE)
Price
CAKE Price Prediction 2021 to 2022
As you're probably aware, if you buy cryptocurrency frequently, it's a good idea to determine some short term and long-term price targets so that they can act as milestones for your investment's success. We'll explore this avenue later in the article; however, if you're just looking for a brief outline of our CAKE stock forecast, the bullet points below present our findings for the upcoming months.
One Month – The current CAKE price is hovering around $19.47 and seems to be creating a minor support level. Price may head lower to touch this and rebound up – if this occurs, we may see CAKE hit $25 in the next month.
Three Months – Assuming the next impulse is bullish, this will likely see CAKE finish out Q4 2021 strongly. We project that CAKE could reach a valuation of $40 within the next three months.
Early 2022 – Although the beginning of the year is sometimes slow for crypto, our CAKE prediction 2021 is still rosy for this altcoin. We estimate that CAKE could make an attempt on April's all-time highs, reaching a valuation of around $46.
67% of retail investor accounts lose money when trading CFDs with this provider.
CAKE Price History – the Story of 2021 So Far
Throughout this PancakeSwap price prediction, we'll make sure to cover all of the bases when it comes to this cryptocurrency. Much like when you buy stocks, it's a good idea to understand what your chosen asset is and its price history before investing. With that in mind, let's explore CAKE in detail and analyse its price movements in 2021.
PancakeSwap is what's known as a decentralized exchange (DEX). These exchanges allow users to swap cryptos and tokens without an intermediary, thereby sticking to the principles that were first laid out when Bitcoin (BTC) entered the market. PancakeSwap is hosted on the Binance Smart Chain (BSC), which has been developed by Binance and offers full support for smart contracts.
In this sense, PancakeSwap is very similar to Uniswap. Both of these platforms operate in the growing area of decentralized finance (DeFi) and aim to make the process of investing in the cryptocurrency market much more seamless for investors. PancakeSwap does this through liquidity pools, which is basically when other users 'lock up' their tokens into a smart contract. These tokens then act as an automated market maker – with users who stake their tokens being rewarded with a return.

As we noted in the intro, CAKE is the native token of the PancakeSwap platform. CAKE tokens are primarily there to generate liquidity within the platform and also acts as a governance token. This means that users who hold large amounts of CAKE can vote on specific proposals to change the platform. Furthermore, users can also stake their CAKE and earn greater returns in what's known as 'syrup pools'.
CAKE is also deflationary, which means that the developers will consistently burn CAKE tokens to reduce the supply, thereby incentivising the price to push higher. This occurred in early 2021, as the CAKE price live spiked an incredible 7837% in the space of two months. Following this, CAKE went on another bull run and ended up over 10,000% up from its price at the beginning of the year! These returns are exceptional, even considering the volatility of the crypto market.

Since that point, CAKE has fallen slightly and is now trading around 58% less than April's all-time highs. Since May, the price has been trading sideways and seems to be waiting for some form of impetus to help push upwards again. Overall though, CAKE has had a wild ride so far – and it doesn't look to be over yet!
CAKE Price Forecast
When investing in cryptocurrency, various factors could affect a coin's price. Thus, it's essential to perform in-depth price analysis to ensure you're investing effectively. With that in mind, let's look at the technical and fundamental factors that may affect CAKE's price.
Technical Analysis
The price movement in CAKE has been slightly bearish in recent weeks, as the price has just trundled down gradually. Since the highs of April 2021, CAKE has lost around 58% of its value – but is still trading considerably higher than at the beginning of the year. The support level around $10.92 seems to be holding the price up, which is a good sign for investors.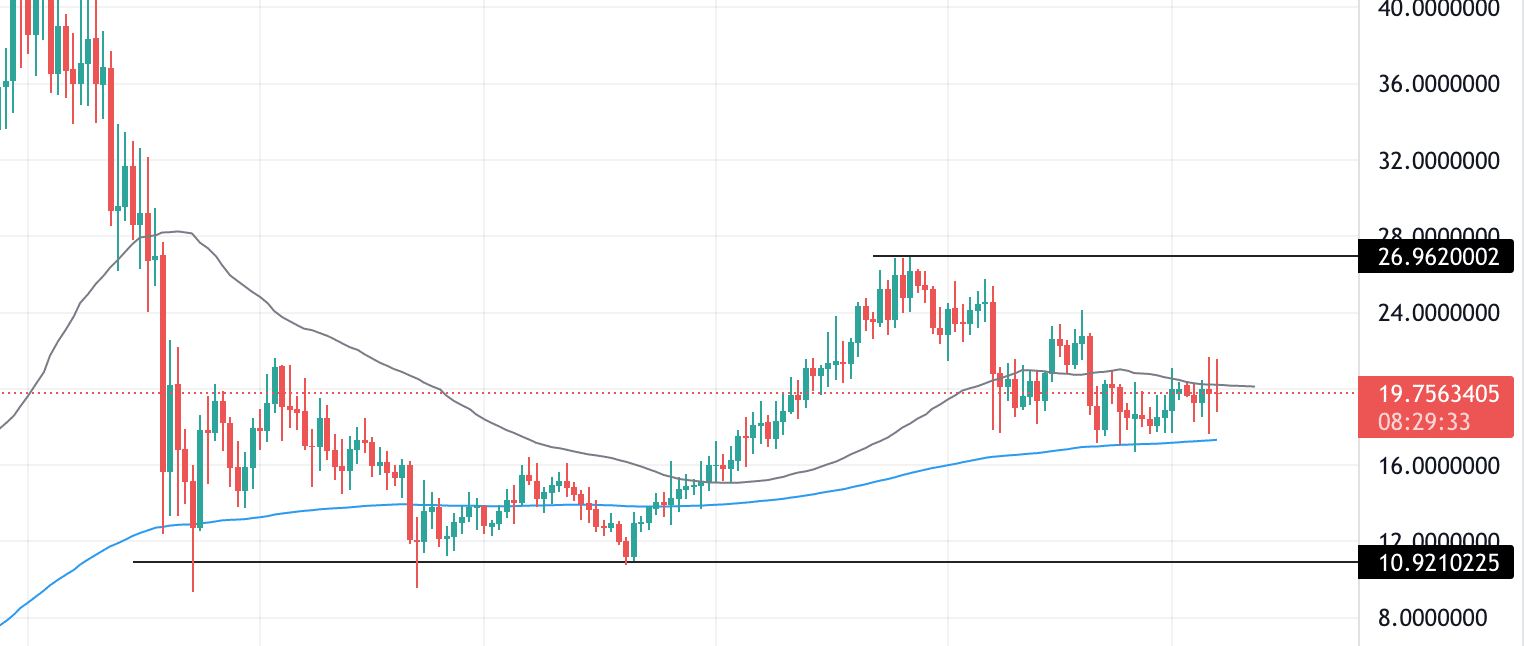 67% of retail investor accounts lose money when trading CFDs with this provider.
The darker line on the chart is the 50-day EMA, a moving average representing the medium-term trend of an asset. As CAKE is trading below it, this tends to be a slightly bearish signal. However, CAKE is trading above the 200-day EMA, which indicates that the long-term sentiment is still bullish.
If CAKE were to impulse downwards, we'd likely see it head towards the $11 area, which has proven to be a strong support level in the past. This would be a good buying opportunity, as it would offer great returns on the upside. However, as always, it's crucial to do your own research and determine whether this fits with your trading plan.
Fundamental Analysis
According to CoinMarketCap, CAKE has a market cap of $4.49bn at the time of writing. This makes CAKE coin the 41st largest crypto in the world right now. Over $374m of trading volume occurred in the last 24hrs, highlighting how popular this token is.
One of the most exciting things about PancakeSwap is the platform's low fees. Most DEXs are built on the Ethereum (ETH) platform, meaning that costs are substantially higher at present. Ethereum is looking to sort this with its upcoming ETH 2.0 update, but fees have become such a problem that traders are currently looking for alternatives, such as PancakeSwap.
In addition, although PancakeSwap only supports BEP-20 tokens (which run on Binance Smart Chain), it is possible to 'wrap' tokens from other blockchains and trade them on PancakeSwap. This process ensures that investors can select from a wide range of assets and still trade in a decentralised manner.
CAKE Price Prediction 2025 – Long Term Outlook
The next stage of our CAKE forecast focuses on the long term. As this CAKE prediction has noted, the future of the platform looks exceptionally bright. PancakeSwap has a very valuable use case, which is essential when you buy cryptocurrency.
The area of DeFi is growing exponentially, meaning services such as PancakeSwap's will be crucial to the ecosystem in the years ahead. Furthermore, as PancakeSwap offers much lower fees than other DEXs at present, it provides an appealing reason for investors to choose this platform over alternatives. Finally, even on a branding level, PancakeSwap will likely attract beginners to the crypto market as it is very user friendly.

Furthermore, as a deflationary token, CAKE tokens will likely rise in value over the long term. This is even taking into account the fact that there is no maximum supply of CAKE. As more coins are burned, the supply will reduce – and as you'll know from the laws of supply and demand, once supply decreases, the price tends to follow.
Overall, our CAKE forecast for the long term is relatively bullish. As more people enter the crypto market, they'll likely need a DEX to invest in smaller tokens. The brand appeal that Binance has will attract large portions of the market, which will naturally lead to people using PancakeSwap. For that reason, we believe the future is encouraging for this token.

With that in mind, our CAKE price prediction 2025 estimates that this token could hit a valuation of $100. The growth of DeFi will likely provide the impetus for the price of PancakeSwap to explode over the coming years, with the platform's low fees and ease of access proving to be the deciding factors when attracting users.
In addition, our CAKE price prediction 2030 estimates that the token could reach a valuation of around $200. It's hard to visualise this price right now, as CAKE is only trading around $19. However, by 2030 the world will be even more crypto-friendly than it is now, paving the way for DEXs such as CAKE to take centre stage.
CAKE Price Chart
As you can see, this CAKE price prediction is pretty bullish. Most people looking for a DEX will tend to buy Uniswap Coin UK – purely based on reputation. However, even though Uniswap is a great platform, the fees are simply too high for active retail investors to stomach right now.
The yields provided by PancakeSwap, combined with the wide variety of assets to trade, make the platform an appealing prospect for retail and even professional investors. As more trading volume comes to the platform, we'll likely see this translate to the price chart. CAKE is still relatively new to the market in the grand scheme of things, so the price may still be finding its feet.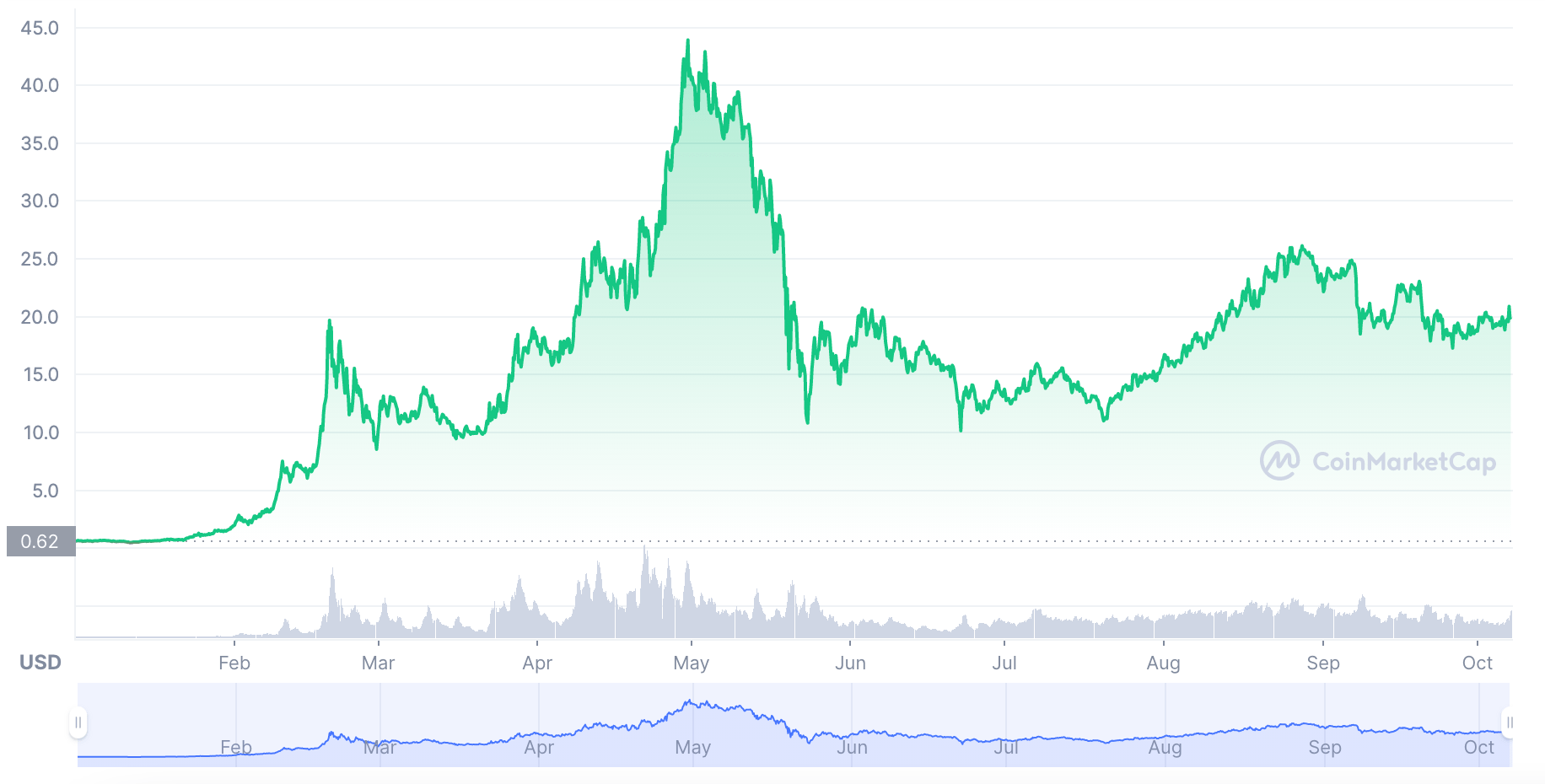 67% of retail investor accounts lose money when trading CFDs with this provider.
Overall, CAKE looks like a good investment for the long term – although you'll have to be comfortable with volatility. As you can see from the price chart, there have been many aggressive swings already, with daily candles typically having long wicks. If you can stomach this volatility, you'll likely be rewarded in the years ahead.
Where to Invest in CAKE
The final part of this CAKE forecast is to discuss where actually to buy the CAKE token. As you can probably guess, to buy CAKE, you will have to use a DEX. This will involve buying BNB from Binance using FIAT currency (such as USD), transferring it to the TrustWallet and then convert it to Binance Smart Chain (BSC).
Once you have BSC, you can then use PancakeSwap to exchange it for CAKE. This process can be a little confusing at first, especially for newbies. However, if you'd like to invest in alternative cryptocurrencies, we'd recommend using eToro.
There are numerous reasons why we recommend eToro, but the main one is that the platform does not charge any fees when you place a trade. This commission-free structure contrasts with the hefty fees charged by many other platforms. eToro's fees are included in the spread, the difference between the bid and ask prices. Like other CFD brokers, this spread can fluctuate depending on market conditions.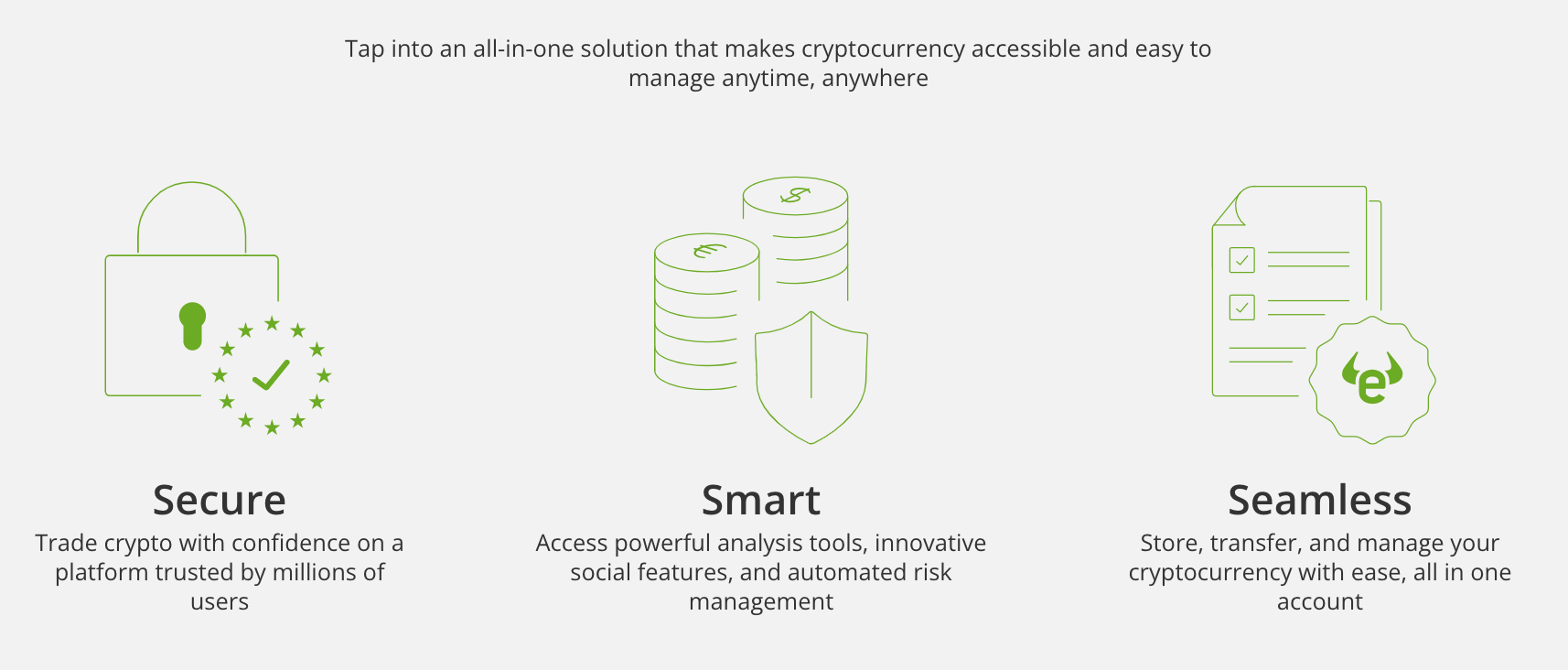 Deposits are entirely free to make with eToro and can be completed from as little as $50. Users can make deposits via credit/debit card, bank transfer, or various e-wallets, such as PayPal and Skrill. Notably, eToro also offers a free demo account that you can use to gain experience in the market.
Finally, eToro is regulated by numerous organisations, including the FCA, ASIC, and CySEC. These organisations ensure eToro is employing the highest levels of security, enabling you to trade with confidence. Overall, these reasons combine to make eToro our go-to platform for trading crypto.
CAKE Price Prediction – Conclusion
In closing, this CAKE prediction has examined CAKE in detail, touching on what the token is and its use. As you're now aware, PancakeSwap and CAKE are both poised for a great future, thanks to the growth of cryptocurrency and DeFi. Although there will ultimately be stiff competition from other platforms, there is certainly a place within the crypto ecosystem for PancakeSwap to thrive.
So, if you'd like to buy crypto today, we'd recommend using eToro. eToro is an FCA-regulated broker and doesn't charge any commissions when trading. What's more, eToro offers a massive selection of tradeable cryptos – all with competitive spreads!


67% of retail investor accounts lose money when trading CFDs with this provider.
FAQs
What is the price of CAKE right now?
What drives the price of CAKE?
What will CAKE be worth by 2022?
What will CAKE be worth in 2025?