Bitcoin Cash Price Prediction – Bitcoin Cash Forecast 2021, 2022, 2025 & 2030
As one of the top 20 cryptocurrencies by market cap, Bitcoin Cash is a favourite of crypto investors worldwide. After a rocky few months, the price of Bitcoin Cash is beginning to showcase some positive momentum – leading many to speculate whether the highs of May 2021 could be reached once again.
In this article, we present our Bitcoin Cash Price Prediction across a variety of timeframes. We'll cover Bitcoin Cash in great detail, touching on how price reached this point and showing you where to invest in Bitcoin Cash with 0% commissions!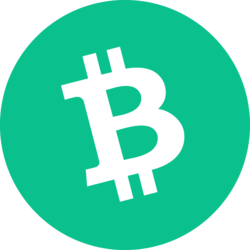 Bitcoin Cash (BCH)
Price
Bitcoin Cash Price Prediction 2021 to 2022
We'll explore our Bitcoin Cash forecast in detail throughout this article, covering the various elements that influence the price. However, if you are looking for a quick rundown of our predictions, then look no further. The bullet points below showcase our Bitcoin Cash stock forecast for the upcoming timeframes, derived through in-depth research and analysis.
One Month – The past few weeks have seen a remarkable uptick in momentum for Bitcoin Cash. We believe this momentum will continue, pushing the altcoin to the $1000 mark over the next month.
Three Months – Although we will likely see a pullback at some point, the fundamental and technical factors align for a bullish Bitcoin Cash prediction. Our analysis states that Bitcoin cash could reach the highs of $1600 within the next three months.
Start of 2022 – If Bitcoin Cash can breach May's highs, the next resistance level is around the $1850 mark. Assuming the positive momentum continues, we feel that Bitcoin Cash could reach the $1900 level by the beginning of 2022.
67% of retail investor accounts lose money when trading CFDs with this provider.
Bitcoin Cash Price History – the Story of 2021 So Far
First things first – let's look at Bitcoin Cash and how the price reached this point. Various factors contribute to Bitcoin Cash's rise to prominence, so it's vital to examine these in detail. However, it's also essential to understand what Bitcoin Cash is and how it differs from Bitcoin.
Bitcoin Cash is defined as a 'fork' of Bitcoin. A fork is when a cryptocurrency is created based on another crypto's underlying concept but has some fundamental changes. The 'new' blockchain forks off from the original, creating a new digital currency. Thus, Bitcoin Cash is known as a 'hard fork', as it split from the primary Bitcoin blockchain.

The main difference between BTC and Bitcoin Cash is the block size. Bitcoin Cash has a much larger block size than Bitcoin, which allows for more transactions per block. This makes Bitcoin Cash a much better option for peer to peer payments, as the costs of making a transaction are much lower than those charged by traditional financial services firms.
In late 2017 when Bitcoin Cash was launched, the coin's price skyrocketed. Price rose by 193% during the first couple of weeks after launch, reaching a high of $4355 – which stands as the coin's all-time high. However, this high was only temporary, and the price fell by around 86% during the following months.
Over the following years, there were times when large volumes of people began to buy Bitcoin Cash UK, prompting a few spikes in price. On the whole, the Bitcoin Cash price live never recovered to the heights reached in 2017 and continued to decline throughout 2019 and 2020. At this point, many market commentators believed that Bitcoin Cash was just another failed digital currency and would never achieve its goals.

However, in late 2020, the coin price did begin to showcase some positive momentum. Much of this increase can be attributed to the overall bull run in the cryptocurrency market, but regardless, the coin did experience some serious gains. Between December 2020 and April 2021, Bitcoin Cash rose by a remarkable 373%, prompting renewed interest in the currency.
More bullish momentum followed, with Bitcoin Cash reaching a high of $1642 in May 2021. Immediately after this, the price crashed due in part to China's regulatory announcements and other external factors. Price fell 75% between early May and late July, highlighting this coin's volatility.
Bitcoin Cash Price Forecast
Now that you're all caught up on the journey of Bitcoin Cash, let's take a look at our Bitcoin Cash prediction 2021. As always, our forecasts are comprehensive, covering all of the factors that may shape the future of a specific crypto. With that in mind, this section is broken down into fundamental and technical aspects, providing a holistic analysis of this coin's prospects.
Technical Analysis
The first thing you should do when you look into how to buy cryptocurrency is to analyse the price chart of your chosen coin. For this Bitcoin Cash forecast, we've studied the chart intensely, identifying critical technical factors that may hint at future price movements. As you can see from where the current price is, there are a few significant resistance levels on the horizon, which could prove tricky to break down.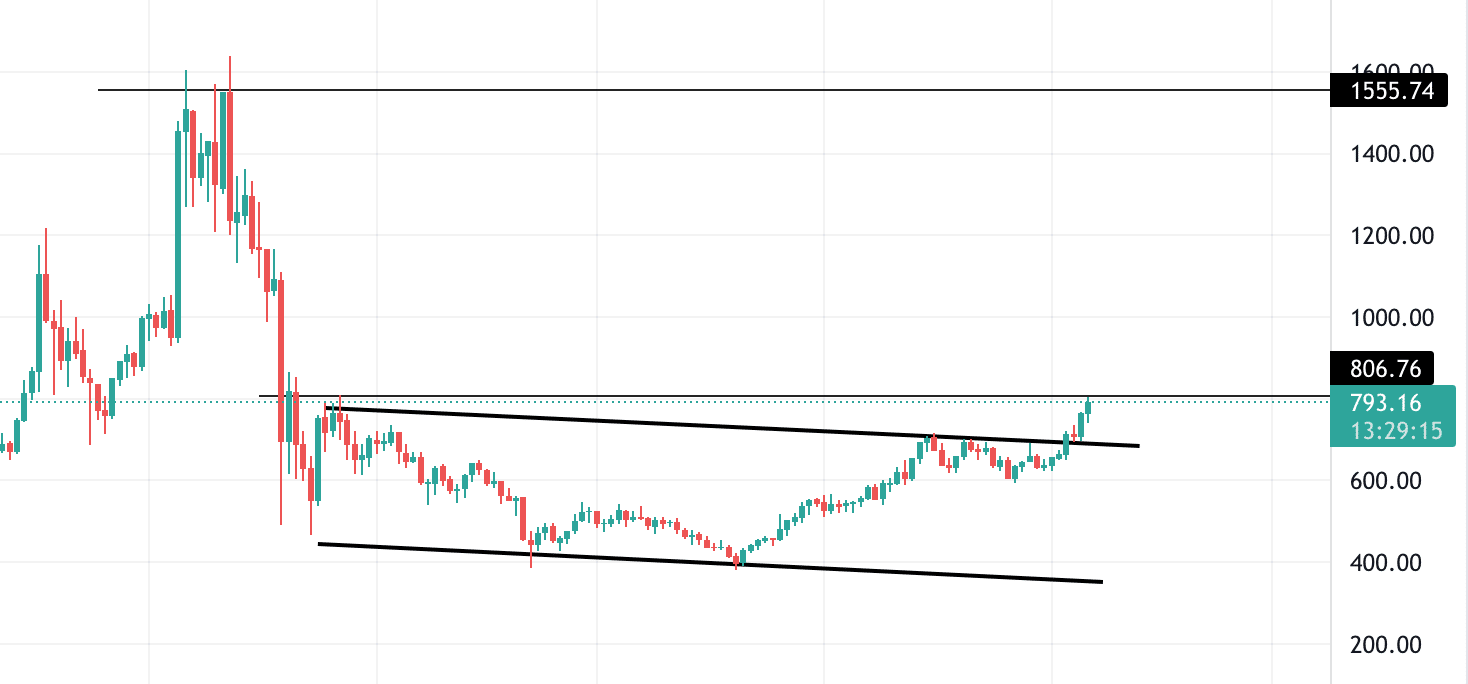 67% of retail investor accounts lose money when trading CFDs with this provider.
The minor resistance around the $700 level did not prove a problem for Bitcoin Cash, as price moved past that with ease. There is now some resistance around the $800 level, which price is currently testing. Furthermore, as this is a round number, the level could prove tricky to break due to psychological factors.
However, with the current momentum shown by price, our Bitcoin Cash price prediction is very optimistic. If the price can break above the $800 level and establish a solid close on the Daily or Weekly timeframes, it'll 'confirm' the upwards move. This would present a clear path back to the highs of May 2021 – and maybe even beyond.
Fundamental Analysis
When you buy Bitcoin or any other digital coin, it's essential to look at the fundamental factors that may affect the price. In the case of Bitcoin Cash, there are various things to note going forward. As stated earlier, Bitcoin Cash boasts much larger block sizes than Bitcoin – meaning scope for more transactions. This would be a huge benefit to individuals and companies worldwide, as the traditional Bitcoin system is growing slightly outdated for peer-to-peer payments.
However, as Bitcoin Cash has a larger block size, it does raise questions about the coin's security. Larger block sizes mean that security levels are much harder to maintain relative to Bitcoin – which hampers the adoption of Bitcoin Cash. Furthermore, as Bitcoin has much more 'brand appeal' than Bitcoin Cash, it's difficult for the latter to make any substantial market impact.
One key thing that could go in Bitcoin Cash's favour is that the digital asset supports smart contracts. Much like people who buy Cardano UK, the people who invest in Bitcoin Cash also speculate on the adoption of smart contracts. So, if these contracts become the norm in the future, the fact that Bitcoin Cash supports DeFi smart contracts could mean great things for scalability and price.
Bitcoin Cash Price Prediction 2025 – Long Term Outlook
Although the current Bitcoin Cash price shows some positive price action, it's a good idea to extrapolate this into a longer-term outlook. Bitcoin Cash has some tangible benefits compared to other cryptos such as Bitcoin, Ethereum (ETH) and Dogecoin – yet doesn't seem to have the same community backing as these coins. As such, Bitcoin Cash tends to be an afterthought in the crypto community.
The low fees offered by Bitcoin Cash, combined with fast confirmation times, makes this coin an excellent option for companies worldwide. Many major companies are beginning to accept Bitcoin Cash as a payment method, with Bitcoin.com reporting that 4392 merchants currently accept the coin. This is obviously a good thing for the crypto, as it can create a sort of 'snowball effect' that will lead to larger numbers of companies adopting it.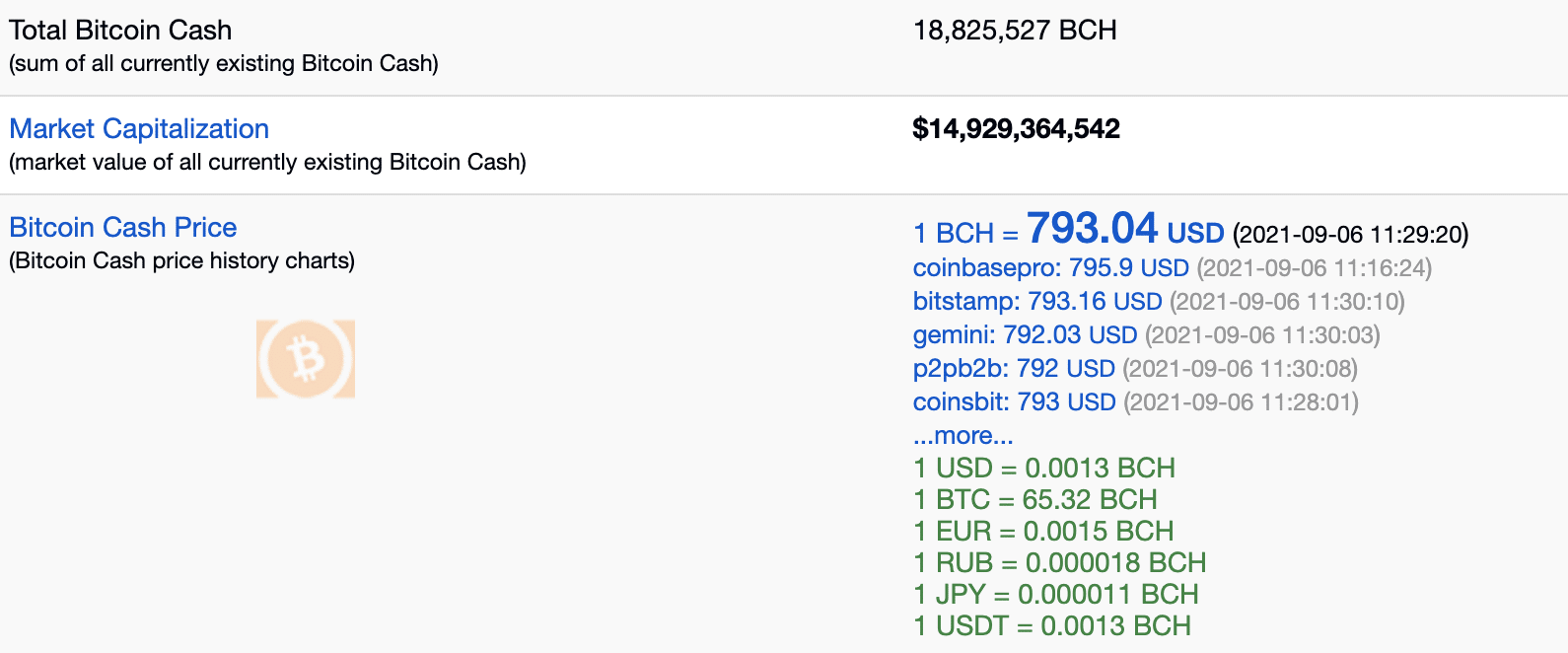 Furthermore, Bitcoin Cash has inherent scarcity, meaning that each coin has a high value relative to other cryptos that do not have this scarcity. Bitcoin Cash (BCH) is theoretically more scarce than Bitcoin, which could significantly impact the coin's value in the future.
With all of that said, our Bitcoin Cash price prediction 2025 is very optimistic. As the crypto market grows, there will be a noticeable knock-on effect for smaller coins such as BCH. Combining this with the benefits of Bitcoin Cash and adoption by more companies, our analysis points to Bitcoin Cash being valued at $3500 by 2025.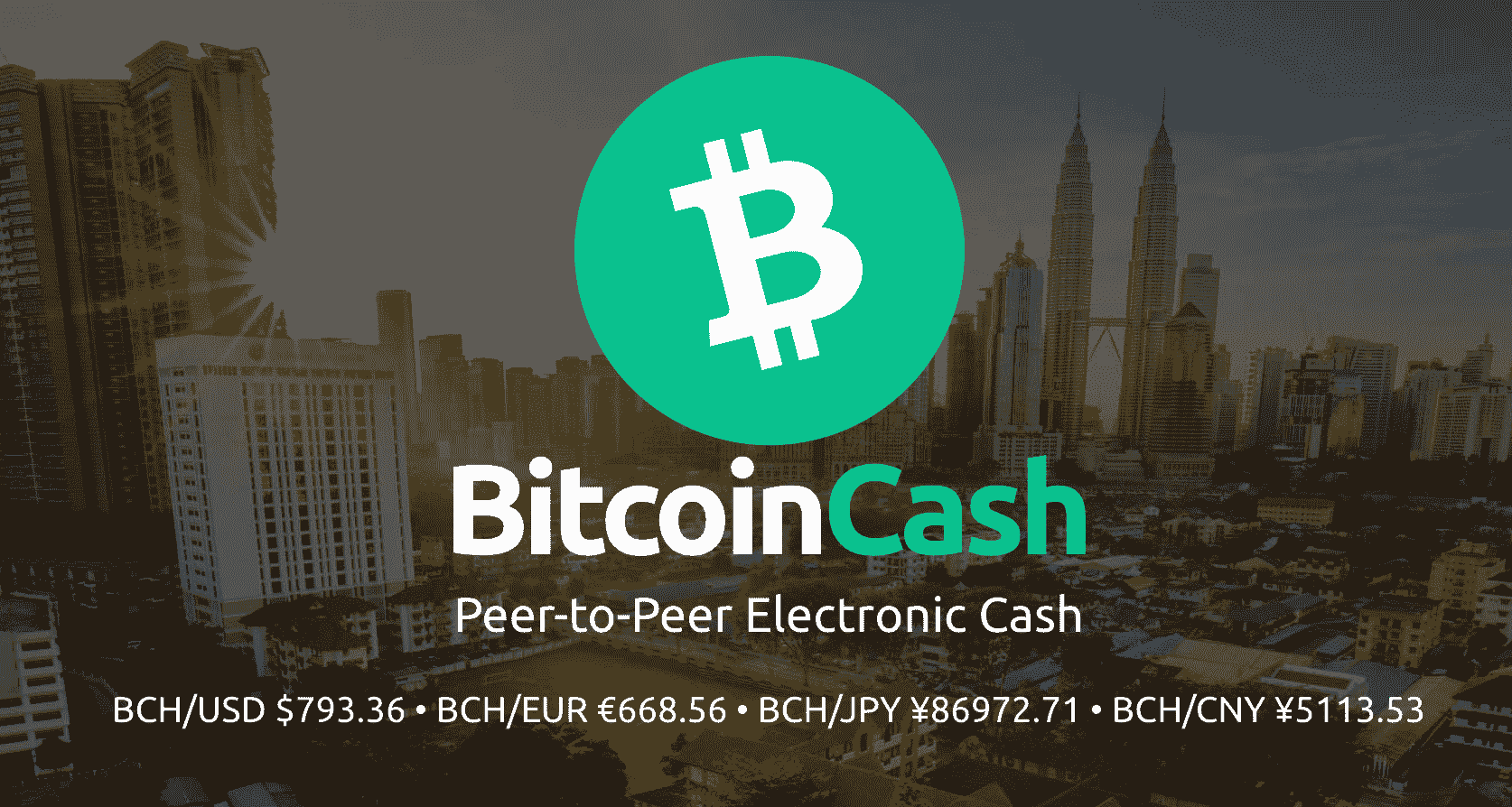 Looking even further ahead, our Bitcoin Cash price prediction 2030 has the coin's valuation at around $5000. Overall, Bitcoin Cash can be seen as an 'upgrade' to Bitcoin – and this will prove to be apparent in the years to come. Once investors realise that BCH is undervalued, it will lead to higher trading volume – pushing the coin's price to new all-time highs.
Bitcoin Cash Price Chart
Throughout our Bitcoin Cash forecast, you'll have noticed how optimistic we are about this coin. The recent upturn in the Bitcoin Cash price today confirms this optimism, as the price has increased by nearly 100% since mid-July. Furthermore, price has just broken out of a bull flag on the daily chart – hinting at further upwards momentum.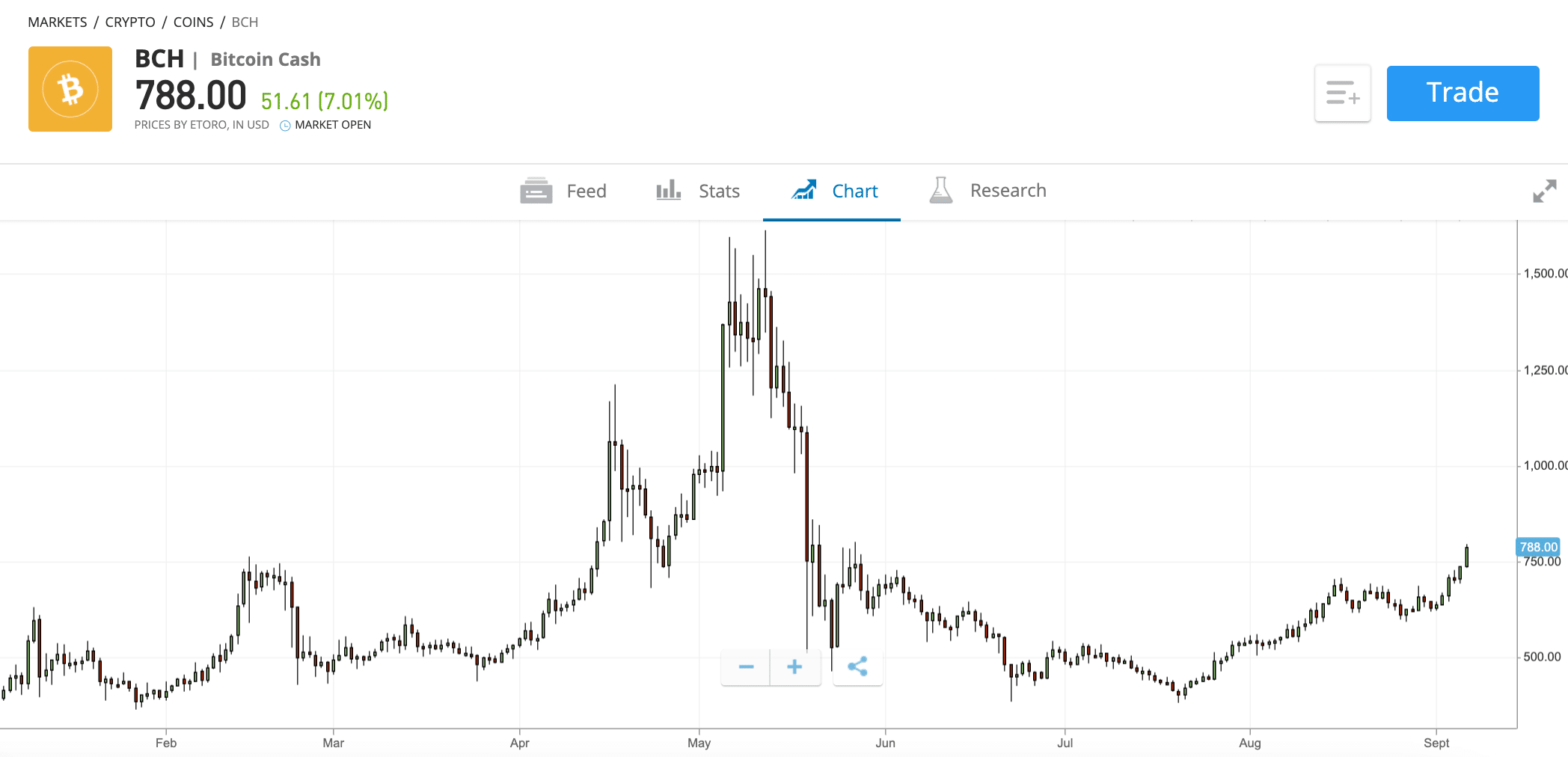 67% of retail investor accounts lose money when trading CFDs with this provider.
Like when you buy stocks, it's essential to look at critical resistance areas on the price chart. Right now, Bitcoin Cash is testing a resistance level that price has rejected twice previously. Notably, the bullish momentum we see currently is much stronger than the last time, which improves the chances of breaking this resistance.
Should Bitcoin Cash break this level, we'd next be looking to see price form support. If resistance turns into a support level, it will provide the foundation needed to push towards May's highs. Our Bitcoin Cash price prediction states that this is highly likely, meaning that adding this altcoin to your crypto portfolio might be a good investment idea for the months to come.
Where to Invest in Bitcoin Cash
Before we conclude this article, it's essential to discuss the process of buying Bitcoin Cash. As you can see from our Bitcoin Cash prediction, the outlook is very bright for this crypto. So, with that said, it's vital to find one of the best trading platforms UK to make your investment.
These days, there are so many platforms to choose from that it can be overwhelming trying to decide which one is best for you. To help smooth this process, we've analysed all of the options and found that eToro represents the best platform for buying Bitcoin Cash right now.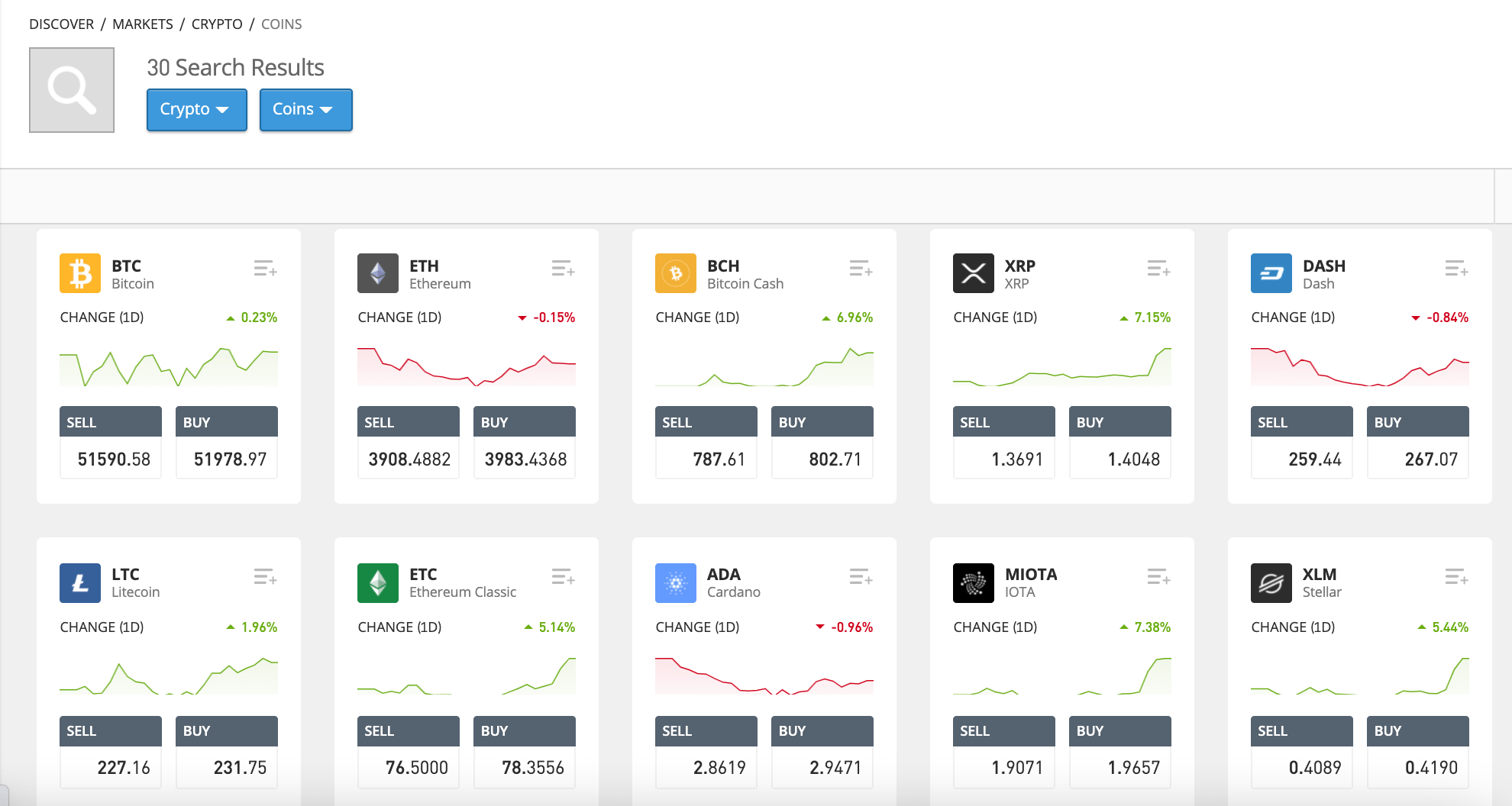 Firstly, eToro is regulated by some of the world's top regulators, including the FCA and ASIC. Due to this, eToro users can be confident when using the platform, as eToro must abide by the strictest security policies available. Furthermore, eToro is covered under the FSCS, which insures users if the company goes bankrupt.
One of the main reasons we recommend eToro is because of the fantastic fee structure offered by this broker. eToro does not charge any commissions whatsoever, meaning that you save a lot of money in the long run – especially if you are an active trader. Furthermore, as eToro's fee is included in the spread, you can make sure you get the best rates when trading during peak liquidity.
Deposits can be made by credit/debit card, bank transfer, and various e-wallets – including PayPal! The minimum deposit is only $50 (£37), allowing users to begin small and add more capital as they go. What's more, eToro even offers a free demo account for beginners to use before depositing real money.
Finally, if you want to buy shares UK, eToro offers a wide selection of stock CFDs on many major companies. CFDs are also available on other assets, such as commodities, currencies, and ETFs. So, if you are looking for the best platform to invest in Bitcoin Cash, we'd highly recommend checking out eToro.
Bitcoin Cash Price Prediction – Conclusion
In conclusion, Bitcoin Cash represents a fantastic alternative to traditional cryptocurrencies such as Bitcoin if you are an investor looking for different investment avenues. Bitcoin Cash has many benefits that make the platform faster and cheaper than Bitcoin, which is excellent news for the future. If more companies start to adopt Bitcoin Cash, it'll lead to greater credibility for this crypto – providing further impetus for price increases.
So, if you'd like to buy Bitcoin Cash right now, we'd recommend creating an account with eToro. As mentioned earlier, eToro is our recommended broker, thanks to 0% commissions and intense regulation. What's more, you can deposit only $50 – or even start on eToro's free demo account if you wish!

67% of retail investor accounts lose money when trading CFDs with this provider.
FAQs
What is the price of Bitcoin Cash right now?
What drives the price of Bitcoin Cash?
Where can I buy Bitcoin Cash?
Why is Bitcoin Cash going up?
What will Bitcoin Cash be worth by 2022?
What will Bitcoin Cash be worth in 2025?