Binance Coin Price Prediction – Binance Coin Forecast 2021, 2022, 2025 & 2030
If you are interested in crypto, chances are you will have heard of Binance. As the world's largest cryptocurrency exchange, Binance facilitates vast amounts of trading volume every day. Binance Coin, the native token of the Binance platform, helps to reduce transaction fees for users – and its popularity is growing even more as we head through 2021.
In this article, we present our Binance Coin Price Prediction for the months and years ahead. Our Binance Coin forecast covers the coin in detail, touching on the factors influencing price and showing you how to invest in Binance coin with 0% commissions!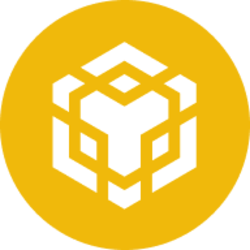 BNB (BNB)
Price
Binance Coin Price Prediction 2021 to 2022
As you will see later in this article, our Binance Coin prediction is very optimistic for the years to come. However, if you are looking for a quick overview of our predictions, then look no further. The bullet points below highlight our Binance forecast for the upcoming timeframes, ensuring you have a solid idea of what to expect.
One Month – At the time of writing, the current price of Binance Coin has taken a dramatic plunge of around 20% in the last few days. We expect over the next month that Binance Coin will begin to consolidate around the $370 mark, creating a base for a bullish turnaround.
Three Months – Once this base has been established, our Binance Coin price prediction anticipates some upwards momentum. Our analysis estimates that Binance Coin will be valued at $600 within the next three months.
Start of 2022 – If Binance Coin can continue showcasing bullish momentum, the highs of May 2021 will likely be reached again. This would mean Binance Coin could be worth around $700 by the beginning of 2022.
67% of retail investor accounts lose money when trading CFDs with this provider.
Binance Coin Price History – the Story of 2021 So Far
If you are interested in investing in cryptocurrency UK, it's a good idea to consider adding Binance Coin to your portfolio. But first, it's crucial to understand what this altcoin is and how it functions. With that said, we'll first break down Binance Coin in detail and highlight how price reached this point.
In simple terms, Binance Coin is the native cryptocurrency that is used on the Binance exchange. The coin trades under the symbol 'BNB' and can be bought and sold on various exchanges. Binance Coin initially ran on the Ethereum blockchain but is now a vital component of the Binance blockchain – known as the Binance Chain.
A key point to note about Binance Coin is that a maximum of 200 million BNB tokens are allowed to be in existence. This hard supply cap adds a level of scarcity to the token. What's more, Binance permanently destroys a portion of the tokens every three months, in what is known as 'burning'. This decreases the supply of these tokens, adding an additional element of scarcity.

The primary use for Binance Coin is to reduce the fees paid by Binance users. If a trade is made using FIAT currency (such as USD) or another crypto, such as BTC, ETH, or XRP, users must pay higher fees. However, if the transaction is completed using BNB, Binance cuts the costs in half – making Binance Coin an appealing prospect for active crypto investors.
Aside from reducing fees, Binance Coin can also be used to pay for goods and services at a growing number of merchants. The Binance website notes that BNB is accepted by various companies, such as Shopping.io and Travala. Furthermore, BNB can even be used to invest in Initial Coin Offerings through the Binance platform.

Binance Coin only began rising to prominence in early 2021, when price rose 1445% between January and May. However, after reaching an all-time high of $692, the Binance Coin price live fell dramatically. The price stabilised around the $250 area, forming a solid support level.
Since July 2021, BNB coin has shown some bullish momentum. The current Binance Coin price increased a remarkable 100% between July and September, prompting many investors to believe that the bull run was back on. However, at the time of writing, Binance Coin has just fallen sharply, currently sitting at the $400 level.
Binance Coin Price Forecast
The next step in our Binance Coin stock forecast is to consider the various elements that could affect price in the future. This is a crucial part of the investment process, as it helps determine whether an investment is wise or not. The sections below explore the technical and fundamental factors that could shape the Binance Coin price today going forward.
Technical Analysis
When you decide to buy cryptocurrency, it's essential to study the price chart to see any patterns or indicators that may provide insight into future price movement. Conducting this sort of price analysis on a crypto coin can be the difference between a successful and an unsuccessful investment. Looking at the Binance Coin price chart, you can see that price was steadily trending upwards – although the momentum was relatively low.

67% of retail investor accounts lose money when trading CFDs with this provider.
Over the past day or so, price has shown some bearish momentum and broken out of this rising channel. Price has shown massive volatility and will now be looking to find a solid support level to bounce back from. The $250 level has been solid support before, so there is a chance that price could head back there. However, there is also support around the $330 level, so keep an eye on this as we progress.
If price can form support, there will likely be some consolidation for a few days or more. This occurs when buyers and sellers are battling to see who will come out on top. Should price find a base around the previously mentioned levels, expect to see a bullish retracement back to the highs of late August.
Fundamental Analysis
Another element of our Binance Coin prediction 2021 is to consider fundamental factors. As noted earlier, Binance Coin is primarily used to reduce transaction fees on the Binance platform. However, in recent times, the digital asset has developed some additional use cases, making it an attractive investment prospect for investors.
One reason to invest in Binance Coin is to gain exposure to Bitcoin. When you buy Bitcoin, you gain direct exposure to the asset. However, if you buy Binance Coin, you'll gain indirect exposure to Bitcoin's price movements. This is because BNB and BTC tend to be positively correlated to one another – so if you are bullish on BTC, then an investment in BNB might be a good idea!
Finally, with Binance being the largest crypto exchange, Binance Coin will always be in demand. Furthermore, with the cryptocurrency market's popularity growing continuously, Binance Coin will also grow in popularity. These factors make buying Binance Coin a good idea if you are bullish on crypto overall.
Binance Coin Price Prediction 2025 – Long Term Outlook
The next step in our Binance Coin forecast is to put all of the factors together and see the long-term outlook for this coin. At the time of writing, Binance Coin is the fifth largest crypto globally in terms of market cap. This highlights how vital this coin is to the ecosystem, especially since it's been developed by a crypto exchange and not as its own entity.
The main factor that goes in Binance Coin's favour is the popularity of Binance. A good way of visualising this connection is that Binance Coin can be thought of as Binance's 'stock'. Similar to when you buy stocks in companies, an investment in Binance Coin is an investment in the underlying business. So, as Binance continues to grow in popularity, so too will Binance Coin.

The additional use cases for Binance Coin certainly add more credibility to it. Paying for goods and services using BNB is ideal for many investors, as most Binance users will hold some BNB in their crypto wallets. This process removes the need to convert BNB into FIAT (or another crypto such as Ethereum or Dogecoin) to use in their selected merchant.
Over the longer term, our Binance Coin forecast is relatively optimistic. The technical factors are pretty bullish going forward, whilst the attractiveness of Binance Coin as an investment is expected to be ever-present. With that said, our Binance Coin price prediction 2025 sees the coin reach the $1000 mark.

As these heights have never been reached before, there are no technical elements to base these predictions on. However, we can envision from fundamental factors just how popular BNB will be going forward. The fact that BNB is the fifth largest crypto by market capitalisation (and was third for an extended period) highlights this.
Looking even further ahead, our Binance Coin price prediction 2030 sees the coin continuing its bullish trend. It's hard to make a definitive prediction given there are no technical to base it on; however, there is scope for this coin to reach $2000 and potentially beyond. This would represent an increase of 394% from current levels.
Binance Coin Price Chart
As you can see from the Binance Coin prediction made above, we believe the outlook is rosy for this coin. The price chart below does seem slightly worrying, given the recent crash in price. However, much like when you invest in stocks, it's crucial to put any short-term price movements into perspective.
Crashes like this are common in the crypto market, so this is nothing new. Furthermore, if you decide to buy Binance Coin UK, you'll likely be holding it long term. Thus, minor crashes like this shouldn't be of major significance to you.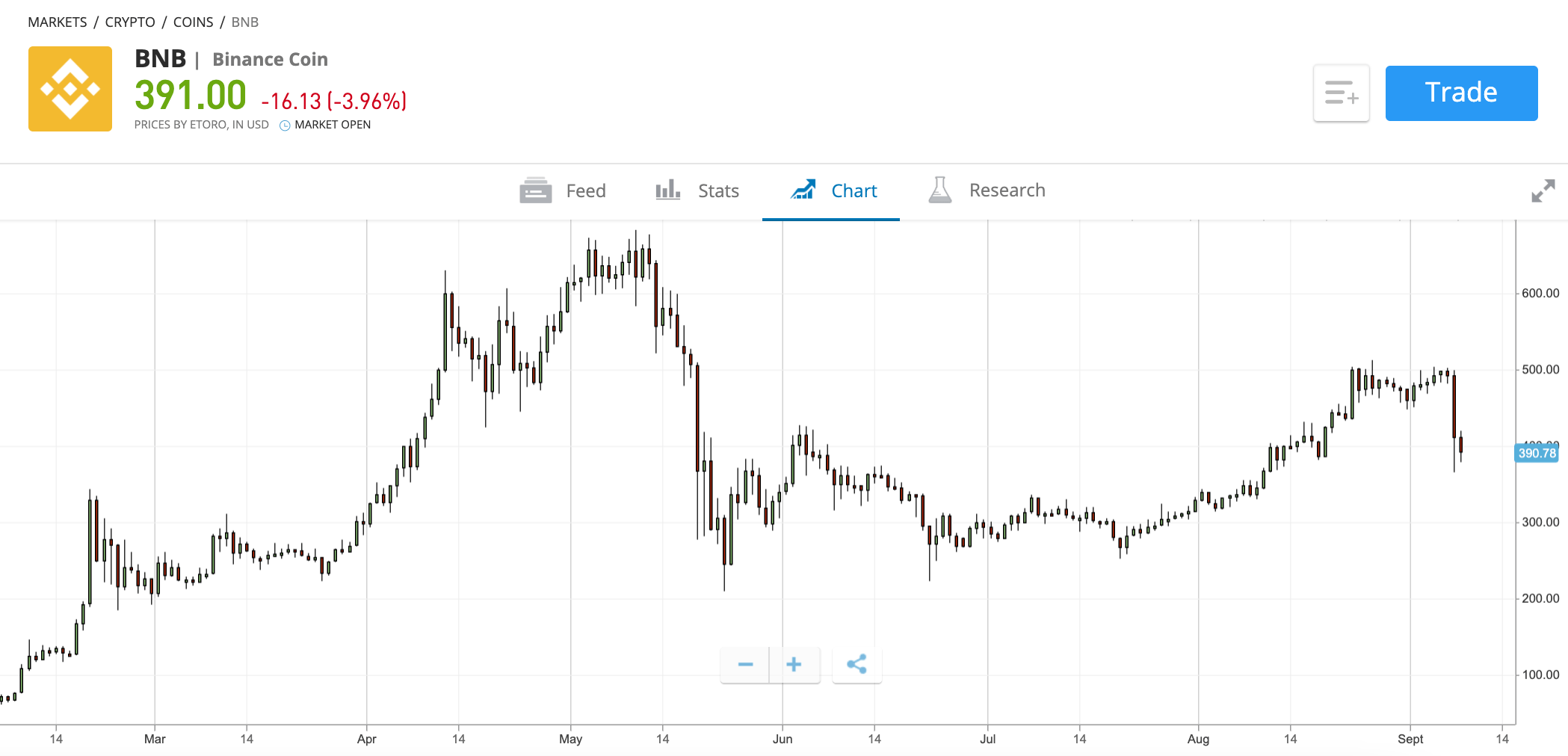 67% of retail investor accounts lose money when trading CFDs with this provider.
Over the coming weeks, expect to see some consolidation as BNB tries to find support. This will indicate whether the bearish momentum has stopped or not. If it has, that would be a great time to make your investment, as you'll be able to get in at a lower price than what we have seen recently. However, you must wait for some bullish confirmation (such as a strong close on the daily chart) before investing, as this will ensure your investment has a higher chance of success.
Where to Invest in Binance Coin
Before wrapping up this article, we must discuss the process of investing in Binance Coin. At first, you may think that because Binance Coin is the native token of the Binance platform, you can only invest in it through them. However, this isn't the case, as many brokers and exchanges will now offer Binance Coin as a tradeable asset.
Many of the best trading platforms UK compete with one another to attract users. This can make choosing an appropriate platform quite tricky. Luckily, we've done all the research and testing and found that eToro offers the best way to invest in Binance Coin from the comfort of your own home.
Firstly, eToro is regulated by top tier entities such as the FCA and ASIC, protecting all users who invest using the platform. What's more, eToro is covered under the FSCS. This means that users will be protected up to £85,000 in the unlikely event that eToro goes bankrupt.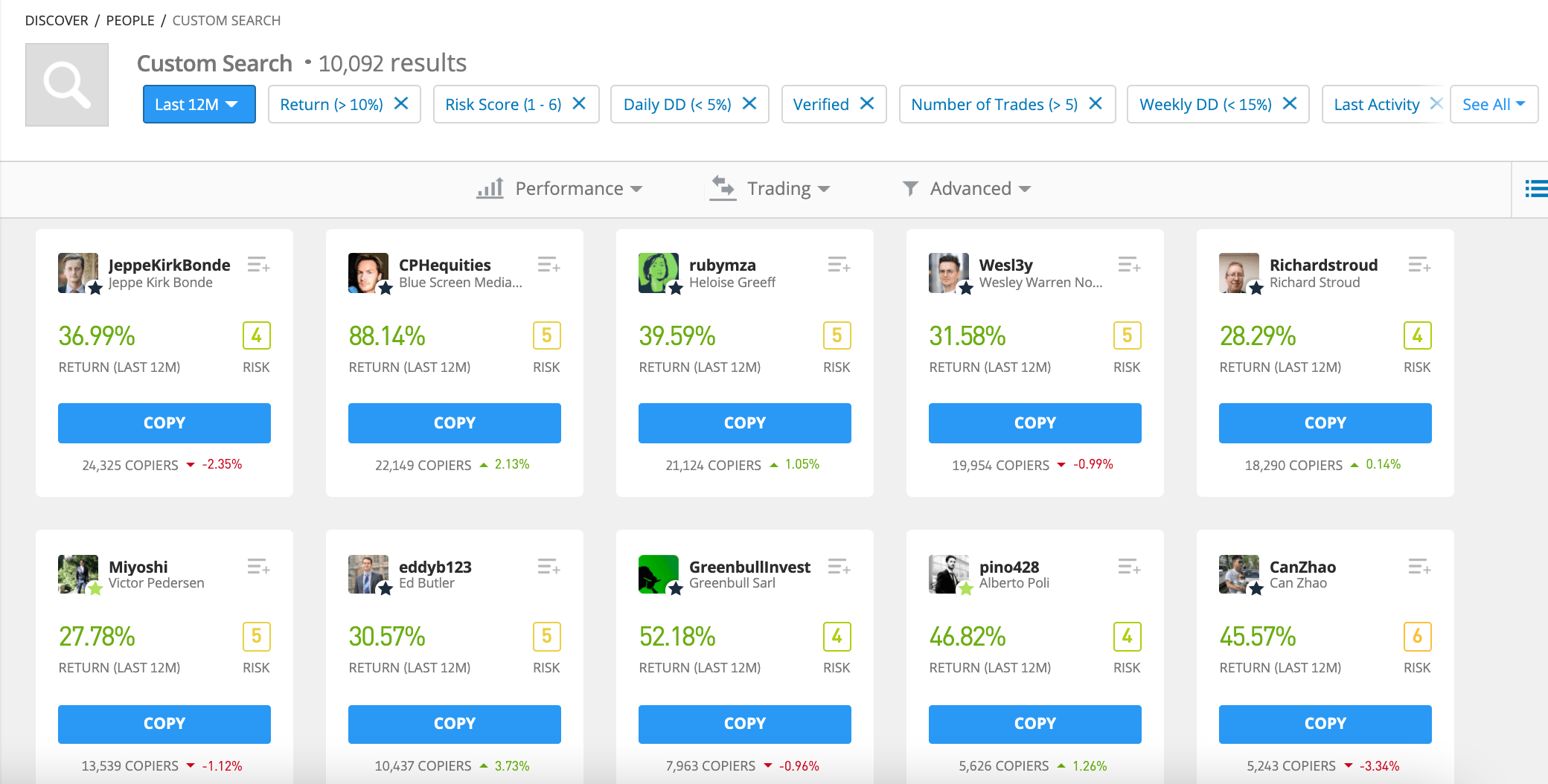 One of the best things about eToro is that users don't have to pay any commissions when investing. Most other brokers will charge a percentage commission, ranging from 0.5% to 3%, depending on the broker. With eToro, you avoid this commission, meaning that the only thing you need to worry about is the spread.
In terms of deposits, eToro accepts a wide range of methods, including credit/debit cards, bank transfers, and e-wallets. Accepted e-wallets include PayPal, Skrill, and Neteller, ensuring that most users have a way of funding their accounts. The great thing is that eToro accepts deposits from only $50 (£37), much less than some of its rivals.
Finally, eToro offers a handy feature called 'CopyTrader'. This allows users to automatically copy the trades made by other eToro users, making it ideal for people who don't have enough time to research the charts and place trades during the day. Many eToro users boast double-digit returns, meaning this feature is ideal for people looking to make a passive income!
Binance Coin Price Prediction – Conclusion
In summary, as the world's fifth-largest cryptocurrency, Binance Coin represents a great investment opportunity for both new and experienced investors. Due to the popularity of the Binance platform, BNB looks set to remain a solid investment for many years to come. Furthermore, with additional use cases being added, there's every chance that we could see some positive gains in the BNB price going forward.
If you'd like to buy Binance Coin right now, then we'd recommend using eToro. The eToro platform is heavily regulated, with deposits being allowed from only $50. Moreover, eToro charges no commissions when you place a trade and charges no monthly account fees either!


67% of retail investor accounts lose money when trading CFDs with this provider.
FAQs
What is the price of Binance Coin right now?
What drives the price of Binance Coin?
Where can I buy Binance Coin?
Why is Binance Coin going down?
What will Binance Coin be worth by 2022?
What will Binance Coin be worth in 2025?