Avalanche Price Prediction – Avalanche Forecast 2021, 2022, 2025 & 2030
Due to the growth of the crypto market, many platforms have begun appearing that aim to solve the issues posed by scalability and high fees. One of the most exciting platforms is Avalanche, which offers an array of features and lightning-quick transaction speeds.
In this guide, we'll cover our Avalanche Price Prediction in detail. We'll explore what Avalanche is and what it does before showing you where to invest in crypto today – in under ten minutes!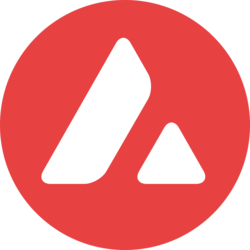 Avalanche (AVAX)
Price
Avalanche Price Prediction 2021 to 2022
This Avalanche stock forecast will provide everything you need to know about Avalanche to make an effective investment decision. However, if you're looking for a brief overview of our Avalanche prediction 2021, then look no further – the points below highlight our projections for the months that lie ahead.
One Month – The current Avalanche price is hovering around $59.34, around a minor support level. If the price can reject from here, we could see a move back up to $77 over the next month.
Three Months – Assuming this uptrend continues, the Avalanche price live could make significant moves over the next three months. We estimate that price could reach a valuation of $100 before the end of the year.
Early 2022 – The first quarter of the year tends to be pretty slow for cryptos, although we may still see some movement in Avalanche. We estimate that this token could reach a valuation of around $120 by early 2022.
67% of retail investor accounts lose money when trading CFDs with this provider.
Avalanche Price History – the Story of 2021 So Far
If you are interested in investing in cryptocurrency, you may or may not have heard of Avalanche. This platform is relatively new to the industry and is now making waves within the ecosystem. Let's take a look at what Avalanche is and how price reached this point.
Avalanche is a blockchain network that takes a unique approach to solve the issues of scalability and high fees. Right now, due to Bitcoin's (BTC) popularity, it can take a long time to validate transactions. Moreover, costs are now extremely high on the Ethereum (ETH) platform, which is beginning to put potential users off of using it.
To combat these issues, Avalanche incorporates three different blockchains into its platform. The first chain is used to create and exchange AVAX (Avalanche's native cryptocurrency), the second chain is used to create smart contracts for decentralised applications (dApps), and the third chain helps manage the validators that validate transactions on the Avalanche network. As each chain has a specific 'task', it is much faster than completing all three tasks on one blockchain.
As we noted in the last paragraph, Avalanche's native token is AVAX. AVAX has a maximum supply of 720 million digitalcoins, with the platform currently having a circulating supply of just over 220 million tokens. Like other platforms, users can stake their AVAX holdings and earn a return, which is vital for the consensus algorithm. In addition, all of the platform's fees are paid in AVAX.
Finally, Avalanche differs from other cryptocurrencies as it uses a unique take on the Proof of Stake (PoS) algorithm. Through a combination of different algorithms, Avalanche can complete a reported 4500 transactions per second – much higher than you'd get if you were to buy Bitcoin. Due to this, Avalanche has emerged as a viable alternative to many networks already in operation.

AVAX coin only really took off earlier this year, rising by 1740% between January and February 2021. Price then traded sideways for a few months before falling to a low of $9. This seems to be the minimum price that AVAX would trade at, as momentum picked up again in August 2021, boosting price higher.
Between August 2021 and today's, the price of AVAX has increased by 351%. Right now, AVAX seems to be hovering around the $60 level, trying to find the impetus for another push. Although the price appears to be showing large degrees of volatility right now, this could play in investors' favour in the future.
Avalanche Price Forecast
Now that you've understood what Avalanche is, let's discuss our Avalanche price prediction. When you buy cryptocurrency, it's good to understand the various factors that could influence the price. With that in mind, let's look at the technical and fundamental elements that relate to Avalanche.
Technical Analysis
As you can see from the price analysis below, the Avalanche price is trading just above the 50-day EMA. This moving average indicator gives an idea of the current trend, so it is a bullish sign if the price is trading above it. Another point to note is that the AVAX price is noticeably higher, highlighting how quickly the price has increased in recent weeks.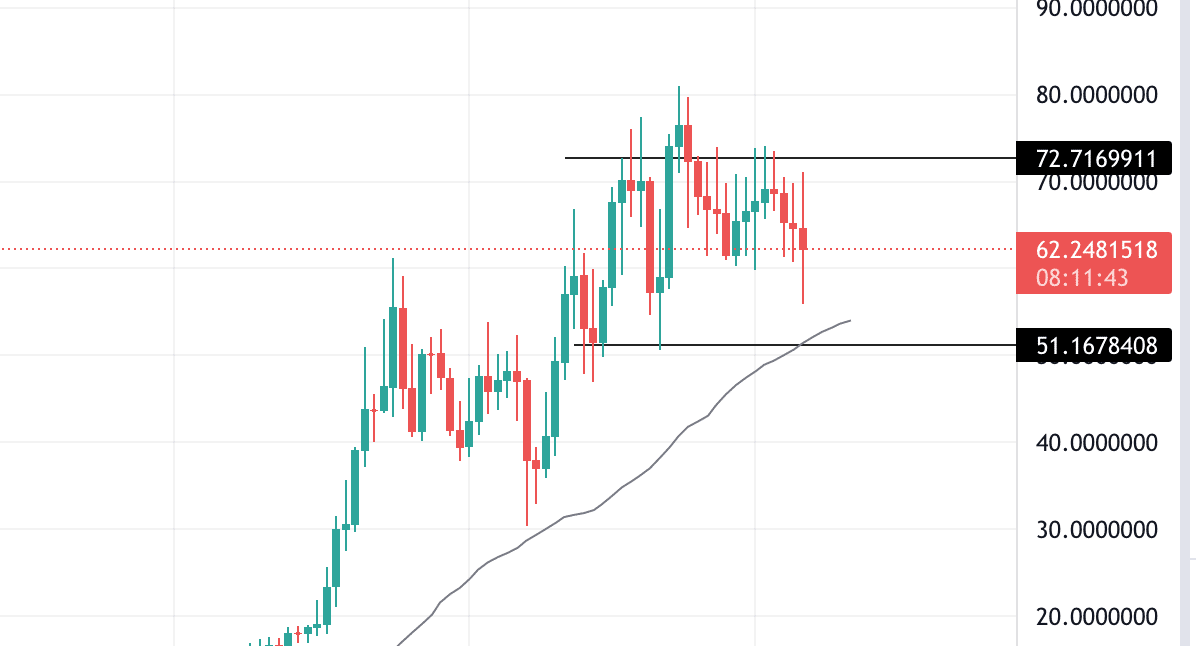 67% of retail investor accounts lose money when trading CFDs with this provider.
The price action on the daily chart shows that AVAX is trading in a tight range right now. The bottom of the range is around the $56 level, which investors hope creates a foundation for the price. The good news is that AVAX is making clear higher-highs and lower-lows on the daily and 4H chart, which is a sign of a strong uptrend.
Overall, our Avalanche price forecast is pretty bullish, thanks to the signs we see on the price chart. Ideally, the price may drop a little lower and create a base for a push above the $76 area, which would represent a new all-time high. The fourth quarter tends to be quite a good time in the crypto market, so we may see this in the next few weeks.
Fundamental Analysis
According to data gathered from CoinMarketCap, AVAX has a market cap of just under $13 billion at the time of writing. Over $1 billion in trading volume occurred in the last 24 hours, giving the crypto the 14th spot in the world's largest cryptocurrencies list. Around 31% of AVAX's total supply is currently in circulation, with any fees paid in AVAX being burned as a deflationary measure.
One of the best things about Avalanche is that the platform's low fees mean the barrier to entry for individuals and smaller companies is pretty low. This is appealing, especially given the growth of decentralised finance (DeFi), as the fees are pretty high at present, which puts people off. Furthermore, due to Avalanche's speed, it's unlikely that any trades made on decentralised exchanges (DEXs) housed on Avalanche's platform will experience slippage.
The upcoming release of ETH 2.0 is cause for concern, as users may decide to buy Ethereum and flock to this platform instead of Avalanche. However, there's no telling when this upgrade will be released or whether it will meet the lofty expectations investors have for it. Due to this, Avalanche has a great chance to solidify its position and build more brand appeal.
Avalanche Price Prediction 2025 – Long Term Outlook
As you're now aware thanks to this Avalanche forecast, AVAX has a unique position in the market and offers some exciting benefits. Similar to when you buy stocks, it's worth taking a long-term view of Avalanche and determine its use cases in the years ahead.
One of the main things that go in Avalanche's favour over the long term is its 'time to finality'. This is different to transaction speed, as the time to finality measures how long it takes for a transaction to be finalised. In contrast, transaction speed is simply a measure of how fast a transaction can be processed. For Avalanche, the time to finality is less than one second – this is super quick compared to Ethereum's six minutes or Polkadot's 60 seconds.

Furthermore, Avalanche's developers are highly skilled and experienced in the field. Most of them are professors or students at Cornell University, one of the world's most respected institutions. Due to the team's credibility, it makes it more likely that larger institutions may partner with Avalanche over platforms designed by non-academic groups.
With all of that in mind, our Avalanche price prediction 2025 is relatively encouraging. As the years progress, we'll likely see a shift towards smart contracts within various industries. As such, we estimate that Avalanche's price could reach a high of $250 by 2025.

Our Avalanche price prediction 2030 is similarly optimistic. The speed and low fees of Avalanche are sure to appeal to large institutions, and combined with the credible development team, this will make Avalanche an attractive platform to partner with. For these reasons, we believe there is scope for Avalanche to reach $500 by 2030.
Avalanche Price Chart
As our Avalanche prediction has highlighted, we are pretty bullish on this crypto. Much like when you invest in Cardano, an investment in Avalanche provides exposure to the growing world of smart contracts. As we begin to see these contracts used more and more in sectors such as finance and healthcare, it will make Avalanche seem more appealing.
The price chart highlights that Avalanche has only scratched the surface of its capabilities, as we are yet to see an intense bull run occur. As Avalanche maintains its level of decentralisation (which is the overall aim of crypto), it will appeal to users who believe that any cryptos shifting to a centralised nature are going against the whole point of digital currencies.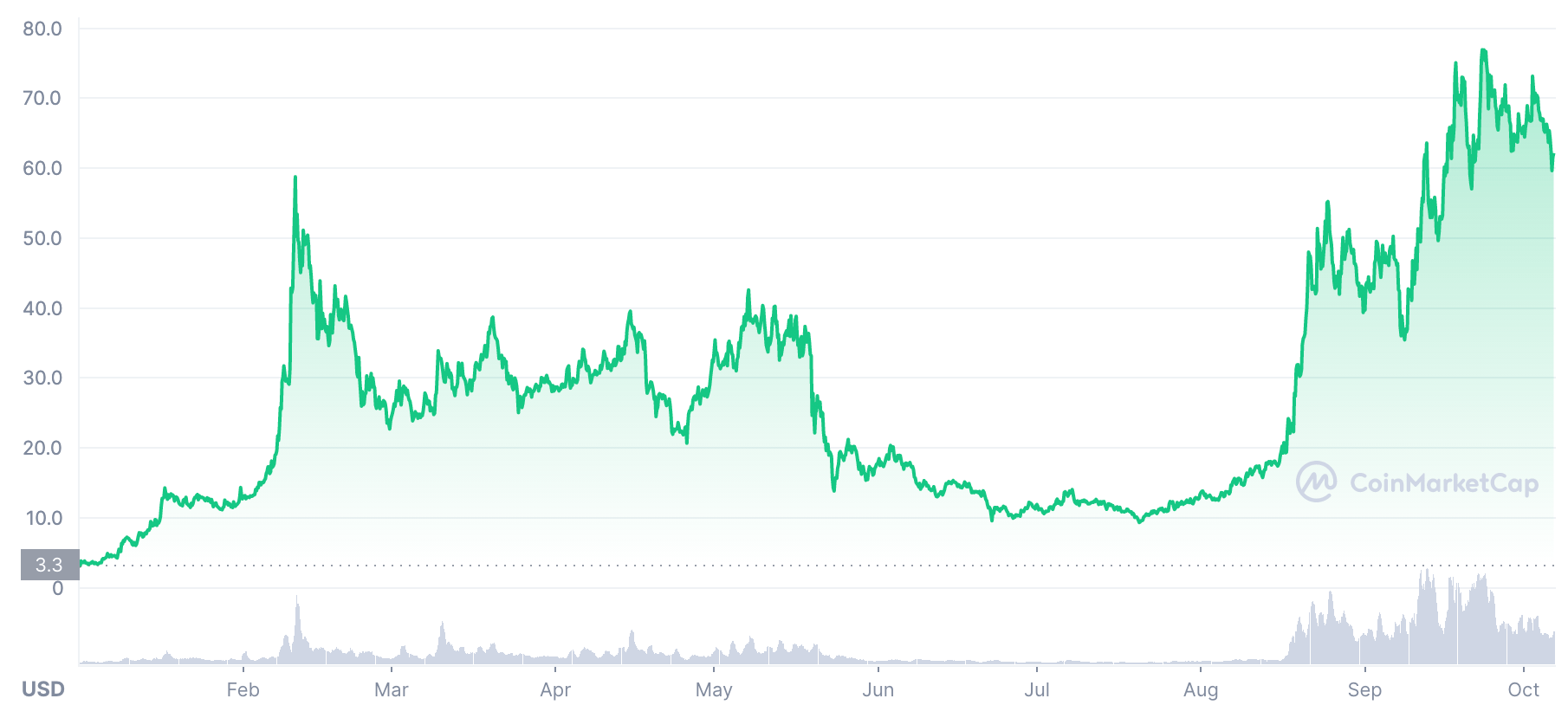 67% of retail investor accounts lose money when trading CFDs with this provider.
Overall, time will tell whether Avalanche can begin its bull run, but as the token is now tradeable on Binance and Coinbase, it will be easier for investors to place trades. Ultimately, the increased liquidity will help stabilise price and allow for more optimal price analysis – providing greater insight to investors.
Where to Invest in Avalanche
Before we round off this Avalanche forecast, let's take a look at how you can invest in the coin. Much like other small altcoins, Avalanche isn't yet available on many of the larger brokers in the industry. Thus, if you wish to buy Avalanche, you'll need to create an account with one of the best Bitcoin trading platforms (such as Binance) to facilitate your investment.
These platforms will tend to be cryptocurrency exchanges, meaning you'll have to deposit FIAT currency (such as USD) and then exchange that into another crypto (such as USDT), which you can then swap for Avalanche. This process can be a little confusing, especially for beginners. So, if you'd like to invest in cryptocurrency more generally, we recommend using eToro.
eToro has a fantastic reputation worldwide, with over 20 million users at the time of writing. The platform is regulated by the FCA, ASIC, and CySEC, protecting you from cyberattacks and any unauthorised access to your capital. What's more, eToro is covered under the FSCS, meaning you are insured up to £85,000 in the event that eToro goes bankrupt.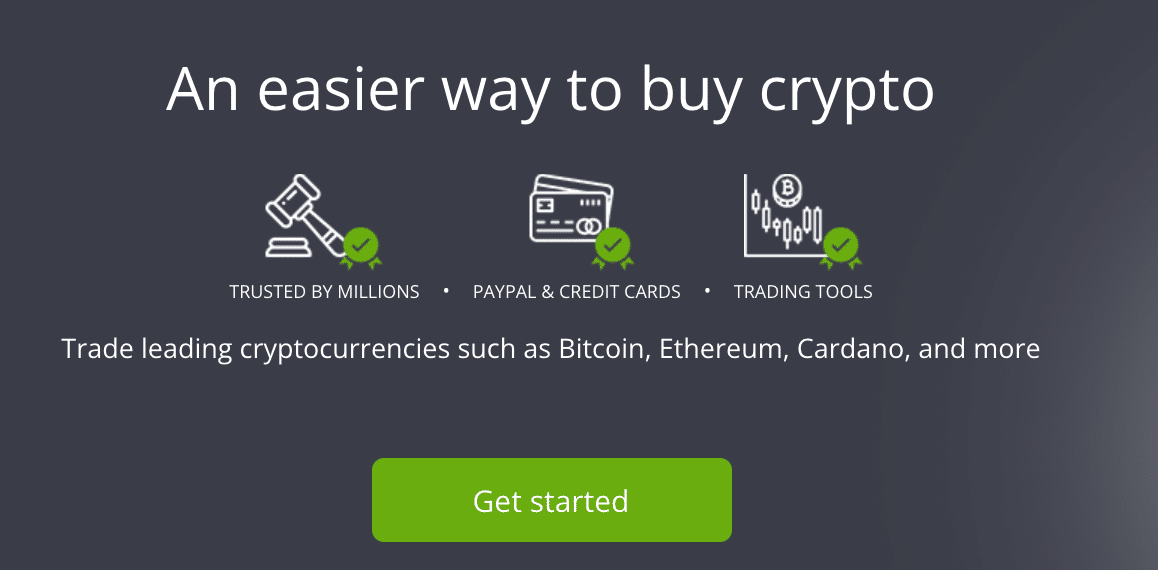 One of eToro's main selling points is its 0% commission structure. Users get to avoid all of the hefty transaction fees that other places charge, all while using eToro's easy-to-use trading platform. What's more, no deposit fees or monthly subscription fees are charged by eToro.
Finally, eToro accepts deposits from as little as $50 (£37), which can be made through your computer or the handy mobile app. eToro accepts credit cards, debit cards, bank transfers, and e-wallets – including PayPal. If you'd like, you can even use eToro's free demo account to gain experience before you trade for real!
Avalanche Price Prediction – Conclusion
In summary, this Avalanche prediction has explored the platform and how it works before diving into the potential it has going forward. As you'll now be aware, Avalanche offers a viable alternative to Ethereum, with faster speeds and lower fees. Although Avalanche isn't as established as Ethereum at present, should this change in the future, we may see some significant price moves for AVAX.
If you're looking to buy cryptocurrency right now, then we'd recommend using eToro. eToro's sign up process is seamless and tends to only take minutes to complete. What's more, the minimum deposit is only $50, and you can invest in all of eToro's cryptos commission-free!


67% of retail investor accounts lose money when trading CFDs with this provider.
FAQs
What is the price of Avalanche right now?
What drives the price of Avalanche?
Where can I buy Avalanche?
Why is Avalanche going up?
What will Avalanche be worth by 2022?
What will Avalanche be worth in 2025?