ANKR Price Prediction – ANKR Forecast 2021, 2022, 2025 & 2030
As the internet becomes more decentralised, it offers the opportunity for innovative platforms to be created that streamline certain business processes. One of these platforms is ANKR, which looks to capitalise on the growing area of cloud computing – and offer a way to reward businesses while doing so.
With that in mind, this article discusses our ANKR Price Prediction in detail. We'll cover what ANKR is and how it works before diving into our ANKR forecast over the short term and long term.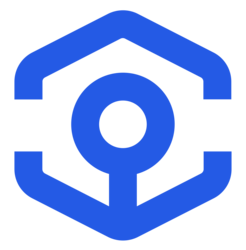 Ankr (ANKR)
Price
ANKR Price Prediction 2021 to 2022
Throughout this ANKR stock forecast, we'll cover all the bases when it comes to this crypto and the factors that influence its price. However, if you're looking for a quick outline of our ANKR prediction 2021, the bullet points below present our findings for the months ahead.
One Month – The ANKR price live seems to have hit a minor resistance level on the 4H chart, implying that the price could head down in the short term. We estimate that ANKR could drop to $0.075 over the next month.
Three Months – If ANKR can form a base at $0.075, it'll provide a foundation from which to push upwards. Over the following three months, we estimate that ANKR could reach a valuation of $0.12.
Start of 2022 – Assuming ANKR can maintain some bullish momentum, there's certainly scope to return to all-time highs by the beginning of next year. This would give ANKR a valuation of $0.13 by the beginning of 2022.
67% of retail investor accounts lose money when trading CFDs with this provider.
ANKR Price History – the Story of 2021 So Far
Investing in cryptocurrency has become increasingly popular over the last decade thanks to new and innovative platforms springing up all the time. One of these platforms is ANKR, which offers an exciting way for businesses to harness the power of the 'new internet'. Let's explore what ANKR is and how price arrived at this point.
Firstly, ANKR is the native token of Ankr, which is a platform that aims to make hosting a node much more accessible to a broader range of people. Ankr supports various blockchain platforms, such as Bitcoin (BTC), Ethereum (ETH), Cardano (ADA), and more. Essentially, Ankr uses the power of cloud computing to provide resources to people who would otherwise not be able to operate a node.
When you operate your own node, it provides the greatest level of security when using blockchain-based systems. However, running a node requires a high level of skill and a powerful computer that is always turned on. The Ankr platform aims to solve this problem by allowing other entities to 'lend' their computing resources to Ankr, providing them to other parties who wish to use the resources to operate a node.

ANKR coin is the native cryptocurrency of the Ankr platform. This digitalcoin has a variety of uses, including rewarding those who lend their computing resources through the Ankr platform. Furthermore, the Ankr network also offers a handy service called 'Ankr Staking', which allows users to stake ETH and generate a return. Finally, ANKR holders can also participate in the platform's governance and vote on specific proposals related to potential changes.
Overall, ANKR is a good option if you are looking to buy cryptocurrency with real-world utility. There currently isn't a platform like Ankr in the crypto market, meaning that Ankr has a unique position in this regard. Furthermore, as computing resources are still being dominated by companies such as Google and Amazon, it is harder for individuals to operate nodes. Ankr looks to solve this problem, which will be helpful in the years ahead.

ANKR was listed on major exchanges such as Binance and Coinbase earlier this year, providing a much-needed boost to liquidity. The price of ANKR rose by nearly 60% in early September, reaching a peak of $0.1327. Since then, the price has dropped dramatically and hit a low of $0.0695 on 24th September 2021. The current ANKR price is hovering above this area, looking to establish a support level before pushing upwards.
ANKR Price Forecast
Now that you've got an idea of what ANKR is, let's look at our ANKR forecast for the upcoming timeframes. Investing in crypto is similar to when you buy stocks because you need to be aware of the various factors that could influence the price. With that in mind, let's look at the technical and fundamental elements that relate to ANKR.
Technical Analysis
As you can see from our ANKR technical analysis below, the price seems to have established a 'range' on the 4H chart. This range now contains the price, meaning there will likely be some sideways movement over the short term. Price recently bounced off the resistance level at $0.88 and is now heading downwards.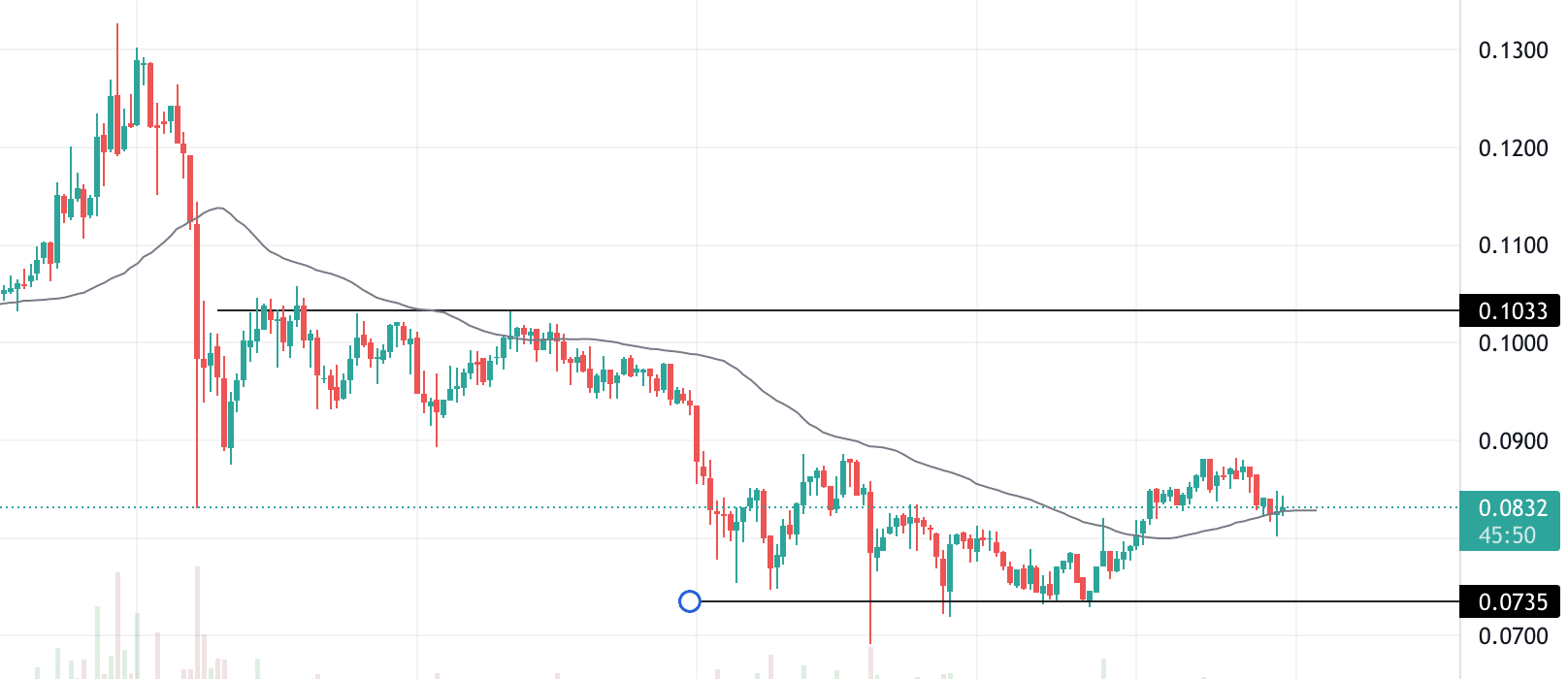 67% of retail investor accounts lose money when trading CFDs with this provider.
The support level around $0.075 would be the likely area that the price will head towards. If price showed a strong rejection around this area (such as a solid close on the 4H or daily chart), then this would be a high-probability area to invest at. However, it may take a few days or weeks to get there, so it's crucial to be patient.
The other aspect of our price analysis considers the 50-day EMA. Right now, this EMA is acting as a support level for ANKR, with the price currently resting on it. If ANKR showed some bearish momentum and broke through this EMA, it would provide added confidence that we are heading to the $0.075 range. Thus, it's worth keeping an eye on this too, as the weeks progress.
Fundamental Analysis
According to CoinMarketCap, ANKR has a market cap of $640 million at the time of writing. This makes the ANKR cryptocurrency the 119th largest crypto in the world right now. In the last 24 hours, trading volume was just over $24 million, which is up nearly 30% from the previous day.
One of the most appealing things we've noted through this ANKR price prediction is that the platform sticks by the values promoted by decentralisation. As ANKR facilitates the use of unused computing resources, the Ankr platform helps to maintain this decentralised nature in an affordable way. As the years progress, there will likely be a growing need for resources – and Ankr offers a streamlined method for individuals and smaller entities to access them.
ANKR Price Prediction 2025 – Long Term Outlook
Now let's turn our attention to our ANKR forecast for the long term. As more and more people buy Bitcoin and other cryptos, society will gradually become more digital. As such, there will be a growing need for computing resources, which are currently hogged by various large entities. These idle resources tend to go to waste when they have no use, so Ankr aims to make the whole process more efficient.
Furthermore, the growth of DeFi will require much more resources within the ecosystem, so Ankr can help facilitate this too. DeFi is expected to grow exponentially in the years ahead, with retail investors becoming more interested in the space. Thus, we'll likely see more and more dApps being developed that require computing power to run – and Ankr will therefore look like an attractive prospect to developers.

Finally, the staking aspect of Ankr shouldn't go unnoticed. Ankr allows users to create a 'validator node' that requires no technical knowledge to run, as the platform does all of the hard work for you. Once this node is up and running and you've locked in some ANKR, you'll then be able to generate a passive income stream seamlessly. Thus, ANKR not only helps democratise resources but also provides an investment opportunity!
With all that said, our ANKR price prediction 2025 is pretty optimistic. We believe that this platform will continue growing in the years ahead as computing resources become more valuable and in-demand. As such, we estimate that ANKR could reach a valuation of $0.3 by 2025.

Looking even more long term, our ANKR price prediction is also very rosy. By 2030, we expect blockchain-based systems to have replaced many of the outdated systems we use today across several sectors. As such, cloud computing will offer a seamless way of accessing valuable computing resources. Due to this, our ANKR prediction for 2030 sees the coin reach a valuation of $0.5.
ANKR Price Chart
When investing in cryptocurrency UK, there are certain things to keep in mind to make a compelling investment. The combination of technical and fundamental analysis can help identify the best time to purchase an asset for the highest probability of success. In the case of ANKR, buying the token at a support level following a bullish rejection would be the best time to consider an investment.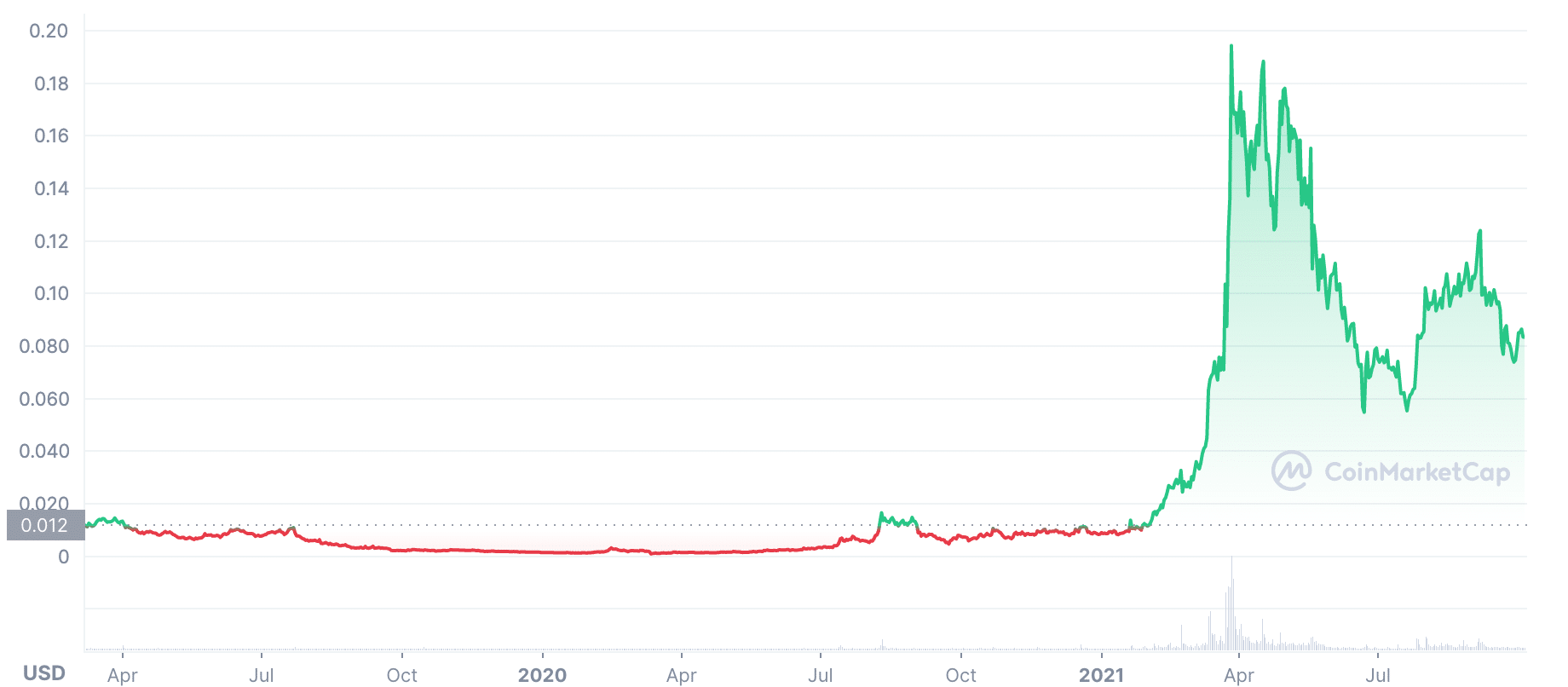 67% of retail investor accounts lose money when trading CFDs with this provider.
Due to ANKR only being listed on the major exchanges for a few months, there isn't much historical data to base solid assumptions on. When assets get listed on major exchanges, they can often take a few months to find their feet and establish proper resistance and support levels. This is the process that ANKR is currently going through, meaning that any investment will have an added element of risk.
However, due to the coin's low price and small market cap, ANKR does provide speculative investors with great potential to make high returns. If the current price were to rise to just $0.50, this would be returns of 484%. Furthermore, as ANKR has a maximum supply of 10 million coins, there will be an element of scarcity to the token that helps push the price upwards. Thus, over the long term, we feel that ANKR has excellent upside potential.
Where to Invest in ANKR
The final element of this ANKR forecast discusses the process of buying the token. Due to ANKR's small size, many of the best investment platforms UK do not currently offer ANKR as a tradeable asset. Therefore, if you wish to buy ANKR, you'll have to create an account with a reliable cryptocurrency exchange.
Major exchanges such as Binance and Coinbase allow you to exchange FIAT currencies (such as USD or EUR) into cryptos. Currently, this is the only way for you to buy ANKR, although as the coin gets larger, there is certainly scope for more platforms to support it.
However, if you're looking to buy cryptocurrency more generally, we recommend creating an account with eToro. eToro is the favoured broker of traders worldwide, boasting over 20 million users at the time of writing. What's more, eToro is regulated by the FCA, ASIC, and CySEC, which are three of the most respected organisations in the industry.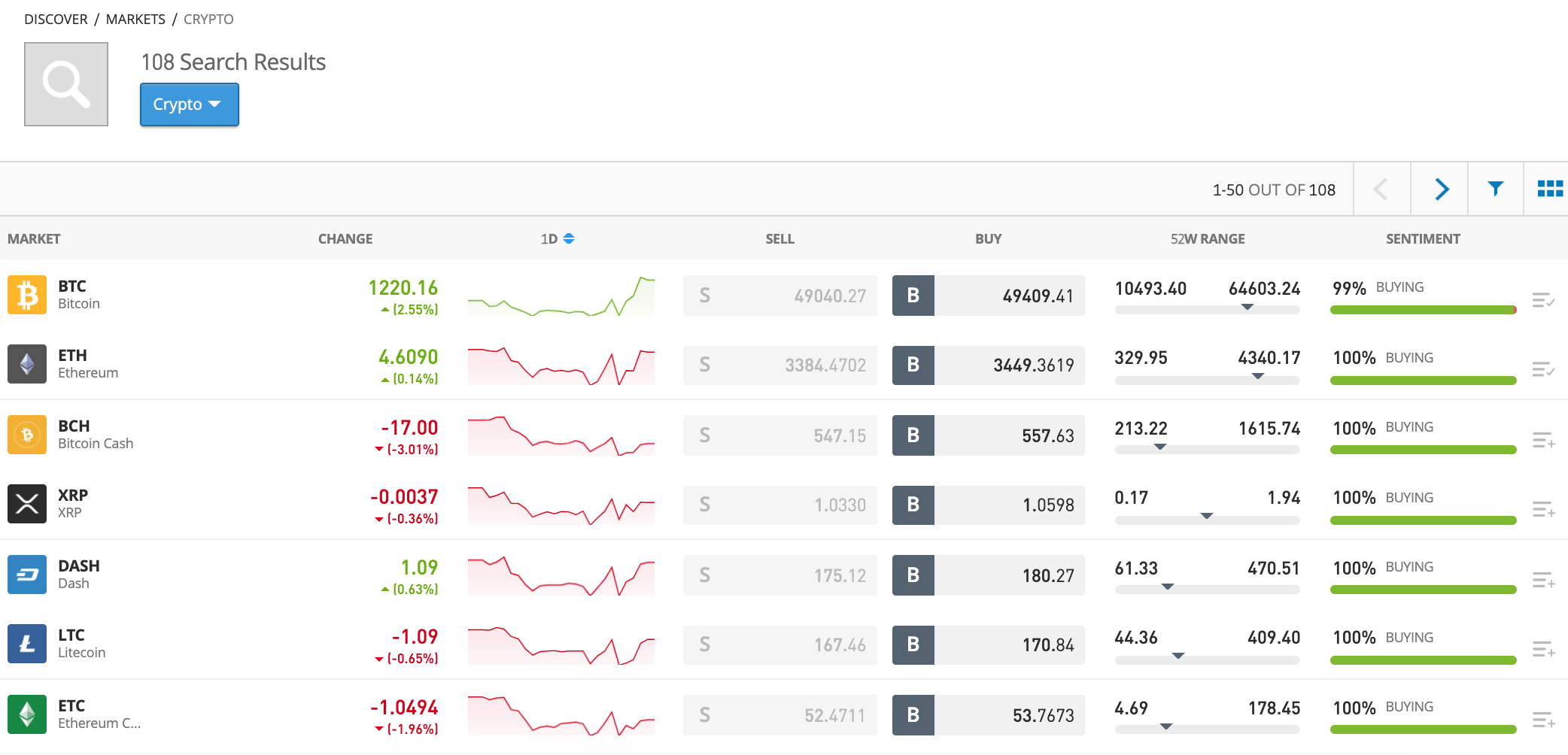 We recommend using eToro because they are one of the cheapest CFD brokers to use. eToro charges 0% commissions when you place a trade, as all eToro's fees are included in the spread. This spread is the difference between the bid and the ask price and tends to be pretty tight – especially during peak trading hours.
eToro accepts deposits from as little as $50 and supports funding via credit/debit card, bank transfer, and a selection of e-wallets (including PayPal). Deposits are entirely free to make and can be facilitated through your computer or smartphone. You'll even be able to use eToro's free demo account too, if you wish to gain some risk-free experience in the market before using real money!
ANKR Price Prediction – Conclusion
In conclusion, our ANKR prediction has explored what this cryptocurrency does and how it can benefit users in the future. As we discussed, the Ankr platform offers a seamless way to use idle computing resources, enabling everyday people to run their own nodes. Through their user-friendly platform, Ankr aims to help grow blockchain-based systems and create a more decentralised society.
So, if you'd like to begin trading crypto today, we'd recommend using eToro. eToro is one of the most respected brokers globally, boasting regulation from the FCA, ASIC, and CySEC. In addition, eToro charges no commissions whatsoever and accepts deposits from as little as $50!


67% of retail investor accounts lose money when trading CFDs with this provider.
FAQs
What is the price of ANKR right now?
What drives the price of ANKR?
What will ANKR be worth by 2022?
What will ANKR be worth in 2025?