Canada's Economic Action Plan 2012: A Model For America To Emulate?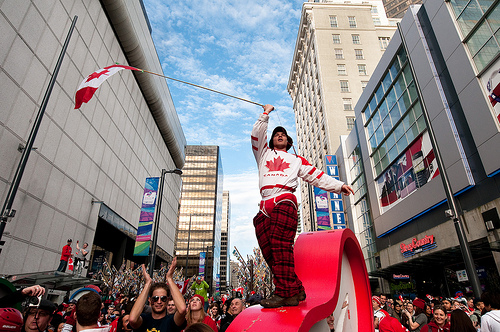 Please note that we are not authorised to provide any investment advice. The content on this page is for information purposes only.
READER SUBMISSION – As America's largest trading partner, Canada's economic fortunes are intimately tied to those of the United States. Yet thanks to a largely domestic-focused economic action plan, Canada has demonstrated remarkable economic resilience to the global financial turmoil.
Since assuming power in 2006, and achieving majority government status in parliament in 2011, Canada's Prime Minister Stephen Harper and his Conservative Party has led the country on a course of relative economic stability, as compared to its peers.
READER SUBMISSION – As America's largest trading partner, Canada's economic fortunes are intimately tied to those of the United States. Yet thanks to a largely domestic-focused economic action plan, Canada has demonstrated remarkable economic resilience to the global financial turmoil.
Since assuming power in 2006, and achieving majority government status in parliament in 2011, Canada's Prime Minister Stephen Harper and his Conservative Party has led the country on a course of relative economic stability, as compared to its peers.
Internationally, the Canadian Government may yield less influence than it would like to believe; but on the home front at least, it has managed to employ policies conducive towards economic prosperity.
The 2012 Canada Economic Action Plan, for one, should be exemplified globally for its delineation towards a strategy that has, to date, fostered stability in times shrouded by market volatility and uncertainty.
To this extent, this piece will focus on the lead domestic economic policy that the Canadian government has chosen to utilize since assuming office. Such policy has lead to an unemployment rate that remains steadily under 8 percent, as well as numerous other successes that will be detailed further on.
But before we enter into a discourse on domestic policy, it is pertinent to first understand Canadian economic trade regions as broken down by geographical location and province.
The Economic Activities of the Provinces
The Canadian economy is a resource-based economy, which is intimately tied to that of its largest trade partner, the United States. As a result of an intense integration between the two economies, a slowing in demand for raw materials in the U.S. would negatively impact Canadian suppliers.
On the back of its huge deposits of Oil Sands, the province of Alberta, Canada's energy powerhouse, has delivered the strongest economic performance among the provinces in recent years, with 5.2 percent GDP growth in 2011, and 3.3 percent growth in 2010.
British Columbia too experienced strong economic growth in 2011 (2.9 percent) on the back of an increase in demand for natural resources. Within the last six months, British Columbia has accounted for the highest percentage increase of jobs created throughout the country, with 90 percent of the jobs being full-time, according to the Canadian Imperial Bank of Commerce (CIBC).
In the meanwhile, strong foreign demand for natural resources also drove a 4.8 percent increase in Saskatchewan's GDP – home to Potash Corp, the world's largest fertilizer company – and 1.1 percent real GDP growth for Manitoba .
But while Canada's western provinces are resource rich in terms of petroleum, shale gas, potash and uranium, central provinces such as Ontario and Quebec – traditionally known as the industrial and manufacturing hub of the country – are experiencing slower growth compared to the rest of the country. Despite possessing the financial centre of Canada in its capital of Toronto, Ontario's real GDP only experienced a rise of 2.0 percent in 2011. Quebec's GDP is reportedly even lower at 1.7 percent. In contrast, the Eastern provinces, Newfoundland and Labrador, home to significant mining and mineral/ore extraction operations, enjoyed 2.8 percent GDP increases in 2011.
Now that provincial economic activities and their GDP figures have been recognized, it is within this context that a discourse on the Government of Canada's lead economic policy can be undertaken.
Contemporary Evolution of Canadian Domestic Economic Policy
On 27 January 2009, the Canadian Government introduced its lead economic policy, Canada's Economic Action Plan, as a response to the challenges of the global financial crisis and market uncertainty. Though the Conservative Party had voiced its intent on fiscal responsibility and deficit reduction, this particular plan was largely stimulus based.
From infrastructure spending, to taking action to strengthen the Canadian financial system, the Canadian Government reported over 30,000 projects to have been completed under the stimulus phase of the economic action plan since July 2009.
Not surprisingly, the continued economic prosperity swept the Conservative Party to a majority parliamentary presence in the 41st general election, held on May 2, 2011, which enabled it to fully flesh out a new economic plan for this year.
The newest incarnation of Canadian economic policy, known as Canada's Economic Action Plan 2012, became formally entrenched into the Federal Budget as of 2012; and coinciding with the release of this budget, Finance Minister Jim Flaherty made the following remarks:
"Economic Action Plan 2012 will continue to focus on making Canada's economy stronger for today and over the long-term, with prudent growth initiatives and responsible spending of taxpayers' dollars," he said.
[quote]"The Government will continue to work on improving the well-being of Canadians by securing the recovery, eliminating the deficit, and investing in the key drivers of long-term economic growth."[/quote]
Canada's Economic Action Plan 2012
The plan itself is made up of numerous strategies to achieve long-term economic viability. Of the more noteworthy include: the responsible development of Canada's national resources, reforming the immigration system to meet the needs of the modern economy, supporting entrepreneurs and investors, and a plan to achieve a balanced budget.
In regards towards its national resources, the Conservative Government, much to the ire of environmental activists, has sought to impose a considerably quicker system of regulatory approvals for major economic projects. Canada believes this move is necessary as "Canadian businesses in the resource sector must navigate a maze of overlapping and complex regulatory requirements and red tape. This leads to delays in investment and job creation that do not contribute to better environmental outcomes," the government says.
Another contentious issue in Canada's Economic Action Plan 2012 is also its strategic reformation of the immigration system. At the heart of this policy option is the Government's goal to focus on attracting more immigrants with the skills and experience that our economy needs. With a slowing birth rate, continued immigration is an important catalyst for the overall growth of the Canadian economy as adequate human capital resources is needed to ensure structural unemployment stays low.
On matters of supporting entrepreneurs and investors, the Canadian Government will increase funding for research and development conducted by both small and medium sized enterprises. This is derived as the Government understands that the global economy is increasingly competitive and fostering innovation is primary towards prosperity. Within this policy vertical, the government has pledged to work to provide high growth organizations with access to ample sources of Venture Capital.
One issue however that pins Keynesians against fiscal conservatives is that of government spending to stimulate growth. Canada's Economic Action Plan 2012 contains provisions for both stimulus and restraints to foster a balanced budget. Deep at the heart of domestic politics lies spending in the form of federal equalization payments to the provinces. Such payments are mandated by the Canadian Constitution to address income disparities across the provinces.
At risk of losing support of the provinces, the federal government's action plan aims to balance the books while actually increasing its support in the form of these transfer or equalization payments.
In appealing to its conservative base, the federal government will utilize various strategies to achieve a balanced budget. Amongst them are reductions in federal government departmental spending, eliminating the production of the Penny as a form of coinage, as well as the selling of government owned residences, and the outright elimination of various government sponsored programs.
Approaches to responsibly develop national resources, support innovation, reform the immigration system, and achieve a balanced budget encapsulate the domestic policy employed by the Conservative Government.
To date, the results have been encouraging with the paying down of over $37 billion in government debt, and more than 610,000 jobs have been created since July 2009. The latter figure represents the best performance in the G-7 nations.
Continued Growth?
With a strong mandate given to Prime Minister Stephen Harper through his majority government, Canadians should expect both a continued functional government and economy.
Through the creation and implementation of Canada's Economic Action Plan 2012 the Canadian Government has achieved positive results for its people. However, it should be noted that this piece is not intended to be a congratulatory note to Canada's ruling party or any specific parliamentarian.
Related: How Did Canada Turn Its Debt Crisis Around In 6 Years, 20 Years Ago?
Related: Canada Economy
Related: Canada Economic Statistics and Indicators
Rather, its main objective is to detail to interested readers around the globe; and particularly those in the United States, that Canada is to be congratulated for perhaps nothing more than actually having a documented economic plan that can be measured by Canadians.
Canada's Economic Action Plan 2012 is exactly that. It is a plan made up of strategic actions aimed at leading the Canadian people into long-term economic prosperity. Nevertheless, the next step for Canada is to further strengthen large scale trade with other nations; othewise the political paralysis in Washington may continue to stifle Canada's true economic potential.
By Roberto Paolozzi
Roberto Paolozzi is a consultant, strategist and entrepreneur who has worked for the Government of the Province of Ontario, as well as a Toronto-based government relations consultancy. He possesses a Bachelor of Arts in Politics and Governance from Ryerson University and a professional certificate in project management from the University of Toronto.
Got something to say about the economy? We want to hear from you. Submit your article contributions and participate in the world's largest independent online economics community today!