Can Companies Overcome Asia's Digital Media Challenge?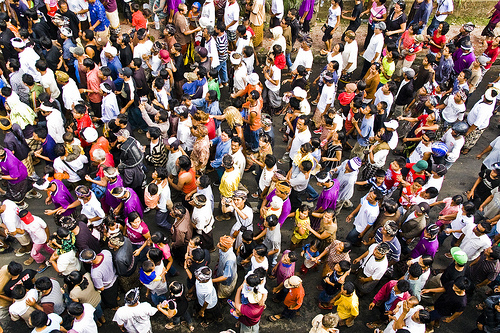 Please note that we are not authorised to provide any investment advice. The content on this page is for information purposes only.
The advent of digital and social media has presented new opportunities for corporations in Asia. But in a region that possesses a diverse range in cultures, identities and languages, many companies have been struggling with a holistic approach for their digital strategy, which has ultimately led to corporate disaster.
The advent of digital and social media has presented new opportunities for corporations in Asia. But in a region that possesses a diverse range in cultures, identities and languages, many companies have been struggling with a holistic approach for their digital strategy, which has ultimately led to corporate disaster.
This interview is part of a series of discussions with Singapore-based thought leaders on the art of communication, carried out by Andrea Edwards, CEO of SAJE, a content, communication and events agency. You can see the full series at the SAJEideas blog.
SAJE's first customer when we launched back in 2006 was Alvin Chan. At that time he was Regional Marketing Manager, Public Sector, Technology Solutions Group, Asia Pacific & Japan for Hewlett-Packard. After HP, Alvin moved to a senior marketing role with Thomson Reuters, and is currently taking a short hiatus while he works out what's next for him.
Always one of my favourite customers (he's a smart professional and a really nice guy), Alvin has the unique combination of deep IT experience, and the insight of working within the knowledge industries. We caught up recently because I believe Alvin has a very unique perspective on achieving digital success based on the cultural intricacies of Asia Pacific as a region.
Alvin is a big advocate of digital media, but before a company does anything, he believes you must have a holistic and attainable digital strategy, implementation plan, along with a clear responsibility assignment matrix (or any form of accountability matrix) as critical building blocks to ensure success. He also believes there can be no shortcuts in the implementation process either.
[quote]"Many companies are not clearly defining their strategy and implementation plan, and are taking too many shortcuts which lead to disasters, such as
McDonald's recent Twitter fiasco
– a great lesson for all of us."[/quote]
Alvin suggests that organizations need to be prepared to embrace both positive feedback and negative criticisms, and have robust infrastructure and resources (such as customer service & public relations) to address them. He believes that what makes an organization successful with its digital strategy is the ability to appropriately act on all customer feedback swiftly.
"Giving meal vouchers for negative feedback is lame; there must be a deeper thought process – by demonstrating to the customer that something is being done. Also providing a timeline for resolution, when appropriate, is an important element to delivering impeccable customer service."
[quote]"Why have a digital feedback channel if an organization is not prepared to act on it? This applies to businesses of all sizes."[/quote]
For organizations with a global footprint, Alvin suggests that having a local market focus is a fundamental part of succeeding as well.
Related: Asia-Pacific Content Trends: Stay Local or Go Global?
Related: Facebook Co-Founder Eduardo Saverin Bets Big on Asian Internet
"Multinationals must define a holistic digital strategy which encompasses local markets, especially for Asia and the EMEA region. Segmentation by sub-region such as South-East Asia, North Asia, China & Greater China, and the Indian continent are common for most organizations, typically mapping these territories to how their business groups and sales teams are organized internally. Unfortunately, customers are not organized in the same way – they are multilingual, multicultural and they all demand a direct channel of interaction. So these considerations, including financial commitments, have to be studied thoroughly as part of the digital media strategy development and planning process.
"Digital success will be achieved when your customers can interact, participate, and be heard by your brand globally, while your company is mindful of assimilating with local cultures and customs."
Alvin Suggested Three Core Planning Areas:
1. "Global Reach with Local Flavour – especially for global companies, these organisations need to provide a global platform for everyone to participate, but they must also ensure it is flexible enough that local flavours unique to local customs and cultures can co-exist. The importance here is that the organization must be committed to set aside resources (people and financial budgets) to execute, sustain, and enhance their digital media platform to ensure they are consistently engaged with their customers.
2. "Product Diversity – another layer of complexity exists for companies with a large portfolio of products and/or services, and offers them into different markets globally. The questions that must be addressed are: who will drive the digital strategy? Is it driven at the corporate level or the business unit level? What about the regional and local teams? Where are the synergies and where are the leverage points? It is crucial that the organization identifies a clear owner (who has overall accountability) for the organization's digital strategy, and establishes an accountability matrix of its various internal stakeholders (business units and country teams) to participate in the development of the strategy and implementation plan. These efforts require resources, commitment and collaboration, and if an organization is serious about succeeding in it's digital strategy, there are simply no short cuts."
3. Accountability Matrix –the collaboration and accountabilities could include, but are not limited to:
Corporate Communications/Branding – accountable and responsible for outlining communication and branding governance, establishing guidelines and enforcing global governance. This group develops the corporate digital strategy framework by consulting and partnering with business heads, the corporate CIO, and local markets/country leadership teams

Corporate CIO – is accountable for establishing robust IT support infrastructure and processes so that the business teams can execute specific communication strategies and marketing promotions that adapt quickly to market forces and competition

Business Unit and Country Leadership Teams – typically comprised of Heads of Business; Heads of Sales, Marketing & Communications; HR Head; and Finance Head. They are accountable for directing the individual business units' communication and product promotion strategies, staffing requirements, and budget plans. These rollout strategies should be based on market segmentation, product mix, etc – all of which are aligned to the corporate digital strategy framework
"This obviously looks like a lot of work, but I believe it is vital. It also requires commitment at all levels and follow-through. The keyword is follow-through."
Stumbling Blocks To Digital Success
However, there are big stumbling blocks to social success specific to this region:
"In Asia there's a concept – saving face. This is a very real aspect of Asian society, and it's a social nuance that must be considered in an organisations' social thinking. Outside of Asia, many cultures struggle to understand the importance of this concept, but here, saving face is a core aspect of society – no one wants to be exposed to the risk of failing in public."
"Asians tend to be more introverted, but this is changing. If you remember events and conferences in this region 15 years ago, Asians would hardly put up their hands to ask a question, because they were afraid to be embarrassed in public. With that said, they would make a beeline for the presenter during tea breaks and after the event – so they had questions they wanted to ask.
[quote]Digital media and the proliferation of social channels provides a platform for opinions and criticisms to be aired at the speed of light, and is changing this trend."[/quote]
Another social nuance that hinders digital success is the presence of corporate hierarchical power. There's an excellent article published recently that addresses this uniquely Asian cultural phenomenon if you missed it.
"Because of these cultural considerations, the baby boomer generation tends to be more conservative about digital media – a new age communications platform – and are wary of the risks. However, the younger generation tends to have very different views, and their creativity is often being stifled. Young professionals are often passionate about new media, and are eager to exploit it to benefit their organizations and their own career path; therefore if organisations can embrace this enthusiasm by putting in place a robust, well planned, well executed digital strategy (with commitment to sustainability and future enhancements), we will see creativity and success never before seen in this region."
Customer Service in Asia Applied to a Digital World
Relating to the retail industry, Alvin suggests: "digital media is culturally opposite to how customer service has traditionally been done, which is highly transactional – a short term 'do-the-deal-today' style.
"Asians tend to follow their managers lead and are often, for fear of negative repercussions from superiors, regimentally "following the rules" without fully appreciating their customers' real issues and needs. They seem to be obsessed with short-term compliance with policies and don't fully understand the concept of delighting the customer. Essentially they'd rather be "compliant" than being aware of the risk of losing a customer or the store's reputation should a negative experience go viral. After all, the loss of sales and the store's reputation does not have a direct and immediate impact on their salary or job security – for now anyway."
[quote]"Getting reprimanded by their superior for not following the rules, and the inability to speak-up (referenced in the
HBR article
above), however, have a direct and immediate impact. These social nuances and attitudes must change to provide world-class customer service
. The challenge here is – will Asian senior leadership teams be prepared to overhaul their "traditions" and become a little more open to progressive change?
[/quote] [break]
Digital Engagement In Asia
"There are so many interesting encounters I've had personally with customer service in Asia, but a more notable one that had an immediate impact resulting in a loss of customer loyalty must be this one with Mont Blanc. This is what I learned recently. A friend bought a wallet from Mont Blanc for her husband last Christmas. The wallet wasn't exactly what he wanted and he decided to return it and upgrade it for a more expensive one. However because he was busy, her husband wasn't able to return to the store within the return policy period. In an example of a typical customer service engagement in Asia, he was told he couldn't return the wallet because it had been more than seven days. They did not even entertain the thought of him upgrading to a more expensive one. The store has now lost a valuable customer who is very annoyed and disappointed with the Mont Blanc brand – a brand he has been loyal to for many years.
"With the proliferation of digital channels today (including this blog) this incident – now in the public domain – could impact a much broader potential customer base, which in turn, tarnishes Mont Blanc's brand reputation. That's how it works today.
[quote]"This uncompromising service, which is so common in Asia, demonstrates a lack of foresight.
When you lose a customer, it takes a lot more effort to get them back. Digital media takes this challenge wider."
[/quote]
"Another classic example, which I encountered many years ago (long before digital), was this: a very senior and prominent politician in Asia had personal printer issues. His IT support staff were called in, and realising they couldn't fix the problem; they made contact with the manufacturer's call centre. It went to an outsourced centre, and the person on the phone insisted on the warranty number. The warranty and product number were not easily obtainable, and the support executive refused to provide any help, despite being told who the printer belonged to.
"Fortunately the senior IT officer of the prominent politician was a personal friend of mine, and he reached out to me for help. Me being a responsible Business Development Manager back then, I made a phone call to the Head of Customer support, and within 10 minutes, the printer manufacturer's field support staff was on-site to rectify the problem. Could you imagine a situation like this today and the outage going viral?
Related: Go Social – Or Die
Related: How Asian Companies Use Social Media
Related: CEOs: Wake Up and Smell the Social Media Coffee
Today, frustrations like this end up on the Internet for everyone to see – just like the SAJE blog you wrote on SIA, and as a Singaporean, I'm glad that SIA revamped their digital platform to create a better experience for their customers. With that said, every customer is important, and every customer has power – it's important to remember that."
If you Want to Succeed in Digital Media, you Must:
"Have a realistic, holistic and achievable digital strategy and implementation plan; establish a set of clear deliverables and owners; and foster an environment and culture for collaboration and active participation
"Be committed and follow-through – senior management must be convinced and committed; adequate resources must be allocated to sustain continuity; and business stakeholders need to appreciate it's a journey and follow-through each step of the way
Be customer centric – take on board and act on criticisms and customer issues; ensure appropriate resources (such as customer service & PR) are in place to address them, and address them well.
"Western firms doing business in Asia need to understand and appreciate Asia's cultural and social etiquette. For example, I heard an interesting story of a western Internet search firm launching its new office in China. They celebrated this auspicious launch by giving their employees alarm clocks. They didn't realize that the gift of a clock symbolises a death wish. A cultural lesson learned.
[quote]"With that said, Asian firms have different challenges, and Asian companies must overhaul some of their cultural traditions to stay competitive."[/quote]
In Wrapping up, Alvin Suggested Engaging Market Leaders in Digital Media Strategy for Strategic Counsel.
However be cautious when engaging marketing & communications agencies who tout their services and expertise, because many are just implementers – they will follow what their clients tell them to do. They often rely on their clients to provide the strategic direction, and offer no value in helping them develop their digital strategy.
[quote]"If an organization is seriously looking for help in developing their digital strategy, be selective in engaging an agency, ensure you engage one that can provide strategic counsel, but also one with the courage to think outside the box and challenge you, the client."[/quote]
Finally, "learn from organizations that have failed, and understand what went wrong – there are a lot of priceless lessons to be learnt."
There's a lot of terrific advice from Alvin in this interview, really honing in on some specific aspects relevant to succeeding in Asia, and we both hope it helps companies still struggling to harness the power of digital media.
By Andrea Edwards
Andrea Edwards is managing director of SAJE, a Singapore-based strategic communications consultancy focused on professional writing and content development, messaging and positioning, and high class boutique events. You can check out SAJE's blog at http://sajeideas.wordpress.com