Kroger Stock Price Forecast August 2021 – Time to Buy KR?
Please note that we are not authorised to provide any investment advice. The content on this page is for information purposes only.
Kroger stock was trading higher in premarket price action today after Berkshire Hathaway announced that it has increased its stake in the retail company. Kroger stock is up 35% for the year and is outperforming retail peers as well as the S&P 500.
What's the forecast for KR stock in August 2021? Will it continue to outperform in the coming months also?
Kroger stock price technical analysis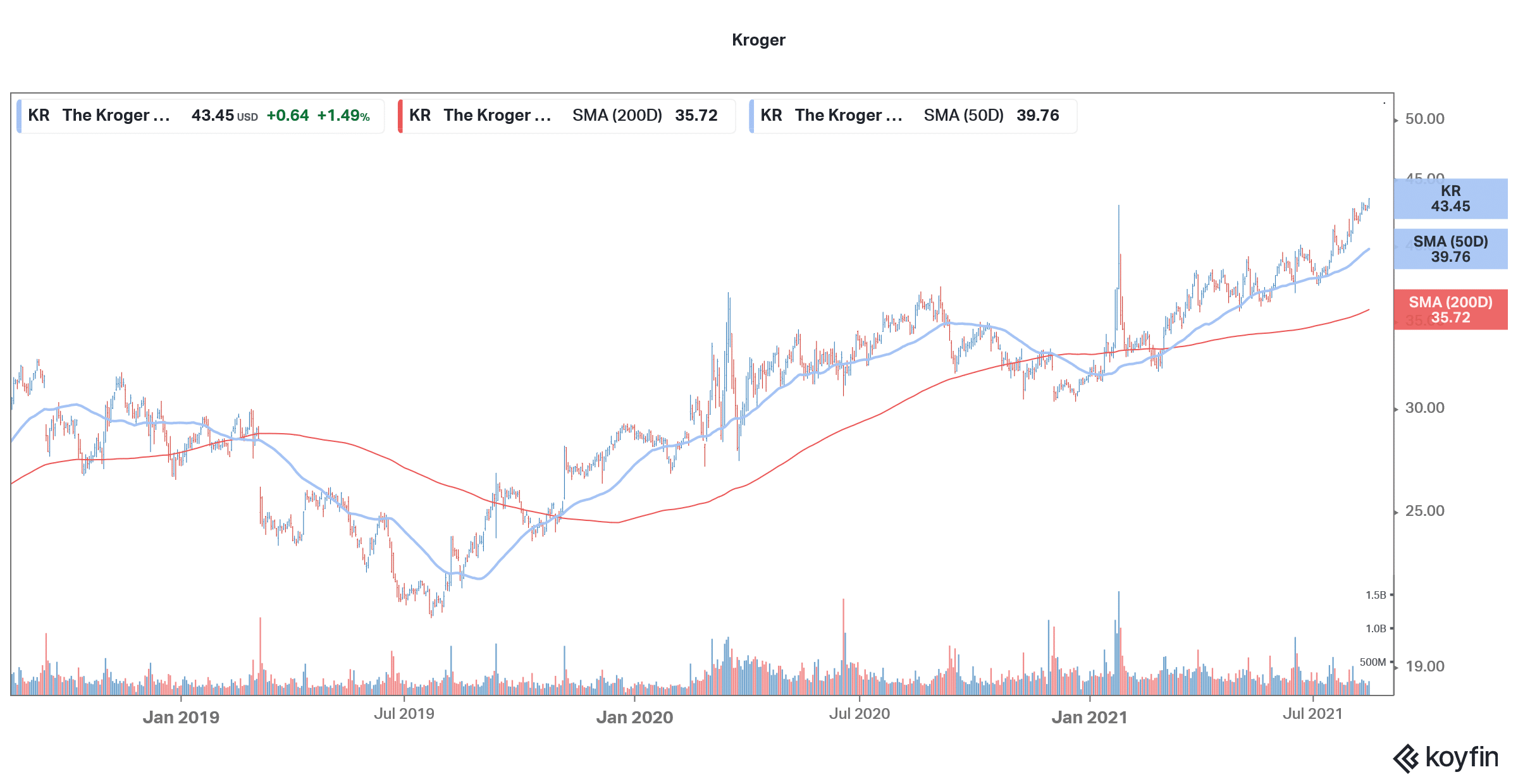 Kroger stock has been in a technical uptrend. The stock trades above its 50-day, 100-day, and 200-day SMA (simple moving average) which is a bullish indicator. However, after the rise over the last few trading sessions, the stock is looking overbought with a 14-day RSI (relative strength index) of 70. The 12,26 MACD (moving average convergence divergence) meanwhile, gives a buy signal for KR stock.
67% of all retail investor accounts lose money when trading CFDs with this provider
Recent developments
Berkshire Hathaway has disclosed that it increased its stake in Kroger by 21% and holds almost 61,788 thousand shares of the retail company which was valued at $2.37 billion at the end of June. The Warren Buffett-led conglomerate first bought Kroger shares in the fourth quarter of 2019. Since then and in a typical Buffett way, the company has been gradually adding more shares. Berkshire had added KR shares in the first quarter of 2021 also. It now holds an 8.3% stake in the retail company.
Meanwhile, Buffett has been very muted when it comes to stock market activity. The Oracle of Omaha was a net seller of stocks in the second quarter. Meanwhile, Berkshire's increasing stake in Kroger is a stamp of approval from the company which is known for its value investments. That said, we cannot say with certainty whether it was Buffett or a different investment manager at Berkshire who bought Kroger shares.
Kroger stock price forecast
While Berkshire Hathaway sees value in Kroger stock, Wall Street analysts don't seem to believe so, at least for the near term. Kroger's median target price is $39.30 which is a discount of 9.6% over current prices. The lowest target price for KR stock implies a downside of 36% while the street high target price of $46 is a 5.9% premium over current prices.
Only six of the 28 analysts polled by CNN Business have rated KR stock as a buy or some equivalent. 15 analysts rate them as a hold while the remaining seven analysts have a sell rating. Looking at the recent analyst action, last month, Morgan Stanley had raised Kroger's target price from $29 to $31 while maintaining its underweight rating. In June, Northcoast Research had boosted the target price by $5 to a street high of $46.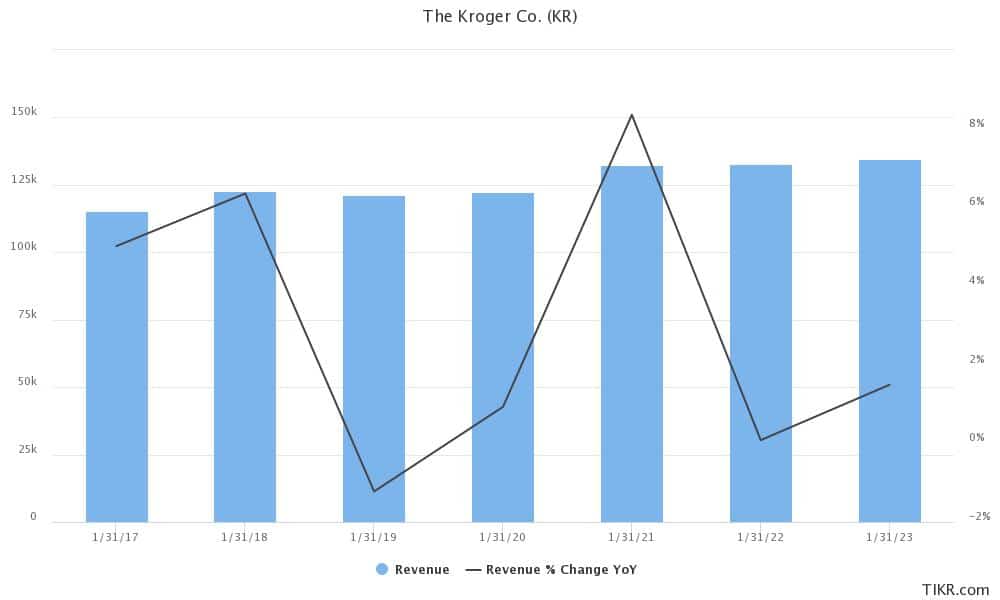 KR price guidance
In June, Kroger had raised its 2021 guidance and said that it expects same-store sales to fall 4% in the year which was better than the 5% that it had previously projected. The company also increased its 2021 EPS guidance to $2.95-$3.15 which was higher than the previous guidance of $2.75-$2.95. The company's first-quarter earnings were also better than expected. "We do not believe most investors expected a print this strong, nor a guidance raise this substantial," JPMorgan had said after the earnings release.
Kroger is focusing on online sales
Like most of its brick-and-mortar retail companies, Kroger is also focusing on online sales. The company's online sales had increased 16% in the first quarter of 2021. Online sales help retail companies fend off competition from e-commerce companies like Amazon who have been gradually eating away the retail market share. Also, it helps in better customer engagement and helps retail companies tap into a broader audience. Finally, over the long term, higher online sales would help retail companies increase their profit margins.
Commenting on the online sales Kroger CEO William McMullen said on the first-quarter earnings call that "The customers continue to like to shop online … When they shop (online and in stores), our retention rate is incredibly high." Kroger is also focusing on private labels that can offer a high margin.
Valuation
Kroger stock trades at an NTM (next-12 months) PE of 14.4x which is higher than the 10-year average of 13.4x. That said, the expansion in valuation multiples is lower than what we've seen for broader markets where an abundant supply of cheap money has catapulted valuations way above historical averages.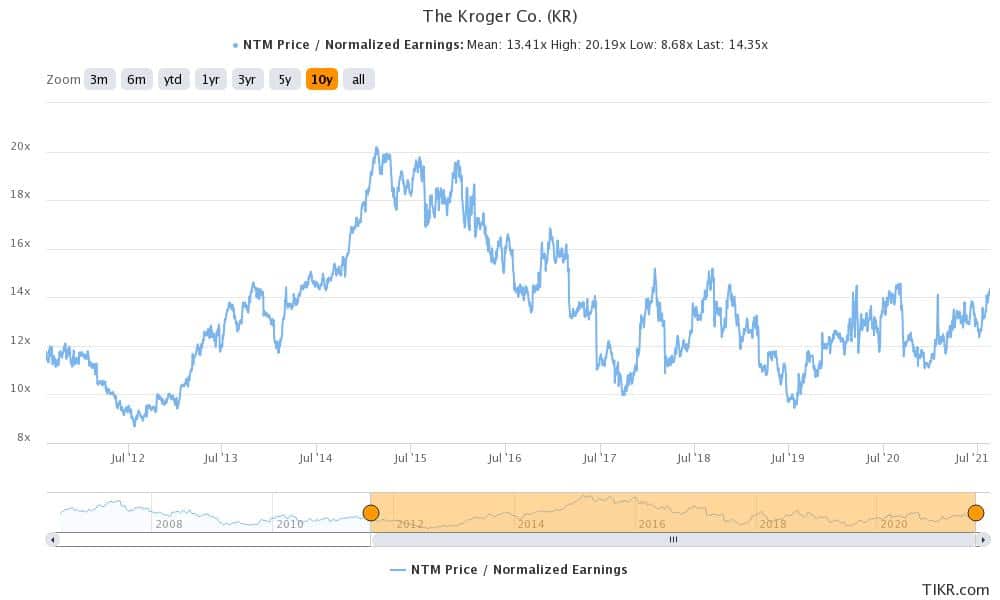 Kroger stock price long term forecast
Wall Street analysts expect Kroger's revenues to remain flat in the fiscal year 2022 that would end in January 2022. The topline growth is expected at 1.5% in the next year. After the sharp surge in sales in 2020, retail companies are witnessing a slowdown. Even Walmart expects total sales to fall in the year due to asset divestitures. After accounting for the divestitures, it expects low single-digit sales growth. Kroger's adjusted EBITDA is expected to fall 5.9% in the fiscal year while it is expected to be flat in the next fiscal year.
Kroger's near-term financials look challenging but the stock is a good long-term play on the US retail market. The stock's valuation multiples are lower than the peers and if the business can stage a comeback amid the pivot towards private labels and e-commerce, the stock could see a rerating. The stock also pays a healthy dividend yield of 1.9% which is higher than that of the S&P 500.
67% of all retail investor accounts lose money when trading CFDs with this provider