Located in the landlocked region of the Horn of Africa, Ethiopia is the second most populated country in the African continent. As per 2008 estimates the country ranks 15th in the world in terms of population (79 million approx). Ethiopia is the 27th largest country in the world based on total land area. It borders Djibouti, Somalia, Sudan, Kenya and Eritrea. Ethiopia is one of the two African countries that escaped colonial rule. However, a series of internal conflicts left the Ethiopia economy reeling under poverty and slow growth rate. 
Ethiopia Economy: Introduction
Ethiopian economy is largely under government control. It is the only African country with almost zero privatization. Since 1991, there have been several efforts by international organizations to promote economic reforms. However, internal conflicts spoiled all such efforts. According to the New York Times report, Ethiopia has one of the most fertile lands in the African continent. It has the potential to become the 'food basket of the world'. However, feudal structure and communist ideology prevents the growth of agricultural sector in the country.
Ethiopian birr (ETB) is the official currency of the nation. As per 2009 estimates, the country has annual GDP (purchasing power parity) of US $75.91 billion. Owing to large foreign aid through IMF and fiscal policy reforms, Ethiopia has enjoyed double figure GDP growth rate since 2005.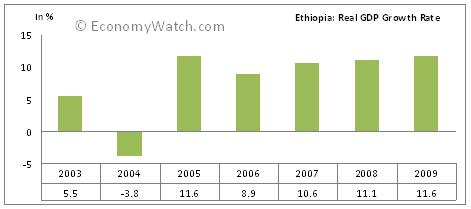 Ethiopia Economy: Major Statistics
Here are some major statistics related to the Ethiopia economy:
| | |
| --- | --- |
| Labor force | 37.9 million (as in 2007) |
| Inflation rate | 11% (2009 est.) |
| Budget revenues | $4.678 billion (2009 est.) |
| Budget expenditures | $5.36 billion (2009 est.) |
| Industrial production growth rate | 8% (2009 est.) |
| Current account balance | -$2.165 billion (2009 est.) |
| Exports | $1.608 billion (2009 est.) |
| Imports | $7.315 billion (2009 est.) |
| Foreign exchange reserve | $1.212 billion (2009 est.) |
| External debt | $4.229 billion (June 2009) |
With significant economic and policy reforms in the country, it is expected that Ethiopia will attract the much needed foreign direct investment in major sectors. However, poverty and population explosion remains massive problems.