Ecuador is a democratic republic in South America that is bordered by Colombia to the north, Peru to the east and south, and the Pacific Ocean to the west. Ecuador includes the Galapagos Islands situated in the Pacific Ocean. The country has an area of 98.990 square miles and has a population of nearly 13.5 million. Ecuador enjoys a variety of climatic conditions determined by the altitude. The Pacific coastal area has a tropical climate, while the climate in the Andean highlands is temperate. The climate on the Amazon basin shares the climate of other rain forest regions.
The Ecuadorian economy is primarily dependent on its petroleum resources, which have accounted for more than half of the country's export earnings in recent times. In 1999, Ecuador suffered severe economic crisis with its GDP falling by more than 6%. The banking system also fell apart and the country defaulted heavily on its external debts. In March 2000, the government approved a series of reforms, one of which was the adoption of the US dollar as the legal tender. As a result, the economy was stabilized and growth returned, fueled by high oil prices. From 2002-2006, Ecuador's economy grew 5.5%. However, in 2006, the Ecuadorian government imposed revenue taxes on foreign oil companies that led to the suspension of free trade negotiations with the US. Combined with contract negotiations, economic uncertainties, global recession, and fall in oil and commodity prices, the economy of Ecuador fell in 2009.
Ecuador Economy: GDP and Labor
Ecuador's GDP- official exchange rate in 2009 was $55.61 billion. The following chart illustrates Ecuador's GDP –PPP from 2007 to 2009 (in US billion dollars).
The next chart shows Ecuador's GDP-real growth rate from 2007 to 2009 (data in percentages).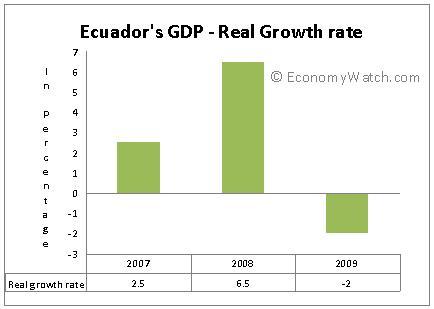 The following chart demonstrates Ecuador's GDP – per capita from 2007-2009. All data are in US dollars.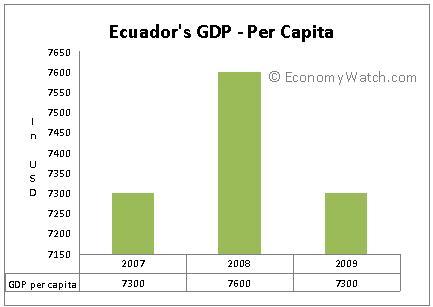 Following is the representation of Ecuador's GDP – composition by sectors from 2007 to2009. All data are in percentages.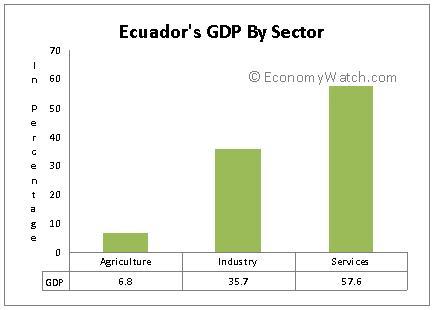 Ecuador's overall urban work force totaled 4.77 according to 2009 estimates. The country's unemployment rate totals to 9.8% in 2009, up from 7.3% in 2008. The following chart shows Ecuador's composition of labor force by occupation.