Located in the sub-Saharan African region, Cameroon is endowed with bountiful mineral reserves. This western African nation is bordered by Nigeria, Chad, Central African Republic (CAR), Gabon and Congo (RoC). Cameroon has great cultural and geological diversity. It has coastal line along the Atlantic Ocean, desert region towards north-east and rainforests towards southern region. In terms of total land area, it ranks 53rd in the world. Cameroon economy thrives on mineral exports and agricultural production. As per 2009 estimates, it has a population of approximately 18.9 million. 
Cameroon Economy: GDP
Cameroon economy faces several problems, such as per capita income stagnation, unequal distribution of income and non-productive state enterprises. However, the rising prices of oil and cocoa in the international market have propelled the growth of the country since 2005.
As per 2009 estimates, Cameroon has an annual GDP (purchasing power parity) of US $42.55 billion. With these figures, it ranks 94th in the world. GDP per capita is $2,300.
 Cameroon Economy: Inflation
Based on 2009 estimates, Cameroon economy has an inflation rate of 5.30%, which is more than 350% rise from the 2008 figures. Due to the 2008 global economic recession, Cameroon economy faced serious export deficit.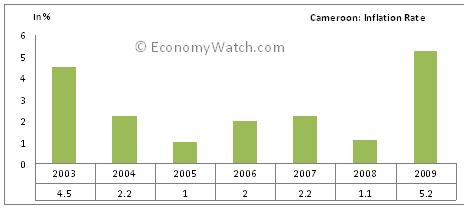 Cameroon Economy: Trade Relations
The growth of Cameroon economy depends on trade relations with mineral importing countries. As per 2009 estimates, Cameroon has total export worth US $4.8 billion, a 25.84% rise from 2008 (US $3.8 billion). The country is a member of several international trade forums, including:
Bank of Central African States

Organization for the Harmonization of Business Law in Africa 
Cameroon Economy: Major Statistics
Here are some key statistics related to Cameroon economy:
| | |
| --- | --- |
| Labor force | 7.313 million (2009 est.) |
| Unemployment rate | 30.1% (2007 est.) |
| Budget revenues | $3.838 billion (2009 est.) |
| Budget expenditures | $ $3.781 billion (2009 est.) |
| Industrial production growth rate | -3.5% (2009 est.) |
| Current account balance | $673 million (2009 est.) |
| Exports | $3.409 billion (2009 est.) |
| Imports | $3.739 billion (2009 est.) |
| Foreign exchange reserve | $2.922 billion (2009 est.) |
| External debt | $2.929 billion (June 2009) |
Since early 1990s, Cameroon has been investing in economic reform programs initiated by the IMF and World Bank. These reforms are targeted towards improving trade with foreign nations, strengthening FDI (foreign direct investment) and increasing agricultural productivity. The results of these economic reforms are high growth rates in Cameroon.