Bolivia is a landlocked country in South America. It is bordered by Brazil to the north and east, Paraguay and Argentina to the south, and Chile and Peru to the west. Bolivia has a population of 9 million. The country is divided into three primary geographic zones – the mountains and Altiplano in the west, the Yungas and the temperate valleys in the east and the tropical lowlands. The Western Andes range runs along the Peruvian and Chilean borders, and the Eastern Andes range stretches from Peru to Argentina.
Bolivia is one of the least developed countries in South America. Following a disastrous economic crisis in the 1980s, subsequent reforms led to investments and economic growth. In 2008, revenues for mining and oil exports pushed the national current account balance to 9.4% of the GDP. Private investments, however, still remain the lowest in Latin America. The rate of inflation remained at double digits for much of 2008, and the lack of FDIs in the mining and hydrocarbon sectors, and limited trade with the US are likely to continue to pose problems for the Bolivian economy going forward. Bolivia has the second lowest per capita income in South America.
Bolivian Economic Profile: GDP and Labor
GDP (PPP): All figures in US Dollar Billion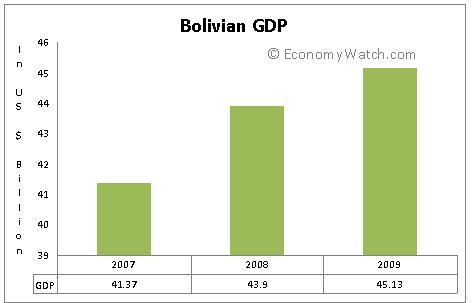 The GDP official exchange rate in 2009 was $17.55 billion. The tables below show the GDP-real growth rate and the GDP-Per capita, respectively.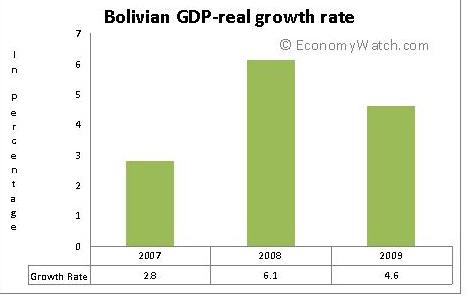 All figures are in %.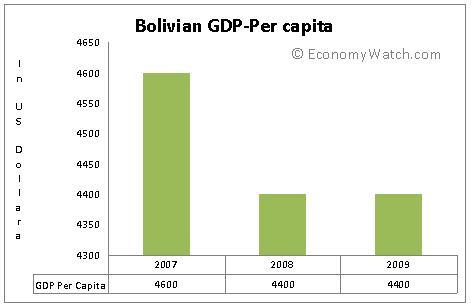 All figures are in US Dollars.
The next chart shows GDP composition by sectors: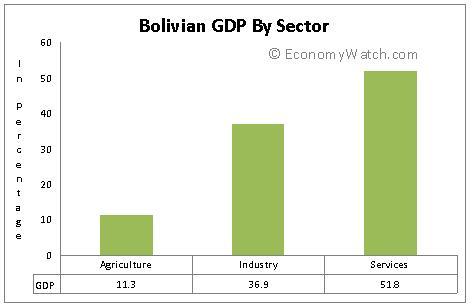 All figures are in %.
Bolivia's workforce is about 4.536 million, according to the 2009 estimates. The rate of unemployment was 8.5% in 2009, up from 7.5% in 2008. The following chart shows the percentages of labor force by population: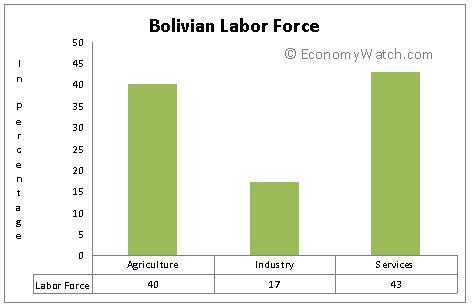 All figures are in %.