Belize is located in Central America and has Mexico and Guatemala as its neighbors. It borders the Caribbean Sea to the east. The country is known for its low density of population. With an area of 22,960 square kms of land area and 320,000 people according to the 2008 consensus, the density is the lowest in Central America. Belize's economy falls in the upper middle income category, according to the World Bank's classification. 
Belize Economy: Scenario
Belize's economy is a small and essentially a private-enterprise economy. The country's economy is further aided by tourism, which helps Belize earn foreign exchange; even more than its exports. Belize has oil reserves as well.
The main worrying factors for the Belize economy remains its sizeable trade deficit and foreign debt. Therefore, the government has taken expansionary steps to enhance GDP growth.
The monetary as well as fiscal measures helped the economy to grow until the recession, when it slipped to 3% in 2008 and -1.5% in 2009.
Belize's GDP (purchasing power parity) was recorded at $2.534 billion in 2009, slightly lower than the 2008 level of $2.572 billion. Belize's per capita GDP was $8,200 in 2009.
Belize's economy is marred by the unavailability of skilled labors and technical personnel. The workforce is limited with only 122,300 people. The unemployment rate is 8.1% (2008 est.).
Employment is generated by three sectors:
Agriculture

Industry

Services
This is how they contribute in terms of providing employment (in percentage):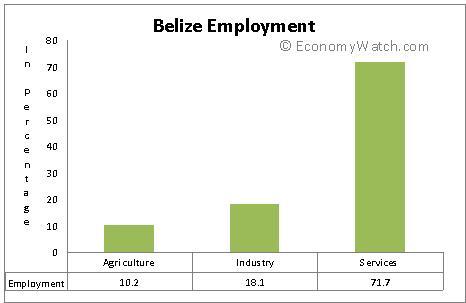 Almost 33.5% of the total population lives under the poverty line. Expenditures too are more than the revenues. In 2009, the revenues were recorded at $376.5 million, whereas expenditures stood at $412.5 million.
The various monetary and fiscal policies have been able to check inflation in the country, which was reported at 0.3%.