Will Africa's Wet Dreams Turn Into A Nightmare?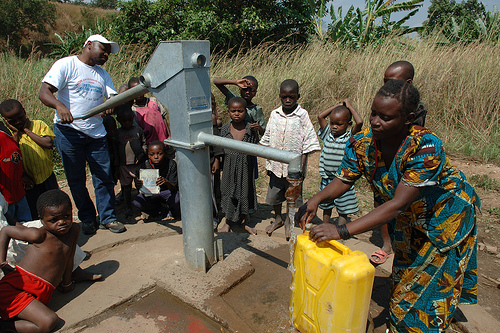 Please note that we are not authorised to provide any investment advice. The content on this page is for information purposes only.
Scientists have discovered a vast reservoir of groundwater located within Africa, which is said to contain a hundred times the amount of water found on the continent's surface. But while the news has already sparked excitement across the once water-scarce continent, this joy will be short-lived unless global leaders exercise moral and social responsibility.
Scientists have discovered a vast reservoir of groundwater located within Africa, which is said to contain a hundred times the amount of water found on the continent's surface. But while the news has already sparked excitement across the once water-scarce continent, this joy will be short-lived unless global leaders exercise moral and social responsibility.
Africa is a notoriously dry continent; and though it may not be the driest continent in the world (that dubious honour goes to Australia), the region suffers from horrible water shortage problems – with 300 million Africans unable to access safe drinking water due to severe distribution issues and poor water sanitation facilities.
But some scientists may have literally unearthed a solution. According to a report by the BBC on 20th April 2012, large underground aquifers – containing over 100 times the volume of water on its surface – have been found beneath the African continent.
[quote]
"This is an important discovery…this research, which the British Government has funded, could have a profound effect on some of the world's poorest people, helping them become less vulnerable to drought and to adapt to the impact of climate change," said Andrew Mitchell, the UK's secretary of state for international development.
[/quote]
Researchers from the British Geological Survey (BGS) and University College London (UCL) were also said to have been able to map out the potential yield of this groundwater resource across the entire continent, pinpointing fresh water spots that could be tapped for digging borewells in the process.
"Where there's the greatest ground water storage is in northern Africa, in the large sedimentary basins, in Libya, Algeria and Chad… The amount of storage in those basins is equivalent to 75m thickness of water across that area – it's a huge amount," said BGS researcher Helen Bonsor.
Fellow researcher Dr Alan MacDonald highlighted the significance of the find – for not just its quantity, but for its quality as well:
[quote]
"Groundwater is such an important water resource in Africa and underpins much of the drinking water supply
. Appropriately sited and developed boreholes for low yielding rural water supply and hand pumps are likely to be successful and resilient to climate change," he said.[/quote]
Map of Africa's Aquifers (Source: Environmental Research Letters)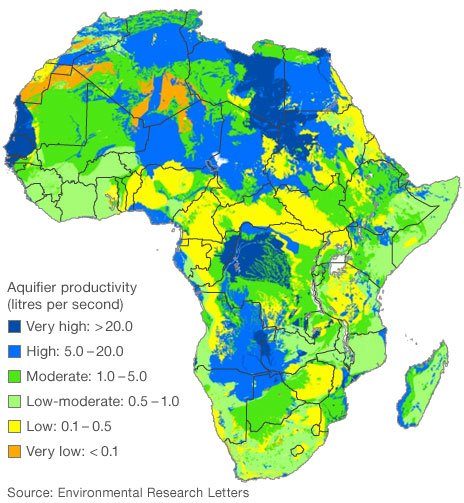 But the scientists are also keenly aware of the challenges ahead. Widespread drilling of large boreholes for instance could result in aquifers running dry even before the water reaches any African's lips.
Many of the aquifers have not been refilled in over 5,000 years and could be depleted very quickly, added Bonsor, who expressed caution against over-drilling.
Most importantly, "high-yielding boreholes should not be developed without a thorough understanding of the local groundwater conditions," said her colleague, Dr MacDonald.
Bonsor went on to advise African countries to, for the moment at least, consider moving slowly on the untapped water resource.
"Our work shows that with careful exploring and construction, there is sufficient groundwater under Africa to support low yielding water supplies for drinking and community irrigation," Bonsor said.
Related: Access To Land, Water And Other Resources
Related: Hope in Adversity – Fighting Famine in the Horn of Africa: Jeffrey D. Sachs
The Rush For Blue Gold
Nevertheless, the temptation to drill as much, and as fast, as possible is still great. What's more, any decision over the water resources could soon be effectively taken out of Africa's hands. After all, the global scarcity of water, coupled with a growing demand, means that clean water may now be the new oil, says Professor Richard Vogel, Chair of the Water: Systems, Science and Society program at Tufts University.
"The worldwide demand for water has tripled in the past century.  And it is currently doubling roughly every twenty-one years.  This is clearly unsustainable, and the places that will be hit hardest are places that are already having serious water shortages.
[quote]
"The issue with water is that we can't live without it.  We could live without oil because it's a substitutable resource, but we can't live without the benefits of oil…
If you Google 'water crisis,' you get about 180 million hits.  This global 'water crisis' is in some ways analogous to what we once viewed as an oil crisis, and now see as a much broader energy crisis.[/quote]
"You think of water as being different from oil because it's renewable, but there are a lot of places where water behaves like a non-renewable resource, just like oil.   If you go to the Ogallala aquifer in the Great Plains of the U.S, or to the Great Plains of China, or to Venice, or to many places in India, you see land subsidence and other results of ground water pumping. There are places all over the world, which draw groundwater in a non-sustainable way, analogous to the way in which oil is drawn from the ground.
"As far as the differences between oil and water are concerned, there are quite a few. Water has a religious and a spiritual component.  Water is also a human right.  And most importantly, it's a pre-requisite for our balance of life.  There's no substitute for water."
Consequently, some analysts believe that future wars will soon be fought over "blue gold", as thirsty people, opportunistic politicians and powerful corporations battle for dwindling resources.
"Countries have not tended to go to war over water, but I have a fear for the world that climate instability drives political instability," said Ed Davey, the U.K.'s secretary of state for energy and climate change, as cited by The Guardian. "The pressure of that makes conflict more likely," he added.
Noticeably, rich countries and companies have already been stocking up on their water supplies, with a "land grab" presently occurring in water-rich parts of Africa – even before the underground aquifers had been discovered.
[quote]"As a means of offsetting shortfalls, India, South Korea and China, along with the oil-rich Gulf states, are acquiring water-rich land for agricultural purposes in developing countries to ensure the security of food supplies and decouple themselves from volatility in global food prices," said Tom Styles, a Maplecroft analyst, to
MarketWatch
.
[/quote]
"This recent phenomenon, dubbed 'land grab,' is taking place on a huge scale across many countries in Africa, especially those involved in post-conflict reconstruction with poor development."
Though little is known whether the latest discovery would prompt another land grab frenzy, The Guardian reported that over 20 African countries had leased out land to foreign investors for "water and agricultural purposes" in the past five years.
Ethiopia for instance – one of the hungriest countries in the world with 2.8 million people needing food aid – offered 3 million hectares of its most fertile land to rich countries and some of the world's most wealthy individuals in 2010 to export food and water for their own populations.
[quote]"The foreign companies are arriving in large numbers, depriving people of land they have used for centuries. There is no consultation with the indigenous population. The deals are done secretly. The only thing the local people see is people coming with lots of tractors to invade their lands," said Nyikaw Ochalla, an indigenous Anuak from the Gambella region of Ethiopia.[/quote]
"Rich countries are eyeing Africa not just for a healthy return on capital, but also as an insurance policy. Food shortages and riots in 28 countries in 2008, declining water supplies, climate change and huge population growth have together made land attractive. Africa has the most land and, compared with other continents, is cheap," added Montreal-based researcher Devlin Kuyek.
Still, Kimberlee Myers, another Maplecroft analyst, believes that a compromise could be reached whereby land grabs could be mutually beneficial for both foreign investors and the African population. Myers cite more recent policies adopted by Ethiopia – whereby 40 percent of agricultural output from leased out land must be distributed to local communities – as an example to follow.
The onus though is on African and international leaders to enact such policies by putting the needs of Africa citizens ahead of profits; and step one to this process is to stop allowing corporations from gobbling up Africa's water resources.
Related: Green growth or de-growth: What is the best way to stop businesses destroying the biosphere?
Related: Africa Rising: Can "The Dark Continent" Outshine Its Former Colonial Masters?
"Water has been a public resource under public domain for more than 2,000 years," says James Olson, an attorney who specializes in water rights, to The Daily Beast. "Ceding it to private entities feels both morally wrong and dangerous."
[quote]"Markets don't care about the environment. And they don't care about human rights. They care about profit," he said.[/quote]