Why Is Canada's Military Returning To Asia?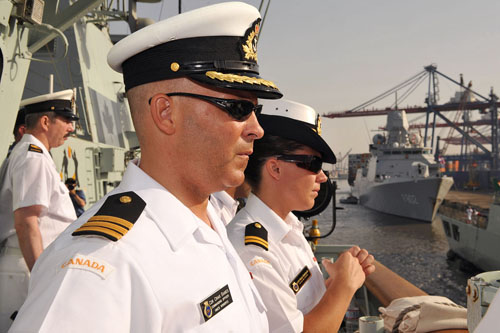 Please note that we are not authorised to provide any investment advice. The content on this page is for information purposes only.
Canada's new military engagement with Asia represents a shift in its defence policy, after a decade or so of near-absenteeism. But is Canada simply following the whims of American initiatives – the so-called "Pacific Pivot" – or are they serious about taking a more involved role in regional security?
Canada's new military engagement with Asia represents a shift in its defence policy, after a decade or so of near-absenteeism. But is Canada simply following the whims of American initiatives – the so-called "Pacific Pivot" – or are they serious about taking a more involved role in regional security?
Canada has begun a gradual re-engagement with East Asia after over a decade's hiatus. The driving force has been the establishment and intensification of economic relations, specifically with Canada's second-largest trading partner, China. But alongside these pursuits there is a growing chorus from Canada's strategic community to enlarge and incorporate political-security aspects into Ottawa's renewed interactions.
Canada is not a new participant in East Asian security dynamics but has a sporadic history of involvement. Canada contributed military forces in support of the United Nations during the Korean War, and participated in the International Control Commission to observe the implementation of the Geneva Accords ending the First Indochina War. Recently, Canada was an active member of the South China Sea Dialogues in the 1990s hosted by Indonesia, where China explicitly favoured Canadian rather than American or Japanese funding for the process. While never a major military priority, interaction with the region dwindled to almost nothing during the beginning of the 21st century as numerous Canadian governments and military planners focused on supporting international counter-terrorism and piracy operations, counter-narcotic operations, and concerns associated with the opening accessibility of the Arctic.
East Asia barely merits a mention in Canada's defence policy, but a number of recent developments indicate a potential shift in policy. The large contribution of Canadian forces and high-level command positions to the 2012 Pacific Rim military exercise, and the investigation of establishing a staging and logistics hub in Singapore, indicate the region has reappeared on the government and defence establishments' radar. Canadian concerns stem from various regional tensions combined with and encapsulated within the larger changing power realities underway, specifically the rise of China, which affect global economic and political stability.
Canada's awakening to these developments follows the United States' 'pivot' to the Pacific and the posturing and re-evaluation of strategic policy by regional partners such as Australia, South Korea and Japan. In these discourses China features prominently, in particular concerns about its military developments limiting American freedom of action and challenging its defence commitments in the region.
Canada faces a complex balance between ensuring commensurable defence policies with Washington, its most important ally, over expected responsibilities in hypothetical regional security scenarios (including hedging against China), and continuing to build cordial ties with Beijing.
China's growing military power is concerning, but Canada has so far remained silent on security issues, such as the South China Sea disputes, in part to keep the focus on growing economic relations. However, Canada, like the United States and its regional partners, will have to find ways of simultaneously addressing security and other concerns whilst continuing to engage economically with Beijing.
Related: America's New "Pacific Offensive" – A Strategy To Contain China: Sanjaya Baru
Related: Are Sino-US Ties Still The World's Most Influential Relationship?
Related: Could Rising Tensions Over South China Sea Lead to Sino-American War?
If Canada is serious about reorienting its military focus and giving priority to the region, a number of developments are expected over the next few years. A necessary and obvious first move would be to rebalance Canada's naval forces from the Atlantic to the Pacific coast (currently the distribution is approximately 60:40 per cent).
Canada will, furthermore, continue to participate in American led warfare exercises to build up expertise working with Asian militaries. Regular port visits and military exchanges, specifically at educational institutions, will be necessary to build an understanding of the security environment, including the strategic perceptions of regional partners.
Becoming a member of the ASEAN Defence Ministers' Meetings and the East Asia Summit would increase Canada's access to security forums and presence in dialogues. Canada's contributions to East Asian security generally would be small, but there are niches where Ottawa could employ its expertise to maximise its contributions and influence, such as counter-terrorism knowledge, non-proliferation measures, humanitarian and disaster assistance, fisheries management, and maritime boundary dispute delineations.
However, Canada's newfound desire to be involved in East Asia has met with some regional scepticism. In 2012, the then-ASEAN secretary-general Surin Pitsuwan stated Canada must show a determined commitment to be an active participant in East Asia before it is accepted into the East Asia Summit. So alongside increased engagement with the region's institutional framework, augmenting the visibility of Canada's navy through maritime diplomacy would signal such determination.
Building and maintaining a presence in the region will affect operational sustainability of other missions, and developing a working relationship with East Asian militaries will benefit other Canadian expeditionary missions, such as anti-piracy in the Arabian Gulf.
Canada has taken tentative steps to become involved in regional security. But defence policy and discourse must reflect this reorientation and give the regional military and security communities, and Canadian allies, reasonable expectations about the nature of its involvement.
[quote]Canada must carve out its own policy space or risk becoming a non-player or simply following the whims of American initiatives. Generating and building ties with middle-powers and China in East Asia is essential to Canada's foreign policy because they are becoming important and influential global actors. [/quote]
Military focus in the region, therefore, must be part of a larger international engagement strategy working with East Asian states to support the stability of the liberal international order in an age of changing power dynamics and emerging multi-polarity, of which the unfolding of in East Asia is most obvious and significant.
By Adam P. MacDonald
Adam P. MacDonald is an independent researcher based in Halifax, Canada.
A Canadian military turn to East Asia? is republished with permission from the East Asia Forum.
Get more special features in your inbox: Subscribe to our newsletter for alerts and daily updates.
Do you have a strong opinion on this article or on the economy? We want to hear from you! Tell us what you think by commenting below, or contribute your own op-ed piece at [email protected]