Online Trading UK – Learn How To Trade Online
Please note that we are not authorised to provide any investment advice. The content on this page is for information purposes only.
If you are interested in trading online UK, you need to learn about different trading assets first. Some assets like gold, oil, and stocks were out of the reach of the public not so long ago. Only large-scale establishments could invest in these assets.
However, In the UK in 2021, internet trading has made it easier for anyone to purchase and sell any asset just by clicking a button. All you need to learn to trade and is to open a trading account with a regulated broker and fund the account with a minimum deposit – and you are set to start trading. However, it involves many risks. So, educate yourself about all basics of how to trade online before you get started.
Online Trading UK – Top 3 Trading Platforms Rated
What is Online Trading?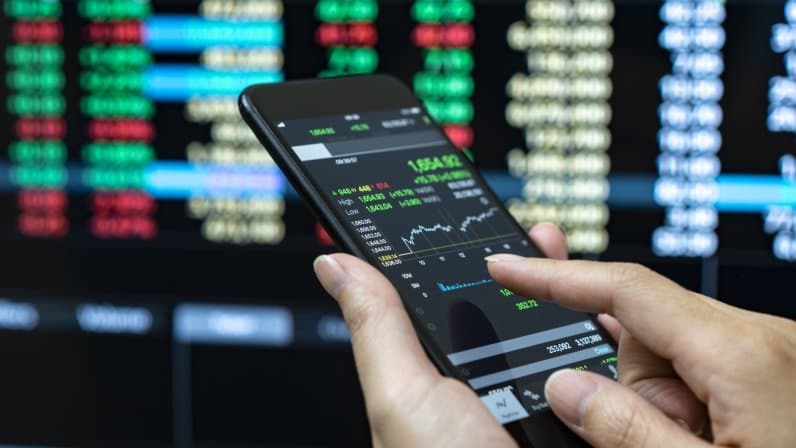 With the rise of technology in the late 90s when computers and the concept of internet connections are slowly becoming a part of our daily lives, online trading was also getting introduced to the world simultaneously. In the pre-digital era, for initiating a trade, investors had to contact their respective brokerage firm. From requesting a buy order and confirming the limit price to placing the order to NASDAQ or exchanges like NYSE and transfer the amount to the investor's checking account, traders had to rely on the offline mode.
With the dawn of online trading, traders are inclining towards the trading platforms for multiple benefits and perks it can offer. Through online trading UK platforms, an investor can access a plethora of advanced tools and resources to analyze the market. Not only this, but traders can also control the stop-loss, make-profit, stop-limit orders, monitor live updates of the price quotes along with placing buying and selling orders. Apart from this through online trading, investors can take the advantage of accessing their confirmation status and even link their trading accounts to their bank accounts for easy withdrawals.
Trading online also helped investors and brokers alike to save expenses that made trading accessible to a broad spectrum of investors worldwide. Small investors can now take the benefit of utilizing automated trading facilities where traditionally it would be costlier for hiring a personal advisor. Another reason why online trading is preferred by most investors is the speed of the transactions.
Contrary to offline trading, traders can now experience the whole trading procedure done within minutes with the ease of online trading in UK. With the option to learn to trade in multiple tradable instruments like bonds, ETFs, stocks, cryptocurrencies, and more, online trading is thriving with millions of active traders day by day.
Different Types of Online Trading 
Options Online Trading: Trading for Beginners
In this type of trading method, investors are allowed but not required to trade or purchase different instruments such as index funds, securities, and ETFs through a contract. Traders can execute a trade at an agreed price in the options market after a particular period of time. In this market, traders can place buy or sell orders along with acquiring shares for the future through a 'call option' as well as selling those through a 'put option'. In the course of buying and selling options, traders can apply the acquiring option at any point in time before its expiration.
As the price of the options tends to derive from the value of other instruments such as securities and assets, they are also referred to as 'derivative securities' at times. By holding an option, traders do not need to spend for outright shares which make options trading significantly cost-effective. Traders can also freeze the initial price of the stocks through options trading for a certain period along with being a flexible way of trading. With options trading, a trader's portfolio also seems to improve by adding leverage, income and protection in some instances.
Futures Online Trading
Similar to options, futures also come under the category of certain types of contract with which an investor need to buy or sell as assets within a specific period of time at an agreed rate. But unlike options, with futures trading, investors are obligated to execute trade before the expiration date. While options tend to lose their value as their expiration date approaches, futures are more likely to be a safer choice for traders as the time decay does not make an impact on its value. Currencies, indices and commodities are more likely to be traded among other instruments as the futures trading market is more liquid due to being vast in nature.
Through futures contracts, traders are required to pay low margin where they can earn profits for aiming at larger stakes at the same time. Investors who are more likely a speculator can also take the advantage of futures trading by entering and exiting the market quickly and earning a profit meanwhile. Traders also prefer this type of trading for its cost-effective options which include low commissions and lower execution cost. For its high liquidity factor along with being a matured market, futures trading is preferred among investors worldwide.
CFD Online Trading
Referring to the phrase 'contract for difference', CFD is another form of contract that somewhat varies from futures and options. Traders in CFD trading sign a contract with their respective investment banks or in some instances, a spread betting firm. In CFD trading, an exchange that happens between the two parties is equal to the difference of the initial and final price quotes of a certain instrument including shares, forex and commodities. The movement of your chosen assets determines the amount of profit or loss you would be making as a CFD trader. Primarily being ideal for short-term trading, where an investor can sell or buy based on their speculation which lets them trade on a margin.
Opening an account in CFD trading lets you trade from anywhere in the world as well as on the go by providing a flexible way of trading experience. Unlike options and futures, CFDs have no expiration dates and considered a leveraged product. Traders can open a position just by depositing a fraction of the full value as CFDs allow trading on margin. CFD trading also provides protection against the negative balance that lets you save your account value in case of a loss.
Assets that you can Trade in the UK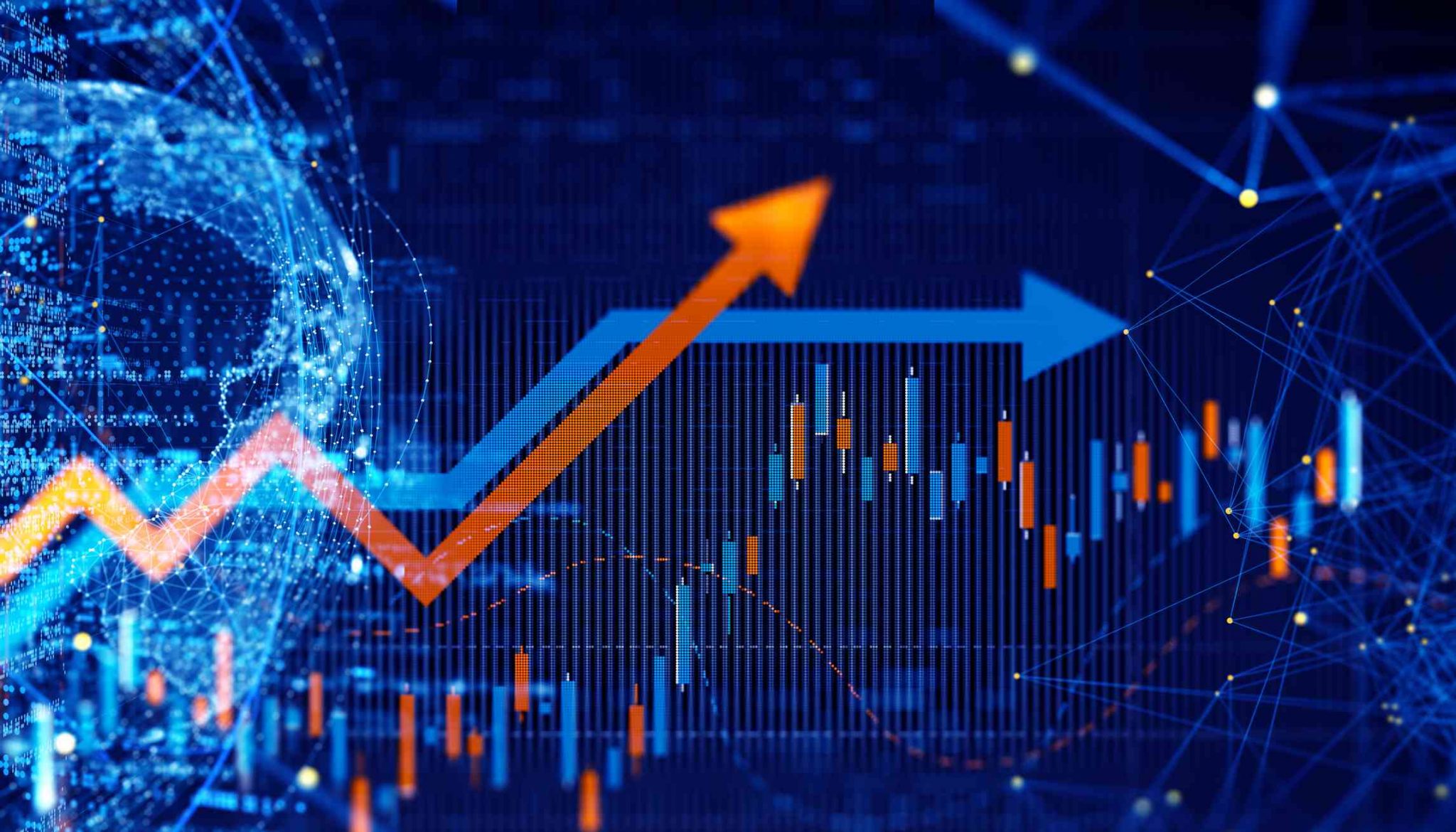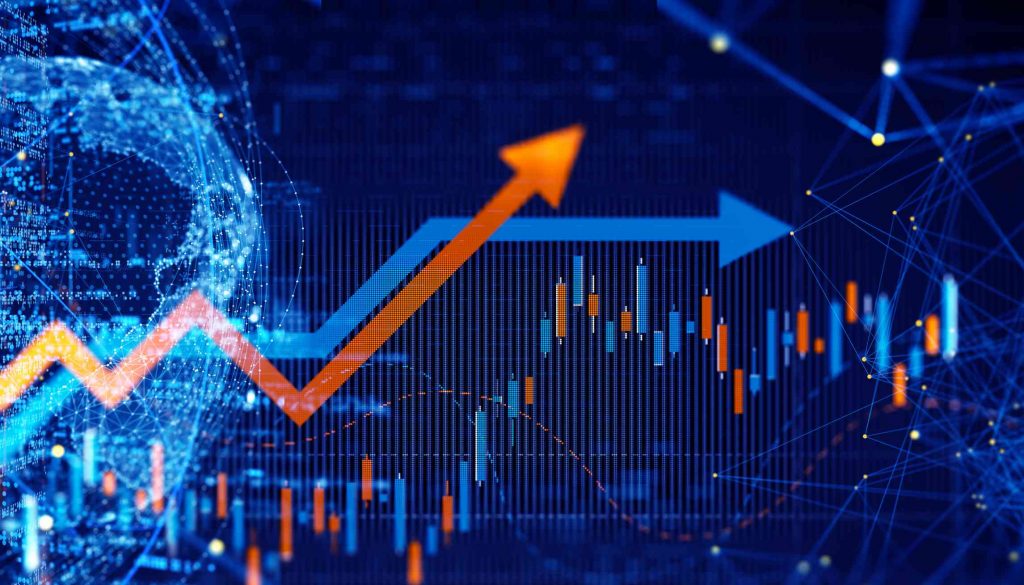 Once investors get accustomed to the type of trading allowed in their country, the next step could only be finding out the choices in financial instruments that are legal to trade in the country. Each of the tradable assets discussed below is available to trade through an online brokerage services provider.
Forex
Foreign exchange is one of the most lucrative trade deals to try your luck on trading for beginners and yet complex financial markets. In the past few decades, it has emerged as an easily accessible and highly tempting investment option for investors living in the UK. People who understand forex know that its process is much more than simply buying or selling currencies at the right time. It also involves making complicated decisions and predicting price fluctuations expertly. It is one of the most liquid financial markets where daily up to $6 trillion worth of currencies are converted and traded. To trade forex pairs in the short term, one should be aware of the following:
If the price of a forex pair seems to be increasing then place a buy order.
If the price of the same pair seems to be decreasing then place a sell order.
There are a total of three types of foreign currency pairs such as the following available as offerings through various brokers:
Minor: This type of FX pair includes 2 considerably strong currencies excluding US dollars. The pros of trading minor pairs are high liquidity and tighter spreads.
Example: EUR/JPY and GBP/EUR.
Major: These pairs always include US dollars along with one other strong foreign currency like EUR or GBP.
Example: GBP/USD and USD/JPY
Exotic: These pairs are a combination of one strong currency and an emerging one that makes it quite volatile and expensive to trade.
Example: AUD/MXN and USD/THB
Commodities
Commodities are all around us as they play a critical role in our daily lives no matter where we live. Trading commodities is an exquisite way of generating finance through buying or selling certain physical products whose supply and demands change with time and affect their prices. These are one of the most popular tradable assets that are traded using futures contracts so that they can be sold or bought later. Commodities can be categorised into the following groups:
Livestock: Different types of meat like lean hogs, pork bellies, and live cattle are a part of the livestock commodities.
Energies: Stuff that is used as a source of energy in modern society falls under this category such as Brent crude oil, natural gas, and even heating oil.
Agricultural: Natural produce that comes from a farm and is forever in demand in the market is included in this category. For example, sugar, cotton, cocoa, and wheat, etc.
Metals: Hard metals and precious metals are all metal commodities as they have certain demands. For example, Gold, Iron, Copper, etc.
Indices
In the case of index trading, participants have the opportunity to measure the probable performance of a certain stock or a group of chosen stocks from a particular stock exchange. This performance is expressed as a point-based value. Since the stock index keeps on changing, indices have become a worthy financial asset that can be rewarding during ideal market conditions. There are 3 types of indices available for trading which are:
Country-based: These were developed to evaluate the performance of any national stock exchanges. All major indices are country-based such as FTSE100 and Dow Jones Industrial Average.
Thematic: As the name suggests, these types of indices are based on a theme that could be emerging markets such as healthcare indices. Thematic indices are quite uncommon.
Sector: When a group of stock belonging to the same industry sector is evaluated through indices then it is called sector indices such as Next Biotechprice. These can help investors figure out which sector is performing better at the time being.
Indices can be traded in various ways but investors choose to proceed with CFDs when it comes to trading popular indices these days. It is also possible to trade the index of one's choice as Vanilla options.
Stock
The buying and selling of a company's stocks for a short term to reach your financial goals. There are numerous stock trading opportunities available online as it one of the most popular financial markets in the world. Once it was only available to the rich on Wall St. to delve into stock market trading but now anyone can do it with a stockbroker of their choice. Due to its vast popularity and ease of use, there are different types of stock traders in the market which are:
Day traders:
Just like there are day traders in forex, day stock traders are the one who usually depends on technical analysis to choose a preferred company's share and evaluate its short-term performance. To do that one has to utilise historical data related to the company, real-time charts to see and understand the price-volume action
Swing traders:
Swing traders are quite similar to "day traders" in the stock trading scenario. The only difference between day traders and swing traders is that the latter ones tend to hold their stocks picked for long-term (usually between several or even weeks).
Quantitative:
Algorithmic traders and market-makers fall into the category of quantitative traders (or quants). These types of traders are capable of breaking down complex financial derivatives with the help of mathematical models and the internet. By calculated all important aspects of a trade, quants make use of the opportunities to buy/sell securities.
Cryptocurrency
Even though virtual currencies or cryptocurrencies have been in the market for several years since 2017 they have flipped the paradigm and become one of the fastest-growing financial markets worldwide. Investors in crypto are called "Hodlers" as they "Hold" a certain amount of crypto, preferably Bitcoin which is the first and largest (according to market capitalization) crypto of all time. This year Bitcoin or BTC experienced an explosive growth that shot its price to a new all-time-high value of $63,000 in April. Crypto markets are full of choices as there are thousands of virtual currencies belonging to different categories such as:
Stablecoins: These cryptocurrencies are backed by a fiat currency at a 1:1 ratio such as US Dollars, Chinese Yuan, etc.
Security tokens: Much like stocks but in digital currency format are known as security tokens that possess fractional value.
Altcoins: All cryptocurrencies except Bitcoin such as Ethereum, Ripple, Cardano, etc. are known as Altcoins.
Crypto trading is not only easy but it is also very tempting for newcomers as the ROI is quite as compared to other financial assets. Though cryptocurrencies are highly volatile assets and their trading is illegal in several countries, people from all over the world are desperate to own a Bitcoin and hold it till another bullish market appears.
Crypto-cross-Pairs
As cryptocurrencies grow popular there has been a rise in crypto-cross pairs on thousands of crypto exchanges. Crypto-cross pairs like BTC/ETH are traded to speculate the exchange rate between the two virtual currencies. Trading crypto-cross pairs might seem quite similar to forex trading but there are certain complexities involved when you trade two highly volatile currencies. Since the measurement of profit or losses is not done in real-world fiat currency, it becomes quite tough to evaluate risks.
For the time being, crypto-cross pair trading is available in many countries but there are some guidelines to be followed by the traders if they wish to be on the safe side. Experts believe that the best way to stay afloat in the crypto market is to delve into crypto-fiat pairs via CFDs instead of crypto-crypto pairs. All you need to do is find a fully regulated and reliable broker to begin trading crypto pairs.
Binary
Binary trading could be one of the most straightforward financial assets to start trading for beginners legally. It is based on a contract where someone has to make their trade based on a positive/negative or more commonly, a yes/no outcome. For example.
"USD/EUR would rise to a certain value on a certain date"
To trade binary options for the above statement, traders would need to choose whether it is true or false. The true options mean that traders are positive about the rise in USD price and have chosen a long position for the same options. In the meantime, picking false for the statement above represents that a particular trader is bearish regarding the upcoming price change in USD and has selected a short position for it. In some countries, binary options are not legal.
Best Brokers for Online Trading UK 2021
1. eToro – Best Online Trading UK Platform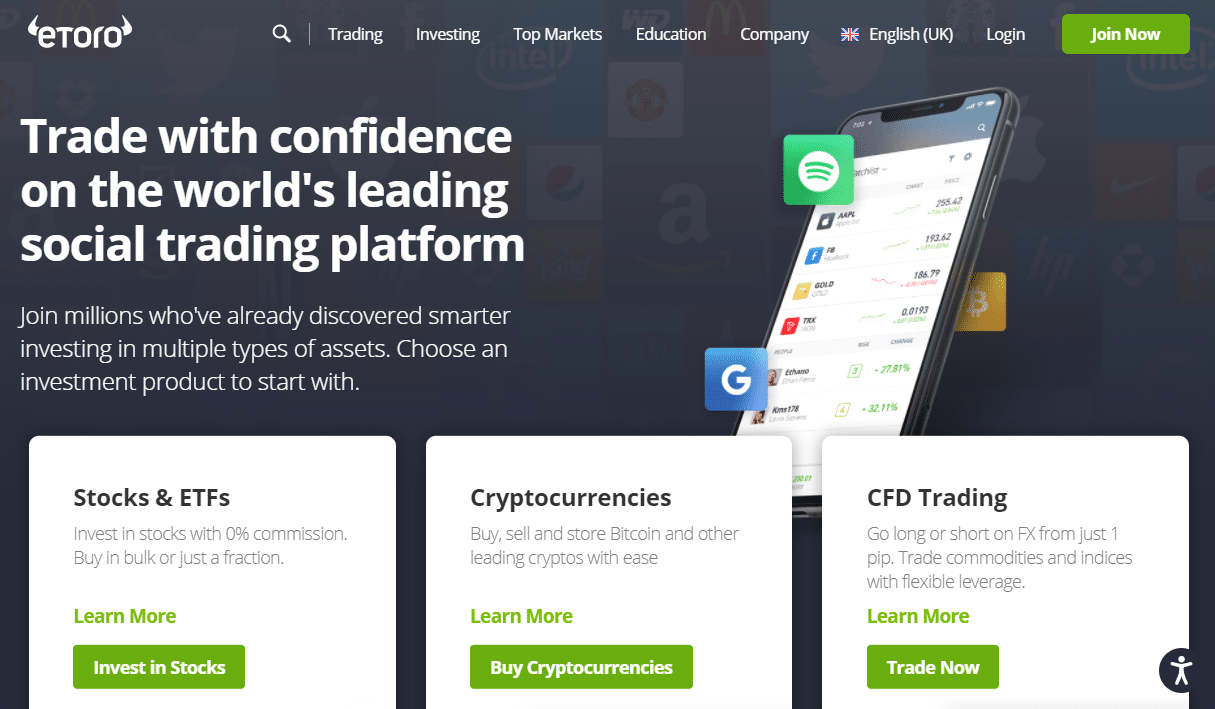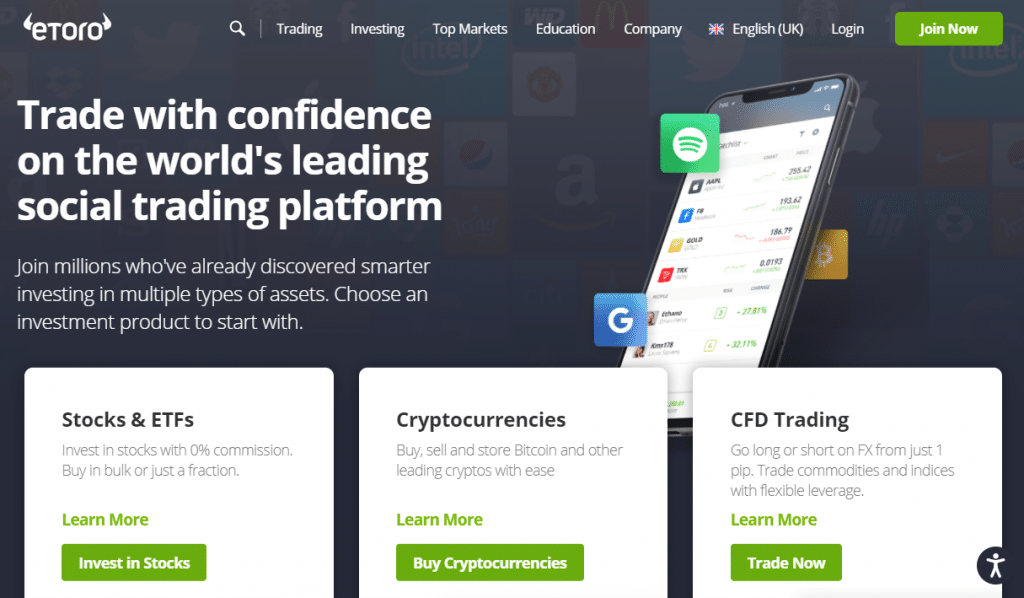 eToro is one of the leading trading platforms offering an extensive collection of financial instruments, including forex, stocks, cryptocurrencies, indices, and commodities. It is a favorite of traders not only in the UK but all across the world, especially when it comes to trading for beginners, thanks to its easy and user-friendly layout. From opening an account to depositing funds and choosing a financial instrument to trade – everything is easy on eToro; even for inexperienced traders.
The broker does not charge a commission from its clients to trade any asset on the platform. At the same time, it also has competitive spreads and no monthly fees. Users are allowed to apply leverage to their trades. If you are a retail client, you can apply leverage up to 1:30. Apart from leverage, eToro offers the benefit of copy trading. A beginner that is not sure about what to do can copy the positions of an advanced trader.
You can execute a trade on the desktop version of eToro or its mobile app. It only takes a few minutes to open a trading account. To start trading, you need to deposit $200 into your account. Keep in mind that the broker does not charge a deposit fee but charges $5 for withdrawal. All GBP deposits also cost a 0.5% conversion fee.
| | |
| --- | --- |
| Pros | Cons |
|  eToro offers a very sophisticated online trading platform with an easy-to-use interface. |  Not enough tools for advanced technical analysis. |
|  Clients can purchase CFDs in the form of forex, indices, stocks, commodities, and more. | |
|  The platform offers easy payment methods to deposit funds; including bank transfer, bank cards, and electronic wallets. | |
|  eToro is authorized under strict regulations of FCA, FSCS, ASIC, and CySEC. | |
|  Traders are allowed to buy stocks without paying share dealing charges or a commission. | |
|  More than 800 stocks listed on both UK as well as international markets can be traded on eToro. | |
67% of all retail investor accounts lose money when trading CFDs with this provider.
2. Saxo Bank – Top Broker to Learn to Trade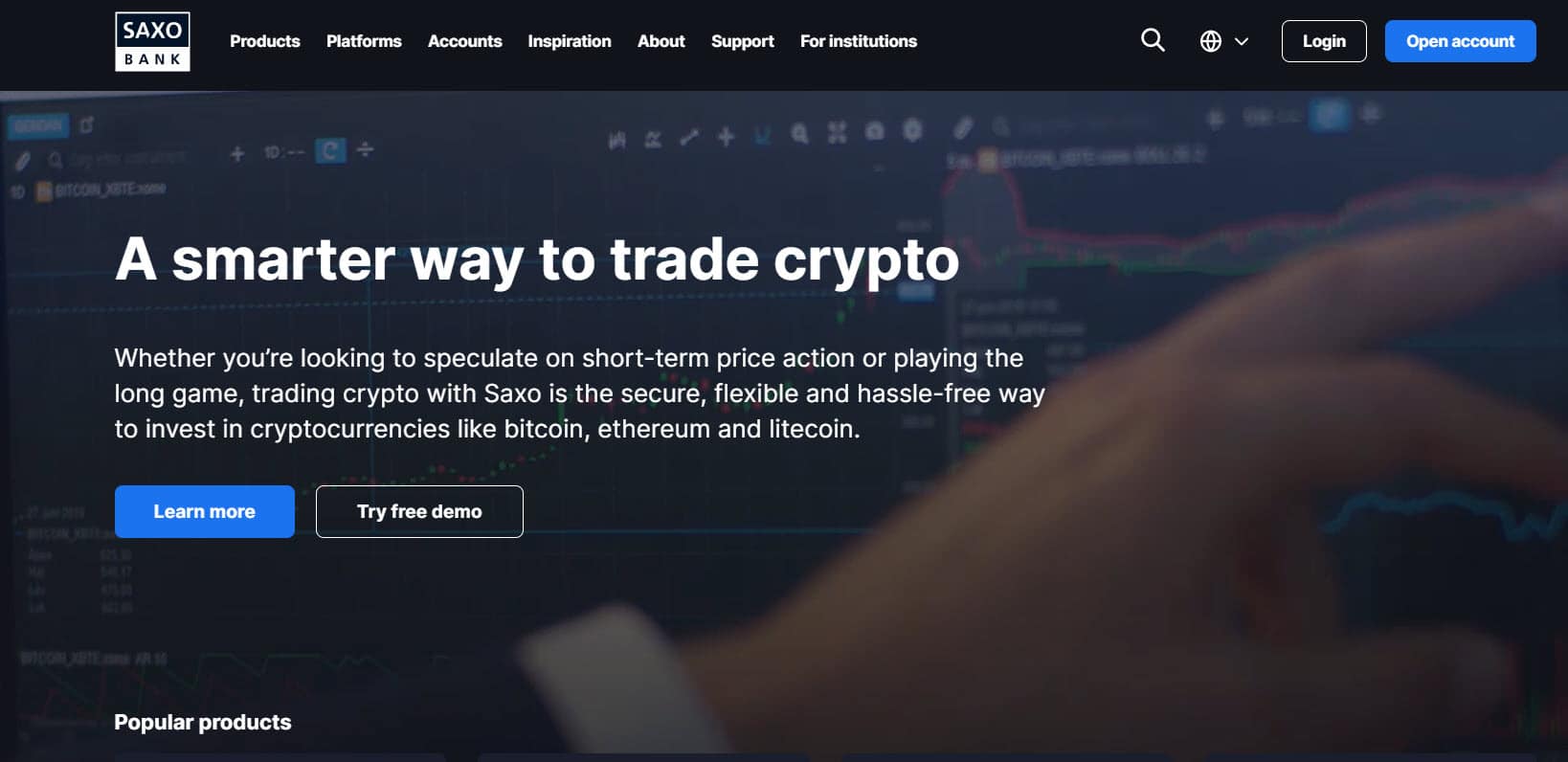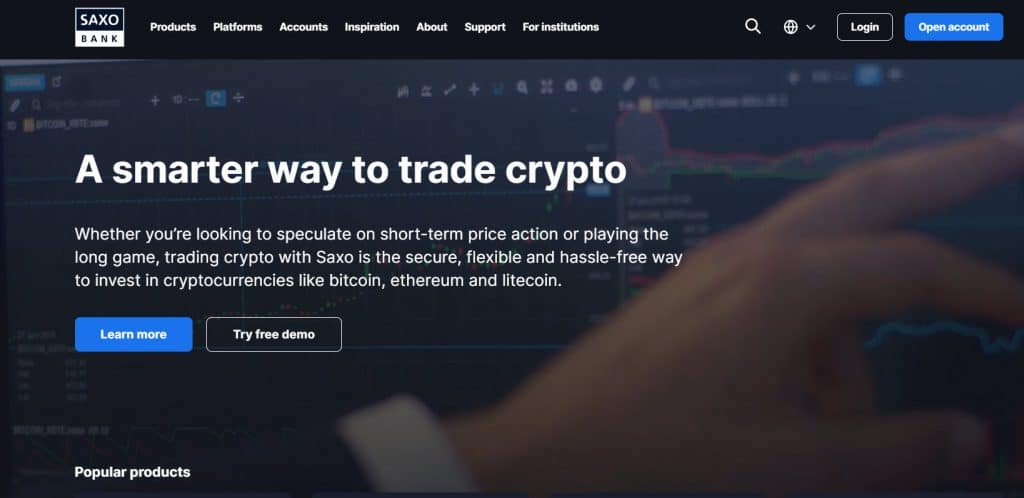 Founded as a broker in 1992, Saxo Bank is an investment bank based in Denmark that specializes in online trading and investment. The broker is regulated by top-tier financial bodies like ASIC, SFC, MAS, FCA, FINMA, and JFSA. You can trade multiple financial instruments on the trading platform; including forex, forex options, CFDs, NDFs, ETFs, stocks, stocks options, ETNs, bonds, cryptocurrencies, and futures. As of now, the broker has more than 660,000 clients worldwide and more than 180,000 trades are executed on its trading platform.
Saxo Bank offers investment portfolios to its users. These managed portfolios are developed by experts who also rebalance the portfolios for long-term and sustainable trading results with the highest returns for the risk level of the traders. You can also have advanced traders look for short-term and speculative opportunities for your trades. They can even make trading decisions in your account directly on your behalf.
| | |
| --- | --- |
| Pros | Cons |
|  The account setup on Saxo Bank is easy and it only takes five minutes to open a trading account. |  High minimum deposit of $10,000. |
|  The platform offers powerful trading tools and features so traders can recognize and grab opportunities easily. |  High fees for trading options, bonds, and futures. |
|  Saxo Bank provides ultra-low spreads and commissions for trading all financial instruments. |  Poor customer support. |
|  Saxo Bank allows its users to trade forex, CFDs, commodities, futures, forex options, listed options, and crypto with leverage. | |
|  The broker does not charge a withdrawal fee from its traders and offers an easy deposit option with bank cards. | |
|  26 base currencies are supported on the trading platform. | |
67% of all retail investor accounts lose money when trading CFDs with this provider.
3. Interactive Brokers – The Best Trading Platform for Beginners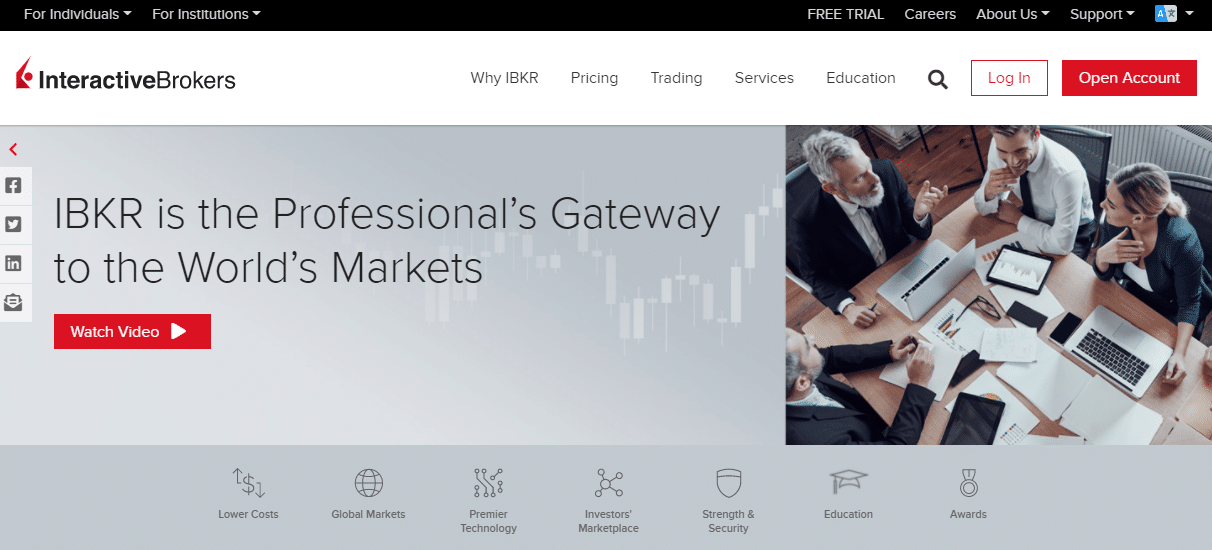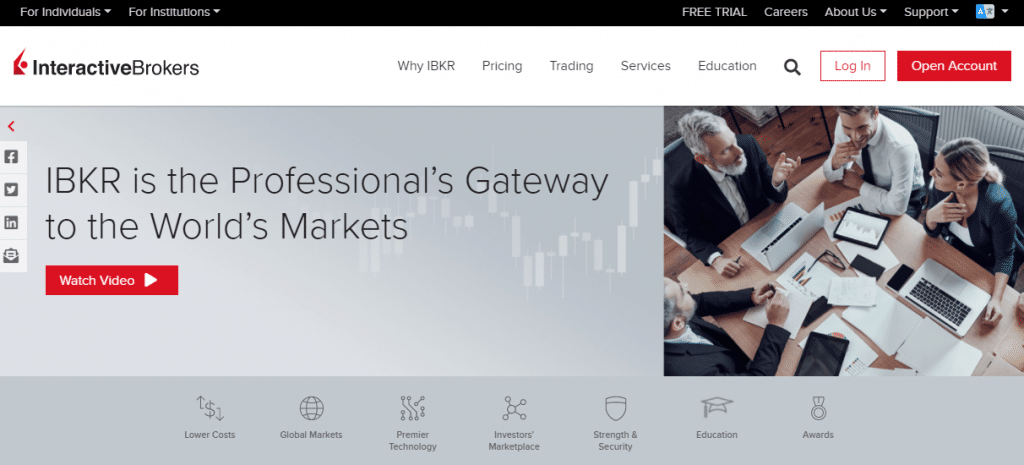 Interactive Brokers is a very popular name when it comes to online trading and investment. The broker provides its clients with access to thousands of financial instruments including stocks, futures, index funds, and commodities. Moreover, it also offers the opportunity of spot currency trading for professional traders. You can trade 23 currencies via the Interactive Brokers mobile app.
The American multinational brokerage firm was established in 1978 in the United States. It runs one of the largest online trading platforms in the US. The broker offers an ECN-like structure of currency value as the traders get the spreads available in the financial markets.
When you are trading major currency pairs, you may often be able to trade without any spreads too. The commission for forex trading is very low on the app of this broker; where the basis points range from 0.08 to 0.20, multiplied by the size of the trade. The trading platform offers advanced features like fast execution, live streaming quotes, and technical indicators.
| | |
| --- | --- |
| Pros | Cons |
|  Interactive Brokers offers an extensive trading department of traditional stocks, ETFs, and index funds. |  Not suitable for beginners |
|  The broker requires a low minimum deposit of $100 only for opening a trading account. |  Confusing fee structure |
|  The trading platform is provided with advanced trading features and tools for analysing charts. | |
|  Traders can purchase US-listed ETFs and stocks without paying commission. | |
|  The broker makes its trading services in markets in 33 countries. | |
|  The combination of tight spreads and liquidity is provided by quotation steams from 17 large foreign exchange dealers across the world. | |
67% of all retail investor accounts lose money when trading CFDs with this provider.
4. Plus500 – Top UK Broker for CFD Trading at Zero Commission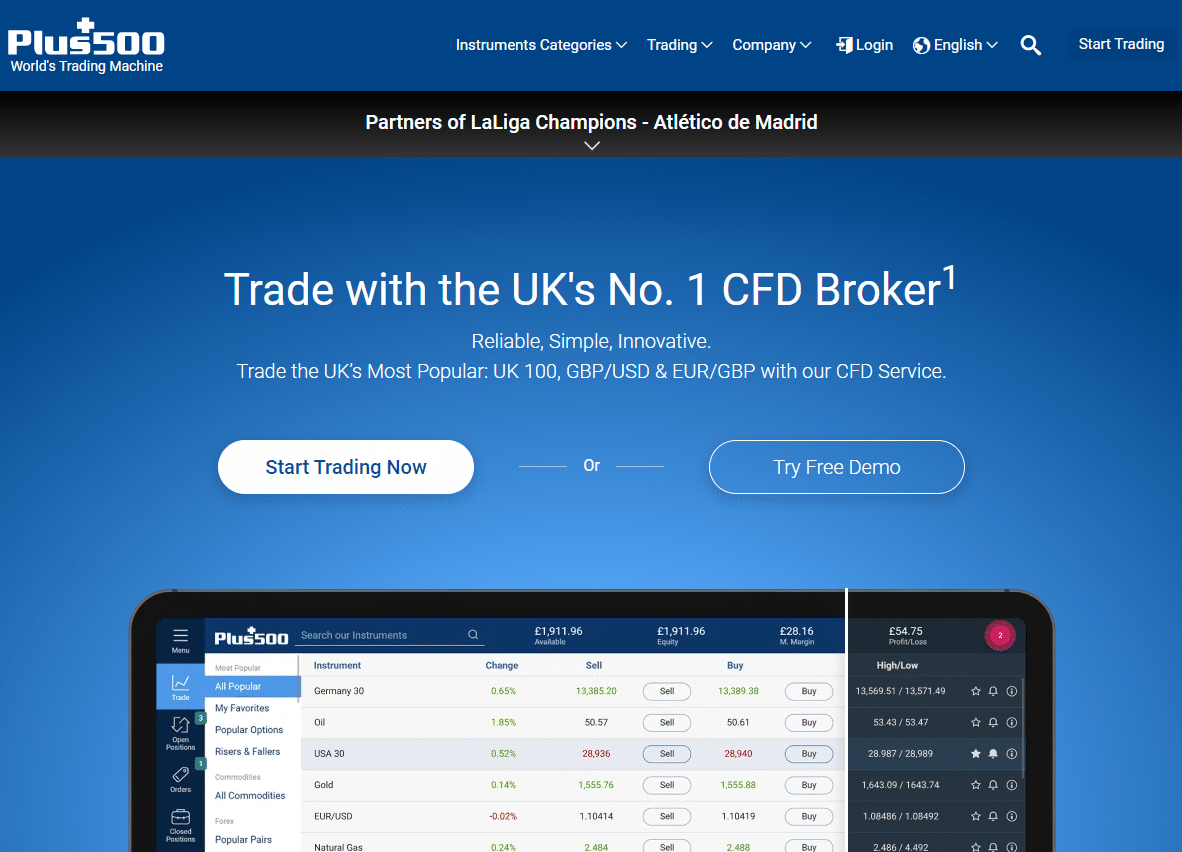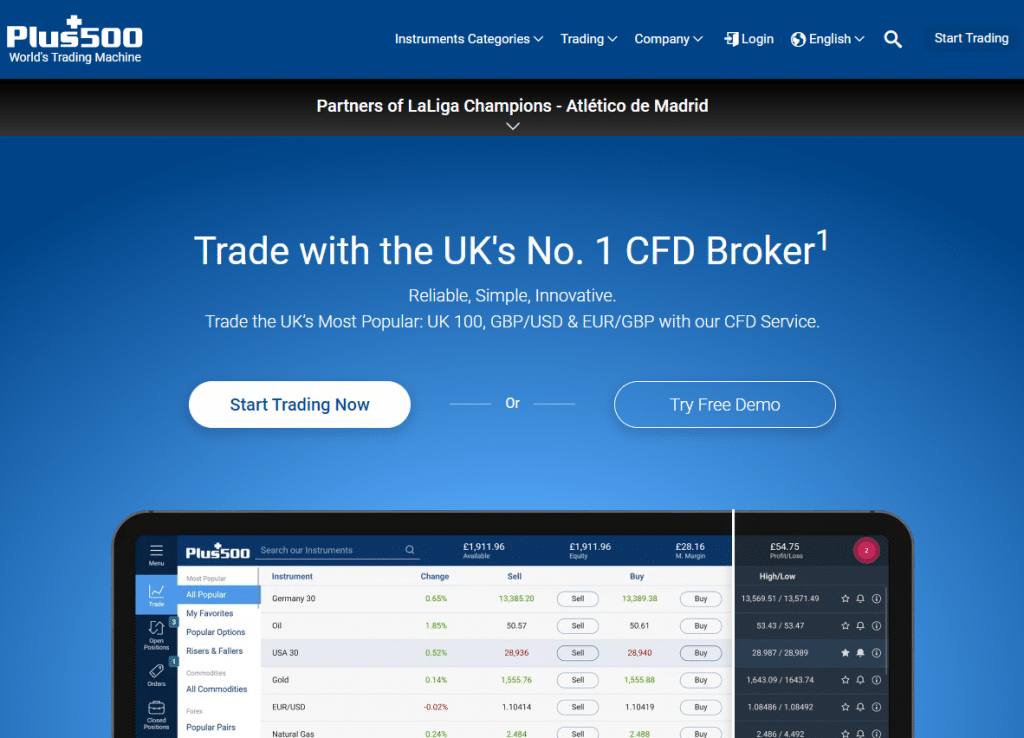 Plus500 is the no. 1 CFD trading platform that offers thousands of financial assets including stocks, cryptocurrencies, bonds, hard metals, and interest rates. You can access all assets with Plus500 with ultra-low spreads and without paying commissions. The broker offers the benefit of leverage trading for all assets. UK retail clients can apply leverage up to 1:30 but the limit is higher for professional clients. The broker is considered a safe option to trade due to its regulations under the FCA and the listing of its parent company on the UK stock market.
Plus500 does not charge a fee for depositing funds or withdrawing profits. However, you have to pay an inactivity fee of $10 per quarter after 3 months of inactivity. The broker offers web trading as well as mobile trading so traders can monitor the market and open and close the positions on the go. You may download and install the native mobile app for iOS and Android devices free of charge.
| | |
| --- | --- |
| Pros | Cons |
|  Traders are provided with thousands of instruments over a wide range of financial markets. |  Not very suitable for new traders |
|  Plus500 offers a commission-free CFD platform where the traders need to pay the spread only. | |
|  Traders are allowed to apply average to their trades which enables them to open large positions even with small amounts in their trading accounts. | |
|  The procedure to open a trading account on Plus500 is very simple and it only takes a few minutes to do so. | |
|  The broker allows a trader to short-sell a stock CFD if they think that the stock's value is likely to fall. | |
|  Plus500 offers easy deposit methods for its clients. | |
67% of all retail investor accounts lose money when trading CFDs with this provider.
Making Money from Online Trading in the UK
The majority of online traders are in it to make money by risking their capital. As you already know from reading this guide, you can do this by correctly speculating on an asset's future value. Most UK-based online brokers provide their clients with several types of orders to choose from. We should first take a look at what these order types are.
Buy/Sell Order: The first thing that you have to do is to choose between buying and selling as trading for beginners regardless of the asset class you trade. The only exception, in this case, is options trading, where you have to choose between a put or a call. IF you think the asset value will decrease, you put a sell order. If you think the opposite will happen, you go for a buy order.
Take-Profit/Stop-Loss Order: You can mitigate your trading losses by setting up a stop-loss order. For instance, you might want to exit a position in a certain stock when the order is at a loss of 5%. The broker will close the order automatically when the respective price is triggered. Take-profit orders work in the same principle, with the difference being that it locks in profits.
Market/Limit Order: Limit orders allow you to set the exact price you want the broker to execute your trade. For instance, if the shares of a particular company are priced at $100 when you want to enter the market at $102, you will require a limit order. Alternatively, you will require a market order if you want to enter a buy or sell position at the current price.
The broker will execute your trades once you have done setting up the above orders. When any one of the aforementioned orders is triggered, your position will be automatically closed.
How To Calculate Profits and Losses In Trading?
There are several ways in which traders can calculate their profit and loss while trading. One of the easiest ways of doing this is to calculate price movement in terms of percentage and multiply it with your total stake. Let's take a look at an example to make things clear.
Suppose you place a buy order of £1,000 on EUR/USD. If this pair increases by five percent, you will make a profit of (£1000*5) = £50. On the flip side, if it decreased by 10% you will lose (£1000*10%) =£100.
What is leverage?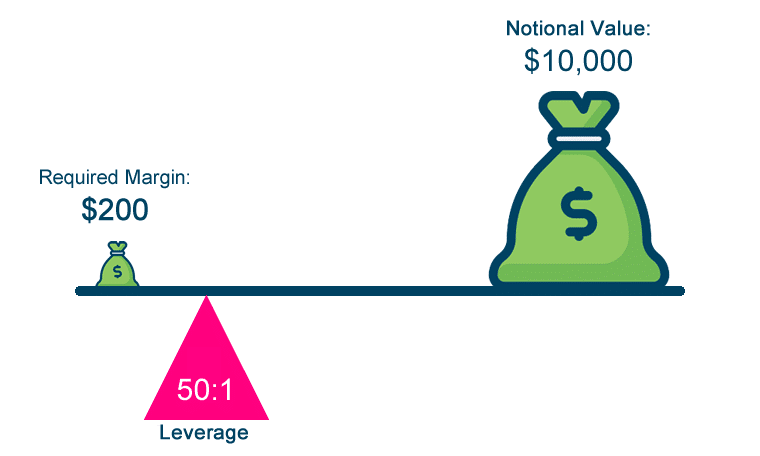 Online traders generally target small margins when trading stocks, commodities, forex, indices and other asset classes. The reason for this is the tendency of online traders to rarely keep a position open for more than one day. A trading session that finishes 1% in the green is considered a successful one.
However, such small margins can make online trading worthless especially if you do not have enough funds to invest. For instance, a 1% gain will just amount to £10 if you have a capital of £1000. This amount isn't enough to cover day-to-day expenses or a passive income source. This is why online traders use leverage.  It allows you to trade with more funds than you have at your disposal by borrowing the amount from the broker.
Leverage is almost always expressed in terms of a percentage such as 2:1, 10:1 or 100:1. For instance, if you choose 100:1 as your leverage, it means that both your profits and your losses will be multiplied by 100.  This means your profit or your loss of £10 will become £1000. You should therefore approach leverage with caution because it can work for you or against you, so you should first learn to trade.
Online Trading UK Strategies and Trading Fees
You must have a well-thought-out and formulated trading strategy before you start trading. Speculating on future asset values may seem easy at first, but it's not. You need to apply an appropriate strategy if you have any chances of maintaining a successful trading regime. Out of the many strategies available, Day trading is the most common one.
With Day trading, you place several buy and sell positions throughout the course of the day with the aim of making small but significant profits. In most cases, day traders close their position before the trading session closes, mainly to avoid overnight financing costs.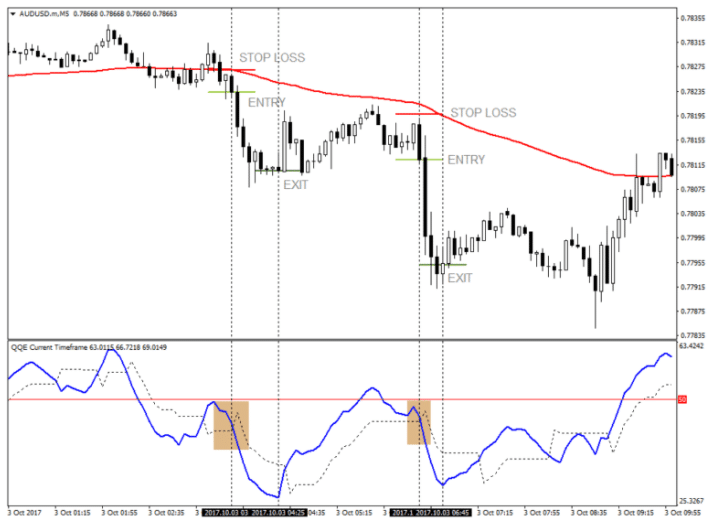 The main focus of this strategy is technical analysis as day trading involves keeping positions open for a short period of time. Thus, to find a price trend, you need to perform some chart analysis. The trends that arise from this analysis will form the basis of your decision making.
It may take a trader several years to master the art of reading charts. This is one of the reasons why many turn to signal services. This is where you will be sent trading suggestions by a provider with an AI-driven service. These software programs can typically scan the markets throughout the day.
Seasoned traders also apply some other strategies such as:
Scalping: Here, traders target small profits when an asset is trading in a tight range.
Breakout: Assets "break out" into key support and resistance lines, typically moving up or down in a parabolic way.
Swing: In this strategy, traders keep the position open for days, even weeks at a stretch.
There is no hard and fast rule for choosing a strategy and you should always make the decision after carefully considering your trading abilities and preferences.
Trading Fees
Trading platforms have to make some money too and typically charge a fee. As a trader, you need to be aware of the type of fees applicable when trading online in UK. Some of the types are explained in brief below.
Spreads: Trading platforms that advertise themselves as commission-free, charge an indirect fee known as the spread. The spread refers to the difference between the purchasing and selling price of an asset. For instance, if the buy price of company A is £350 and the selling price is £348, the spread is equal to 2. For UK-based brokers, the spread is expressed as a bid-offer price.
It's always favourable that you view spreads in terms of percentage, as it lets you know exactly what you are paying. Forex brokers typically display spreads in terms of pips. The wider the spread, the more the trader will need to get out of losing positions.
Commission: Certain online trading platforms charge their traders a commission for entering positions. This is normally in terms of a percentage fee which is multiplied by the trader's order size. For instance, if you invest £1000 and the broker charges 1% as commission, then the commission is £10. You will be required to pay this amount when the order is placed as well as when the position is exited.
Overnight Financing: Most brokers offering Contract for Difference Trading will charge an overnight financing fee. It can be likened to an interest fee charged by the broker since CFDs are leveraged products. To avoid the overnight fees, experienced day traders close their position before the end of the trading session. Overnight fees are calculated using the annual percentage rate which I converted to a day to day basis.
How to Trade using an Online Broker in UK?
In the online trading UK market, traders engage in the process of buying and selling several financial instruments including bonds, currencies, stocks, or commodities. An online broker, in this scenario, acts as a middle-man that facilitates the whole process in exchange for a small commission or fee in some cases. Contrary to the conventional offline trading method, here in online trading transactions primarily happen through the trading platforms provided by an online broker.
Some of the reasons why the majority of the investors are relying on an online broker for trading are the option to monitor the price quotes and the facility to change them from anywhere. Traders can also have the benefit of placing orders within minutes due to a faster execution time while being a cost-effective alternative to traditional trading. After traders have placed their trading orders with their preferred broker, it is then connected to other buyers or sellers through various markets such as NASDAQ, NYSE, and ECNs.
How To Trade Online in UK?
Upon matching with the right party, a confirmation note is sent to the brokers of the two parties while the executed price and the order are made available to other participants in the market as well as to the regulators. Upon the execution of an order, a contract then gets sent to both the parties from the exchange.
The foremost step of trading online, you as a trader need to open a trading account with a certain online broker. Regulated online brokers typically ask for identity proof and provide an application form for opening an account. Investors might need to provide personal information, identity proof and other crucial documents to start their trading career with a broker. Apart from this traders also need to determine the method of depositing fund along with opting for the right online broker that matches their specific trading requirements.
Conclusion
Online trading is one of the easiest and convenient ways to get financial stability in many countries including the UK. To learn to trade and make the most out of online brokers such as the ones mentioned above, all you need is a stable internet connection, some basic information on how to trade, and sufficient initial capital to start buying/selling legal tradable assets daily from home. There is also the option of performing trades using mobile trading offered by an online broker of your choice. Using such applications you can count on never missing a trade even when you are out.
Use UK's #1 Trusted Online Trading Platform for Beginners: eToro
FAQs
What is the right amount of funds to invest in trading for beginners?
What is the regulatory status of online trading platforms in the UK?
How to trade online and make money?
What assets do you have access to when trading online?
How do you deposit funds into your online trading account?