Kanabo Group Share Price Forecast November 2021 – Time to Buy KNB?
Please note that we are not authorised to provide any investment advice. The content on this page is for information purposes only.
Shares of Kanabo Group (LSE: KNB) have closed at 14.5p as of November 22nd (17:55 GMT). Kanabo shareholders who bought into its share price potential when it went public earlier this year have been suffering. Kanabo recently released its interim results for 2021 to which the market reacted by driving the shares 1% downward on the news.
Kanabo Group – Technical Analysis
Kanabo Group's financial statement indicates a market cap of £5.359 billion with total assets worth  £689.7 million. Its net income for 2020 was at £ -13.10 million, compared to £ -36.30 million in 2019.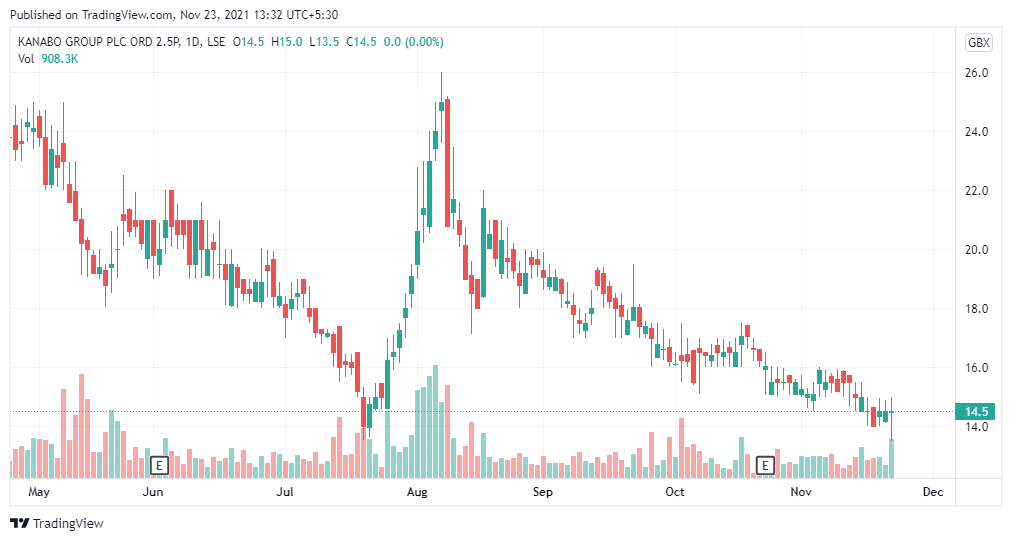 Oscillators such as Stochastic RSI Fast (3, 3, 14, 14)(49.05),  Williams Percent Range (14)(−60.00),  Bull Bear Power(−1.25) and Ultimate Oscillator (7, 14, 28)(51.27) are neutral. Moving averages such as Exponential Moving Average (10)(14.8),  Simple Moving Average (10)(14.8), Exponential Moving Average (20)(15.1), Simple Moving Average (20)(15.1) and Exponential Moving Average (30)(15.5) are indicating a sell action.
68% of all retail investor accounts lose money when trading CFDs with this provider.
Recent Developments
Investors didn't have anything to be excited about after looking at the recently published half-year results. There weren't any major surprises as most of the progress and numbers included in the report had been previously announced. The group completed its reverse takeover of Kanabo Research Ltd, during the first six months of 2021, which raised £6 million in the process. After going public, and raising an additional £1.37 million. Kanabo's total cash balance at the end of June this year was £5.9 million.
This indicates that Kanabo has a notably high amount of liquidity. However, revenue for the first six months came in at a grand total of £15,000, caused by the underdeveloped product pipeline during the period. The cost of acquiring these sales actually outweighed what Kanabo brought caused by the fixed part of the manufacturing expense structure. In addition to gross losses of £4000, Kanabo incurred an additional £1.2m of operating costs with a further £1.17m in one-time expenses related to the reverse takeover. Thus, the main reason for the share's underperformance can be attributed to net losses that came in at £2.38 million. But not all is bad for Kanabo, as it signed a non-binding term sheet with Materia to acquire its European operations in July. If successful, it will allow Kanabo to access a network of pharmacies that can distribute up to €35 million worth of medicinal cannabis products each year.
Should You Buy KNB Shares?
Kanabo has successfully shipped its first batch of cannabis cartridges to the UK which marks the shipment of its primary revenue channel. While the management hasn't revealed many details, its effects will be recorded in the next earnings report. Assuming that these products experience the same level of success as they did during the pilot program, their revenue stream is expected to grow, which will drive up the share price.
While the medical or recreational use of cannabis remains a taboo subject for many, laws on the issue have been relaxed, especially in North America. This has generated speculation that cannabis could become an industry worth hundreds of billions of dollars very soon. Kanabo, with its products like cannabidiol (CBD) oil products and a medical-grade vapouriser it's called the VapePod can pave the way for sales.
As a penny stock, Kanabo fails to ignite like its shareholders believe it will due to non-clarity with rules and regulations. Apart from regulation, the company also faces tremendous competition, and particularly from gigantic US operators that have far more financial clout to make and market their products. Considering this now is not the time to buy KNB shares.
Buy KNB at eToro with 0% Commission Now!