Buy Dash UK – How To Buy Dash In The UK In Under 5 Minutes!
In early 2014, Dash was created. This was a time when confidence in cryptocurrencies was waning and things got tough for this market. This user-friendly digital token managed to ride out the storm, and now boasts a fully diluted market cap of over $2 billion.
Looking to invest in this speculative asset class? In this guide, we show you How To Buy Dash In The UK in a safe and cost-effective way. We also offer reviews of the best Dash brokers and a detailed step-by-step walkthrough on how to invest in less than five minutes.
#1 Broker to Buy Dash – eToro
How To Buy Dash UK – Choose a Broker
As you consider the different ways to buy Dash in the UK, it's important that you contemplate which platform you will join to gain access to this speculative digital asset. We investigated the leading providers in the space and found best to facilitate the buying and selling of Dash.
If you are in a hurry, you can see these Dash platforms listed below:
eToro – Overall Best Broker to Buy Dash UK
Binance – Best Broker to Buy Dash for Asset Diversity
Shortly, we offer a comprehensive review of each of the above-mentioned providers that allow you to buy Dash in the UK.
How to Buy Dash in the UK – A Quick Guide For 2022
As we said, to buy Dash in the UK, you should sign up with a platform able to offer access to this specific market. There are other considerations – all of which we talk about throughout this guide.
With that said, below you will see a simple walkthrough of how to buy Dash in the UK at top-rated brokerage eToro:
Step 1: Open an Account with eToro – Click 'Join Now' and enter your full name, email address, and desired password. You will also need to fill in your residential address, date of birth, and trading experience. The FCA, ASIC, and CySEC regulate eToro. Spreads are low and you can store your coins in safety.
Step 2: Upload Your ID – To enable you to buy Dash in the UK, you need to send a copy of your government-issued ID, such as a passport. For your proof of address, you may use a utility bill or bank statement.
Step 3: Deposit Funds – Add some funds to your account by selecting a payment method from the many options available and entering the amount you want to deposit. This includes debit/credit cards and e-wallets like Paypal.
Step 4: Buy Dash – Find Dash by using the search facility or by browsing the list of cryptocurrencies under 'Trade Markets'. Click 'Trade' and enter the amount you wish to buy, followed by 'Open Trade'.
eToro will add the Dash coins to your trading account portfolio. You can access and view information surrounding your investment at any time.
Cryptoassets are highly volatile unregulated investment products. No EU investor protection. 67% of retail investor accounts lose money when trading CFDs with this provider.
Where to Buy Dash in the UK
When researching how to buy Dash in the UK, you will come across a wide range of providers with varying fees and conditions. We look for low costs, safety and privacy, deposit options, platform usability, and much more.
You will see below the best platforms that enable you to buy Dash in the UK. Each will charge you very little in the way of fees and can offer a secure environment to purchase cryptocurrencies.
1. eToro – Overall Best Broker to Buy Dash UK


eToro is the best all-rounder when it comes to buying Dash. The platform is simple enough to use for people who have never invested before. Nevertheless, you will be given a real portfolio and a virtual one. These are interchangeable, which means you can opt to use the free demo account to learn the ropes in a risk-averse way. This is loaded with $100,000 in paper equity. Please note that although this broker operates in US dollars, it accepts 14 other currencies, including British pounds, euros, and more.
As such, to buy Dash in the UK, you will need to pay a small exchange fee of 0.5% to swap your British pounds for US dollars. Put simply, if you were to deposit £1,000, you will only pay £5. Notably, before you can add any funds to your account, you will need to send some ID and documentation to verify your identity. This is standard practice at regulated platforms. We offer a full walkthrough of how to complete your purchase later. There are heaps of deposit methods accepted at eToro, which includes Mastercard, Visa, PayPal, UK bank transfer, Skrill, Trustly, and Neteller.

As well as being able to buy Dash at eToro, you can also invest in cryptocurrencies such as Bitcoin, Litecoin, Ethereum, and Cardano. Small-cap tokens include Yearn Finance, Algorand, Aave, Uniswap, Chainlink, and more. Alternative asset classes consist of ETFs, indices, forex, and commodities. All markets on the platform come with low fees and tight spreads. Furthermore, you can buy UK and international stocks without paying any commissions or stamp duty. Reputable regulators, including the FCA, CySEC, and ASIC oversee this provider. As such, you can rely on safe conditions in every aspect and can store your investment at no extra cost.
eToro boasts more than 20 million clients. The minimum amount required to buy dash in the UK here is $25, which equates to about £18. This is great for people who want to invest little and often to steadily grow their portfolio. To track and analyze the performance and history of this asset, you can view various stats and research data. You will also be able to study various timeframes and choose your preferred price charts – such as candlestick, bar, line, and mountain. Optional patterns include Fibonacci, ellipse, double top and bottom, pitchfork, and more.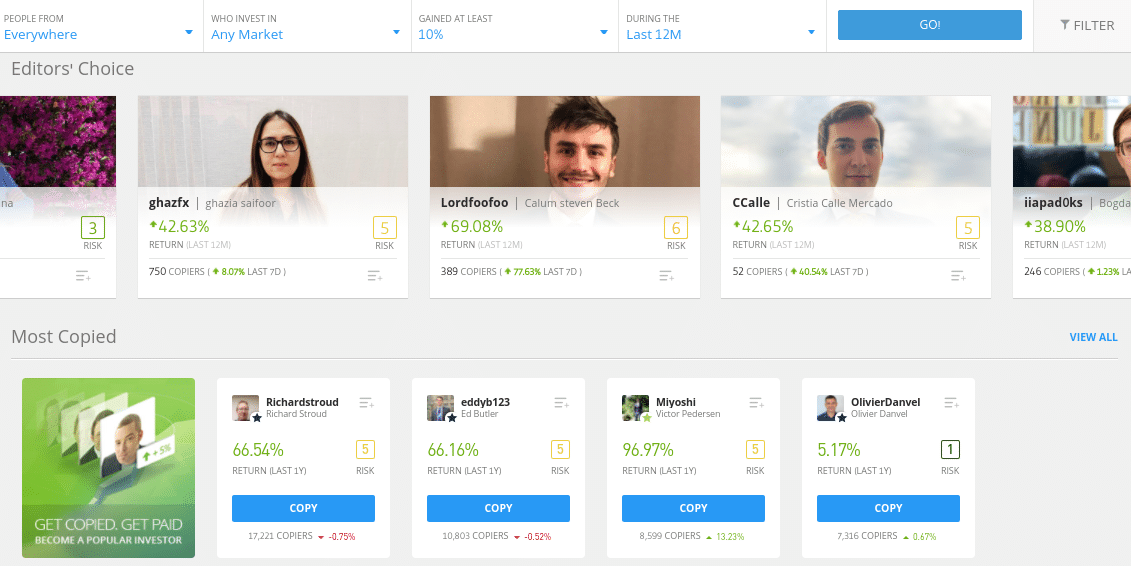 Crypto broker eToro offers a helpful feature called Copy Trader. As you can see in the image above, you can filter the results you see by the market the person invests in, risk rating, gains, and more. When you find one you like from the thousands of vetted investors, you can mirror their orders. For instance, let's say you are impressed by JoeTrader123 so invest £2,000 – if they allocate 4% of their equity to buy Dash, you have passively purchased £80 worth of digital coins. If the trader cashes out with gains of 10%, you have also made a profit – of course, this will be in proportion to your investment, so would be £8.
Pros
Invest in cryptocurrencies on a spread-only basis
Buy thousands of UK and international stocks at 0% commission
Minimum investment per trade from just $25
Supports debit/credit cards, e-wallets, and local bank transfers
Regulated by the FCA, CySEC, and ASIC
Used by over 20 million people
Perfect for beginners
Social and copy trading tools
Cons
Perhaps too basic for technical traders
No support for MT4 or MT5
Cryptoassets are highly volatile unregulated investment products. No EU investor protection. 67% of retail investor accounts lose money when trading CFDs with this provider.
<!–
2. OKEx – Best Low-Cost Broker to Buy Dash UK via a Crypto Deposit

OKEx will allow you to trade Dash against tokens such as Bitcoin, Tether, or Ethereum. There are over 400 pairs inclusive of Ripple, Cardano, Waves, Dogecoin, Polkadot, Tron, NEO, and others. As such, if you already have some in your possession, you can convert the coins to your desired asset in a few simple steps. If you do not hold these cryptocurrencies, not to worry. You can purchase some using British pounds first – other fiat money is also accepted. The minimum order amount depends on the pair, but starts from just 0.01.
The lowest deposit amount is 10 USDT, which equates to approximately £7.28. Please note that this exchange is more suited to short-term trading. Buying and selling Dash in the UK using digital currencies comes with a competitive commission of 0.10%. For those that don't already hold this type of asset, you will be required to upload some ID to prove your name and address. Accepted payment methods include debit and credit cards, and bank transfers. Depositing fiat and swapping it with a cryptocurrency to purchase DASH tokens takes slightly longer – however, the platform is easy to use for all skill sets.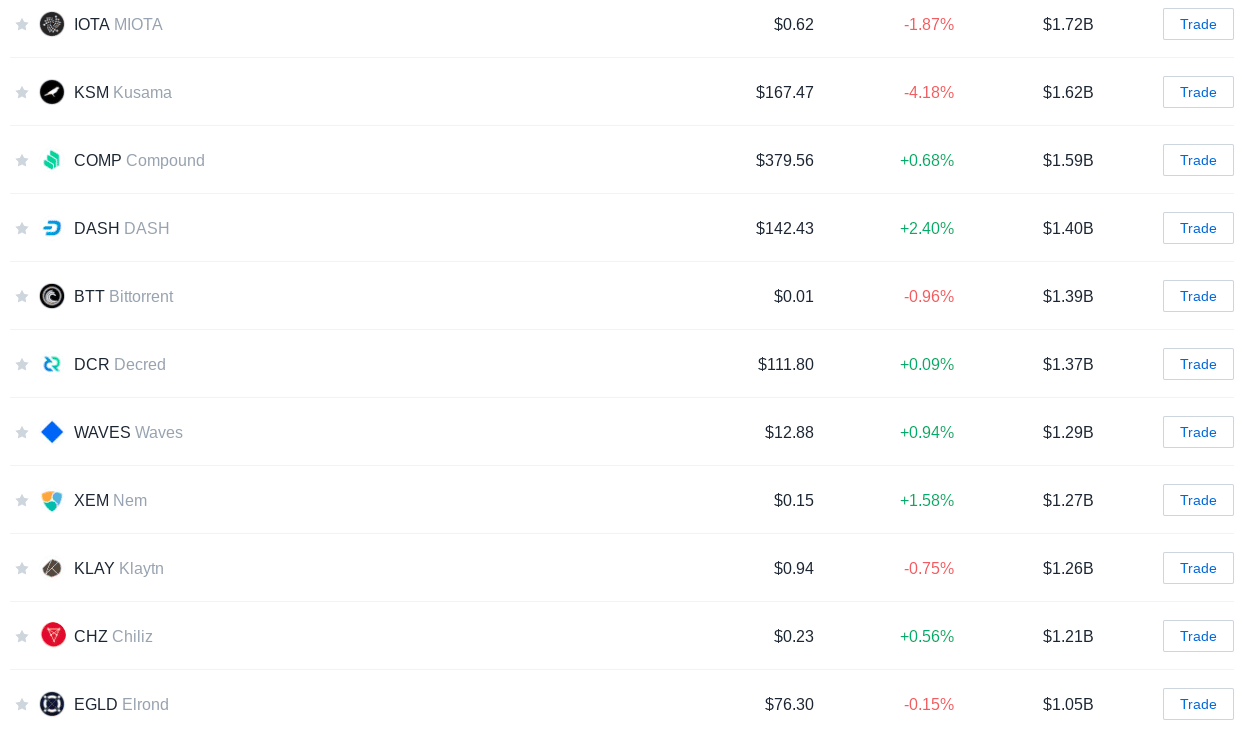 This top-rated exchange serves over 20 million users and offers a free and easy-to-use app. Thus, allowing you to trade Dash, check your portfolio and make a crypto deposit on the go. If you are still new to buying and selling digital assets, you will find a good selection of blockchain specific academic content. This includes lessons on specific OKEx products, risk management, and general concepts. You will also see beginners tutorials, industry analysis, a glossary and trading ideas.
Pros
Trusted crypto exchange with over 20 million users
More than 400+ digital currency pairs
Buy and sell cryptocurrencies with a debit/credit card or bank transfer
Low commissions that start from 0.1%
Fully-fledged mobile app on Android and iOS
Great reputation and highly secure
Cons
Debit/credit card fees could be more competitive
Derivative products too complex for beginners
at eToro, UK's #1 Broker
Cryptoassets are highly volatile unregulated investment products. No EU investor protection
–>
2. Binance – Best Broker to Buy Dash for Asset Diversity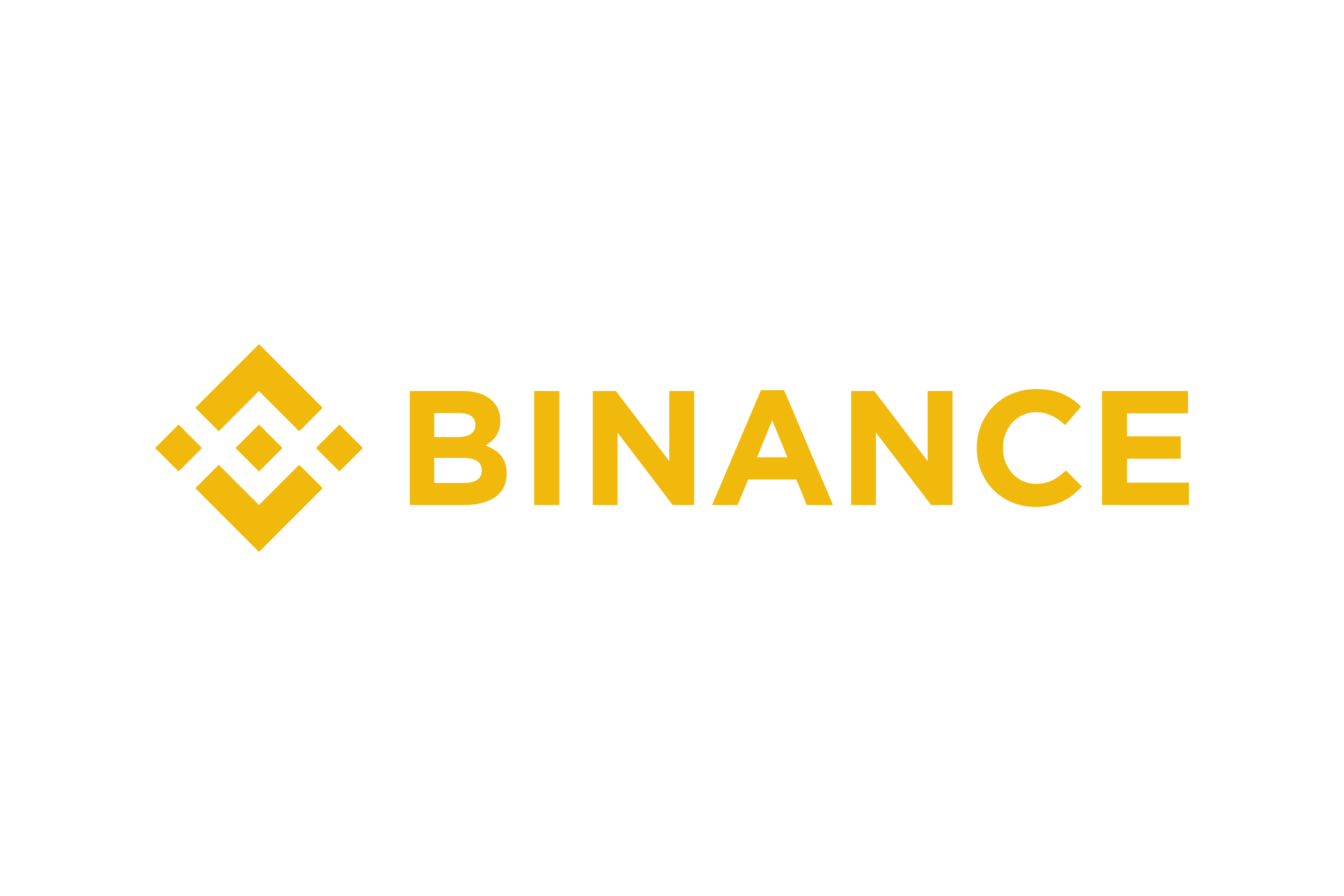 Binance is another provider on this list that offers a crypto service to millions of clients and operates on a global scale. When thinking about how to buy Dash in the UK, this platform is worth your consideration. Other digital coins here include Ethereum, Bitcoin, Binance Coin, Dogecoin, CertiK, Enjin, EOS, Filecoin, and over 500 more. There is no minimum deposit when using crypto, but you need to fund your account with at least £15 when using fiat money.
If you hold a digital asset like Bitcoin, you can add this to your account to swap for Dash with a fee of just 0.10%. If you only have fiat, there is another thing to be mindful of before deciding where to buy your chosen cryptocurrency. That is whether the accepted deposit options coincide with your preferred method. At Binance, you can opt to fund your account using a credit or debit card with a competitive charge of 1.8%. Furthermore, you can store your tokens on this platform for free, making it much easier to cash out your investment at a later date. Alternatively, consider the Trust Wallet app to trade on the go.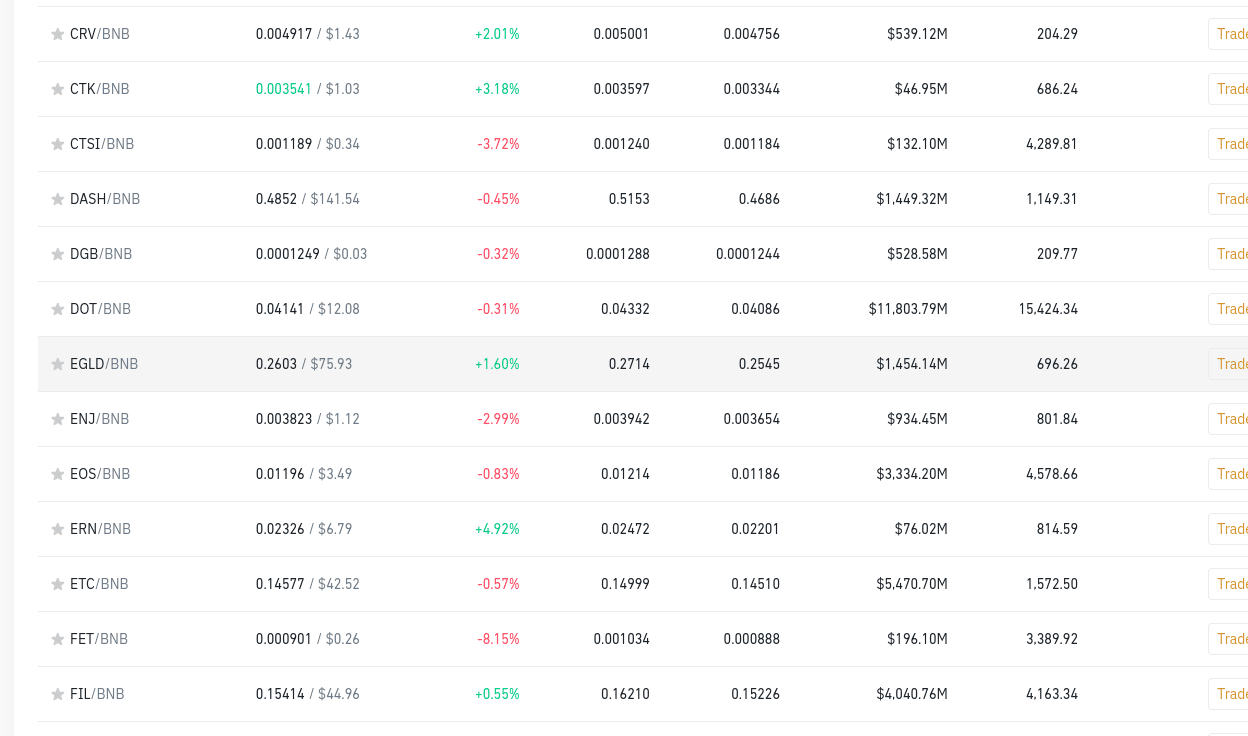 Additional features at this brokerage include VIP trading solutions, institutional-grade analysis, reports, and blockchain and crypto education. The latter includes strategies, guides on mining, and lessons on things like fundamental analysis, building a portfolio, and the fear and greed index. There is also a savings account called Binance Earn which allows you to increase your Dash holdings and even earn a passive income. This consists of a suite of products including flexible, duel, and locked options. This allows you to earn interest, deposit funds, and much more.
Pros
Facilitates billions of dollars in daily trading volume
Supports hundreds of digital asset pairs
Near-instant deposits via debit/credit cards and local bank transfers
Trading commission starts at just 0.1% per slide
Offers crypto savings accounts
Ideal for both beginners and experienced traders alike
Cons
Not all supported cryptocurrencies can be purchased with a debit/credit card
No e-wallet deposits or withdrawals
at eToro, UK's #1 Broker
Cryptoassets are highly volatile unregulated investment products. No EU investor protection
How to Buy Dash in the UK – Detailed & Explained in Full
Now that we have revealed the top crypto platforms to buy Dash in the UK, you can follow the detailed step-by-step walkthrough below to sign up and start investing.
This guide found that top-rated broker eToro is the overall best broker to buy Dash in the UK. The FCA regulates the platform for your safety. Furthermore, you can purchase cryptocurrencies from just $25, and fees are super competitive across all markets.
Step 1: Open a Crypto Broker Account
Opening an account at eToro couldn't be easier. As the FCA regulates this crypto broker, you must tell the platform who you are before you are able to buy Dash in the UK. Information required includes your full name, residential address, date of birth, mobile number, and national insurance number.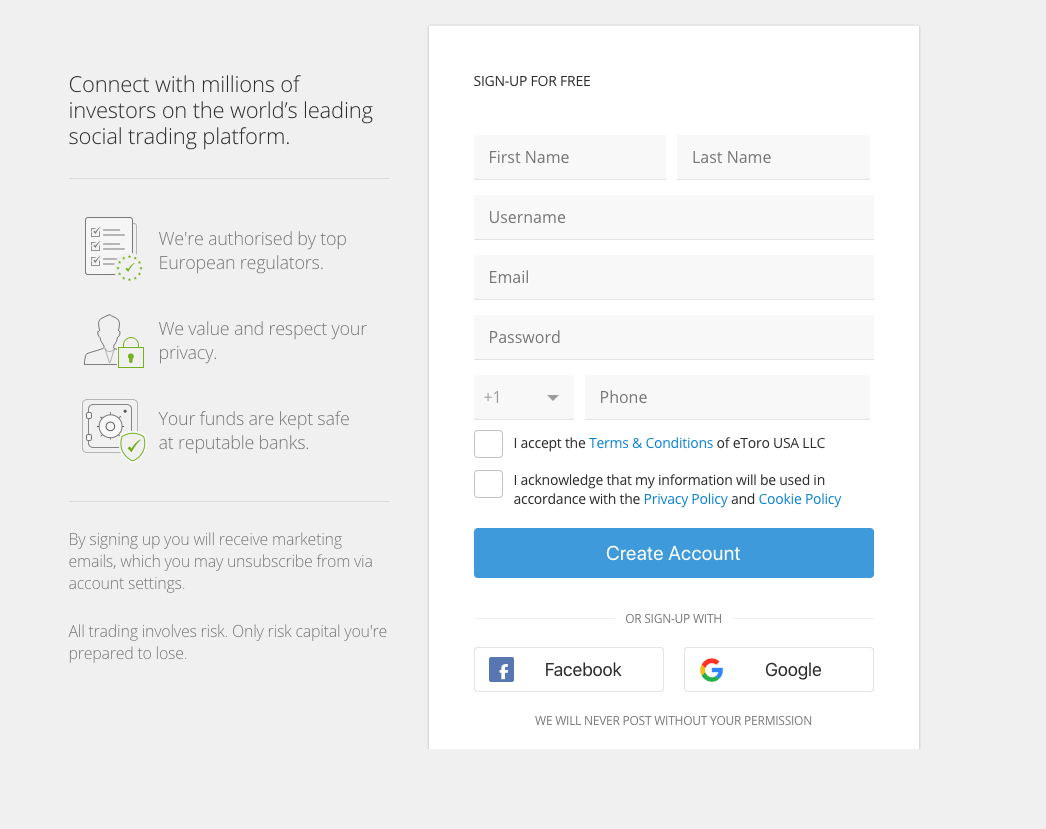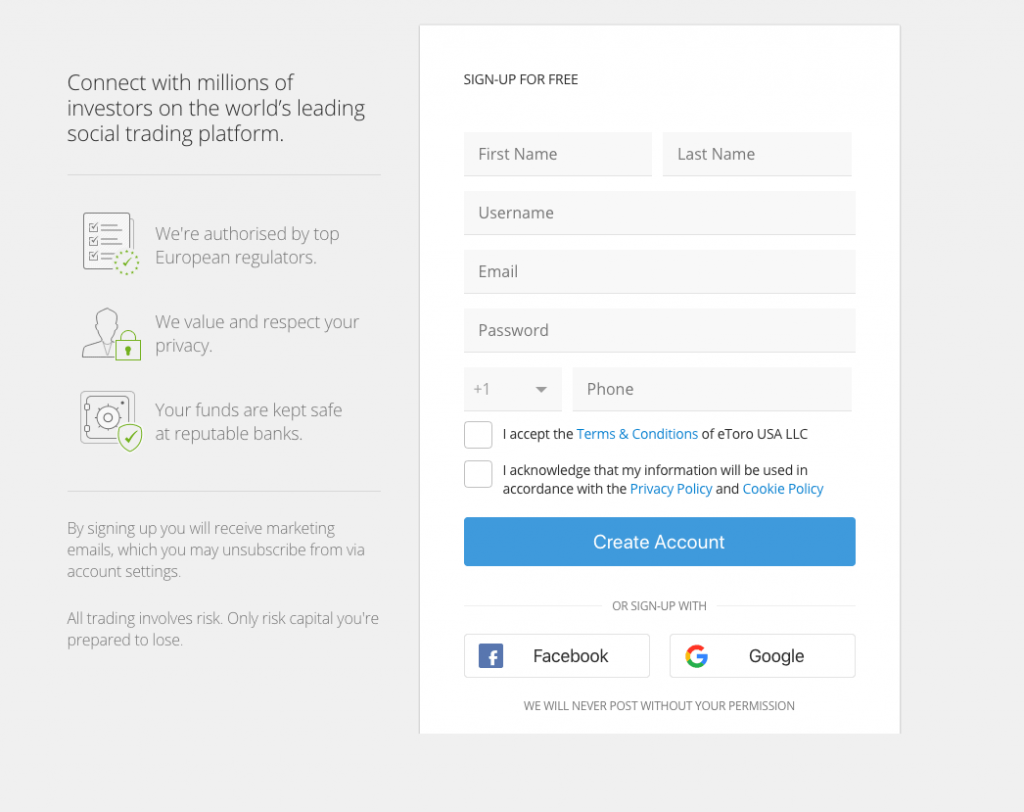 You will also need to enter the email you want to be associated with your account – as well as a memorable password unique to you. The next step is to confirm your mobile number – which you can do by entering the code you receive from eToro.
Cryptoassets are highly volatile unregulated investment products. No EU investor protection. 67% of retail investor accounts lose money when trading CFDs with this provider.
Step 2: Verify Your Identity
As we said, regulated brokers must obtain information to establish who you are as an investor. You will be asked to upload a clear copy of your government-approved ID. Most UK residents opt for a driving license or a passport. The latter being the quickest to process.
In order to confirm that your residential address checks out, you can send in a copy of a recent bank statement, eToro also accepts digital copies. Alternatively, you may use an internet, telephone, or utility bill – so long as it is dated within 6 months, and includes your full name and address.
Please note, you may skip step 2 and still buy Dash, but you must complete your registration before making a withdrawal or a deposit exceeding $2,250 (around £1,600).
Step 3: Deposit Funds
By step 3, you will have received an email from eToro confirming the opening of your new account. As such, you can now fund your account to buy Dash. If you want to get started straight away, your best option is to deposit using a credit or debit card, or an e-wallet such as PayPal.
You may also fund your account with a UK bank transfer, but this could delay your ability to make a purchase by a few days. The minimum deposit is $200 (this is approximately £145). Don't forget that there will be a small exchange fee of 0.5% to deposit funds at eToro.
Once you've completed your deposit, you can invest from as little as $25 into Dash.
Step 4: Search for Dash
Now, you can go to the main page on the eToro platform and look for the search box, as seen below.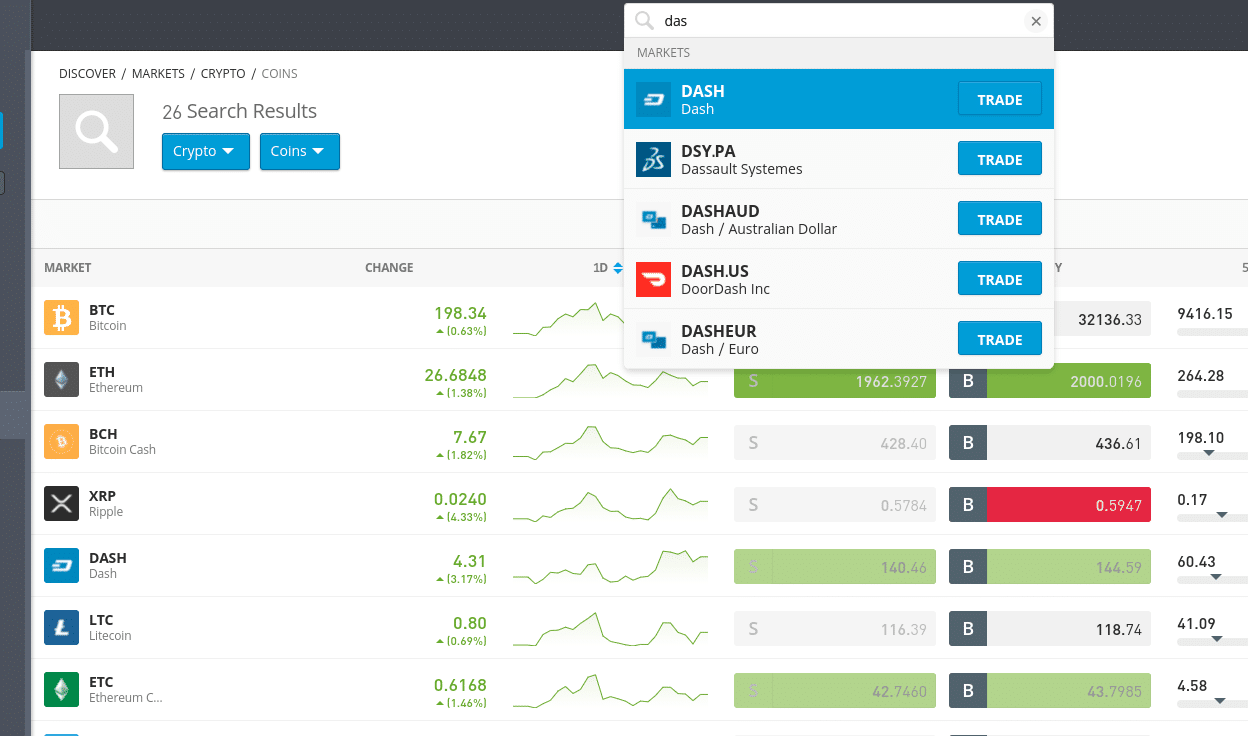 Type 'Dash' into the search bar and when you see it appear, you can click 'Trade'.
Step 5: Buy Dash UK
To buy Dash in the UK, you will need to enter the amount you wish to invest in the order box, as you see below. Here we are looking to purchase $300 worth of Dash tokens – which is around £218.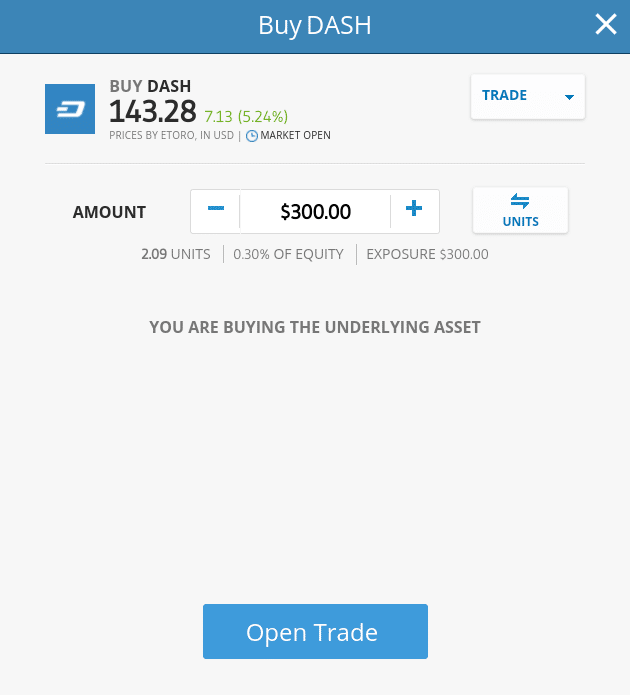 When you have checked everything and are happy to complete your purchase, you can click 'Open Trade'. eToro will action this straight away and you will see it appear under the orders tab and as a pop-up. When the position has been filled, you will see your new Dash investment in your portfolio, which you will find on the left-hand side of the main dashboard.
Buy Dash – Best Place to Buy Dash in the UK
After reading our reviews on the best places to buy Dash in the UK, you may already have an idea of the most suitable option for you. As cryptocurrencies are not physical assets, it's important to consider the safe keeping of your investment and the legitimacy of the platform in question. The deciding factor of which option works best for you could also be how you will be able to fund your account.
See the two most obvious options to buy Dash in the UK below.
Online Cryptocurrency Broker
As we have touched on a few times throughout this guide, regulated cryptocurrency brokers provide safe trading conditions thanks to the long list of rules and regulations they must adhere to.
Regulated crypto brokers like eToro accept fiat deposits using well-known methods, such as credit/debit cards and e-wallets like PayPal
If a platform is regulated by the FCA, the broker must hold any money you keep in your trading account in a separate tier-2 bank
Not only is using a regulated online broker the most secure way to invest in Dash, but you will also find the process of selling easier. We touch on this shortly for any newbies.
Cryptocurrency Exchange
Another option is a cryptocurrency exchange. It is, however, worth noting that you may be limited in how you can buy Dash. This is because many platforms like this are free from regulation, which means they cannot facilitate fiat deposits. Of course, this means you have to make various transfers and swaps to get to a point where you can invest in this digital asset.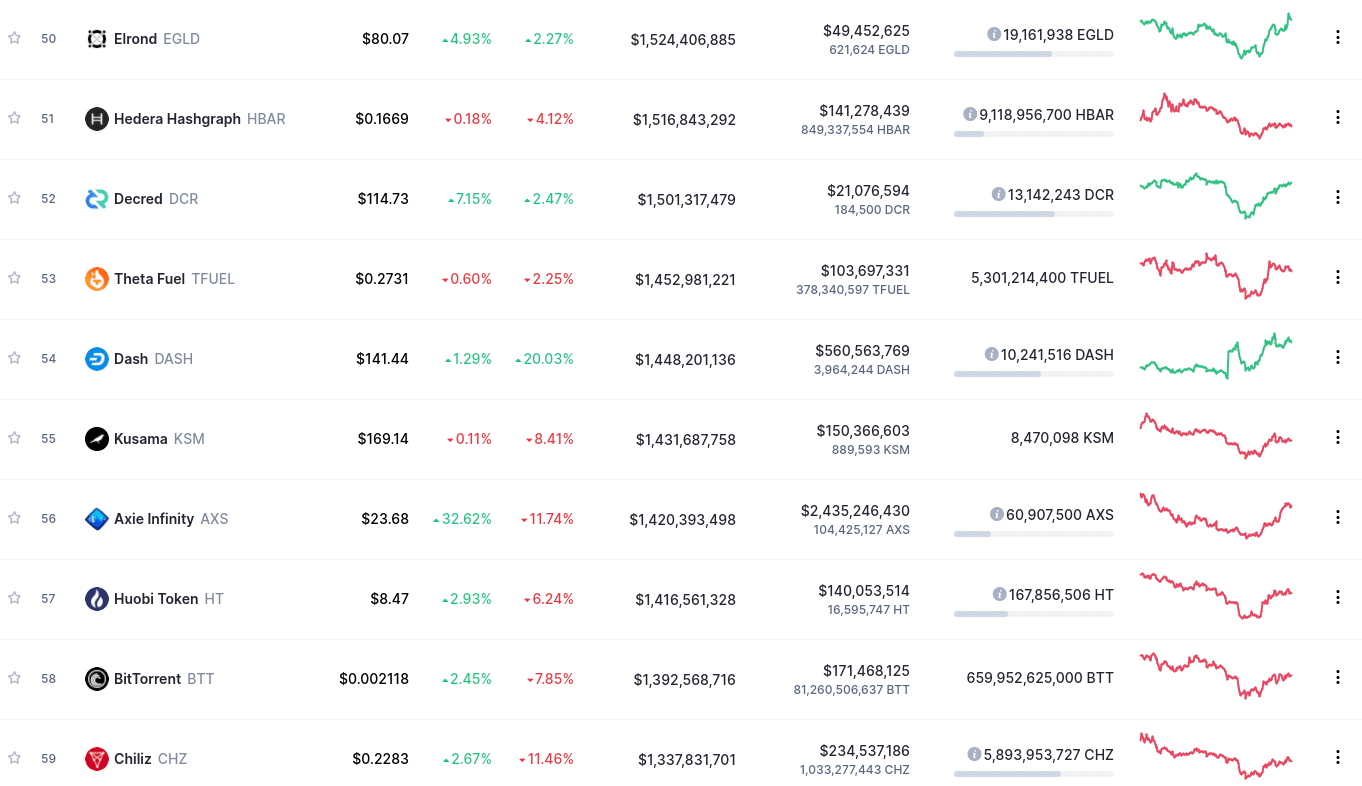 Another problem with the lack of regulation of cryptocurrency exchanges is there is more danger of falling victim to fraud and crime. As we said, online brokers such as eToro accept commonly used payment methods like bank transfers and credit/debit cards – and you can buy, sell and store Dash in a safe place.
Ways to Buy Dash UK
There are a plethora of modern and more traditional payment options when it comes to how to buy Dash in the UK.
See some options below.
Buy Dash With Debit Card
You can buy Dash in the UK using a debit card – as we said, you will need to upload your ID before you can withdraw to this payment type. eToro accepts this deposit method and will only charge you a 0.5% FX exchange fee. The process is simple and takes no time at all to appear in your brokerage account.
Buy Dash with Debit Card at eToro now >
Buy Dash With Credit Card
Credit card users can buy Dash – provided the crypto platform accepts it. Please be aware that this type of deposit will often come with a cash advance fee due to the nature of your purchase.
At eToro, making a deposit with a credit card simply entails entering your details and the amount you wish to add to your account, checking everything, and confirming. You will see this amount appear in your portfolio as available equity.
Buy Dash with Credit Card at eToro now >
Buy Dash With Paypal
Although seldom seen, some providers will allow you to buy Dash in the UK using your PayPal account. At eToro, you can invest in cryptocurrencies with this payment type from as little as $25 – and with low fees. This also saves you from entering sensitive card details.
Buy Dash with PayPal at eToro now >
Buy Dash at an ATM
When researching how to buy Dash in the UK, you may not have realized that you can make your purchase at an ATM. Unlike the machines we withdraw fiat cash from, this type allows you to insert money to buy certain cryptocurrencies.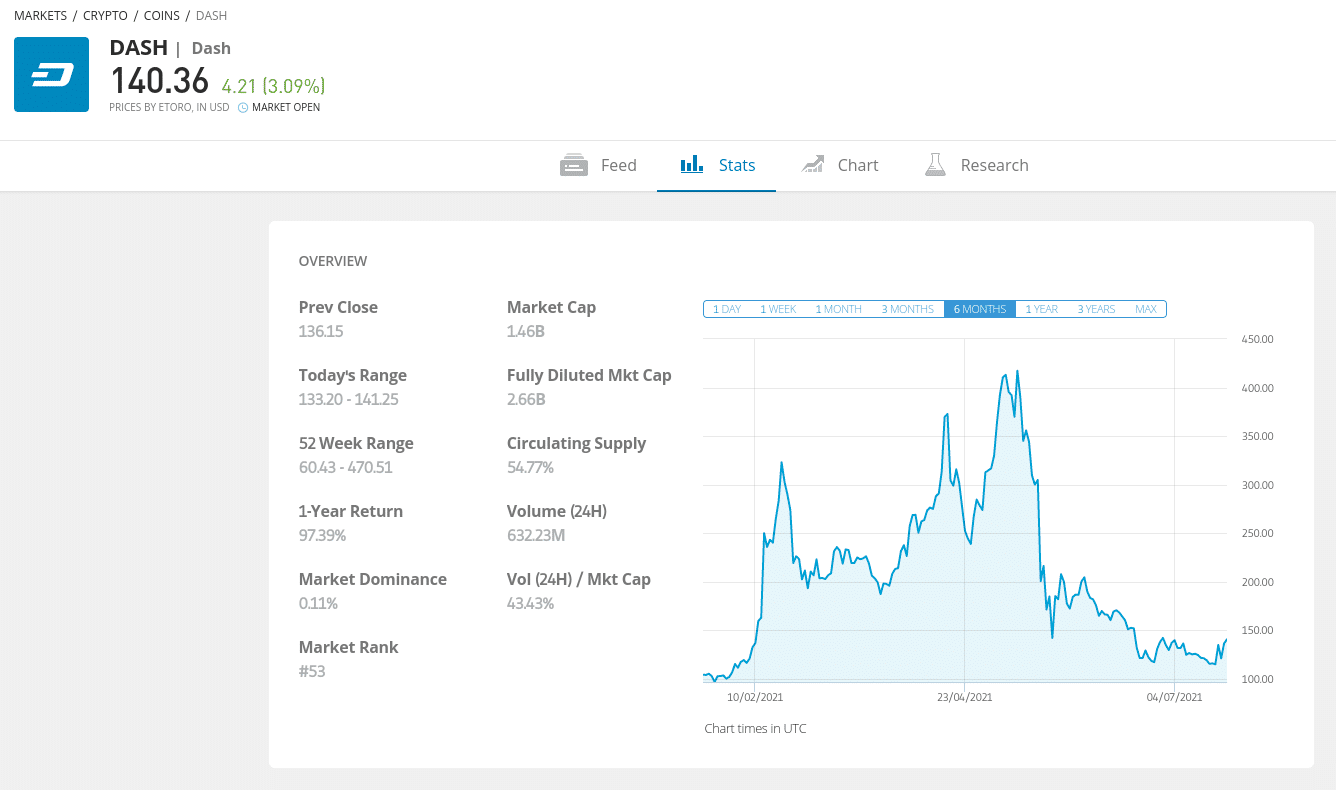 See below how to buy Dash at an ATM:
First, you will be quoted an exchange rate on-screen
Next, you can scan the QR code of your chosen wallet
Insert fiat cash into the Dash teller machine
A receipt will come out of the machine
Finally, your investment will appear in the wallet given.
Dash ATMs are dotted around the UK, the US, Cuba, Poland, Greece, France, Germany, and more countries. Please note that some machines will generate an offline or paper crypto wallet for your purchase.
You should also be aware that the commission fees you will probably have to pay by investing this way are often much, much higher than what you would pay at a brokerage. Not only that, but some investors report that these charges are not always as advertised.
Why Buy Dash UK?
Whilst there are many reasons Dash is a popular investment, we have listed a few of its most attractive characteristics below.
Buy Dash to Pay for Goods
Dash has announced a huge variety of different partnerships, which means tons of businesses now accept this digital currency as a means of payment. This gives you the freedom to pay your phone bill, buy a coffee – or move money on a global scale almost instantly.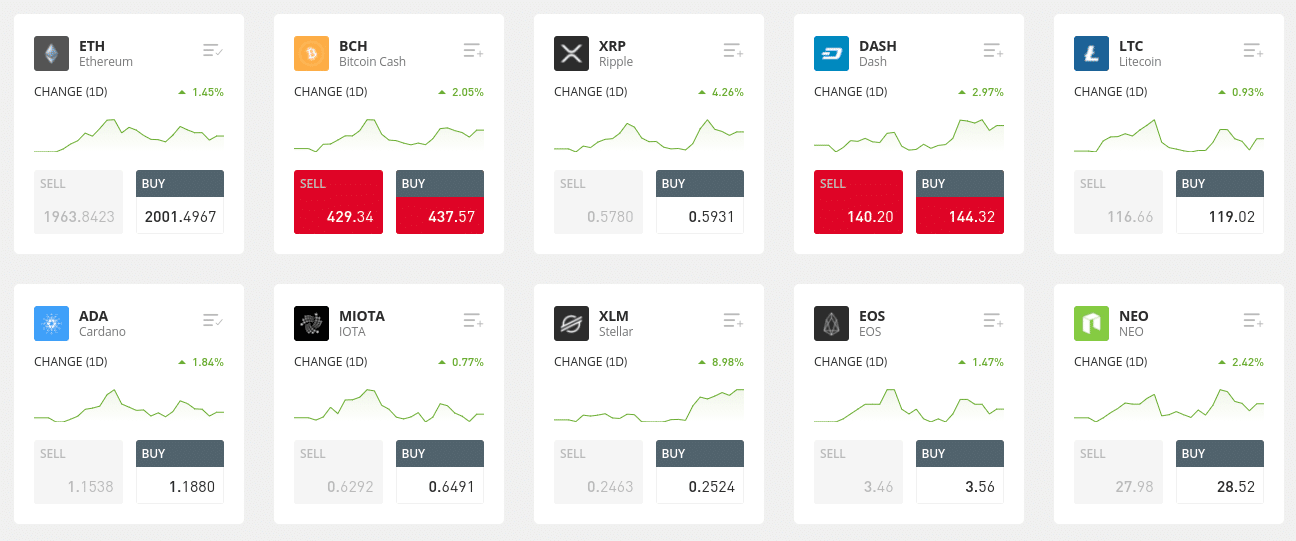 Some of the retailers and services you can spend Dash at include:
NordVPN
Mobile Topup
CheapAir.com
Dash Giftcard Store
Bitrefill
CryptoRefills
RE/MAX
Shopinbit
eGifter
As you can see, you can buy Dash in the UK and then use your coins to browse the internet in safety, feast on chicken in Venezuela, or snack on macaroons in New Hampshire. This really is a versatile cryptocurrency and you can find a full list of retailers and services online.
Send and Receive Dash Instantaneously
One of the best reasons to buy Dash in the UK is its speedy processing times. This is thanks to its InstantX technology. The digital tokens also use and popularised the idea of masternode governance.
The Dash block time averages just 2 minutes 36 seconds
This is a stark contrast to Bitcoin that averages anywhere from 10 to 20 minutes
For those unaware, masternodes are sophisticated and robust servers that are sustained by collateral kept in this digital asset. This is why when you buy Dash in the UK, you can expect private transactions, governance, and direct send features. These validators are able to sustain the network and carry out transactions beyond the capabilities of standard software.
Anonymous Dash Transactions
Although Dash is not automatically anonymous by default, this is something you can easily opt into. It will obscure the origin of all of your funds by using the PrivateSend feature, amoungst others.
This financial privacy is achieved via a mixing protocol, using the previously mentioned masternodes (decentralized servers)
When you buy Dash in the UK, the digital transactions herein will be made up of different inputs that function as discreet, or private, coins
The aforementioned inputs are split into regular denominations and blended with the transaction addresses of other people
This provides you with double send-proof and instantly confirmed transactions
As you can see, the crux of it is – the main reasons people learn how to buy Dash in the UK is for the convenience, speed, and anonymity the digital currency offers. This is a great alternative to more popular tokens such as Bitcoin, which can, in some cases, be tracked by government agencies.
Of course, buying and selling cryptocurrencies never comes without risk, so always ensure you educate yourself on the market and look at every aspect of the platform facilitating your investment.
The Cost of Buying Dash
This brings us nicely to the costs involved with buying Dash. When you are seeking to buy Dash in the UK, it's important you look into any fees you may be liable for and to consider the current Dash price.
See the most common below:
Deposit Fees
Before you buy Dash in the UK, check what it will cost you to fund your account. There can be a huge disparity between providers. You will often find that it costs less to make a deposit using a cryptocurrency, such as Ethereum or Bitcoin.
For instance:
At top-rated platform Binance, if you deposit using BTC coins you will only be charged the respective blockchain mining fee
If, however, you opt for a credit or debit card – you will pay 1.8%
With that said, if you prefer fiat deposits – you will find alternatives such as bank transfer, credit, and debit card and e-wallet options at eToro and will only be charged the previously mentioned fee of 0.5% to fund your account!
Trading Commission
You will likely have to pay commissions to buy Dash in the UK. If not, there will be a spread to pay (the gap between the buy and sell price). The latter is the case at eToro where we found the spread to be super low!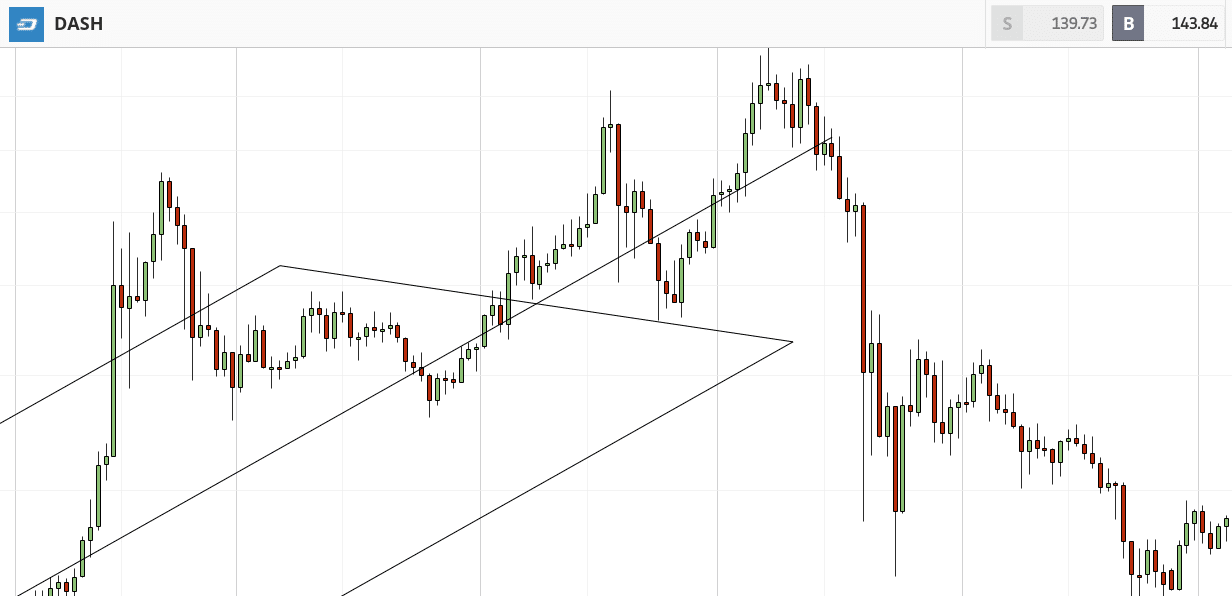 Over at OKEx and Binance, you will pay from 0.10% to buy Dash, which is really competitive. Commissions are always subject to change, so do make sure you check the fee structure of any platform you want to use as an investment vehicle.
Selling Dash: A Quick Overview
When you consider how to buy Dash in the UK, you really ought to have an idea of how to sell your digital assets too. After all, a potentially profitable opportunity might take you by surprise. This couldn't be easier at a platform like eToro.
See below a quick run-through of how to cash out your Dash coins:
Sign in to your account and view your portfolio
Select Dash and click 'Sell'
Enter the amount of Dash you want to sell
Check the amount is correct and confirm
At a regulated brokerage like eToro, the cash from selling your tokens will appear in the same account you used to make your initial deposit to buy Dash.
How to Buy Dash UK – Conclusion
Throughout this guide on how to buy Dash in the UK, we have talked about the ins and outs of all aspects of investing in crypto. This digital currency was valued at $10 in 2014. Three years later, it reached an all-time high of $1,642.22, and at the time of writing in mid-2021, it is priced at around $140. This just shows us how much the price of this asset class can fluctuate.
We also divulged the most attractive attributes of this cryptocurrency and explained the key differences between a broker and an exchange. Through our comprehensive reviews of the top Dash platforms in the space, we deduced that using an FCA-regulated provider such as eToro is the safest and most convenient option.
You can buy Dash in the UK at eToro from just $25 and fees are very competitive. There are also multiple deposit options, including credit/debit cards and e-wallets like PayPal.
eToro – Best FCA Broker to Buy Dash UK
FAQ
How to buy Dash in the UK?
Where to buy Dash in the UK
Is Dash a good investment?
Is Dash safe to invest in?