Tesla Stock Forecast 2021 – Tesla Stock Price Prediction 2021, 2022, 2025 & 2030
The performance of Tesla stock so far in 2021 hasn't been the most appealing as the stock has drifted in and out of negative territory multiple times after last year's remarkable 693% annual gain.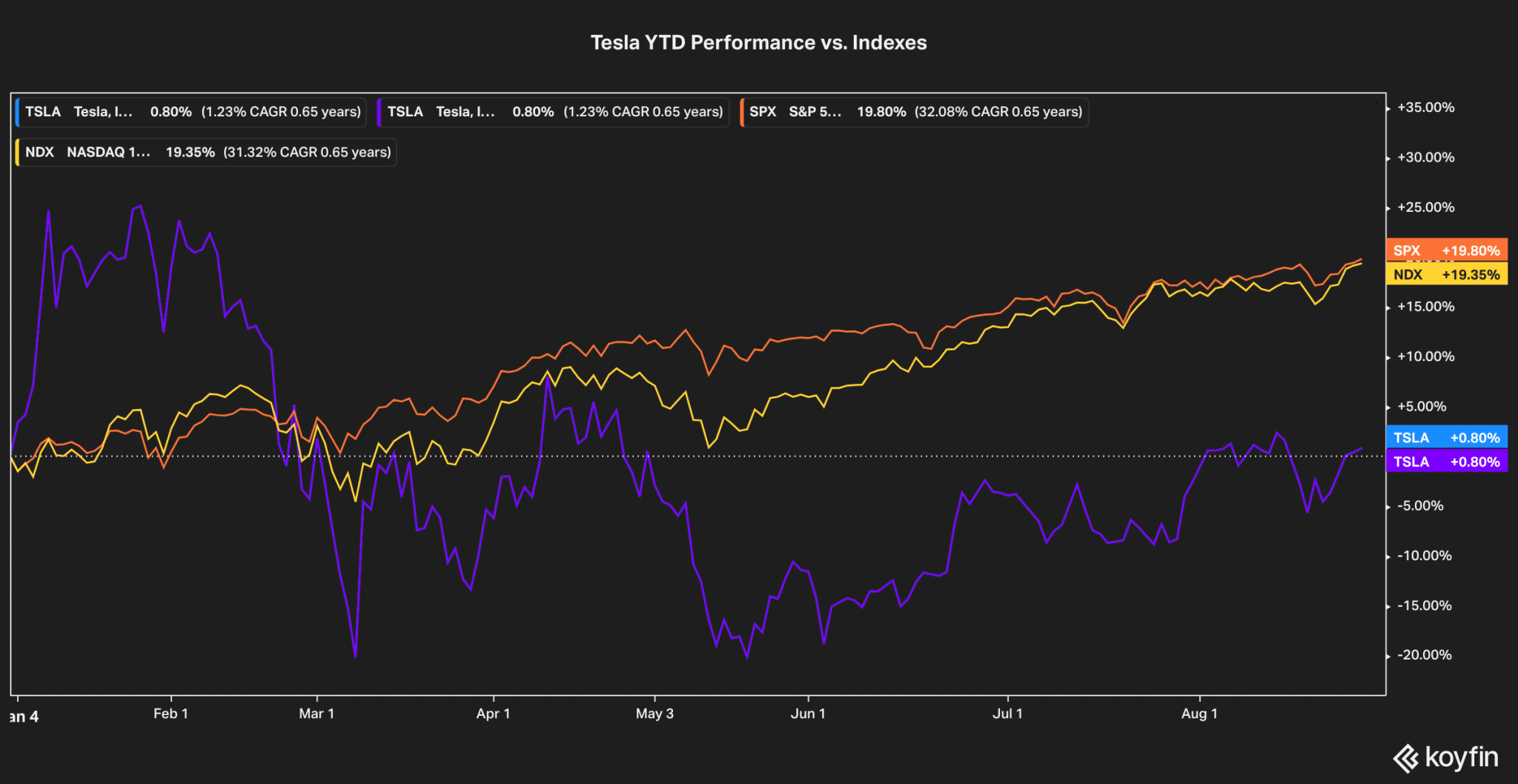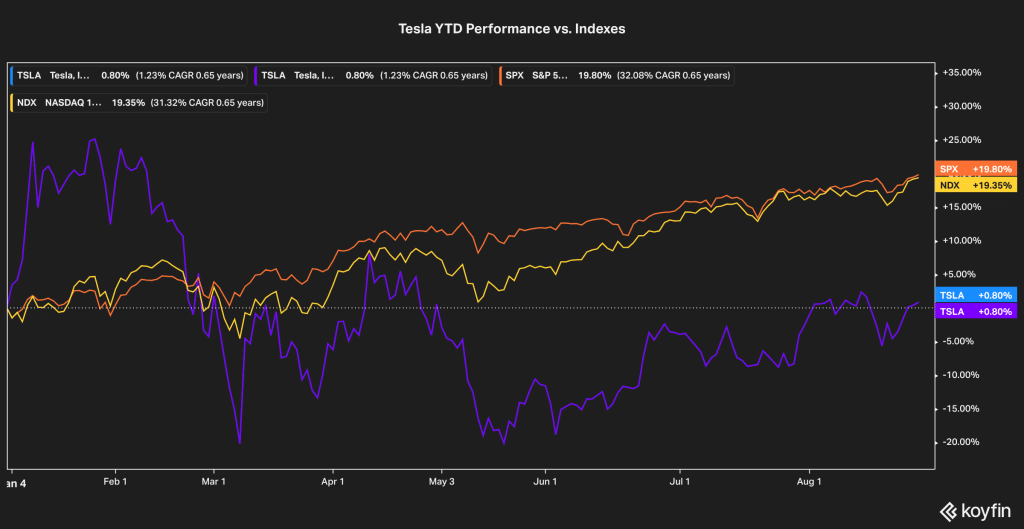 Supply bottlenecks, concerns about the safeness of the company's popular auto-pilot feature, and other headwinds have been responsible for keeping a lid on the advance of Tesla's shares this year while news of an official investigation from the National Highway Traffic Safety Administration (NHTSA) targeting the company's auto-pilot system has caused concerns among investors as multiple fatal crashes have occurred in the past years while drivers were using this feature.
Notably, Tesla's controversial founder and Chief Executive, Elon Musk, doesn't seem to be concerned about this investigation as he has acknowledged multiple times that the company's vehicles should not be considered fully autonomous. This said, Musk has already forecast that the software will reach such state by the end of this year.
In other news, the founder of Tesla presented the Tesla bot only days ago during the company's "AI day". Musk stated that the humanoid robot is designed to perform "boring" and potentially dangerous tasks that will have to be otherwise performed by its owner. The robot is expected to be available for sale before the end of 2022.
This latest move from Tesla was deemed as a "headscratcher" by analysts from Wedbush and it might be the cause of some unexpected volatility in Tesla stock moving forward as investors continue to weigh the impact that the NHTSA investigation may have on the firm's product development efforts and current services.
As we continue to move forward into the second semester of the year, what does the future hold for Tesla stock? To possibly answer that question, the following Tesla share price forecast will be assessing the impact of the most recent developments affecting the company while we'll also take a closer look at the latest price action of the stock to outline potential scenarios for the next two to three years.
67% of all retail investor accounts lose money when trading CFDs with this provider.
Key Drivers – Tesla Stock Price Forecast 2021- 2023
Multiple factors are currently affecting the performance of Tesla shares in 2021 and they may also continue to shape the company's valuation in the following two to three years.
Here are some of the drivers that investors should keep an eye on in the future:
Supply chain issues: in the same way as other car manufacturers, Tesla's production capacity has also been suffering from an ongoing chip shortage while certain key raw materials such as lithium and nickel, both of which are used to manufacture the batteries that power Tesla's electric vehicles, have seen pronounced price increases in past months.
The launch of more affordable vehicle models: Tesla's long-term vision is to develop a fully autonomous electric-powered vehicle that can be afforded by middle-class individuals in developed nations. The company's advances or setbacks in regards to the achievement of this goal will probably have a dramatic effect on its share price as a portion of the growth that would come from tapping this huge market seems to have already been priced into its valuation.
The NHTSA investigation: 10 fatal crashes involving a Tesla vehicle have occurred since 2016 in the United States and authorities have been increasingly worried about the role that the company's auto-pilot feature has played in these incidents. Reports have been brought up about customers sleeping in their cars while their vehicle was in auto-pilot mode while other non-fatal events have also taken place when the vehicles have attempted to park or change lanes on the highway without a driver's involvement. Moving forward, the results of the NHTSA investigation may have an impact on the company's share price if the agency bans the use of this technology due to safety concerns.
Successful building of Tesla's Berlin and Texas gigafactories: The construction of Tesla's two gigafactories – one located in Texas and the other in Germany – are expected to be completed this year. These factories should help the company in increasing the efficiency of its manufacturing process and they should eventually help the firm in bringing down its costs. Delays in the completion of these projects may also affect the performance of Tesla's share price.
Demand from China and other key regions: Even though most of Tesla's sales are made in the United States, revenues from other countries including China are playing an increasingly more important role in shaping the firm's top-line results. Any headwinds resulting from political or regulatory hurdles imposed by foreign governments for the sale of its vehicles may also have an impact on Tesla's valuation.
These are only some of the variables that could weigh on the performance of Tesla shares moving forward. Investors can find further information about Tesla's risks factors in the section of the company's annual report that discusses these matters.
67% of all retail investor accounts lose money when trading CFDs with this provider.
Tesla Stock Price History – What's Going On in 2021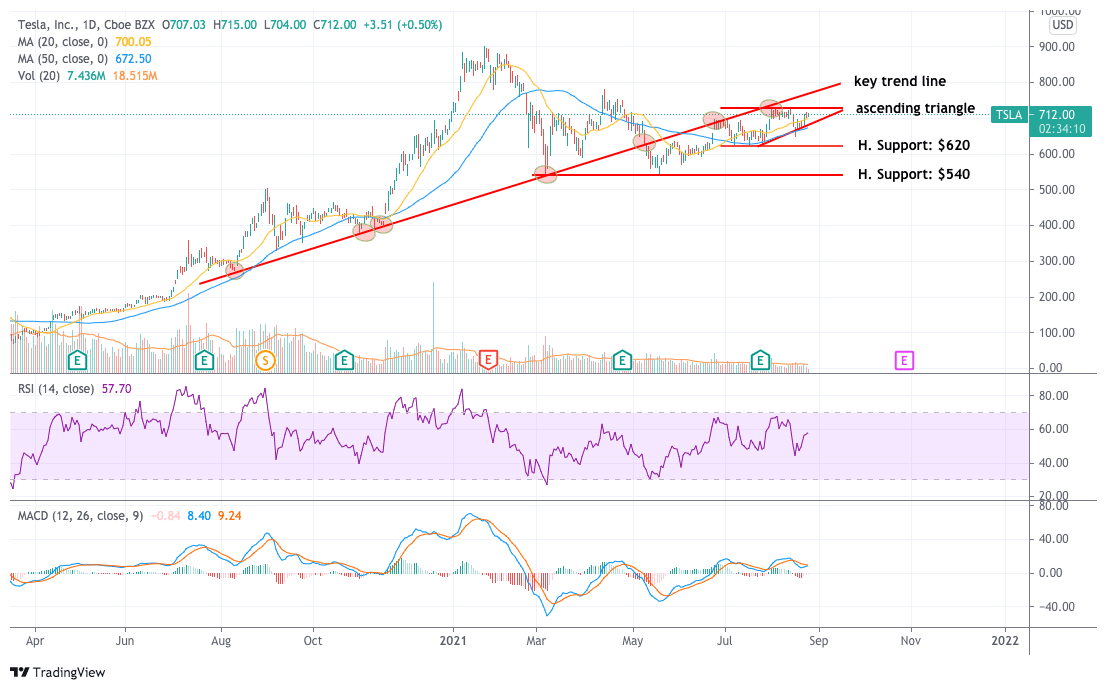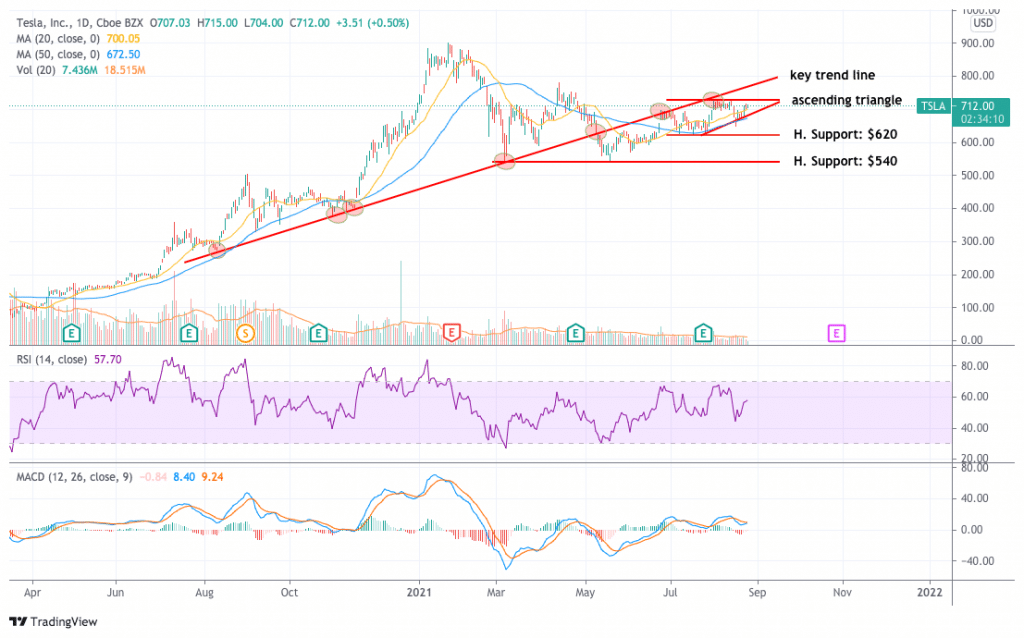 In May 2021, the price of Tesla broke an important trend line support only days after the company reported its financial results covering the first quarter of 2021. A 16% drop in the stock price followed this break while the stock posted a double-bottom formation upon bouncing from a horizontal support found at the $540 level only a few days after.
This double-bottom formation has been supporting the latest uptrend in the stock price, with the price of Tesla shares delivering a 32% gain since that bounce, even though the price action has rejected a climb above the stock's former trend line support twice already.
Meanwhile, the price action has also rejected a climb above the $730 resistance multiple times and this would be the most important level to watch as we move further into the second semester of 2021.
As for support levels, the trend line support of the ascending triangle pattern shown in the chart is the first support to watch moving forward while there is also an important horizontal support found at the $620 level.
Tesla Stock Price Forecast – Short Term Outlook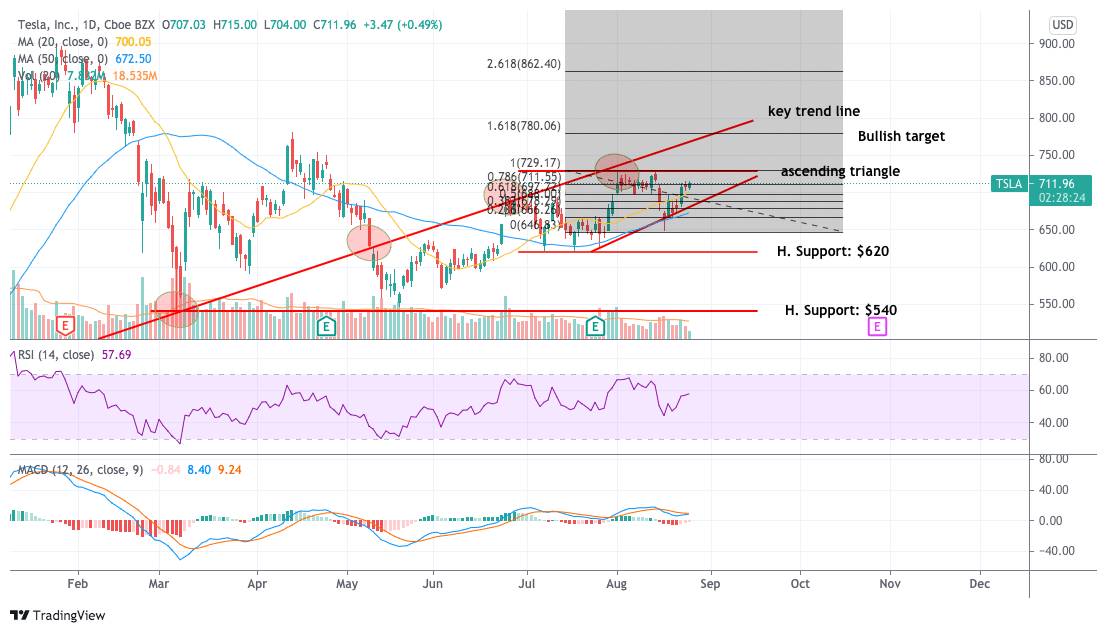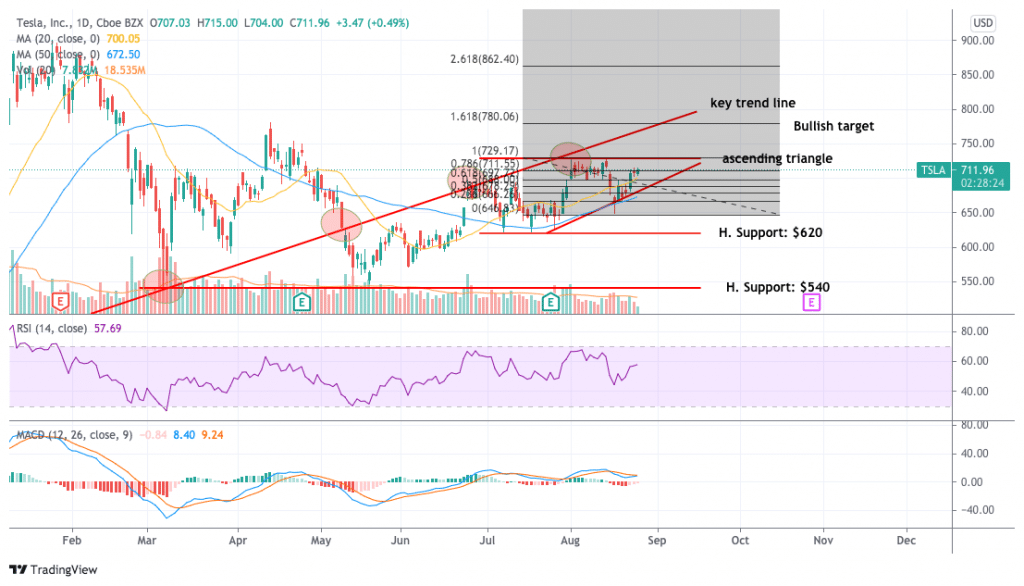 Based on the technical readings outlined above, the outlook for Tesla shares is bullish as long as the price continues to make higher lows and this uptrend could ultimately lead to another tag of the $730 resistance.
How the price action behaves shortly after this resistance is tagged will likely determine the direction that the share price will take moving forward. In this regard, another rejection of this level should lead to a pronounced downtick in the stock price – possibly aiming for the $620 level as a first target for a total downside risk of 15%.
Meanwhile, if the price breaks above that threshold, a first bullish target for Tesla may be set at $780 for a 7% upside potential based on the Fibonacci extension highlighted in the chart above.
If a break does occur, regardless of the direction, it should be accompanied by above-average trading volumes to be considered valid.
In the meantime, momentum oscillators are both in bullish territory, with the MACD just making a cross above the signal line. This event is typically considered a buy signal as long as it is accompanied by positive and increasingly higher momentum readings in the histogram.
However, the RSI has posted a bearish divergence already as the price of Tesla has tagged the $730 level multiple times on lower momentum readings. This divergence could anticipate a pullback in the price.
All things considered, the short-term outlook for Tesla shares is bullish unless the ascending triangle formation is broken.

Meanwhile, analysts are relatively bearish toward Tesla stock as 12 out of 33 analysts currently covering the issue have a Hold rating on Tesla. Meanwhile, 7 others are currently rating the stock a Sell.
In summary, 19 out of 33 analysts (57.5%) either think that the stock is currently overvalued or believe that most of its growth has already been priced in.
67% of all retail investor accounts lose money when trading CFDs with this provider.
Tesla Stock Price Forecast – Long-Term Outlook
In the past four years (2016 – 2020), Tesla's sales have been growing rapidly from $7 billion to $31.5 billion at a compounded annual growth rate (CAGR) of 46%. During this same period, vehicle deliveries have moved from 75,900 to 499,000 at a 60% CAGR.
Meanwhile, the company's average revenue per delivered vehicle has gone down from $92,226 in 2016 to $63,126 in 2020. However, the company's gross margins have been increasing for the period, moving from around 22.9% to 21%.
The reason why Tesla's average price per vehicle has been moving down is that Model 3 – the company's cheapest model – has been accounting for a larger percentage of the company's total sales lately.
The price of Model 3 goes from $35,000 to around $60,000 while the price of Model X and Model S starts at around $80,000.
Moving forward, Model 3 sales may continue to increase their share in the company's total top-line results as this model is more affordable and has a larger total addressable market.
For Tesla, it is crucial to ramp up its manufacturing capacity to be able to increase Model 3 sales over time while at the same time the firm has to expand its global footprint by further diversifying its revenue mix by including other regions.
China is a particularly promising country for Tesla but the regulatory environment is a bit hostile while Nio (NIO), a direct competitor to the firm, has a strong presence in the country.
Last year, Tesla managed to post its first profitable year, with its adjusted net income landing at $690 million or $0.51 per share. Meanwhile, the firm's EBITDA has been progressively growing from $301.5 million back in 2016 to $4.27 billion last year at a 94% CAGR.
Meanwhile, EBITDA margins have been progressively increasing from 7.6% in 2017 to 13.6% in 2020 and 13.7% in the past twelve months.
At its current market capitalization of $699.25 billion, the company is being valued at 163 times its 2020 EBITDA. Meanwhile, moving forward, Tesla's sales are expected to land at around $85 billion according to analysts' estimates compiled by Koyfin.

If the company continues to ramp up its EBITDA margins to a forecasted figure of 15%, chances are that Tesla will see its EBITDA growing to $12.8 billion resulting in a forecasted 3-year CAGR of 45% for the electric vehicle maker.
This results in a forward EV/EBITDA ratio of 54 that points to Tesla as a potentially fairly valued stock based on its forecasted EBITDA growth rate and conservatively financed balance sheet.
As a result, from a fundamental standpoint, the long-term outlook for Tesla is bullish even at its current valuation and this is a list of reasons that justify this outlook:
Tesla's untapped total addressable market (TAM) is huge.
Its EBITDA margins have been progressively improving and they may continue to in the future after the completion of its gigafactories.
Model 3 will become more affordable over time and that would expand the firm's TAM even further.
The company has zero net debt.
The management team has proven its ability to deliver on its promises.
The current valuation might be failing to price the acceleration that the company's revenue growth rates may experience once the company reaches more markets.
How to Buy Tesla Stock?
Now that we have outlined the short-term and long-term outlook for Tesla stock, are you ready to invest in this promising electric vehicle manufacturer? In case you are, you can buy Tesla shares through one of our preferred stock brokers: eToro.
eToro is a zero-commission brokerage firm that offers the possibility of trading multiple financial instruments including stocks, exchange-traded funds (ETFs), commodities, and cryptocurrencies via contracts for difference (CFDs).
Tesla is among the stocks supported by this broker, which means that you can buy shares of this company right after you have completed the sign-up process.
67% of all retail investor accounts lose money when trading CFDs with this provider.
Tesla Stock Price Forecast – Final Word
Tesla has progressively become one of the largest vehicle makers in the world by market capitalization even though there is still a fair deal of growth ahead for the company. Even though a lot of this growth has been priced into the current valuation, the firm still has a large total addressable market that remains relatively untapped while its fundamentals have been progressively improving over the years.
With TSLA stock currently trading almost 20% below its 52-week high, this could be an opportunity to snatch some shares of this successful electric vehicle company at a point when the world seems ready to make a definite turn toward more eco-friendly technologies and energy sources.
Buy Tesla Stocks at eToro from just $50 now!
FAQs
Is Tesla a good investment?
Will the price of Tesla go up in the future?
What is the current value of Tesla?
Where can I buy Tesla stocks?