AMC Stock Forecast 2021 – AMC Stock Price Prediction 2021, 2022, 2025 & 2030
AMC Entertainment's business was one of the most severely hit by the pandemic as lockdown measures and other restrictions implemented by governments around the world resulted in a prolonged period of theater shutdowns while multiple big production studios turned to video streaming platforms to survive the downturn.
Sales of the movie theater chain declined more than 75% during the year and they have remained fairly depressed during 2021 amid the appearance of the more transmissible and deadly Delta variant of the COVID-19 virus.
However, despite this ongoing weakness in the fundamentals of its business, AMC Entertainment stocks surged to all-time highs in the first couple of months of 2021 as a strange phenomenon that involved a higher degree of participation of retail traders in the market prompted a technical typically known as a short-squeeze.
In a short-squeeze, a strong surge in the price of a heavily shorted security prompts a buying spree from short-sellers seeking to cover their positions to trim their losses. In the first few months of 2021, AMC was one of the most heavily shorted stocks in the market amid the sustained deterioration of its fundamentals – which included the possibility of the company going bankrupt.
This scenario presented itself as the perfect scene for a short-squeeze and retail traders triggered the move upon coordinating – somehow erratically – a massive buying spree through online messaging boards and forums like the popular Reddit channel Wall Street Bets.
As a result, AMC has become something more than the stock of a failing movie theater operator as it is now considered a must-have badge of an emerging force in the market. They are known as the "apes", "diamond hands", "hodlers", and AMCers – in summary, people who are willing to hold on to their stocks with the expectation that others will pile on in the future to further boost the price despite the profound disconnection existing between the reality of the business and its current valuation.
In this context, drafting an AMC stock price forecast involves taking into account all of these variables that are now affecting the company's market valuation along with the traditional factors that one would typically assess when trying to determine the directional path and intrinsic value of a given stock.
67% of all retail investor accounts lose money when trading CFDs with this provider.
Key Drivers – AMC Stock Price Forecast 2021 and 2022
COVID-19 situation: Vaccines were supposed to turn the tables for AMC on short notice but the appearance of the Delta variant and its elevated transmissibility has caused concerns about a potentially prolonged downturn for virus-sensitive businesses like AMC Entertainment. Moving forward, further theater shutdowns and prolonged social distancing protocols may affect the business's performance for longer than initially expected.
Distribution scheme from top studios: Top production studios have decided to offer the exclusive premiere of their top content to affiliated online video streaming platforms as it has been the case of Warner Studios with HBO Max and Disney with Disney+ since movie theaters remained partially or entirely shut down amid the pandemic. In the future, if these changes become the norm rather than a one-off phenomenon, movie theaters would lose a significant competitive advantage and that may affect the performance of AMC Entertainment's business in the long term.
AMC's competitive landscape: The pandemic prompted millions of people to turn to video streaming service providers like Netflix (NFLX) and Disney+ to entertain themselves while they remained confined within their homes. This cord-cutting trend may further affect AMC as its clients have grown more accustomed to watching movies at home rather than going to a theater. The trend could have a sizable effect on the company's performance and valuation in the future.
The business financial strength: Even though AMC Entertainment has taken advantage of the recent rise of its stock price to raise capital through the sale of its stocks to retail investors willing to bet on the company's recovery, the company's debt burden remains quite high. With the pandemic still ranging across multiple latitudes, a weak balance sheet increases the risk of insolvency and any measures or events that affect the firm's solvency in the future could also have a positive or negative effect on its stock price.
67% of all retail investor accounts lose money when trading CFDs with this provider.
AMC Stock Price History – What's Going On in 2021


On 31 December, stocks of AMC Entertainment were trading at as little as $2.12 a piece to close the year with a pronounced 70.5% loss amid the impact of the pandemic. At some point during last year, the performance of the stock came close to break-even as retail traders – who were, back then, not as coordinated as they are now – pushed the stock higher and possibly prompted a short-squeeze that went somehow unnoticed during that period.
However, the stock closed the year with a pronounced loss as even though vaccines were being progressively rolled out the company's finances were deteriorating at a fast pace.
By the end of January, market participants got a first glimpse at the potential impact that this elevated retail participation could have on a stock, as stocks of AMC surged to a post-pandemic high of $19.9 per stock after a 301% single-day uptick while in February and March trading volumes skyrocketed on the back of a combination of a gamma squeeze and a short-squeeze.
A gamma squeeze occurs when a high volume of short-dated stock options are bought, forcing options sellers to buy the underlying asset to hedge their exposure in case these derivatives expire in the money.
A gamma squeeze typically pumps the price of the underlying instrument and, for AMC, this move exacerbated the short-squeezing as short-sellers were forced to rapidly cover their positions amid a rapid rise in the stock price.
One of those short-sellers was Melvin Capital, a $12.5 billion hedge fund that lost nearly half of its capital as a result of its dealings with AMC stocks.
By the end of June, this event accelerated to a point where AMC stocks were trading at over $60 per stock while they reached an intraday peak of $72.62 on 2 June.
Since that peak, the stock price has been progressively declining as the company progressively sold millions of stocks through at-the-market stock offerings that effectively diluted existing holders.
As a result, the stock is now trading almost 35% below its 52-week closing high although it has exhibited signs of a potential upcoming recovery in the past few sessions.
AMC Stock Price Forecast – Short Term Outlook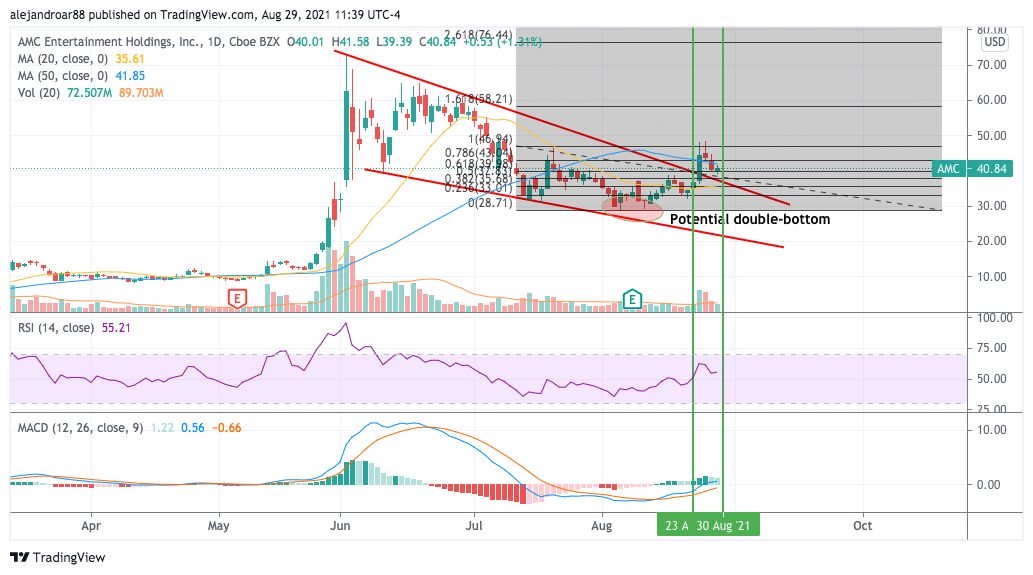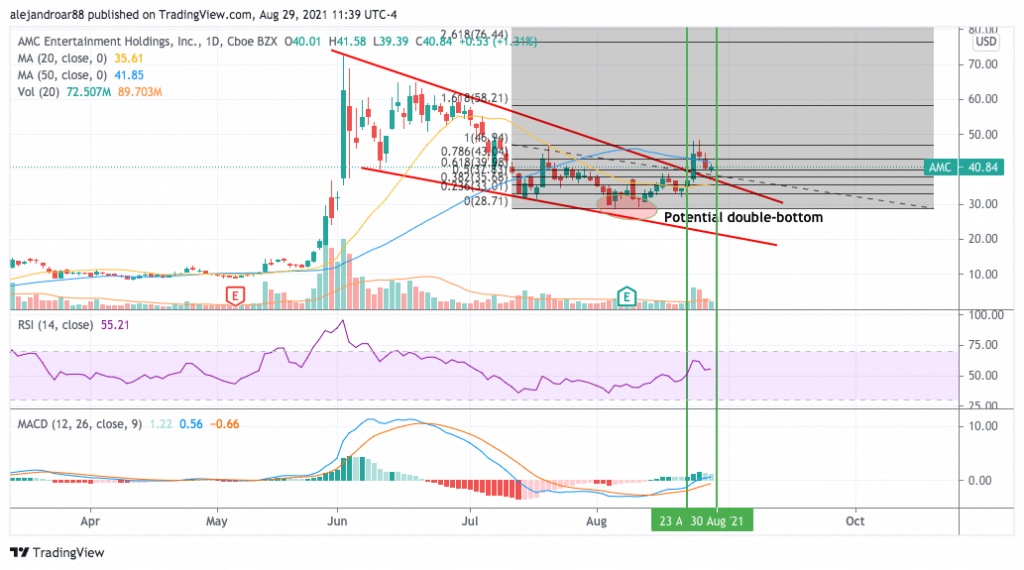 The past four sessions have been quite interesting for AMC Entertainment stock as the price has effectively reversed the downtrend that started back in June on the back of elevated trading volumes.
As a result, the 30-day implied volatility of AMC stock options surged to nearly 200% – which corresponds to the 60 percentile based on the readings of the past 12 months. This move implies that elevated option volumes accompanied this short-term jump in AMC stocks and that might be a signal of what is about to happen to the stock price this next week.
Meanwhile, comment volumes about AMC Entertainment in Wall Street Bets rose to their highest levels in the past 30 days to account for nearly 12% of the total comments made within the forum on 25 August according to data from meme stock tracking website Swaggy Stocks.
The combination of a break of this downtrend and elevated trading volumes along with a surge in options trading activity and higher comment volume on the most popular retail trading forum are reinforcing a bullish short-term outlook for AMC stock.
A first target for the stock if such a move takes place could be set at $47 per stock for a potential 15% upside while a break of that level could lead to an even more pronounced uptick for AMC.
This bullish outlook would remain as is as long as the stock price remains above the upper trend line of the falling wedge highlighted in the chart.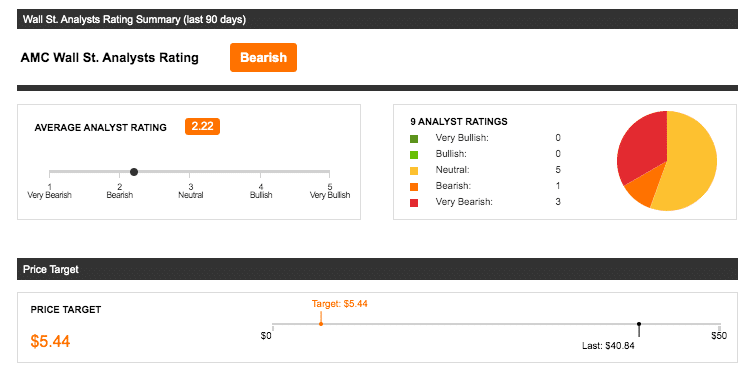 It is worth noting that despite this short-squeezing frenzy, Wall Street analysts are still bearish on AMC stock amid its deteriorated fundamentals. In this regard, data from Seeking Alpha indicates that 4 out of 9 analysts are currently rating the stock a Sell while the remaining 5 are rating AMC as a Hold.
Meanwhile, the consensus price target for the stock currently stands at $5.44 with the highest estimate set at $50 and the lowest at $0.
67% of all retail investor accounts lose money when trading CFDs with this provider.
AMC Stock Price Forecast – Long-Term Outlook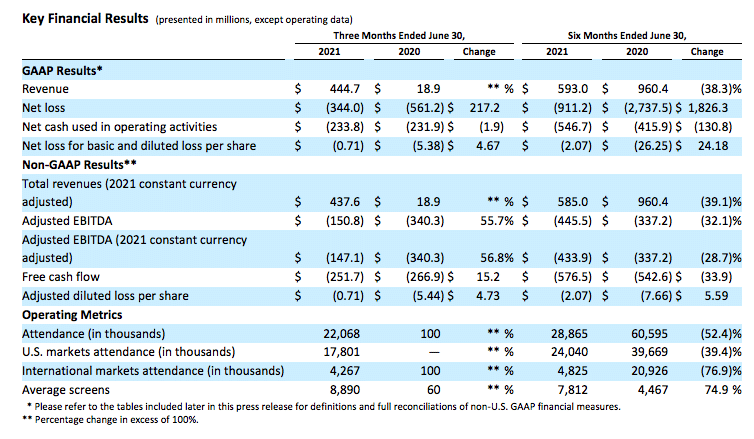 Revenues for AMC were steady at around $5 billion in the two years that preceded the pandemic but they plunged nearly 75% during the health crisis as the company was only able to operate at full capacity during the first two months of 2020.
Meanwhile, so far in 2021, sales have been progressively recovering as they moved from $148.3 million during the first quarter to $444.7 million by the end of June. As a result, gross losses were trimmed significantly compared to previous periods while the company reported a milder net loss of $343 million for Q2 2021.
By the end of June, AMC reported that 100% of its US-based theaters were already opened along with 95% of its international venues.
Interestingly, consolidated average ticket prices rose to $10.6 compared to $9.2 the company had reported back in Q2 2019 (before the pandemic) and a similar pattern can be seen in food and beverages sold on a per-patron basis. However, consolidated attendance was still 77% below pre-pandemic levels during this past quarter.
It seems that higher prices are mostly responsible for driving this surge in AMC revenues rather than higher attendance.
Meanwhile, the company's cash burn as indicated by its net cash used by operating activities landed at minus $233.8 million while its free cash flow ended the period at minus $251.7 million.
According to the management, the firm's liquidity stands at $2 billion including its undrawn revolving lines of credit while its long-term borrowings ended the three months at $5.5 billion on total assets of $11.33 billion including $2.5 billion in goodwill.
Most of the company's borrowings are due in 2025 and 2026 which means that AMC Entertainment may not face solvency constraints in the near future unless some financial indicators deteriorate to a point that they trigger individual clauses that may lead to the immediate repayment of such commitments.
Currently being valued at $21 billion, the company is trading at 8.4 times its forecasted sales for 2021. Considering the firm's stalled past growth, the sizable impact of the pandemic in the business's future prospects, and the company's weak balance sheet, this multiple seems fairly stretched and it indicates the severe distortion caused by the latest short-squeezing frenzy and the overly optimistic opinion that retail traders who are currently holding on to their stocks have about the company's future.
Despite the possibility that the stock may continue to surge on the back of this abnormal situation, AMC will eventually trade at a price that reflects its deteriorated fundamentals and investors should be aware of the risk of a sharp pullback if they plan to invest in the stock.
How to Buy AMC Stocks?
Based on the short-term and long-term outlook stockd above, have you already decided if this is a good time to invest in AMC stocks?
If the answer is yes, you can easily buy AMC stock through our preferred stock broker: eToro.
eToro is a global broker that offers the possibility of buying US-listed stocks including AMC Entertainment (AMC) without paying a commission.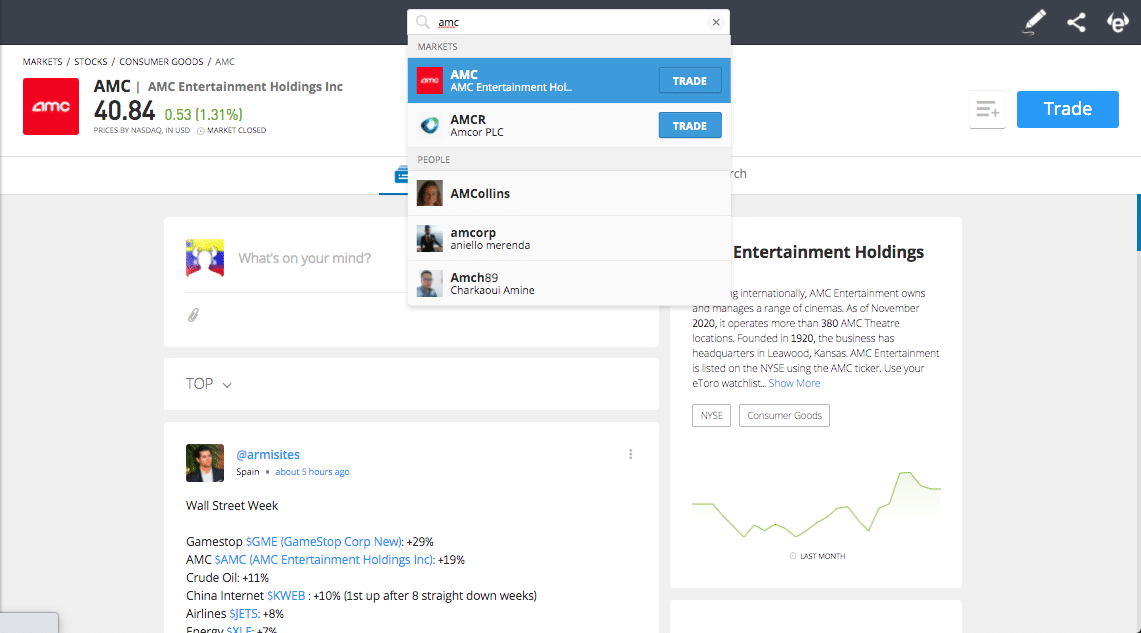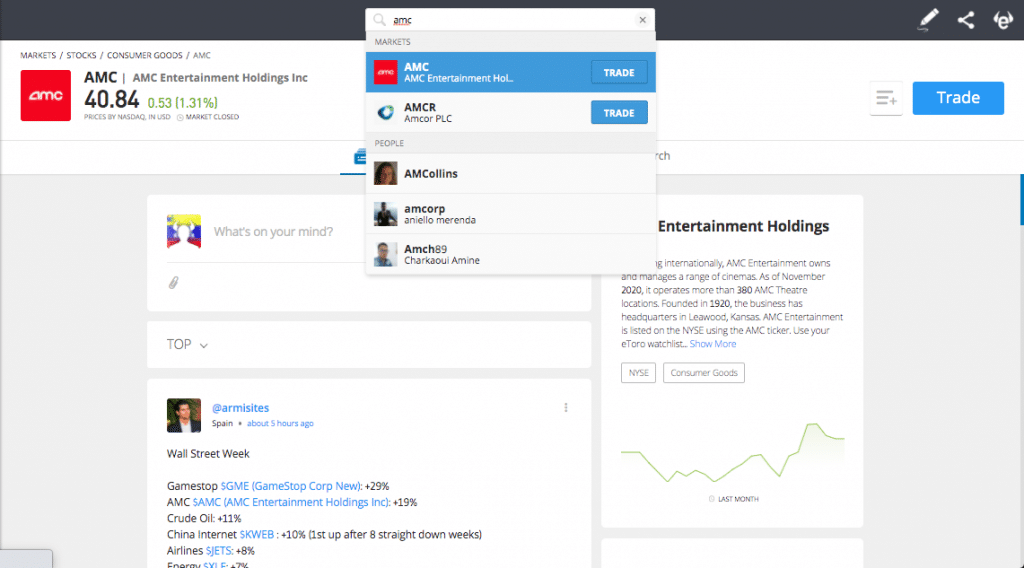 Once you have signed up with eToro, you can easily buy AMC stocks by using the search box located at the top of the trading interface using the ticker symbol "AMC". Once you get to the stock's individual page, you can click on the "Trade" bottom to complete your purchase.
67% of all retail investor accounts lose money when trading CFDs with this provider.
AMC Stock Price Forecast – Final Word
The current price of AMC Entertainment stocks is failing to reflect the reality of the underlying business to an extent that the risk of a sharp correction is too high to ignore.
However, if you think you have what it takes to make some money out of these distortions, the latest price action reflects that another short squeeze similar to the ones that have happened throughout this year could be about to occur based on the latest rise in trading volumes and options trading activity.
67% of all retail investor accounts lose money when trading CFDs with this provider.
FAQs
What is AMC Entertainment?
How much is AMC Entertainment worth?
Is AMC Entertainment a good investment?
How can I buy AMC stocks?