Stock Market Mergers: Steady Marriage or Failing Long Distance Relationships?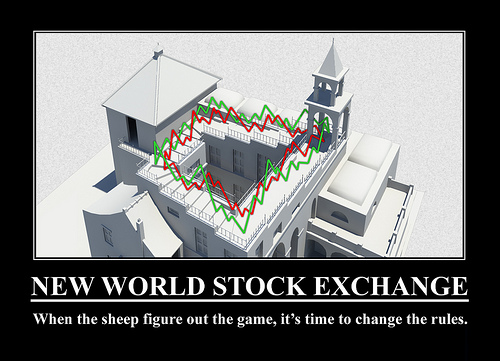 19 July 2011.
19 July 2011.
At the time of writing, the London Stock Exchange's bid for the Toronto Exchange TMX, which most people, including the LSE and TMX, thought was a done deal, had just collapsed. The LSE failed to secure approval from the necessary 66% of TMX shareholders and that was that. The deal might not have gone LSE's way anyway since a few days earlier the rival Maple Consortium, a group of 17 Canadian institutions who really seem pretty committed to keeping the Canadian exchange Canadian, had launched yet another counter bid.
Maple's revised offer, on paper, outmatched the LSE's offer but TMX was quick to reject Maple and to reiterate the board view that the LSE's offer was the best thing TMX shareholders could possibly want, while Maple's bid was not. It seems some shareholders were not convinced. Now, according to several media headlines, the LSE itself is in play as a merger target. The larger question behind all this merger mania is: why?
Why are exchanges all round the world looking to partner up, even if the partner is a continent away?
The answer is twofold. On the one hand, many of the mergers that are happening undoubtedly have a defensive component to them. Being a small exchange in a world dominated by big exchanges does not promise a bright future. If everyone else is scaling up, then you have no option but to eat or be eaten.
The second part of the answer is paradoxical. On one scale, distance doesn't matter – we are in a global market so two exchanges anywhere in the world can probably find common ground, if they try. On another scale, distance, measured in metres or even millimetres, rather than miles or kilometres, matters absolutely. The rise and rise of high frequency trading, where "normal" sized trades are broken down into thousands of tiny parcels and traded as close to instantaneously as possible, in order to arbitrage tiny market pricing anomalies or market movements, has put an absolute premium on collocation, or the siting of IT hardware on the Exchange's own site.
[quote]The closer someone can get their servers to the Exchange's servers, the lower the latency or lag, on a scale of milliseconds, in the price information flow.
Exchanges therefore need to transform themselves so that they can accommodate vast server farms just an arms length away from the trading systems. Those exchanges who can accommodate this need earn premium fees, those who can't lose out. [/quote]
The problem, of course, with an exchange in country A reaching out to an exchange in country B with a marriage proposal is that exchanges tend to be viewed very much in the category of national crown jewels. When Deutsche Boerse wanted to merge with the London Stock Exchange in 2004 there was an outcry. When the LSE wanted to merge with TMX the Canadians got into a knot. When NASDAQ and ICE (the Intercontinental Exchange) decided, in April this year, to launch a hostile counter bid for the New York Stock Exchange (NYSE) Euronext in the teeth of an agreed Deutsche Boerse bid, NASDAQ made much of the fact that its bid would keep the NYSE headquartered in New York and would mean jobs for New York. In the event, its bid was scuppered by the regulator within a few short weeks and the Deutsche Boerse bid is still on track.
However, despite parochial and nationalist interests, it is a fact that exchanges need scale. Writing on the LSE TMX deal before its collapse, James Quinn cited UBS analyst Arnaud Giblat summary that what exchanges need are scale and distribution capabilities, technology rationalization, product development and the capacity to position themselves to gain or retain dominance in a rapidly changing market. The NYSE Deutsche Boerse deal, for example, will create a monster exchange with more than $15 trillion of listed companies on its books and the world's largest capacity for futures and options trading.
This is a world where the big get bigger and where the LSE's failed bid makes it look oh so tasty and open to offers. The role of the City of London in global financial markets seems to be somewhat in peril of being redefined, with more downward slippage to add to the non-trivial impact of the global crash of 2008 looking increasingly likely. Throw in the UK's well-established penchant for gold plating EU-wide regulatory moves, due to some kind of seemingly indestructible "holier than thou" reflex on the part of UK politicians, and what was a very benign climate for financial services looks increasingly less so…
By Anthony Harrington. Read more of his blogs on QFinance.