Zignaly Review 2022: Is it Legit, or a Scam?
The use of trading bots has become an essential service traders use in the crypto market. The trading bots help automize and effectively manage different users' portfolios. The manual way of carrying out trades on exchanges needs a lot of time and skill, and overall, is not efficient in making a profit. Automation helps make the process faster in reading signals and carrying out trades for the user. Throughout this review, we will look at two automated trading bots, Zignaly and Bitcoin Loophole. We will look at their features, how they help each trader, and the most effective one for you to trade on. Read on to find out more about these two platforms.
at Bitcoin Loophole – #1 Bitcoin Robot
Short Review of Zignaly
Zignaly is an automated service that helps users make trades without much input from the users. The platform does not mess with users trading as it only provides the bot, and the user's skill set will determine the strategy and how the robot approaches the market to trade. It claims that users can copy the trades of a successful trader.
The app, founded in 2018 has stated that it doesn't provide trading signals for any user, but users can use external signal providers for a specified fee. The platform connects to exchanges like Binance and Kucoin.
Features of Zignaly
Crypto Signals
Zignaly allows users to buy and sell signals from external but integrated signal providers as the app itself does not provide signals. The platform has paired with some profitable signal providers like Mining Hamster Signals and Crypto Base Scanner.
Copy Trading
This is perfect for new traders. Copy-trading on Zignaly helps traders pick an expert of their choosing and Zignaly will automatically replicate the trading activity of the trader you choose and ensure you have matching results. All the settings and strategies are done on the trader's behalf. Zignaly also has a marketplace where expert traders can charge to allow others to copy their trades. Their success rate and reviews are visible for all users to see.
Ease of use
The platform is easy to use as this is a priority for the team that built Zignaly. Opening and setting up an account takes 10 minutes or less. To further increase the usability of the platform, the app explains each feature, so users are never can fully understand a feature before using it.
Pricing
Zignaly's pricing at $12 a month is one of the cheapest among its competitors. The app offers great value for money and gives room for profit while trading. To ensure that the service is suited to you, Zinaly offers a 30-days free trial which does not require you to enter your card details.
Short Review of Bitcoin Loophole
Bitcoin Loophole is an AI-based trading platform used to analyze trends in the market and execute trading according to the signals gotten. The app doesn't require prior experience, and it is easy to use and offers traders a way to make money without spending too much time online. The platform is web-based and can be accessed on any device. It provides both manual and automatic trading to its users.
Features of Bitcoin Loophole
Secure Platform
The Bitcoin Loophole app is said to have excellent platform security and dependability score. They have a well-defined data protection policy in addition to having sufficient encryption. The policy adheres to the General Data Protection Regulation (GDPR)
Excellent Reputation
Bitcoin Loophole has a 4.5/5 rating on Trustpilot, making it one of the best-rated apps in the trading tools category. Bitcoin Loophole is profitable, according to several customers, and its platform is incredibly user-friendly. They have a specialized customer care team that serves traders worldwide, regardless of time zone differences, and the withdrawal process has gotten a lot of positive comments.
Easy to Use
To make money with the Bitcoin Loophole, you don't need any special knowledge or skills. The robot automatically conducts all trade research on the user's behalf; all the user has to do is turn on the bot and start trading. As a result, the trader can employ this automated trading platform in addition to their regular business.
Customer service
Bitcoin Loophole offers dedicated customer service 24 hours a day, seven days a week. Email, phone, and live chat are all options for contacting their customer service representatives. According to consumer reports, getting customer service by live chat and phone is quick and straightforward. Furthermore, Bitcoin Loophole's website is well-organized, and it gives organized and comprehensive information about the platform and its services to its clients.
Pros & Cons of using Bitcoin Loophole vs Zignaly
Bitcoin Loophole Pros and Cons
| | |
| --- | --- |
| Pros | Cons |
| Offer Demo trading | No mobile app |
| No hidden charges | No information about the founders |
| Low Minimum deposit | |
| Easy account registration | |
| Excellent customer support | |
| User Friendly | |
| Good reputation | |
Zignaly Pros and Cons
| | |
| --- | --- |
| Pros | Cons |
|  Exchanges support | Expensive Third-party signal providers |
|  Easy to use | It does not offer a daily trading interface |
|  Copy-trading | A limited number of exchanges available |
|  No minimum deposit required | Not easy to contact customer care |
| | Offers no testimonials on app performance |
at Bitcoin Loophole – #1 Bitcoin Robot
How to Register to Bitcoin Loophole
Step 1: Registration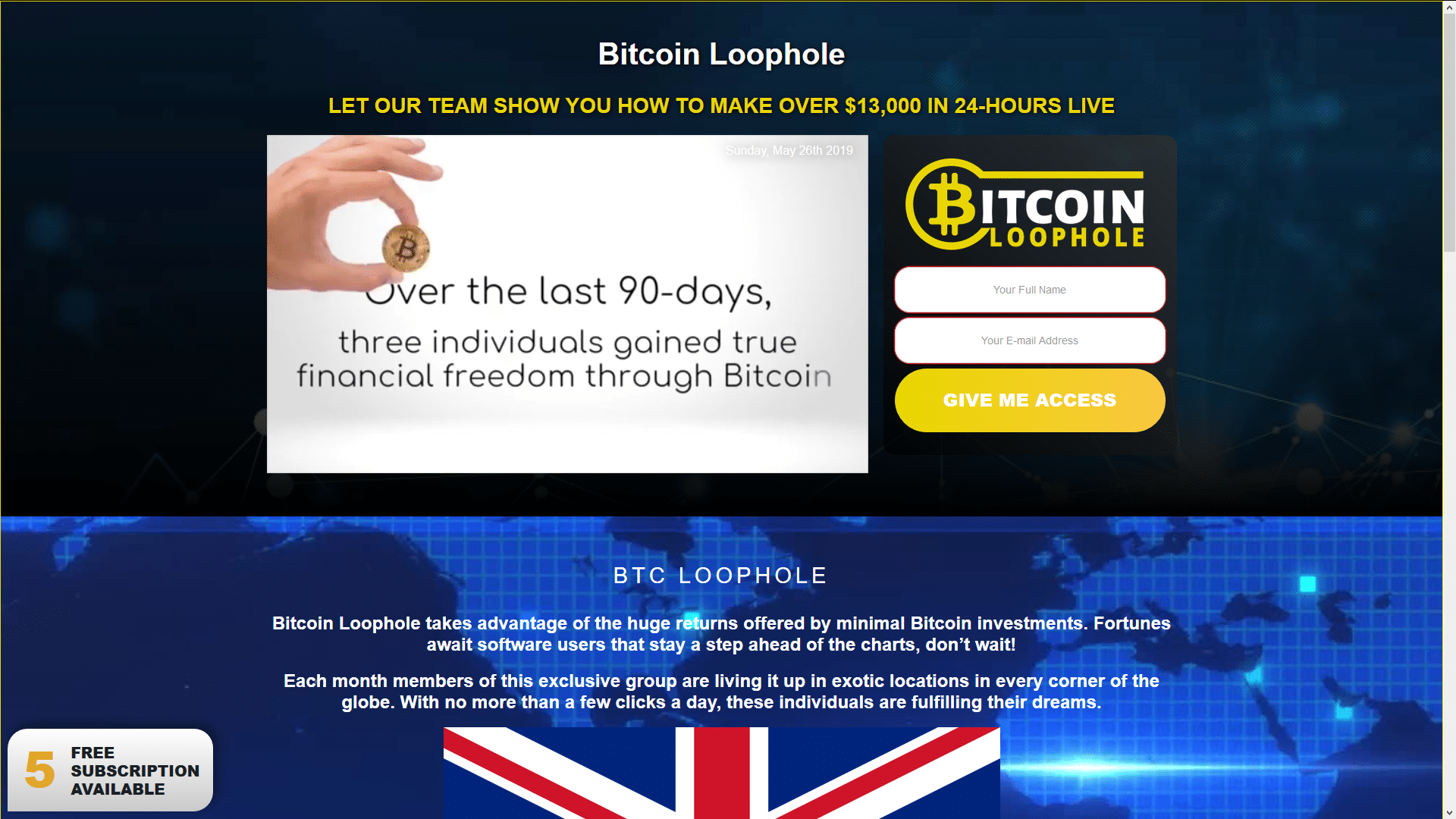 To start trading with the robot, traders must first create an account on the official website. To do so, traders must complete a registration form and then submit it. The trader must complete the registration form by providing some basic information such as the trader's full name, email address, contact number, country of residence, and so on. Registration on this auto trading software is completely free, and the auto trading system does not charge any additional fees in exchange for this service at all.
Step 2: Deposit Funds
For a new account, it is required that you make a minimal deposit of $250 to start trading with. However, it is always recommended to begin trading with the lowest possible deposit until the traders gain the confidence to invest more. Deposits can be made through wire transfers, cryptocurrency wallets, Skrill, Neteller, and Webmoney, which are all accepted. You can set your trading strategies which will be used for all your trades unless you change them.
Step 3: Demo Trading
You'll need to practice on the demo account to gain a better understanding of how the platform works. The Bitcoin Loophole demo account allows you to practice trading in a real market environment and become more familiar with the trading platform. The results you get on a live account are usually not that dissimilar from those you get on a demo account.
Step 4: Live Trading
After a deposit has been made successfully, then trading can start. Trading with the live feature on the Bitcoin Loophole platform is activated with a button. Before activation, you need to set the trading parameters for the bot, like the amount of risk you are willing to take, the stop losses, and so on. Risking too much can blow your account so be careful especially for first-time traders. Live trading is fully automated so you don't have to sit for hours or lose sleep to make a profit trading on this app.
Conclusion
Both Zignaly and Bitcoin Loophole allow users to manage and automate trades through their platforms. However, Bitcoin Loophole with its advanced technology, providing signals and easy access to customer support is the most suitable option for trading. We recommend Bitcoin Loophole for new and experienced traders hoping to make more money from crypto.
at Bitcoin Loophole – #1 Bitcoin Robot
Top 3 Zignaly Alternatives:
ALSO READ:
FAQs
Is Zignaly Legit or a Scam?
How Quick Can I Make Money On Zignaly?
How Many Trades Can I Make Daily with Zignaly?