Post-Crisis Tourism
Please note that we are not authorised to provide any investment advice. The content on this page is for information purposes only.
Citizens of the U.S.
Citizens of the U.S. and the world were deeply shocked and saddened when a gunman shot and killed about 50 patrons at an Orlando nightclub this past weekend. While the shooter's primary targets were the people enjoying an evening out, a secondary object of such incidents is typically tourism, with the aim of terrorizing a population so much that people don't travel there, thereby harming the economy.
Thus it was no surprise that the United Nations World Tourism Organization was among the many groups to swiftly condemn the attack and express its condolences to the victims' families and "full solidarity" with Americans.
However, is sending messages of solidarity and support enough?
At the Tourism Crisis Management Initiative at the University of Florida, which I oversee, we conduct research on a host of issues to help inform management, marketing and policy decisions in the industry.
In recent years, we've looked into how cities and other destinations react to shootings and other situations that negatively affect tourism to uncover best practices to mitigate the impact. We've learned several important lessons about what cities can do to assure tourists they can maintain their safety.
Importance of tourism
Orlando relies on tourism as a major contributor to its economy. In fact, the city that is home to Disney World, the Wizarding World of Harry Potter and SeaWorld received more than 60 million visitors in 2015, ranking it among the top destinations in the U.S. Tourism is responsible for an economic impact to surrounding Orange County of more than US$60 billion annually.
While research confirms that crime and terror have a negative impact on the cities where they take place, the tourism industry has actually become more resilient in recent years.
For example, the time it takes to fully recover has declined significantly. Back in 2001, it took hotels in New York 34 months to return to pre-attack occupancy levels, while other U.S. cities averaged 45 months following 9/11. Four years later, London hotels were back to normal occupancy just nine months after a series of suicide bombers on Underground trains killed 52 people. Perhaps this is because of London's greater experience with terrorism attacks.
In addition, more recently, the Boston Marathon bombing in 2013 had only a limited impact on hotel occupancy rates – with some reporting that tourism actually surged.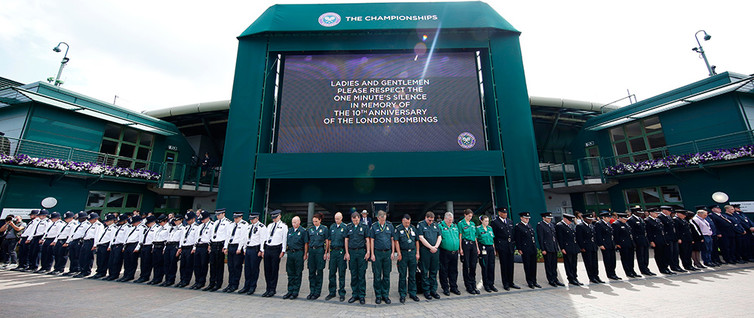 Members of the emergency services observe a minutes silence in memory of the 7/7 bombings in London at the Wimbledon Tennis Championships in London in 2015. Suzanne Plunkett/Reuters
Signaling safety
That's in part because destinations have gotten better about being proactive in their tourism crisis management. However, many destinations still do not engage sufficiently in preparedness and thus are at risk of losing visitors to other destinations.
Shootings like the one in Orlando tend not to depress overall demand. Tourists like to travel and feel the need for travel and take a vacation. Therefore, tourists tend to alter their travel plans rather than cancel.
This is good news for tourism destinations. However, since tourism is a zero sum gain, some destinations win while others will lose. Research suggests that tourists tend to flock to cities and other destinations where they feel safe and the risk is minimal.
As such, Orlando's tourism industry will need to implement a tourism crisis management plan immediately if it hopes to prevent would-be visitors from going elsewhere and minimize the shooting's impact on its economy.
Managing the perceived safety of visitors is above all about having a strong communication plan – that provides timely, accurate and informative messages – as well as a strong safety management program – putting more boots on the ground so there are visibly more police in tourist-dominated areas. One cannot effectively exist without the other.
Visit Orlando, the local destination management organization, for example, quickly posted the following statement from its president after the nightclub shooting:
Our deepest sympathies go toward those impacted and affected by this tragedy. We are appalled and saddened by this act of violence. We continue to work with our community partners on the evolving nature of this incident and have total trust in the dedication of our public officials' leadership during this difficult time.
While offering condolences is important in the communication process, it is not very informative to someone who is vacationing in the area or has booked a flight to Orlando next week and is wondering whether it's safe to visit. Rather, it is critical for an organization like Visit Orlando to inform visitors already there what they are doing to keep them safe and assure those with plans why they maintain keep them.
More than ever, tourists require true, informative, directive and honest information. The greater the destination can do this, the greater feelings of trust that are held for the destination management organization leads to greater feelings of trust and thus less economic loss to the destination.
Lessons learned
The Tourism Crisis Management Initiative has worked with destinations all over the world over the past five years to increase preparedness.
Specifically, we've studied how they responded to a variety of crises, such as a crime wave, terrorism, hurricanes and viruses such as Zika and Ebola, to learn what works and what doesn't. Here are some of those findings that are relevant for Orlando.
First, our research has revealed that due to the rise in citizen journalism and access to digital media, tourists turn to social media for information more frequently than ever before. Realizing this, Facebook developed a program in 2014 that turns on in a crisis and allows users to easily notify friends that they are safe. The Orlando attack prompted Facebook to activate it in the U.S. for the first time.
We recommend groups like Visit Orlando help publicize Facebook's Safety Check and similar apps so visitors know how to share their location and status with loved ones.
Our research also suggests that tourists need more specific safety information than locals do. Since visitors are usually unfamiliar with the geography and other aspects of their destination, it can be difficult to find information that's relevant to them and of what they can make sense. An example is when authorities are asking people to stay away from certain areas, and a tourist has no context for the directive.
Thus, tourist organizations need to fill in these gaps and help visitors understand these messages using landmark-filled maps and other methods. This will go a long way toward making a tourist feel safe, less likely to leave and more likely to stick to a planned trip.
In the same vein, Visit Orlando and other sites should make themselves the trusted source for one-stop shopping for all pertinent information on safety and security, with relevant links and regularly updated details. It's also a good idea to set up visitor safety stations and 1-800 hotlines, both of which demonstrate a commitment to safety and security.
Destinations that take a greater leadership role and provide accurate, relevant and timely information to their visitors are more likely to win in this zero sum game. Those that are unorganized or silent are more likely to lose.
Ultimately, tourists vote with their pocketbooks, and a destination's relative safety may determine where they take their next trip.
Terrorism and tourism: what cities should do to prepare for an attack is republished with permission from The Conversation