Shrimpy Review 2022: Is it Legit, or a Scam?
Bots have gained popularity in recent years, especially in cryptocurrency trading. Traders use these tools to analyze the market and perform trades automatically. Trading bots helps make the process faster in reading signals and carrying out trades for the user. However, with an increase in the number of automated trading platforms, there tend to be those that work better than others. We will be reviewing two automated trading bots, Shrimpy and Bitcoin Loophole. Read on to find out the best trading tool for you and how it helps make you a better trader.
Short Review of Shrimpy
Shrimpy is a cryptocurrency automated trading platform that provides a safe way to automate crypto trades and help manage all of the user's portfolios. The app help traders and investors manage all their crypto holdings located on different exchanges via a single platform. The platform has claimed that users can buy and sell orders across many trading pairs and exchanges like Binance, Kucoin, Gemini, and Coinbase.
Founded in 2018, the shrimpy team said that the platform makes it easy to grow a portfolio in an automated fashion and suggests to users how to make the most out of their trading activities. The platform offers its services via subscription with different plans having different prices, and each more expensive, giving limited access to the features of the app.
Features of Shrimpy
Referral program
Shrimpy is said to have another way to earn money on the platform. The app has a referral program, so it can attract more users to use the forum. This is a great opportunity as it attracts more users to gain from crypto and provides a way for a user to earn from the platform as the App promises to pay $30 for every referral.
Backtesting
Backtesting is a way for users to develop custom trading portfolios and strategies to have high trading performance. Shrimpy allows users to test strategy with historical data to see how the strategy would have performed in the past across exchanges. Although this is a good way to tweak your strategies, crypto is ever-changing and old strategies may not work as well as before.
Security
The platform is one of the safest bots in the market. Shrimpy makes sure every API key is securely encrypted and stored using hardware security modules to help protect the confidentiality of your exchange API. The app only requires the ability to read data and make trades so funds cannot be removed from exchanges. It also uses a two-factor authentication service to secure access to your account.
Supported Exchanges
Shrimpy is one of the platforms that supports the highest number of exchanges. The app supports the top 16 exchanges. Some of these exchanges are Binance, Kraken, Kucoin, Gemini, and Coinbase. All these exchanges are compatible with Shrimpy features, including the developer's API used to connect the platforms.
Short Review of Bitcoin Loophole
Bitcoin Loophole is an auto trading platform that uses technology such as AI to enhance its trading feature and help users make a profit. The app uses algorithms that help predict profitable trades for the users and test and use their preferred trading strategies. To get started with Bitcoin Loophole is free for all users. Bitcoin loophole only requires a one-time deposit of $250 to trade, after which traders can decide to increase their investment. Bitcoin Loophole accommodates both new and experienced traders with its automated and manual trading modes.
Features of Bitcoin Loophole
A Robot for Everybody
The most significant advantage is that it does not necessitate any prior understanding of the trading sector on the part of the trader to be effective. Additionally, it streamlines every aspect of a trading session, including the purchase and sale of Bitcoin, which is a function that is not available on any other cryptocurrency trading platform. Please bear in mind that this automatic crypto program is entirely free and can be used at any time by anyone.
Customization is simple.
Shrimpy provides customization options to help investors manage the trading process and ensure that the program trades according to their trading preferences. You can categorize your assets according to trades, trade periods, risk management programs, and other factors.
Customer service
Customer satisfaction is essential to the Bitcoin Loophole platform. As a result, Bitcoin Loophole customer service team is available every day of the week to assist investors with any concerns or trading questions they may have. The staff is courteous, professional, and attentive, and they go above and above to fulfill the demands of our investors.
Demo Trading
The demo trading tool allows traders to practice trading without having to commit to a live account. One can practice trading in the demo environment before moving on to a live trading session. It is the ideal trading feature for a new Bitcoin investor because it is straightforward.
Pros & Cons of using Bitcoin Loophole vs Shrimpy
Bitcoin Loophole Pros and Cons
| | |
| --- | --- |
| Pros | Cons |
|  Easy to use platform |  No mobile app |
|  Quick transactions |  Restricted access based on country |
|  Low Minimum deposit | |
|  Easy account registration | |
|  Excellent customer support | |
|  Good reputation | |
Shrimpy Pros and Cons
| | |
| --- | --- |
| Pros | Cons |
|  Portfolio automation rebalance |  No mobile app |
|  Integrates with top exchanges |  It does not offer crypto signals |
|  Secured platform |  Limited validity on the referral program |
| |  Financial security is not guaranteed |
| |  No free plan |
| |  No trading bot scripting support |
at Bitcoin Loophole – #1 Bitcoin Robot
How to Register to Bitcoin Loophole
Step 1: Registration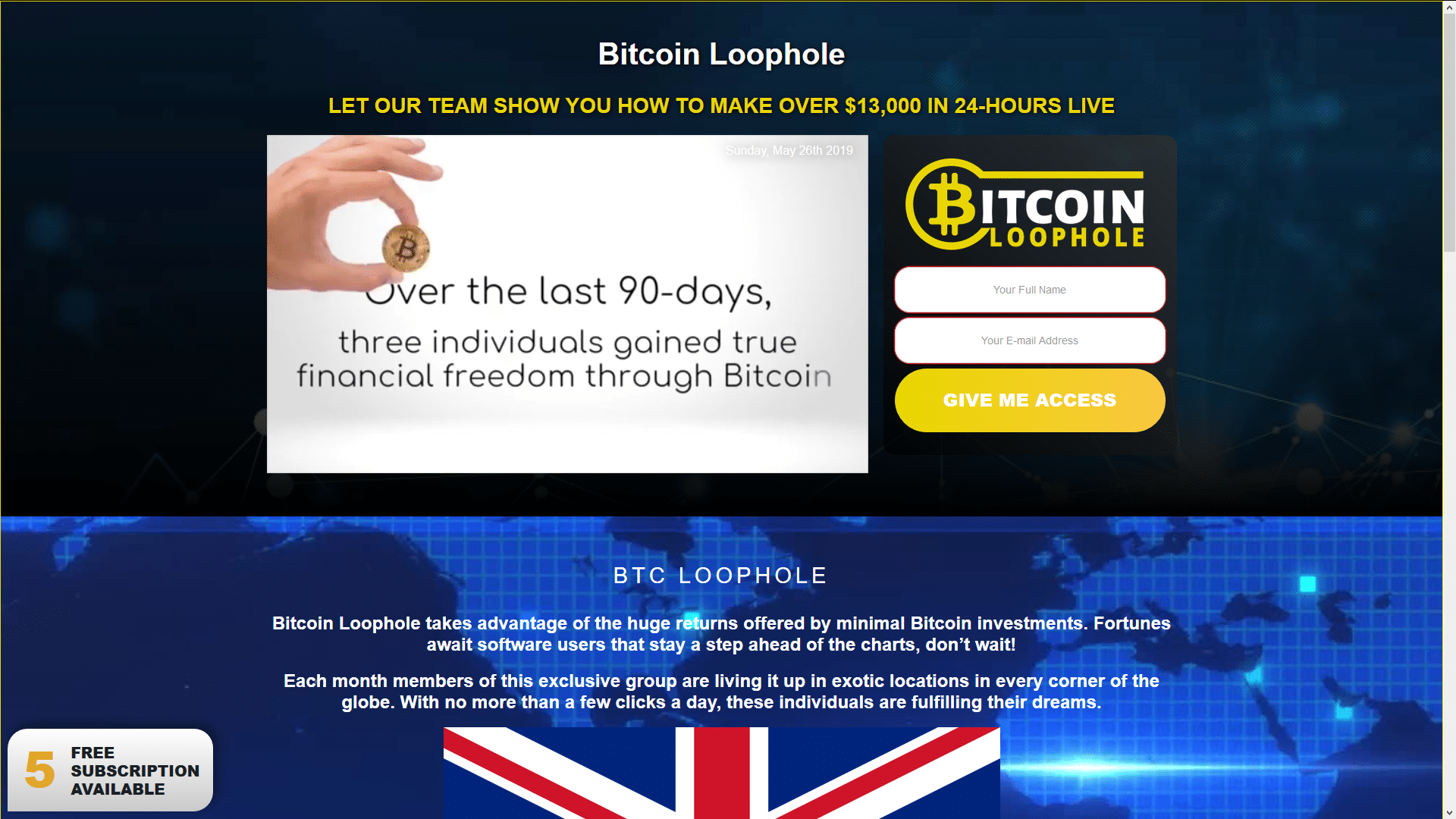 To start a Bitcoin Loophole account, you must first complete out the application form on the website, which requires a little personal information. Name, email address, payment method, country of origin, password, and phone number are examples of personal information.
The trader should first provide their full name and email address. It's a simple procedure: after entering the required information, you'll receive an email asking you to confirm your identity, and if you respond, your account will be created.
Step 2: Deposit Funds
After signing up, the trader is taken to a page that asks if they want to start a live trading session right away or if they want to start with a demo trading session first. To get started, traders must deposit a minimum of $250. PayPal, CreditCard, Webmoney, Skrill, Maestro, bank transfer, wire transfer, and more methods are also available for depositing funds. A deposit of $250 to $15,000 is required of investors. You can begin by depositing $250, which is the minimum.
Step 3: Demo Trading
It is a learning option for new traders who want to learn how cryptocurrency trading works. The demo trading feature gives traders an introduction to the crypto trading system by presenting them to various parts of their trading account, including their demo balance, open orders, current trades, trading history, winnings, dashboard, and so on. Whenever a trader starts a demo trade, they are given a $1500 demo balance.
Step 4: Live Trading
By simply hitting a button, you may join a live trading session, and the Ai trading bot will take care of your trading activities, including market pattern research and detecting the most profitable deals accessible on the market.
After selecting the live trading option, you will be prompted to specify your preferences; you can specify your daily maximum trade limits, daily stop loss, earnings, and much more. Aside from that, traders can choose the currency they want to exchange with. After making the necessary modifications to the parameters, you can turn on auto-trading and wait for their investments to be placed.
Conclusion
As we have seen, Shrimpy lets users manage their portfolios throughout exchange while Bitcoin Loophole allows you to trade profitably. With a high win ratio and providing signals for users to trade with automatically, Bitcoin Loophole can be a better choice for traders looking to make more profit from crypto. However, traders should trade with caution as the market isn't always favourable.
at Bitcoin Loophole – #1 Bitcoin Robot
Top 3 Shrimpy Alternative:
ALSO READ:
FAQs
Is Shrimpy Legit or a Scam?
How Quick Can I Make Money On Shrimpy?
How Many Trades Can I Make Daily with Shrimpy?