Xpeng Motors Stock Price Forecast November 2021 – Time to Buy XPEV Stock?
EV (electric vehicle) stocks including Xpeng Motors (XPEV) have whipsawed this year. While the year started off well and EV stocks continued their momentum from the last year, they soon came under pressure and almost all of them turned negative for the year.
However, over the last couple of months, the entire green energy space has seen buying interest. Tesla's market cap soared above $1 trillion while at its peak Rivian became a $150 billion company. Xpeng stock has also rebounded and is up almost 20% for the year. However, the stock is still 31% below its all-time highs. Fellow Chinese EV stocks like NIO and Li Motors are also trading at a big discount to their 52-week highs. What's the forecast for XPEV stock and is it a good buy in November 2021?
Xpeng released its third-quarter earnings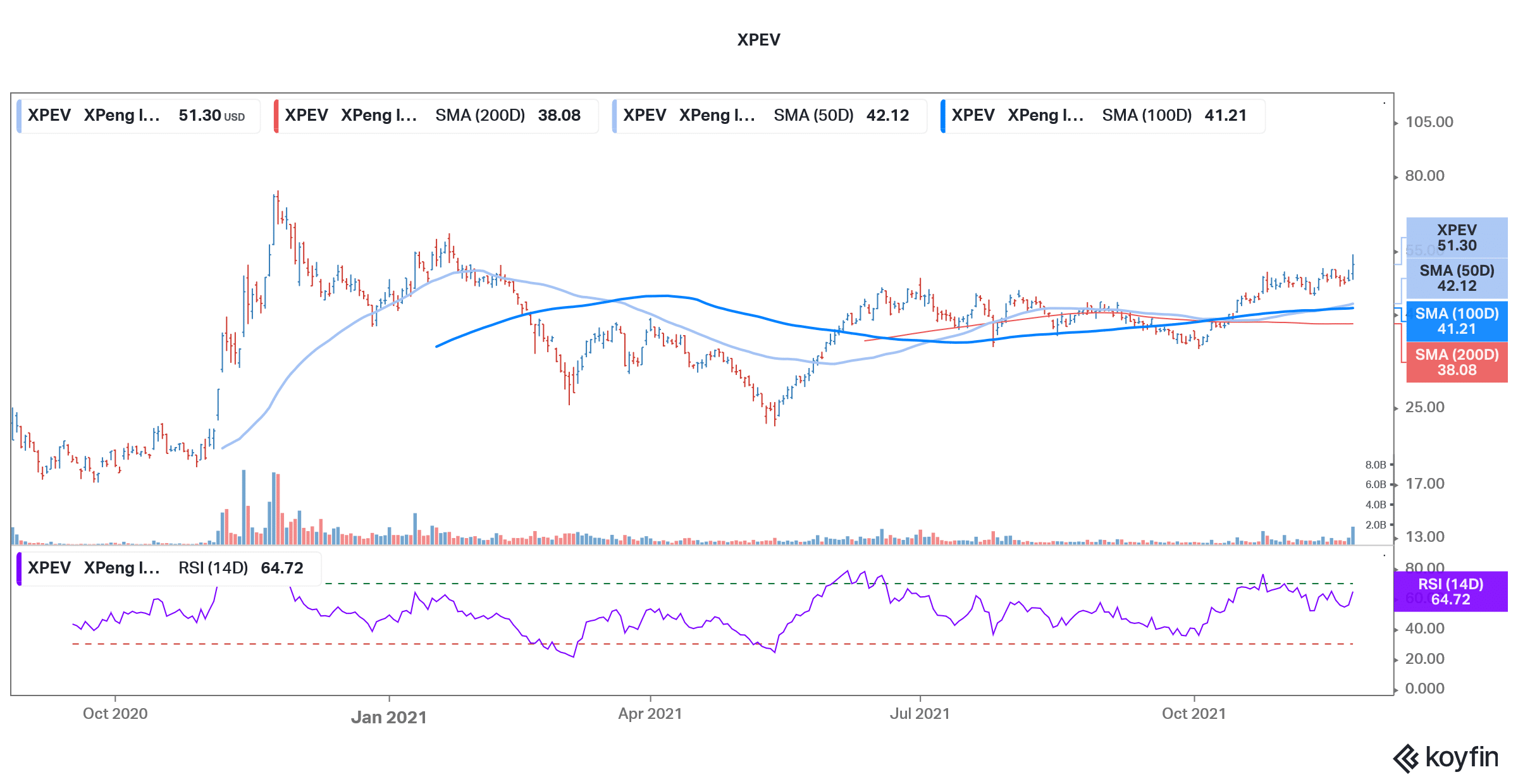 Xpeng released its third-quarter earnings yesterday which pleased markets. Its revenues were $887.7 million in the quarter which was ahead of estimates. Its gross margin also expanded to 14.4% which was higher than the 11.9% margin that it had posted in the previous quarter. The company's margins have been expanding as it achieves economies of scale amid rising production. XPEV's third-quarter deliveries almost tripled in the third quarter and reached a new quarterly high of 25,666. It also achieved the milestone of delivering its 100,000th car this year.
To put that in perspective, Tesla delivered its millionth car last year and its current annual production run rate is almost a million cars. This goes to show how quickly EV companies have been ramping up production.
Meanwhile, like fellow startup EV companies Xpeng Motors is also posting losses and its net loss swelled to $247.5 million in the third quarter. Notably, among pure-play EV companies, only Tesla is posting sustainable profits. However, it also took over a decade to turn sustainably profitable. XPEV has said that it expects to reach breakeven in the next two years.
68% of all retail investor accounts lose money when trading CFDs with this provider.
XPEV's guidance was better than expected
Meanwhile, more than Xpeng Motors' earnings, it was the fourth-quarter guidance that got markets enthused. XPEV said that it expects to deliver between 34,500-36,400 cars in the fourth quarter. After accounting for the 10,100 cars that it delivered in October, it would mean average monthly deliveries in excess of 13,000 cars in November and December, at the top end of the guidance.
XPEV ended the quarter with total cash and cash equivalents of just above $7 billion. Apart from the follow-on stock offering that it did last year, it also went for a dual primary listing in Hong Kong earlier this year and raised around $2 billion from the offering.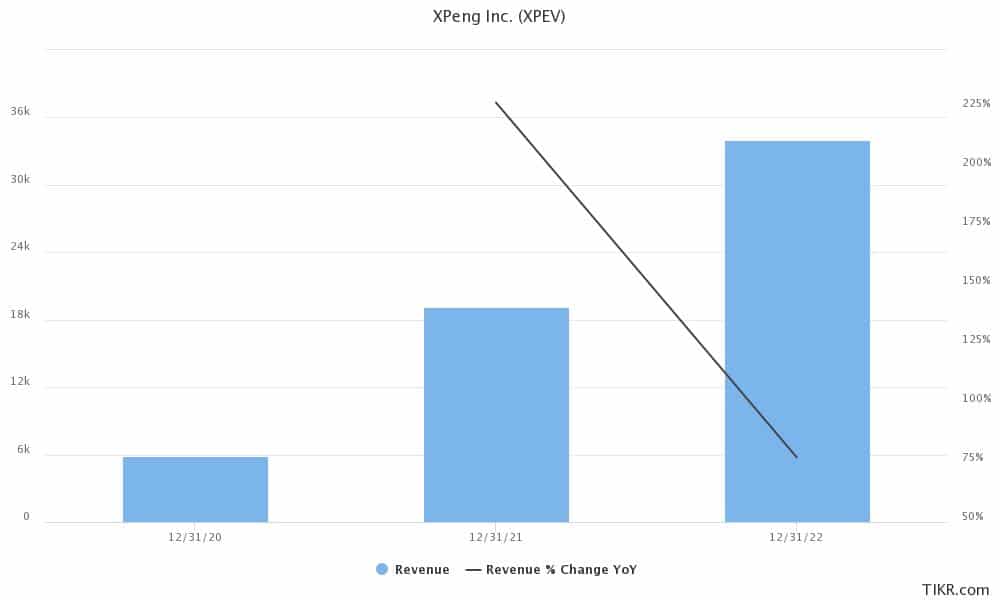 Xpeng Motors stock forecast
Wall Street analysts have a bullish forecast for XPEV stock and 19 of the 20 analysts polled by CNN Business rate it as a buy while one analyst has a hold rating. None of the analysts have a sell rating on the stock. Notably, Xpeng Motors has among the highest percentage of buy recommendations in the pure-play EV stock universe.
The stock's median target price of $57.94 is a 13% upside over the next 12 months. Its street high target price of $92 is a premium of over 79% while the street low target price of $27 is a discount of 50.7%.
XPEV stock long-term forecast
The long-term forecast for Xpeng Motors looks positive looking at the impetus that China has provided for the electric car industry. While the country has cracked down on several industries, it hasn't tinkered with the electric vehicle industry as it sees it as a strategic industry as part of its "Make in China 2025 program."
XPEV has already started international operations beginning with Norway and expects to enter Denmark, Sweden, and the Netherlands next year. The company has outlined ambitious plans of selling half of its cars in international markets. While it may seem a tall task at this moment, it is very much achievable considering the impetus towards electric cars globally.
"As a company that focuses on global opportunities, we want to be balanced with our contribution of delivery — half from China, half from outside China — in the long run," said XPEV chairman Brian Gu.
The company is also advancing its autonomous driving feature. In the third-quarter earnings release, it said "The solid progress we've made in the NGP (Navigation Guided Pilot) fuels greater confidence in our ability to explore autonomous driving enabled mobility solutions in the future, such as robotaxi technologies."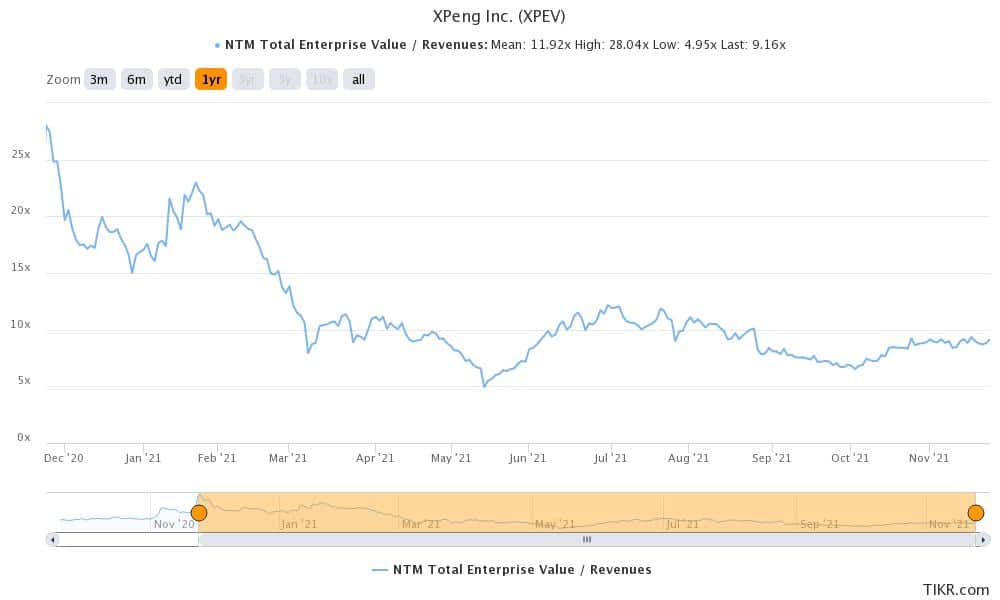 Should you buy Xpeng Motors stock?
Xpeng Motors has also unveiled the new G9 flagship smart SUV which is the company's fourth model. The launch of new models and expansion into new markets would drive XPEV's revenues. Also, it is advancing on autonomous driving and robotaxis which could be the real value add for investors. Incidentally, Tesla's CEO Elon Musk believes that most of the company's valuation comes from the software business, which includes the FSD (full-self driving) and the yet-to-be-launched robotaxis.
Xpeng Motors stock now trades at an NTM (next-12 months) enterprise value-to-sales multiple of 9.2x which seems reasonable. If the company can continue to grow the revenues and achieve breakeven by 2023 as the management has guided for, it could see better days ahead.
The stock is looking good on the charts also and is in an upwards momentum. It has moved above the 50-day, 100-day, and 200-day SMA (simple moving average) which is a bullish sign. The 14-day RSI (relative strength index) is 64.7, which is a neutral indicator but is getting towards the oversold zone.
Overall, looking at the growth prospects and the renewed optimism towards EV stocks, Xpeng Motors would look like a good buy.
Buy XPEV Stock at eToro from just $50 Now!