Would Alphabet Follow FAANG Peers & Announce Mass Layoffs
Please note that we are not authorised to provide any investment advice. The content on this page is for information purposes only.
There has been a flurry of layoffs at Big Tech companies this year. Among FAANGs, Netflix, Amazon, and Meta Platforms have announced mass layoffs this year. Would Alphabet follow FAANG peers and announce layoffs?
Over the last month, Meta Platforms and Amazon have announced mass layoffs. Meta Platforms laid off 11,000 employees which are around 13% of its workforce. Notably, Meta Platforms' layoffs came weeks after Altimeter Capital Chair Brad Gerstner, whose firm is a Meta Platforms stockholder, wrote a letter to Mark Zuckerburg and Meta Platforms board calling upon the company to lower its headcount and cut its capex.
Tech giants including Alphabet have slowed down hiring considerably amid the economic turmoil.
Tech layoffs
During the Q3 2022 earnings call, Zuckerburg said that Meta Platforms would slow its hiring and the headcount in 2023 would be similar or lower to 2022. However, pressure from stockholders amid the slump in Meta Platforms stock likely prompted a rethink.
While announcing the layoffs, Zuckerburg said that he erred in believing that the super high growth of the early days of the pandemic would be sustainable. He said, "Unfortunately, this did not play out the way I expected. Not only has online commerce returned to prior trends, but the macroeconomic downturn, increased competition, and ads signal loss have caused our revenue to be much lower than I'd expected."
Alphabet missed earnings estimates in the third quarter
During Alphabet's Q3 2022 earnings call, CEO Sundar Pichai said that the company has slowed the pace of hiring in the fourth quarter. He added, "Our actions to slow the pace of hiring will become more apparent in 2023." Pichai also said, "We are focused on both investing responsibly for the long term and being responsive to the economic environment."
Alphabet's revenues increased 6% YoY to $69.09 billion in the third quarter but trailed analysts' estimate of $70.58 billion. Its ad revenues increased only about 2.5% to $54.48 billion. However, YouTube revenues fell on a yearly basis. It was the first time in the company's history that YouTube's revenues fell YoY.
YouTube is facing stiff competition from TikTok. While the company has increased focus on "Shorts" it has been a drag on earnings due to lower monetization.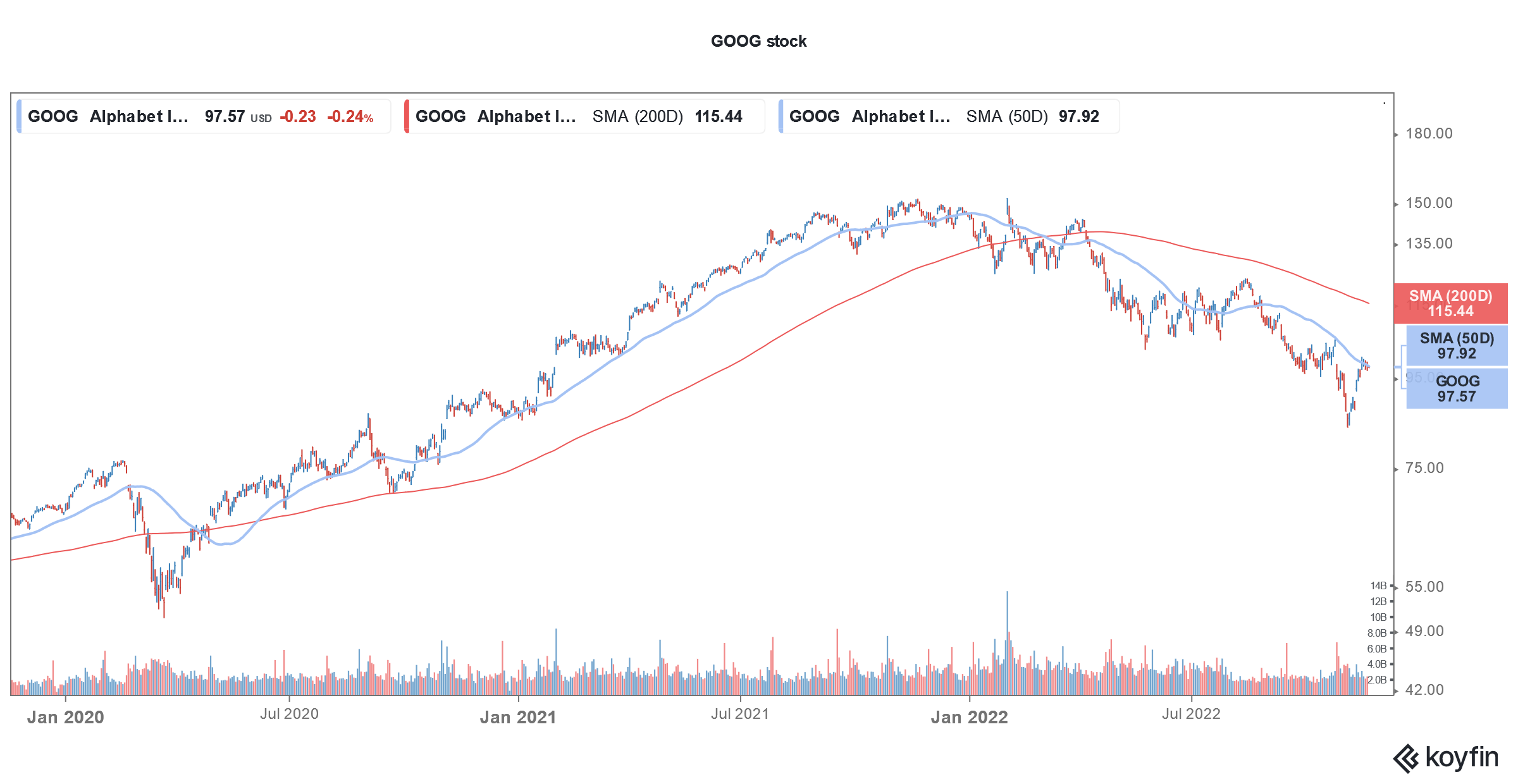 Alphabet faces pressure from stockholders
Meanwhile, amid sagging stock prices, Alphabet is facing the heat from stockholders. TCI Fund Management, which owns around $6 billion worth of Alphabet shares, has written a letter to the company calling upon the management to lower costs, trim losses in new businesses, set an EBIT target, and increase buybacks.
TCI said that the average compensation at Alphabet is quite high
In its letter, TCI said, "An analysis by S&P Global illustrates that median compensation at Alphabet was 67% higher than at Microsoft and 153% higher than the 20 largest listed technology companies in the US. There is no justification for this enormous disparity."
It said that cost controls took a back seat between 2017 and 2021 as Alphabet's sales were rising at a fast pace. It however said, "cost discipline is now required as revenue growth is slowing. Cost growth above revenue growth is a sign of poor financial discipline."
It also said that "As part of basic financial management, Alphabet should establish and publicly disclose an EBIT margin target for the Google Services segment. We believe an EBIT margin target of at least 40% is reasonable." TCI said that Alphabet management's compensation should be linked to the EBIT target.
Alphabet is facing calls to cut losses in new businesses
TCI also called upon Alphabet management to cut losses in new business. It said, "Over the last five years, Other Bets has generated only $3 billion of cumulative revenues but incurred a massive $20 billion of cumulative operating losses."
TCI said that Alphabet should cut the losses in these other bets by half. It especially pointed to the losses at Waymo, Alphabet's self-driving unit. Notably, the optimism over self-driving companies has come down.
Argo AI, which was backed by Ford and Volkswagen has shut down. Nuro, which is backed by Alphabet, SoftBank, and Tiger Global is also laying off 20% of its employees. Aurora Innovation, which bought Uber's self-driving business in 2020, trades at a discount of over 80% over the SPAC IPO price.
Wall Street analysts see GOOG stock as a long-term bet
After Alphabet's Q3 2022 earnings release, several analysts lowered their target price on the stock. However, Loop finds GOOG stock attractive and maintained its buy rating. In its note, Loop said, "We think the core search franchise will remain resilient compared to other forms of advertising and view GOOGL shares as highly attractive at current levels."
TCI also wrote in its letter that Alphabet stock is undervalued and the company should increase its buybacks. It said, "Alphabet's share price is down 34% year-to-date and the stock is trading on only 16x 2023 EPS. This is based on our estimates adjusted for losses in Cloud, Other Bets and net cash. The stock is very cheap. Alphabet should take advantage of the current low valuation and significantly accelerate share repurchases."
So far, Alphabet hasn't responded to the letter from TCI. However, given the sagging stock price and pressure from institutional investors, the company might need to take steps to reduce its cost base.