World's Biggest MMA Star Enters The World Of Online Investing
Please note that we are not authorised to provide any investment advice. The content on this page is for information purposes only.
The worlds of sport and investing were again bonded. One of the most successful athletes in the history of mixed martial arts Conor McGregor has just started a partnership with a global investing company XTB. The announcement of the cooperation with the fighter who proved to have a business acumen and be a successful investor marks the start of the broker's new global branding campaign that promotes a wide range of investment solutions.
Conor McGregor is a multi-weight UFC champion, entrepreneur and global business and athletic icon. Hailing from Crumlin, Dublin, McGregor was a plumber's apprentice and amateur fighter before bursting onto the UFC scene in 2013. He quickly rose up the ranks, winning the UFC Featherweight Championship in 2015. McGregor then made history by becoming the first fighter in UFC history to be champion in two weight divisions simultaneously, winning the UFC Lightweight Championship in 2016.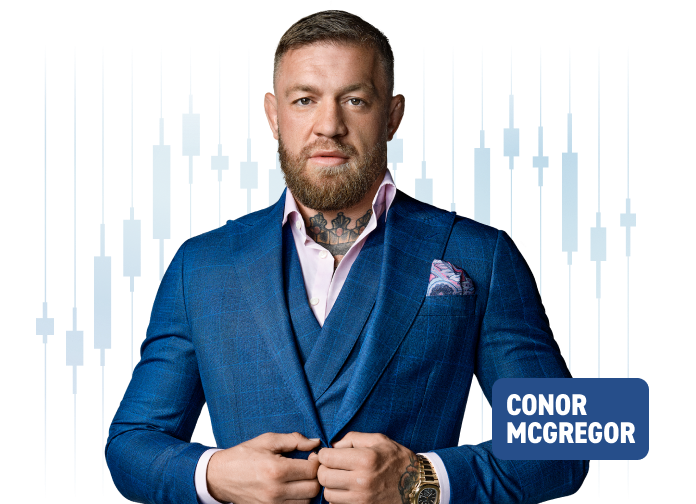 "I've just had this dream since I was a kid to be the best there ever was. I wanted to give an incredible life to myself and my family. And I never let anything stop me. I put in the work, took risks, and the results came" – says McGregor on his successful way from boxing gyms in a suburb of Dublin to the UFC championship.
McGregor is the largest draw in UFC history, headlining the top six most-bought pay-per-view events for the company. He is the most-followed UFC fighter on social media with more than 70 million followers across all platforms, and has set the record for the most career earnings by a UFC athlete.
Outside the Octagon, McGregor has found similar success. He founded Proper No. Twelve Irish Whiskey in 2018, which has become the fastest-growing whiskey brand on the market. In addition to Proper No. Twelve, McGregor has invested in a stable of business ventures including: TIDL Recovery Spray, McGregorFast fitness experience among others.
Conor McGregor admits there are similarities between business and sports: "If you want to win, you need to be all-in. You need to prepare, you need to know your opponents, your competition. You need to understand yourself – your strengths and weaknesses, and you need to be dedicated to craft. You can come from any background and be successful in business. It's not just a club for the guys on Wall Street."
He is also a restaurateur and owns the Black Forge Inn in Dublin. The former UFC double champion is always looking to add new business projects to his list. In 2020 he entered the mobile games business with the Dystopia: Conquest of Heroes video game series. This diversified portfolio helped place McGregor at number 1 on the 2021 Forbes "Highest-Paid Athletes" list.
"You can't just invest money; you have to invest your time, your emotions, and make a personal commitment. I take an active role in every venture" – stated McGregor when asked what determines success in business.
Conor McGregor has just started a partnership with XTB, a global investment company that offers one of the most popular online investing platforms. This fintech solution is available in 13 markets around the world and is already used by over 500,000 investors. The multi-award winning xStation platform allows users to easily invest in over 2,100 various types of assets: CFD stocks and ETFs, forex, indices, and commodities. It is designed to meet the needs of both beginners and more experienced investors.
"Determination, persistence in pursuing goals, the willingness to constantly develop and achieve the best results – these are also the features of a good investor. Conor as an athlete – and also a businessman – has the mindset of a winner. That's why we decided to invite him to become the ambassador of the XTB brand" – says Omar Arnaout, CEO of XTB.
The partnership with Conor McGregor is not the first time XTB has entered the sports world. In 2020 the company announced Jose Mourinho, world's famous football coach as its ambassador. Recently, XTB has been particularly active in the area of martial arts. The company is also partnering with Joanna Jędrzejczyk, one of most decorated female fighters, and Jiří Procházka, a Czech mixed martial artist and the current UFC Light Heavyweight Champion.
MMA is one of the most dynamically developing sport disciplines in the 21st century. Mixed martial arts several years ago was a niche discipline. Now, however, we are talking about a sport that has won the hearts of fans around the world. On every continent, people fill arenas or even stadiums to applaud modern gladiators. One of the reasons for MMA's popularity is the ability to confront seemingly different athletes who come from different sports. Mixed martial artists must be versatile on every level, and the final success can be brought about by proper preparation, the ability to take control of emotions and consistent implementation of the strategy.
With Conor McGregor as their brand ambassador, XTB plans to continue its development. The number of the investing company's clients worldwide has crossed the threshold of half a million. Thanks to the active global development and the systematically growing number of clients, the company strengthens its position on the investment market – XTB ranks among top five global brokers in terms of the number of active clients.
CFDs are complex instruments and come with a high risk of losing money rapidly due to leverage. 81% of retail investor accounts lose money when trading CFDs with this provider. You should consider whether you understand how CFDs work and whether you can afford to take the high risk of losing your money.