Wells Fargo Stock Price Forecast April 2022 – Time to Buy WFC Stock?
Please note that we are not authorised to provide any investment advice. The content on this page is for information purposes only.
With a YTD gain of almost 3%, Wells Fargo (WFC) stock is outperforming the S&P 500 in 2022. The banking sector had outperformed the markets in 2021 also and WFC was among the biggest gainers.
Banking stocks have whipsawed this year and are trading below their 52-week highs. What's the forecast for Wells Fargo stock and is it a good buy in April 2022?
The outlook for banking stocks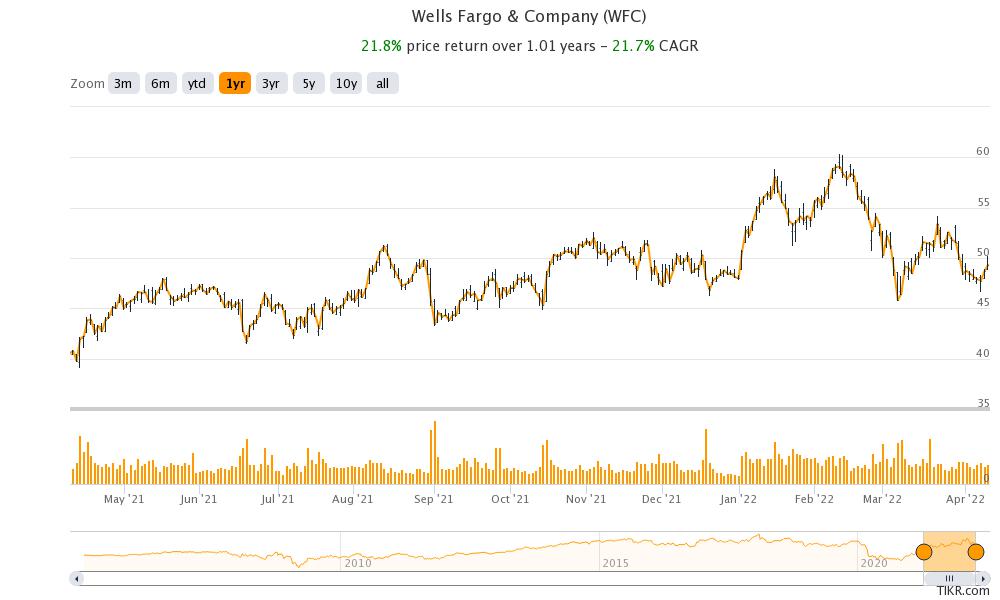 Banks generally borrow at the short end of the curve and lend at the long end. In a rising rate environment, they make a higher margin as compared to what they make in a low interest rate environment. However, banks stocks are cyclical in nature. In a booming economy, banks do well. However, if the economy slows down or worse goes into a recession, banks take a hit. We saw something similar in 2020 as banks had to set aside billions of dollars towards loan loss reserves.
However, in 2021, banks reported a bump in their earnings as they released money from the reserves amid the rebound in the economy. Looking at the current macroeconomic picture, while interest rates are rising and the US Federal Reserve is expected to raise rates as many as seven times this year, there are concerns over the health of the US economy with some economists even predicting a recession. That said, most brokerages believe that Wells Fargo is among the best-placed banks in a rising rate environment.
68% of all retail investor accounts lose money when trading CFDs with this provider.
Citi upgraded Wells Fargo stock
Yesterday, Citi upgraded Wells Fargo stock from a neutral to a buy and said that the bank is well placed amid rising US interest rates. "WFC struck us as among best positioned for higher rates and we see 8% EPS upside in 2023 with limited credit risk. Planned cost saves and removal of asset cap are an added benefit," said Citi analyst Keith Horowitz in a note.
Horowitz added, "As we refreshed our models, one balance sheet that clearly stood out to us was WFC in terms of capital flexibility and asset sensitivity."
Brokerages on Wells Fargo stock
Citi is not the only brokerage that believes that Wells Fargo is a good bank stock to buy amid rising rates. Earlier this year, Barclays analyst Jason Goldberg also echoed similar views. He said, "WFC stands to benefit the most of our coverage universe from higher interest rates while it has made significant investments in its control functions since its retail banking sales practice issues came to light. The eventual lifting of regulatory restrictions also represents a potential catalyst looking out."
Morgan Stanley also believes that Wells Fargo is the best bank stock to play the rate hikes. It said, "We're getting back onboard our Wells Overweight call, ~2 months after our downgrade to Equal-weight. Why the change? Biggest driver is higher Fed Funds Futures, as Wells is the most asset sensitive stock in our coverage."
Notably, WFC has been in perennial controversies over the last five years but things have been getting on track under the new CEO Charlie Scharf.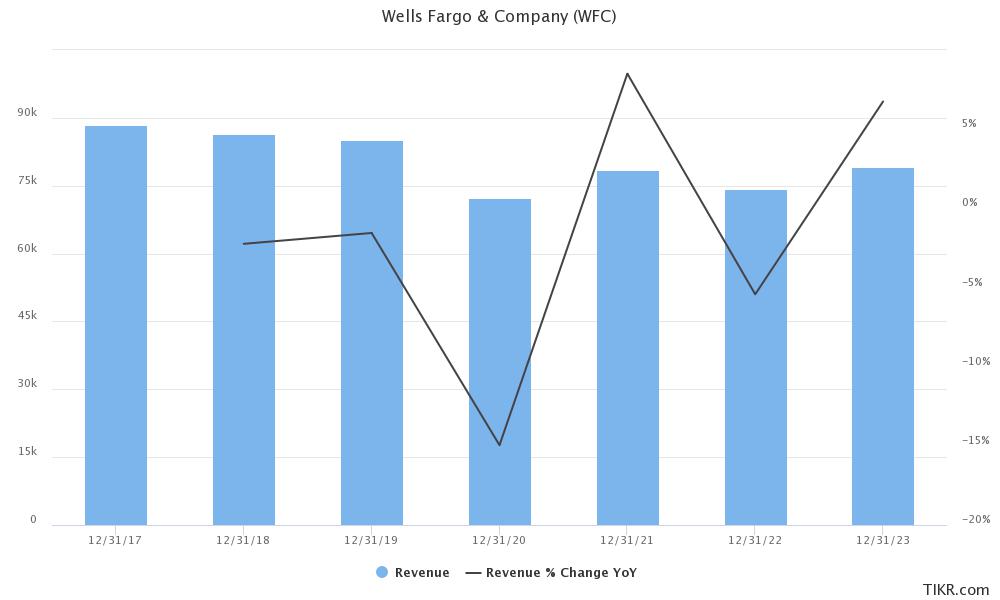 Warren Buffett has almost exited WFC
Berkshire Hathaway chairman Warren Buffett, whose conglomerate was once the largest Wells Fargo stockholder, has almost exited the company. Buffett has also exited several other banks like JPMorgan Chase and Goldman Sachs. However, the Oracle of Omaha added more Bank of America shares and took the holding above 10%, something which he had consciously avoided to escape higher regulatory scrutiny.
Meanwhile, after waiting on the sidelines for almost two years, Buffett is back at dealmaking. This year, Berkshire has made significant investments in Alleghany, Occidental Petroleum, and HP.
Wells Fargo earnings
We're now into the first-quarter earnings season and several US banks including Wells Fargo would report their earnings this week. S&P Global Market Intelligence lead banking analyst Nathan Stovall believes that bank earnings would come down in 2022 as compared to 2021 on lower loan reserves release. He said, "We're not going to get that same juice this year, and higher rates definitely help, but not enough to match that performance."
Analysts expect Wells Fargo's revenues to fall 1.3% YoY to $17.8 billion in the quarter while its adjusted EPS is expected to fall 21.6% to $0.81 in the quarter. In the full year 2022, analysts expect WFC's revenues to fall 5.4% to $74.2 billion. The company's adjusted EPS is expected to fall 17.9% to $4 over the period.
WFC stock forecast
Wall Street analysts have a consensus buy rating on Wells Fargo stock and of the 28 analysts covering the stock, 23 have a buy rating while five have a hold rating. None of the analysts have a sell rating and over the last three months, several brokerages have upgraded WFC stock. Its median target price of $62 is a 26.5% premium while the street high target price of $71 is a 45% premium over current prices. The stock even trades 8.2% below its street low target price of $53.
Should you buy Wells Fargo stock?
Wells Fargo looks like a good bank stock to buy unless you share the view of some economists that the US economy is headed for a recession in 2022. Looking at valuations, WFC stock trades at an NTM (next-12 months) PE multiple of 12.4x which looks reasonable. The stock trades at a price-to-book value multiple of 1.1x which is also reasonable. For banks, a price-to-book value multiple much above 1x is seen as a sign of overvaluation and vice versa.
Overall, Wells Fargo can be a good bank stock to buy in 2022 especially after it has dipped considerably from its 52-week highs.
Buy WFC Stock at eToro from just $50 Now!