W.P. Carey Share Forecast January 2022 – Time to Buy WPC?
Shares of real estate advisory and investment company W.P. Carey (NYSE: WPC) are in the green today, after closing at $80.10 as of January 12th (19:54 EST). W.P.Carey started buying when many REITs circled the wagons in 2020. It kept up this buying in 2021 and achieved record levels of acquisitions, with a focus on industrial and warehouse assets. Investors agree that W.P. Carey's opportunistic, diversified approach to the real estate sector allowed it to take an aggressive stance early in the pandemic.
W.P. Carey – Technical Analysis
W.P. Carey's financial statement indicates a market cap of $14.75 billion with total assets worth $15.135 billion. Revenue for 2020 was at $1.21 billion with a profit margin of 39.41% compared to $1.23 billion in 2019.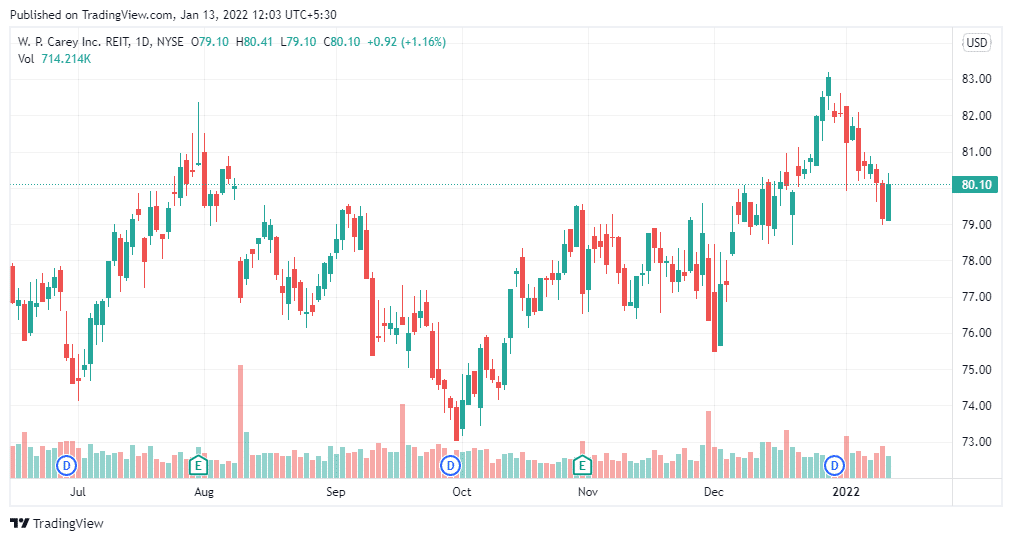 Moving averages such as Exponential Moving Average (10)(80.50),  Simple Moving Average (10)(80.82),  Exponential Moving Average (20)(80.45),  Simple Moving Average (20)(80.87) and Exponential Moving Average (30)(80.11) are neutral. Oscillators such as Relative Strength Index (14)(49.27),  Stochastic %K (14, 3, 3)(15.40),  Commodity Channel Index (20)(−60.63), Average Directional Index (14)( 16.84) and Awesome Oscillator(0.32) are neutral.
68% of all retail investor accounts lose money when trading CFDs with this provider.
Recent Developments
W.P. Carey functions as a unique REIT that offers a generous yield and an incredible amount of diversification in a single package. The company announced that it was looking to acquire industrial and warehouse assets in 2020. The main focus was to take advantage of the ongoing, and sped-up, shift toward digital shopping. This came at a time when companies were looking to raise cash by selling assets. This continued through 2021 when W.P. Carey announced the acquisition of a record $1.73 billion worth of property.
The acquisitions consisted of 60% from the United States market and 40% from Europe, with 70% of the properties being bought in the industrial and warehouse spaces. This will help grow the company's funds from operations (FFO). The acquisitions had an average lease length of 20 years with additional rent hikes or increases due to inflation. Management expects the acquisition deal to continue into 2022.
During the first three quarters of 2021, W.P. Carey produced total revenue of $956.6 million representing 6.1% growth over the year-ago period. The company achieved this by increasing its property count from 1,204 in the third quarter of 2019 to 1,264 properties. Rent collection increased by 99.5% bolstered by the economic recovery. While management hasn't released a forecast for 2022, it invested a record $1.73 billion in 2021. Significant acquisitions are expected to be made in 2022 thanks to huge addressable markets in the U.S. and Europe. 50% of W.P. Carey's rents came from industrial and warehouse assets. The other half consists of office (21% of rent), retail (17%), self-storage (5%), and a fairly broad "other" category.
Should You Buy WPC Shares?
While W.P. Carey is fundamentally healthy, it has a high dividend yield of 5.3%. In2021, the company paid out approximately $4.20 in dividends per share against its midpoint AFFO-per-share projection of $4.98. This comes out to an 84.3% payout ratio. This payout ratio gives the company a safety net in case another COVID variant prompts a partial lockdown. It also allows it to retain the AFFO necessary to continue funding acquisitions to expand.
W.P. Carey is currently trading at an AFFO valuation multiple of 16.1 for 2021. Compared to other REITs such as Realty Income, there is room for valuation-multiple expansion for W.P. Carey. Thus a combination of the $80 share price with its high yield makes it a "buy" for income investors.
Buy WPC Stock at eToro from just $50 Now!