Unus SED LEO Price Up By 4.80% – Time To Buy LEO Coin?
The bears have seized control of the crypto market but this seems to be having little effect on 47th ranked crypto asset Unus SED Leo. The digital currency has risen a handsome 4.80% despite a generally negative figure for large-cap virtual currencies like Bitcoin. This uptrend has lent credence to the crypto project, and more investors are on the lookout to buy LEO. Given the growing interests, it is only right that we consider the fundamentals backing this project's outstanding performance and if you should buy LEO.
Unus Sed Leo: Utility Token For the Bitfinex Exchange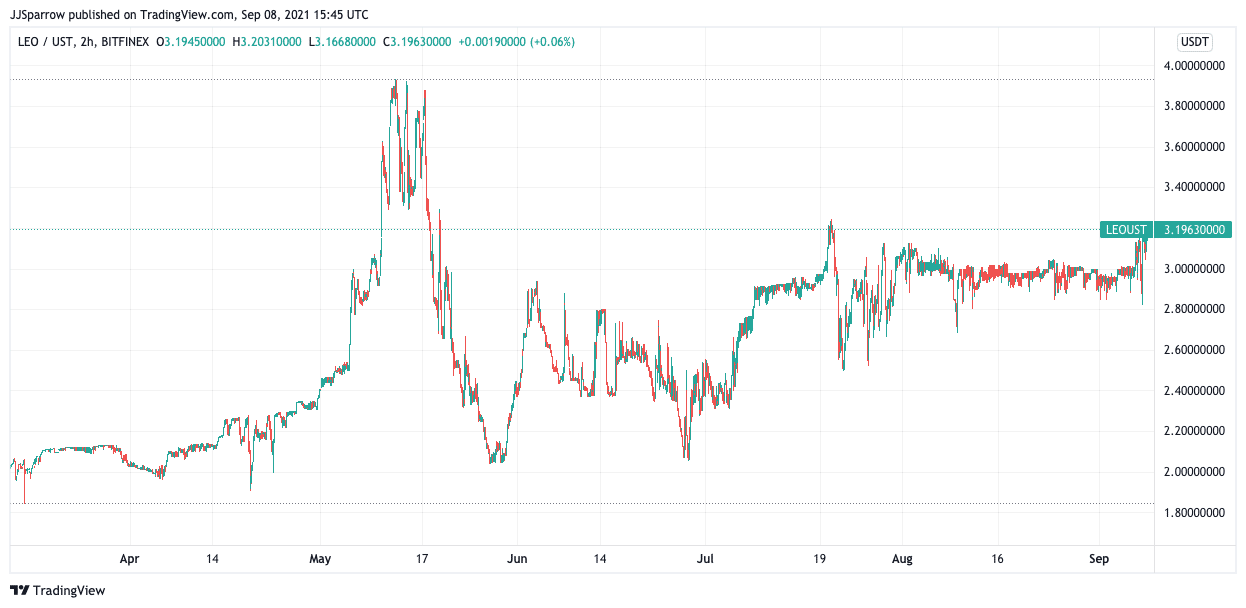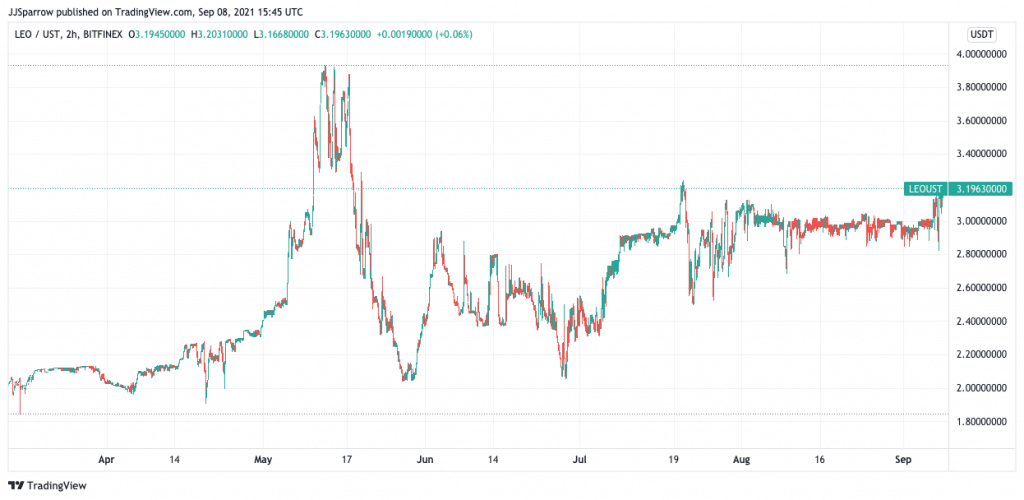 Unus Sed Leo is the utility token for the iFinex ecosystem and is mainly used for minimizing transaction costs on the exchange platform. Unus Sed Leo has a peculiar origin and came about following a financial crisis that saw over $850 million of iFinex funds seized by the government.
This was a regulatory action that saw Crypto Capital Corp, the banking services provider iFinex used in storing funds, sanctioned for illicit activities.
Unus Sed Leo literally means 'The Sow and the Lioness' and is named after one of Aesop's fables, 'One, but a Lion.' Like discount tokens like popular Binance Coin and Kucoin Shares, Unus Sed Leo help traders save money on trading fees on the Bitfinex crypto exchange.
Like Binance Coin, Unus Sed Leo has a hard cap limit structure in place, and only 1 billion LEO tokens were created during the launch in 2019. It also uses a unique token mechanism similar to the conventional system of buying back a company's shares.
The company said that this would help it recover the lost funds and simultaneously increase the digital token's value. The amount burned per time equals 27% of the generated revenue by iFinex, and the crypto exchange plans to continue the token burn until 100% of the tokens have been redeemed.
Another key attribute about the LEO token is that it is currently operating on two separate blockchains. A large chunk (about 64%) can be found on the Ethereum network, while the remaining 36% is available on rival decentralized applications (dapps) platform EOS blockchain.
LEO: Small Wins, Major Strides
LEO has been seen as an underdog for much of the bull waves that have permeated. Investors' attention has been cemented on Bitcoin and Ethereum, with several altcoins like LEO generally going under the radar. However, the digital asset has grown in its own right to $3.1 billion in market cap.
Price-wise, LEO has come a long way after making an entry price of $1.1 on Jan. 1, 2021. It rallied with the wider crypto market seeing an exponential increase of 300% after hitting a record value of $3.8905 on May 12. It subsequently dipped following the May crypto sell-offs, trading sideways for much of the three months.
The discount token picked up steam once more in early August after brushing through the $3 mark, maintaining a bullish streak for much of the month.  At press time, LEO is trading at $3.15, up 4.80% in the last 24 hours. This is despite the general crypto doldrums, and this could be a great time to buy LEO.
LEO Technical and Fundamental Analysis
LEO's technical indicators are bullish, with the digital asset trading above the 20-day moving average (MA) support price of $2.99. This could see it find support at the $3 mark and see resistance at the $4 mark if the bulls control to sway the market in their favour.
The relative strength index (RSI) is bullish as the oscillator shows that LEO is trading close to the overbought region at 67.50. This shows that several investors want to buy LEO given its upward trend.
This bullish momentum could be tied to Bitfinex's recent moves. In a recent blog post, the popular Bitcoin exchange is launching a trading platform called Bitfinex Securities. The idea is to enable small and medium-sized companies to list tokenized equities, bonds or funds and raise capital from investors.
The platform serves as a Launchpad for any company that looks to scale its growth as Bitfinex customers would generally invest in a listed company.
Buy LEO at eToro from just $50 Now!