UNUS SED LEO Price Up 2.47%- Time to Buy LEO Coin?
UNUS SED LEO establishes a strong bullish streak, as investors rush to buy LEO
Bitfinex launches support for Curve Derivatives
MATIC x Bitfinex: $188 million worth of MATIC inbound for staking on Bitfinex
The Bitfinex Utility token is outperforming the premiere digital asset in the global crypto market, with the token price growing by 2.47% in 24 hours. This price increase has led to significant growth in LEO's market capitalisation by 3.01% in the last day. This bullish streak is a strong signal to investors to buy LEO.
Bitfinex's customers can save trading costs by using UNUS SED LEO. The discount amount is determined by the amount of LEO in the customer's account. Therefore, the more transactions are performed on Bitfinex; the better LEO performs in the crypto market.
Bitfinex Derivatives Extends Support For Curve DAO
Bitfinex, a derivatives exchange, has announced the availability of a Curve DAO Token perpetual contract.
Derivatives are important in the crypto economy because they shield investors from price fluctuations and volatility.
This variant was introduced last week, but it appears to be gaining traction lately. The CRVF0:USTF0 contract, like comparable products, provides investors with tremendous leverage — up to 100 times. Traders, speculators and institutional money managers who want to hedge their risk profiles may be enticed by this.
Blockstream Mining Note Launches Tokenised Capital Offering on Bitfinex Securities
Bitfinex Securities has launched a capital round for Blockstream Mining Note, allowing institutional investors to have tokenised exposure to Bitcoin mining.
Considering that Bitcoin mining shares like Marathon continuously outperformed BTC in 2021, the tokenised 'note' will provide a fictionalised ownership share in Blockstream's Bitcoin mining revenues – an appealing offer for professional investors.
It's worth noting that Bitfinex Securities focuses on securities from innovative fintech start-ups that have been left out of conventional stock exchanges like Nasdaq — these are companies with a revenue of between $50 million and $100 million.
Unlike other exchanges that have only sought to tokenise well-known companies like Facebook or Apple, Bitfinex Securities is dedicated to helping innovative fintech start-ups thrive and expand.
When Web 3 transitions from a trendy buzzword to a new reality at the end of this decade, these companies might be the next Facebook or Google.
The Bitfinex Securities platform will be at the forefront of helping innovative enterprises to raise financing, expand, and eventually flourish via decentralised ledger technology. At Bitfinex Securities in 2022, you will witness the start of this journey.
Bitfinex to Receive $189M Worth of MATIC for Staking
Bitfinex has announced that it will receive $189 million in MATIC tokens from Polygon to sponsor greater staking rewards for users.
For the new staking scheme, Bitfinex will earn 90 million MATIC. Polygon is a "layer 2" scaling solution for the Ethereum blockchain that aims to improve transaction speed and efficiency.
Staking cryptocurrency is a way of verifying transactions on a blockchain and securing the network. In the instance of Polygon, users delegate MATIC to validators who run nodes in exchange for interest-like compensation.
According to the company, users can earn up to 41% in annualised staking rewards by participating in Bitfinex's new MATIC program, but it's only available for a short time.
However, according to stakingrewards.com, Binance's staking incentives for MATIC are 12%, significantly less than Bitfinex's rate. This higher percentage would potentially attract more investors to stake on Bitfinex and buy LEO.
Strong Bullish Trends Pique Investor's Interest in LEO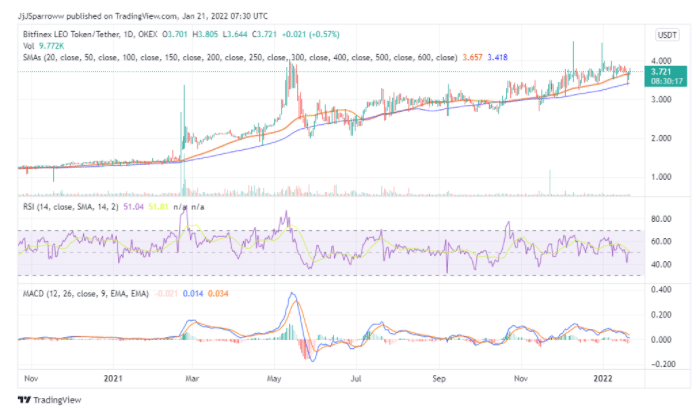 LEO price is up 2.47% in the last 24 hours, with a price peg of $3.721. The digital asset's technical indicators depict a strong bullish trend as the coin is trading above the 20-day moving average (MA) support price of $3.715.
The iFinex utility token is also trading above the 50-day simple moving average support price set at $3.657. In addition, the current price peg soars above the 100-day moving average support price point of $3.418.
Relative strength indicators show that LEO is trading in an underbought market. This is confirmed by the asset's Moving Average convergence and divergence indicator, with the yellow line in the lead, indicating a sell signal.
Buy Crypto at eToro from just $50 Now!