TRON Price Up 7.39% – Time to Buy TRON Coin?
The month has started on a positive note for cryptocurrencies, and investors are pushing to buy TRON and several other altcoins. The bulls are back and the market is green. TRON is looking especially encouraging, with the token's price seeing significant gains over the past 24 hours. So, is this a good time to buy TRON? We'll examine the details below.
TRON: Rewarding Content Creators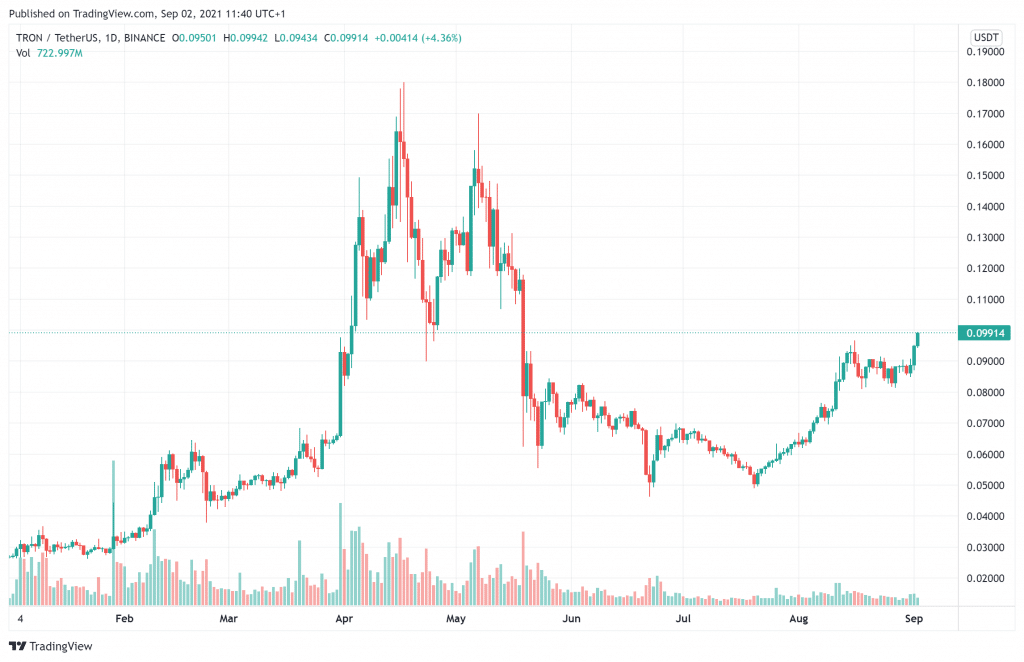 TRON is one of the most popular blockchains in the world. The protocol was built to primarily fill two purposes – creating decentralized applications (dApps) and sharing content online.
The primary purpose of TRON is to reward content creators who share their work online.
The platform looks to disrupt the media landscape, which is largely controlled by big organizations that can limit access to content based on any number of reasons. These companies will also take significant portions of the content creators' revenues – sometimes larger than what even the creators end up getting.
TRON uses blockchain technology and a peer-to-peer network to eliminate the middleman and bring content creators in direct contact with their consumers. The blockchain also supports the Solidity programming language, so developers can create apps on its platform.
TRON's structure is incredibly similar to that of Ethereum. Both blockchains have the same concepts, including smart contracts, tokens, dApps, and more. In fact, TRX was launched initially as an ERC20 token. Now, people can buy TRON tokens on its blockchain.
Today, the TRON ecosystem comprises several platforms and applications – most notable is the peer-to-peer file sharing service BitTorrent, which TRON acquired in 2018.
TRX: Price Movements in 2021
TRX has made some big jumps in 2021. Investors have moved to buy TRON as the blockchain itself is getting more functional. With more developers looking for alternatives to Ethereum, names like TRON have popped up.
Entering into 2021, TRX traded at $0.027. The asset son started to climb, notching one high after another. It eventually reached its climax at $0.180 on April 17. While the asset fell from that perch, it remained above the $0.12 line for most of the next month.
When the market slump eventually came, TRX was hit pretty hard. The asset fell from $0.170 on May 7 and hit $0.062 on May 19 – a drop of 63.5 percent in less than two weeks. But, the drop didn't stop there. TRX saw even more bearish movements, and it eventually bottomed out at $0.047 on June 22.
At its bottom, TRX had fallen by 73.8 percent from its all-time high. The asset has stayed in the doldrums since then, and it hasn't hit $0.10 since then.
With the market recovery now in full swing, TRX is looking up once more. Its one-month chart shows that it has jumped by 59.6 percent from $0.062 to a current price of $0.099. That price is a 7.39 percent jump in the past 24 hours and a 17.06 percent gain in the past week.
TRX: Technical and Fundamental Analysis
If you're looking to buy TRON, you want to know how its token has performed. TRX is quite shaky technically as its 20-day moving average (MA) of $0.088 is just about to catch up to it. The 200-day MA of $0.080 is also cutting close to the current price.
TRX will need another day or two of impressive gains to push past these averages. The asset's relative strength index (RSI)stands at 69.52, which is pretty strong from a buyer's perspective.
There is some news on TRON too. Last week, the developers partnered with Shopping.io to allow the latter's customers to pay for items online with TRX.
Buy TRX at eToro from just $50 Now!