Top Analysts Predict DeFi Coin (DEFC) to $2.20 in July
DeFi Coin (DEFC) has been listed for trading on popular cryptocurrency exchange BitMART and some analysts are predicting a massive bull's run for the price, which could see it rise towards $2.20.
With a BitMART trading competition already on the way, expectations are high of DeFi Coin making some sizable price gains in the coming weeks.
DEFC: Defying All Odds?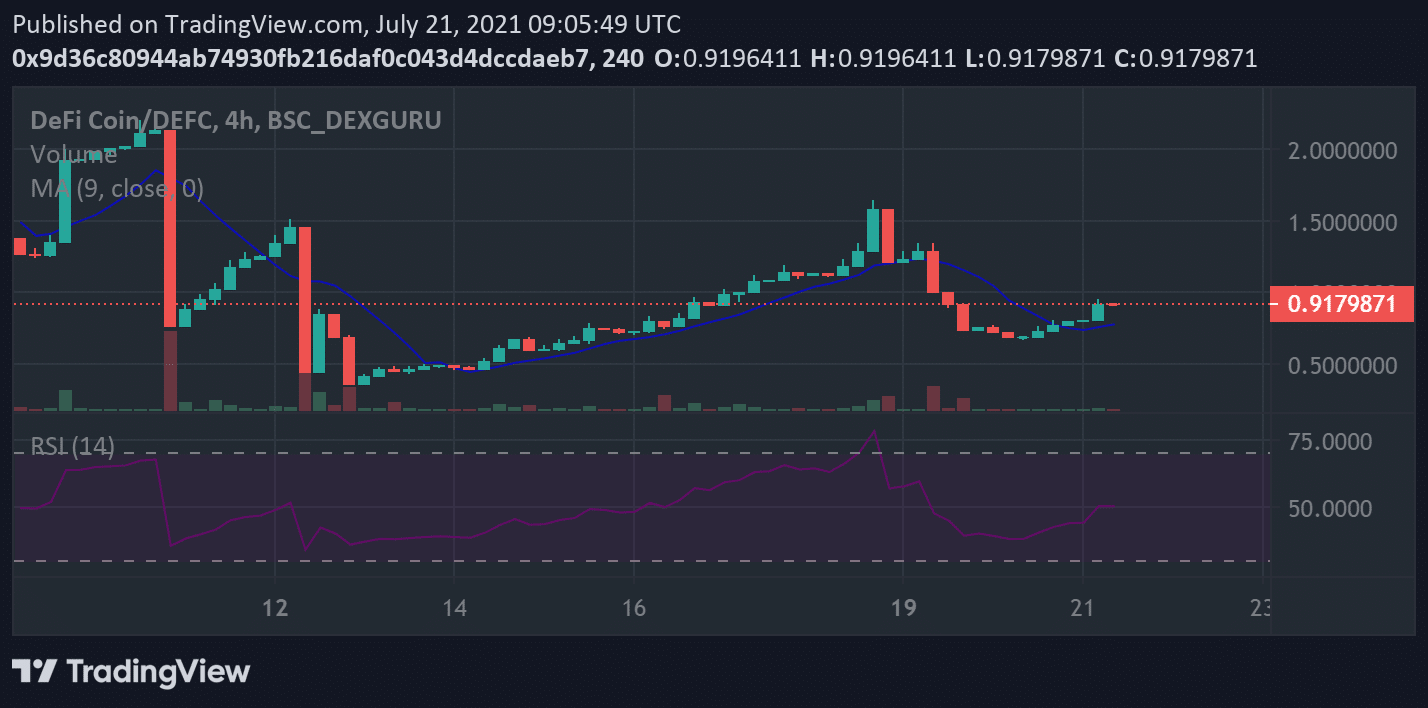 DeFi Coin launched in June 2021 to considerable fanfare at a pre-sale value of $0.10. The asset started with a launch price of $0.14, and it hit an all-time high of $2.5 earlier this month.
DEFC has defied all odds, pushing through multiple listings on centralized exchanges Vindax and Pancakeswap, some few weeks after launch. Since then, the value of DEFC had gone upwards before receding a bit. DEFC is the hottest coin right now. It even made it to #1 on our Best Defi Cypto Coin list. DEFC's decentralized platform DefiCoinSwap is nearly ready for beta.
When it launches, DeFiCoinSwap would enable users to trade assets over a decentralized medium. Beyond its exchange service, DeFiCoinSwap will offer users the option to exchange collectibles on its platform.
The exchange will also have a section for trading non-fungible tokens (NFTs) – users can purchase NFTs directly on the exchange, and they can choose whether to keep them or trade them immediately.
With a current price peg of $0.91, DEFC is up 32 percent in the last 24 hours, indicating renewed interest from investors. The asset is trading over its 20-day moving average (MA) of $0.77, and its relative strength index (RSI) stands at 50.1 – respectable levels.
Upcoming Trading Competition on BitMART
So far, DEFC supply is limited to just a few exchanges. However, the asset's new listing on BitMART opens it up to a much larger pool of investors. BitMART is also conducting a trading competition to celebrate the listing of DEFC.
To be eligible, you need to trade DEFC/USDT pairs and the top 50 traders ranked by the volume of their trades will receive the free tokens.
Users will be ranked based on their total trading volumes for DEFC, and the top 50 highest traders will share 40,000 DEFC tokens in the following manner:
1st: 5,600 DEFC
2nd: 3,600 DEFC
3rd: 2,400 DEFC
4th-10th: 1,200 DEFC each
11th-20th: 800 DEFC each
21st-50th: 400 DEFC each
The promo started yesterday and runs till August 4, 2021. Winning traders will receive their DEFC tokens in their wallets within 15 days.