ThorChain Price Up By 18.30% – Time to Buy RUNE Coin?
Please note that we are not authorised to provide any investment advice. The content on this page is for information purposes only.
The crypto market has seen a major upward climb in the recent few weeks. One of the top performers in the last 24 hours is the decentralised liquidity protocol, ThorChain. Since its Ethereum liquidity pool relaunch, ThorChain has shot up 283% in value from a July 20 low of $2.95. This increase has seen more investors snap up some RUNE coins.
RUNE: Making A Statement After Successive Exploits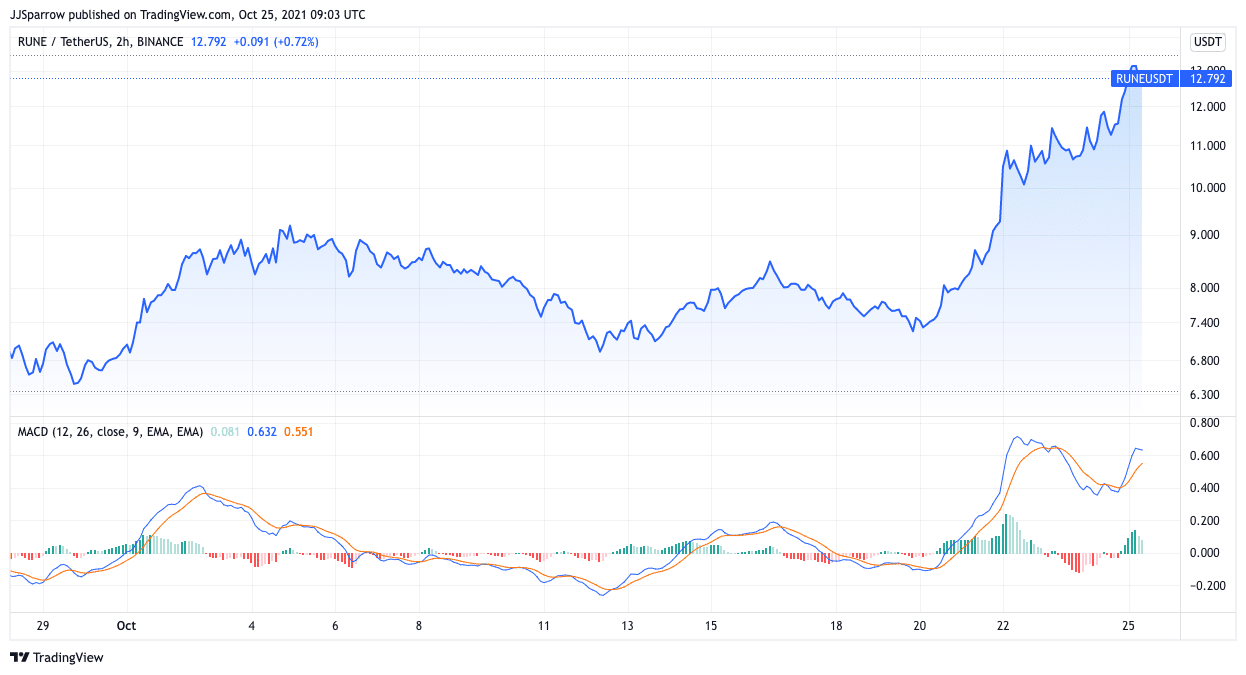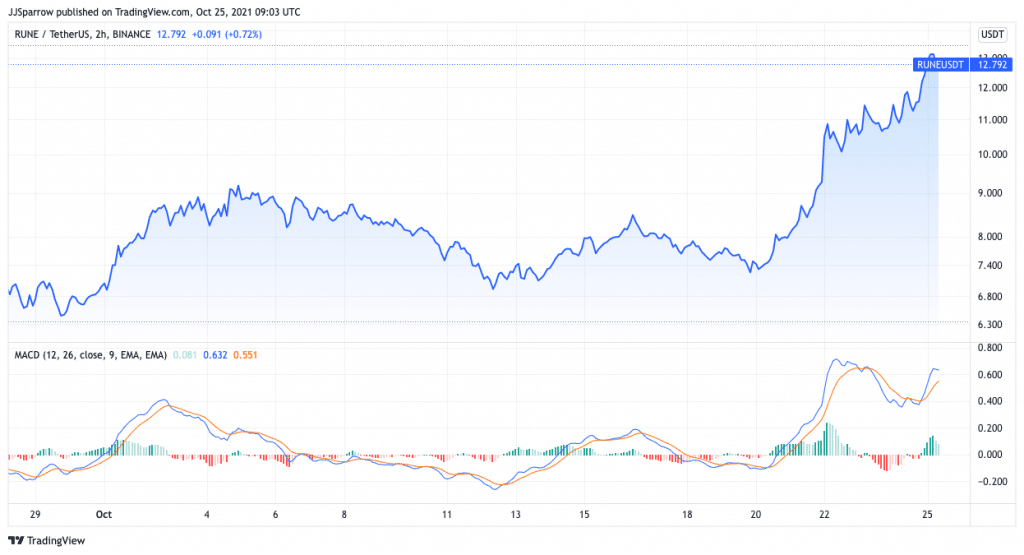 RUNE is making its way to the top of the crypto ladder. At press time, RUNE is up 18.30% and trades at $12.781.
Occupying the 56th spot on the most valuable crypto asset, RUNE has seen its market cap shoot up by 13.62%, and it currently has over $2.93 billion in net assets value (NAV). The rally has reflected positively on its 24-hour trading volume.
The asset has surged to 149.08% and sits at $225 million.
The current bullish run by the governance token comes after its value rose and ebbed significantly this year when it shot to $20.31 in mid-May. The asset dipped to $4.2423 on July 17 following the crypto market crash.
A successive series of attacks saw ThorChain lose over $13 million, forcing RUNE further down to $2.95 in the lowest so far, down over 200% from its 52-week high in May.
However, with the crypto market seeing a continued investment inflow, top-performing projects like ThorChain are expected to gain more attention, making this rally an ideal opportunity to buy RUNE and ride the crypto waves.
RUNE Technical and Fundamental Analysis
RUNE's technical indicators are quite impressive so far. The digital token has been showing strong bullish momentum in the last 24 hours. RUNE is soaring above the 20-day moving average (MA) support price of $8.71 with no intentions to retrace downward.
The 200-day MA confirms the bullish trend, and it trades above the longer-term indicator at $9.609.
The relative strength index (RSI) figure of 77.73 indicates that RUNE trades in the overbought region.
The RSI shows that more investors are looking to buy RUNE. The moving average convergence and divergence (MACD) indicator further confirm this bullish streak. The green trendline leads to the orange counter showing a buy signal. ThorChain's impressive one-week performance has been due to a series of strong fundamental performances.
In a tweet, the ThorChain team announced the reactivation of liquidity services across all of the five networks it supports.
According to the team, trading has been restarted on the Ethereum chain, with other networks like Bitcoin, Binance Coin, Litecoin, and Bitcoin Cash also seeing renewed trading activities. The Ethereum liquidity pool (LP) is expected to kick-start once the prices are corrected.
Aside from this, ThorChain plans to integrate more blockchains to its decentralised liquidity pool and enable users to exchange, and swap privacy coins Monero, Dogecoin, Dash, and several others.
Looking to boost its ecosystem further, the ThorChain team noted that it would be launching a series of new projects. According to the team, it would be expanding its Thor Finance (ThorFi) ecosystem with the launch of $RUNE, $THOR, $TGT, $BRO, and $SKIP on its decentralised Launchpad Thorstarter (XRUNE) platform.
Buy RUNE at eToro from just $50 Now!