ThorChain Price Up By 17.33% – Time To Buy RUNE Coin?
Despite suffering two successive protocol exploits, ThorChain remains a top decentralised exchange (DEX) liquidity protocol, and the growing market confidence as more investors look to buy RUNE. What's pushing the protocol's price? Could we see a further rally on the horizon? Let's find out.
RUNE: Rallying With The Broader Crypto Market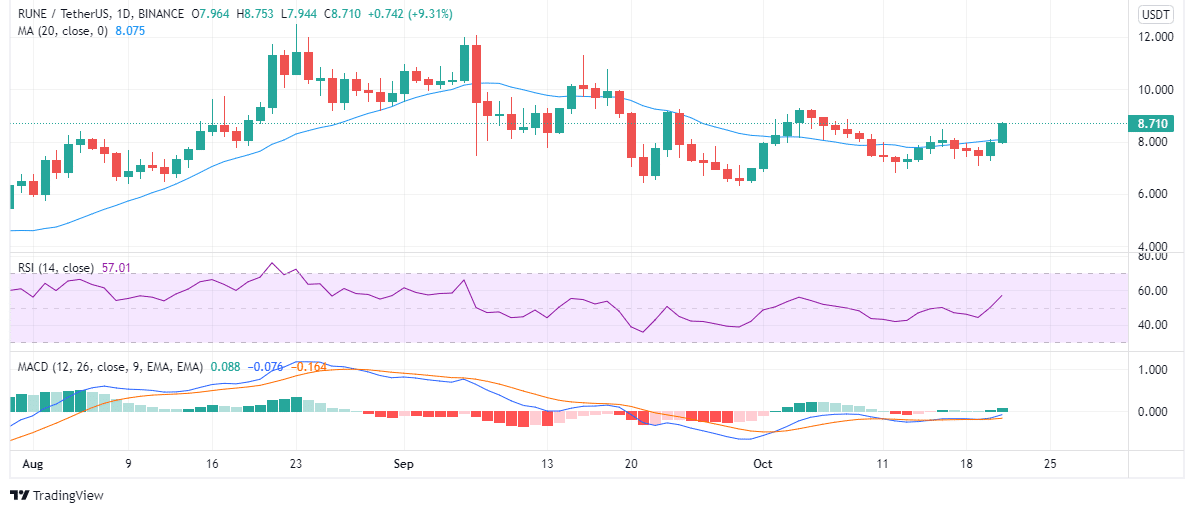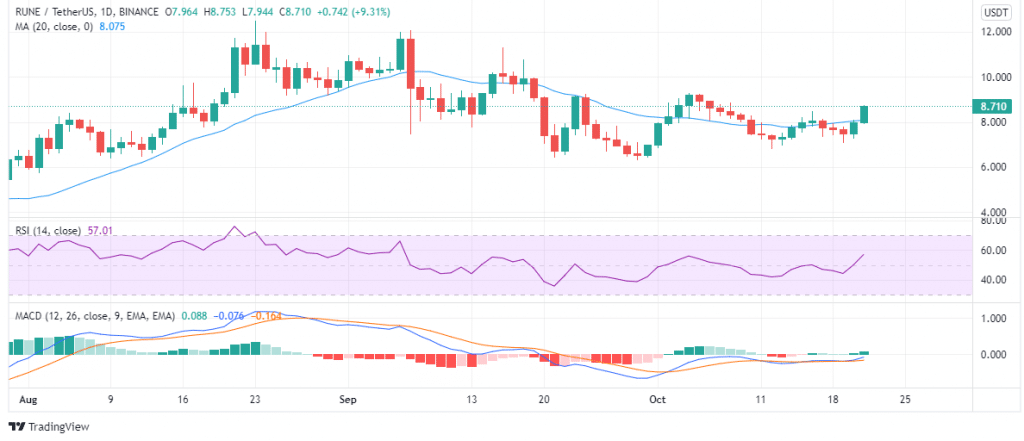 In a densely populated DEX space, ThorChain has been able to map itself out. It is the only DEX protocol that ensures continuous liquidity. It also allows users to swap any number of digital assets while never handing over the custody of the said assets. ThorChain has shot up by 17.33% in the past 24 hours and currently trades at $8.710, following a remarkable seven-day gain of 14.23%.
This impressive surge has seen RUNE see an uptick in its market cap, with its market valuation shooting up by 16.97% to $4.357 billion. Even more outstanding is its 24-hour trading volume, which is up by 76.78% and currently posts over $88 million in traded funds. RUNE has a market cap dominance of 0.07% and ranks 68th in the global crypto market.
Like several digital currencies, this year has seen RUNE grow phenomenally. The digital asset made a breakaway during the May crypto market rally, hitting a 52-week high of $20.31. However, the dip occasioned by Bitcoin's falling out of favour with Tesla and regulatory sanctions by China also saw RUNE plummet in price. The token touched a mid-year low of $3.4897 on July 22 before rebounding. This didn't deter investors seeking to buy RUNE.
The crypto market's recent rally indicates more growth of the digital asset, making this an ideal time to buy RUNE and rise with the market.
RUNE Technical and Fundamental Analysis
With the rally still in force, RUNE's technical performance is impressive. The digital asset soars above the 20-day moving average (MA) support price of $8.055, indicating a bullish trend in the short term.
However, it falls short of the 200-day MA price of $9.554. This is not expected to last long as crypto bellwether Bitcoin puts a strong foot and lifts the crypto market to new heights. A continued bull run will see RUNE retest the $15 resistance level and find support at $10 in the event of a market downturn.
The relative strength index (RSI) indicator shows more promising potential for RUNE. The digital asset is trading in the underbought region and stands at 58.38, with more buying frenzy anticipated in the coming days. This data indicates that this is a great time to buy RUNE.
The moving average convergence and divergence (MACD) show more promising results. The green trendline is rising above its orange counterpart, further making a case to buy RUNE now. RUNE's remarkable feat can be easily attributed to the crypto renaissance. Aside from this, the protocol has been working on making its liquidity network more secure from malicious attacks.
In a tweet, the non-custodial DEX platform announced the release of two new critical features for its node operators. The first called 'make pause/resume' will allow any node operator to temporarily pause the network for an hour in the event of an attack. This new measure will halt all incoming and outgoing liquidity into the protocol till the threat is addressed.
'Make Relay' will serve as a broadcasting service for validator nodes on the network and will be used to signal support, alert about attacks, and explain the reason behind a make pause.
Buy RUNE at eToro from just $50 Now!