ThorChain Price Down 11.48% – Time to Buy ThorChain Coin?
Please note that we are not authorised to provide any investment advice. The content on this page is for information purposes only.
ThorChain has been in the news recently, causing investors to wonder whether to buy RUNE – its native token. The asset's price hasn't been performing so well, but there could be an opportunity to buy the dip and get on the ground of something that's about to shoot up. Below, we'll examine ThorChain's operations and its recent price movements.
ThorChain: Taking Decentralized Exchanges Past the Liquidity Problem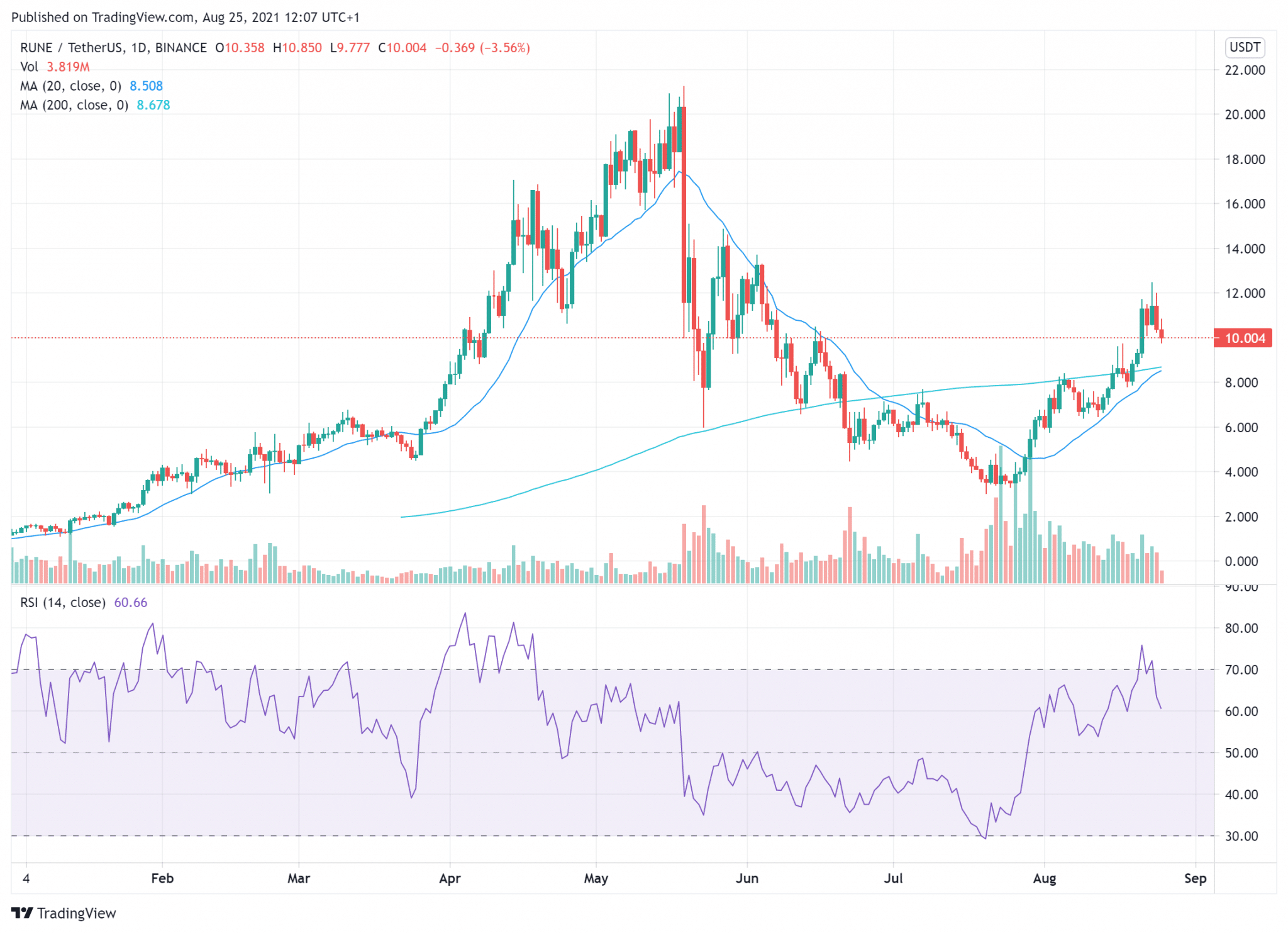 ThorChain is an interesting blockchain protocol. Built on the Cosmos Software Development Kit (SDK), ThorChain serves as a cross-chain decentralized exchange (DEX).
ThorChain uses an automated market maker (AMM) model used by several other top exchanges. Its native token, RUNE, serves as its base swap pair.
ThorChain was founded in 2018 to solve some of the issues with centralized cryptocurrency exchanges.
At the time, there was a growing belief that decentralized exchanges and non-custodial wallets would be the future. So, the developers of ThorChain set out to build an independent blockchain that could connect to external frameworks and make cross-chain transfers possible.
Most DEXs suffer from insufficient liquidity. Traders want to trade on platforms where they don't risk losing money due to slippage. But, they might also not have enough money to prevent slippage – something they're responsible for.
ThorChain is looking to solve this by using Continuous Liquidity Pools (CLPs). These pools offer assets to traders, allowing them to get the required liquidity without having to contact other traders.
Thanks to its AMM framework, ThorChain facilitates cryptocurrency swaps via an independent network to improve non-custodial exchanges of assets across disparate blockchain networks.
The protocol uses a cross-chain bridge system to connect different chains, ensuring seamless and quick exchanges.
ThorChain users can buy RUNE to add liquidity to the ThorChain. They can also buy RUNE for purposes like network participation and governance. Traders that provide liquidity to the pool get RUNE as a reward, and token holders can stake their RUNE to earn fees from other users' access to the pool.
Since its creation in 2018, ThorChain has seen a considerable increase in popularity. The protocol isn't quite as pop[ular as some of the biggest names in decentralized finance (DeFi), but there is a lot to be excited about nonetheless.
RUNE: Price Movements in 2021
RUNE has had an impressive year. The asset started 2021 trading at $1.24, and it quickly saw its price jump through successive highs. By May 19, investors had continued to buy RUNE, pushing its price to an all-time high of $21.32. Note that this is days after several large-cap assets had already started losing value due to the downturn.
But, the gains didn't last forever, RUNE was eventually affected in the downturn, and its price siped significantly. In just 4 days, RUNE had dropped to $6.073 – a drop of 71.5 percent from its all-time high.
The downturn didn't stop there. However, RUNE tried to mount a comeback, but successive slumps hit its price, and it went further in the red. Investors saw no reason to buy RUNE, and the token's price dropped to $4.52 on June 22 and again to $3.08 on July 22. The latter was a direct cause of the market selloff that happened on that month's penultimate week.
But, things look to be coming around. RUNE's value has almost tripled since last month, with the asset's one-month chart showing a jump from $3.42 to a current price of $9.97. That's a healthy jump of 191 percent in the past month.
RUNE's $9.98 value is currently down 11.48 percent in the past 224 hours but up 22.18 percent in the past week.
RUNE: Technical and Fundamental Analysis
RUNE is holding quite firm technically. The asset is trading above its 20-day moving average (MA) of $8.48, as well as its 200-day MA of $8.64. However, with the market currency correcting, RUNE's relative strength index (RSI) has dropped to 60.26.
With the asset fast approaching the underbought status, there might be an opportunity to buy RUNE around the corner.
As for fundamentals, the asset doesn't have much going on. ThorChain suffered two hacks in the space of a week last month, losing $7.6 million on July 16 and another $8 million to a possible white-hat hacker on July 23. The platform has assured users that they will be compensated.
Buy RUNE at eToro from just $50 Now!