Theta Fuel Price Up 10.831% – Time To Buy TFUEL?
Theta Fuel or TFUEL coin price has been phenomenal these last few weeks. To understand TFUEL, we need to dive into what Theta is. Theta token is a blockchain company that provides quality video streaming without the buffering issues we experience today. Theta allows a global pool of users to relay videos by offering their spare bandwidth and computing resources while rewarding them with TFUEL coin.
Theta uses two native tokens in its platform, including Theta Token (THETA) for voting on governance and Theta Fuel (TFUEL) for executing transactions.
TFUEL Powering Next-Generation Video Delivery Service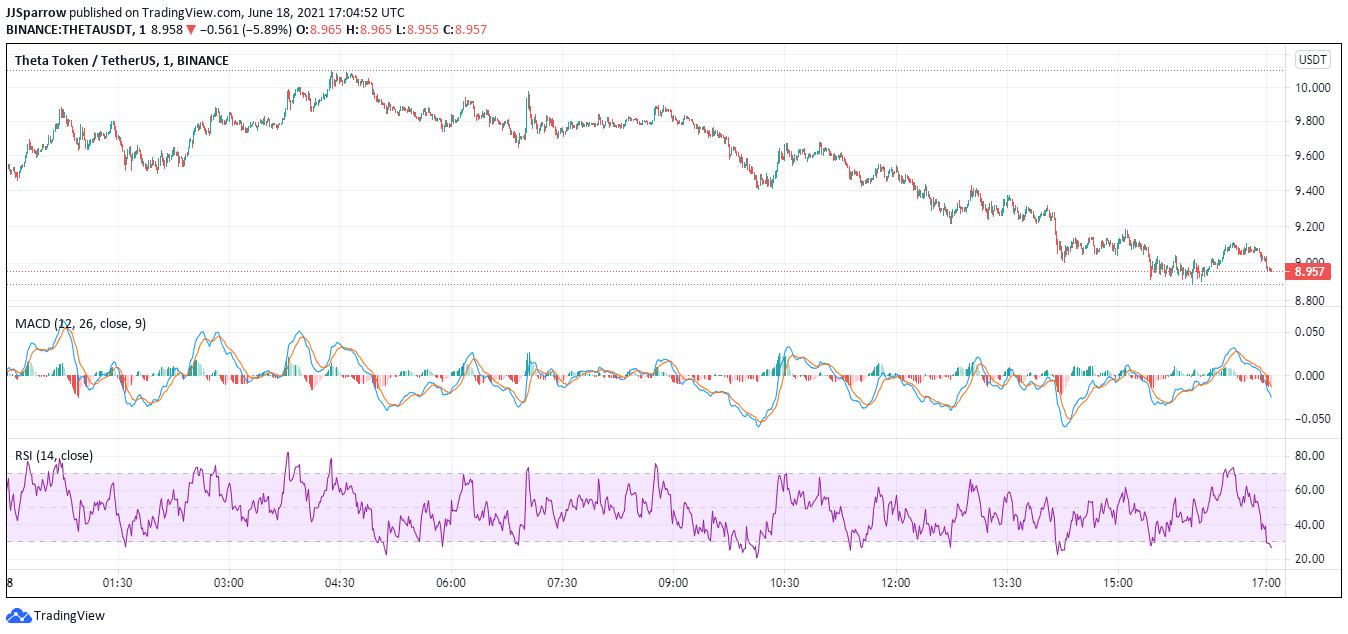 CDNs, as we know, are not scalable given the growing demand placed on them. According to a Cisco research finding, about two-third of internet use is primarily targeted towards video streaming. This figure could still rise to 82% in the coming months. This shows a huge demand for a reliable video delivery system.
The Theta blockchain does this perfectly as it is powered by enterprise validator nodes run by companies like Google to validate transactions on the Theta network. Also, over 4,000 community-owned guardian nodes are thrown into the mix to ensure the continued integrity of the Theta network.
This sees it use a multi-level Byzantine Fault Tolerance which allows it to provide strong security while ensuring high transaction volume and speed, which is important for streaming services and micropayments.
Theta has also enjoyed a first-mover advantage (FMA) in the decentralized video delivery business. The blockchain has over 300,000 fledgling communities in 149 countries. Users can earn TFUEL tokens on the Theta website by watching videos while content creators are paid for uploading videos.
Theta has also made strategic partnerships with the National Aeronautics and Space Association (NASA), MGM Studios to post videos on the Theta network.
The forthcoming mainnet launch of its v3 protocol is gaining much attention given the added features coming with the upgrade.
According to the Theta team, the launch set for the end of this month would incorporate non-fungible tokens (NFTs), which are digital collectibles on the blockchain.
Cross-chain bridges would also be integrated, making it easy for content creators to transfer, store, and create digital assets all on the Theta network.
67% of all retail investor accounts lose money when trading CFDs with this provider.
TFUEL Coin Price Action
TFUEL is one hot crypto that crypto investors are actively monitoring, but like the broader crypto market, the native token of the Theta network has seen negative price action as well.
This has predominantly been orchestrated by twin incidents affecting Bitcoin, the public bashing of the top crypto asset by Tesla boss Elon Musk and China's ban of crypto payment in the country. The crypto market has been volatile ever since.
However, the TFUEL coin price is indicating a bullish trend line at $0.5752. The 20-day moving average (MA) support also shows a bull market with the token above the indicator at $0.47.
Looking at its relative strength index (RSI), TFUEL coin price surged beyond the 63 mark. The moving average convergence and divergence (MACD) is trading above the slow indicator at 0.05.
Looking at its long-term potential on the 200-day MA, TFUEL coin price is bullish, trading above the indicator with no sign of it coming down any time soon.
Looking to Buy TFuel Coin now? Invest at eToro!
67% of all retail investor accounts lose money when trading CFDs with this provider.