Tesla Share Price Forecast September 2021 – Time to Buy TSLA Stock?
Shares of American electric vehicle and clean energy company Tesla (. ) are in the green today, closing at $743 as of September 13th (19:59 UTC-4). Tesla has inspired a range of emotions from investors, consisting of devoted fans to dedicated critics. At its current market cap, Tesla is worth more than the next 6 automakers combined.
Tesla – Technical Analysis
According to Tesla's financial statement, the company's current market cap is at $735.581 billion with total assets worth $55.146 billion. Revenue for 2020 was at $31.54 billion with a profit margin of 2.19% compared to $24.58 billion in 2019.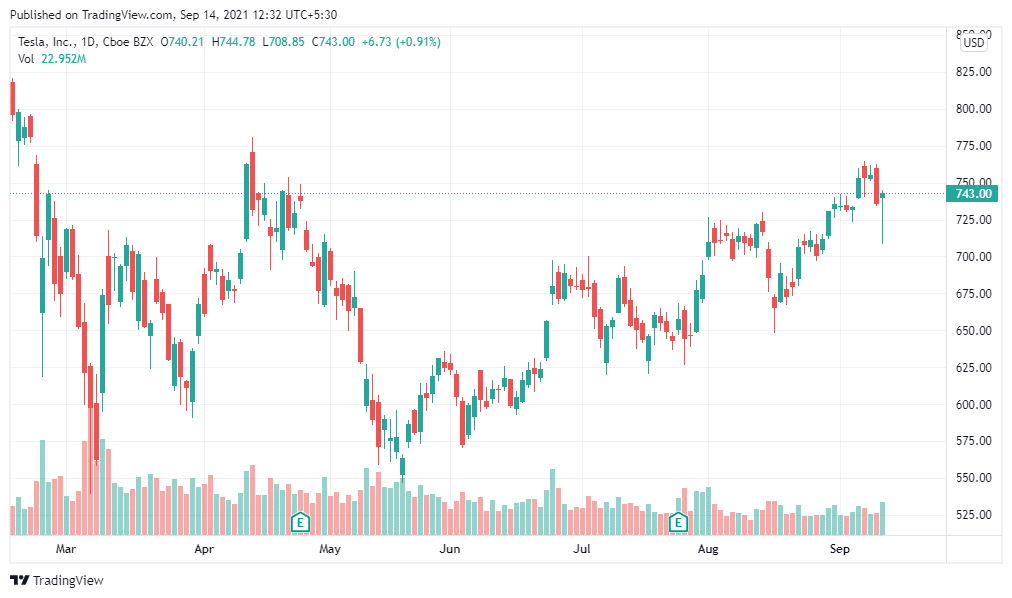 Moving averages such as Exponential Moving Average (10)(737.45), Simple Moving Average (10)(740.76), Exponential Moving Average (20)(724.85) and Simple Moving Average (20)(717.06) are indicating a buy action for Tesla. On the other hand, Stochastic RSI Fast (3, 3, 14, 14)(59.61), Williams Percent Range (14)(−32.10), Bull Bear Power(−13.21) and Ultimate Oscillator (7, 14, 28)(56.47) are neutral.
67% of all retail investor accounts lose money when trading CFDs with this provider.
Recent Developments
Tesla has had a great 2020 where it delivered a record 499550 vehicles which resulted in the company's first-ever annual profit. It produced more than 200,000 cars in Q2 which was it's most yet in a single quarter which also resulted in its revenue doubling year over year to reach $12 billion. The surge in profitability also allowed net income to reach $1.1 billion. Other positive figures include an increase of 11% in the company's operating margin which was 5.4% a year ago. It has also generated a serious amount of free cash flow, reporting $619 million for Q2 which was an increase of 48% year over year.
Tesla is well-positioned to benefit from the entire auto industry's shift towards EV manufacturing. It is also starting to venture into adjacent markets such as driverless vehicles and robotaxis. However, Tesla's sky-high valuation leaves it susceptible to a lot of other factors. The challenging car manufacturing industry is known for experiencing operational issues from time to time. The company's current valuation is also based upon the futuristic plans in the pipelines, most of which is still in the fledgling stages. Failure in any of these plans may result in Tesla shares losing their great valuation and come crashing back down.
Should You Buy TSLA Shares?
If investors look at Tesla as simply an EV company then the shares might seem expensive. However, the narrative changes if we consider it as an AI company with EVs as one of its ventures. According to Ark Invest, Tesla plans to launch an autonomous ride-hailing service which would create a $ trillion industry by 2030.  The autonomous car project can also open other doors. For example, the company can provide the license for its full self-driving platform to other automakers. This market is estimated to be $250 billion by 2030.
Despite the company's clear manufacturing and sales momentum, forecasting its third-quarter deliveries is difficult because of the unusual supply chain and logistics involved.  Q2 was plagued by the global semiconductor shortage and port congestion issues. Management expects that these problems will persist in Q3 as well. In spite of this, the company has reiterated its guidance for 2021, with deliveries expected to grow more than 50% over 2020. This translates to more than 364000 deliveries in the second half of 2021. Considering all of this, TSLA is a stock on the rise and investors would be foolish to pass out on this opportunity.
Buy TSLA Stock at eToro for just $50 Now!