Tesco Share Forecast January 2022 – Time to Buy TSCO?
Please note that we are not authorised to provide any investment advice. The content on this page is for information purposes only.
Shares of supermarket giant Tesco (LSE: TSCO) are in the red today, after closing at 289.70p as of January 13th (18:45 GMT). Tesco's management has upgraded its expected annual earnings after receiving a boost from Christmas sales.
Tesco – Technical Analysis
Tesco's financial statement indicates a market cap of £22.233 billion with total assets worth £47.094 billion. Revenue for 2020 was at $57.89 billion with a profit margin of 1.52% compared to £58.09 billion in 2019.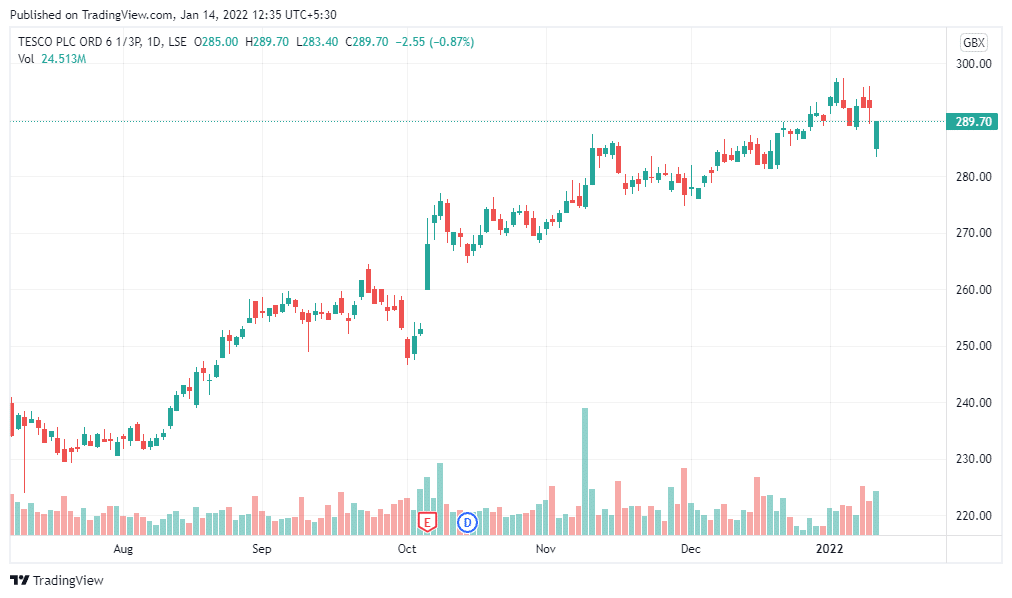 Moving averages such as Exponential Moving Average (20)(289.25),  Simple Moving Average (20)(289.23), Exponential Moving Average (30)(287.23),  Simple Moving Average (30)(286.59) and  Exponential Moving Average (50)(283.01) are indicating a buy action. Oscillators such as Stochastic RSI Fast (3, 3, 14, 14)(16.45), Williams Percent Range (14)(−55.00),  Bull Bear Power(       −8.08) and Ultimate Oscillator (7, 14, 28)(51.48) are neutral.
68% of all retail investor accounts lose money when trading CFDs with this provider.
Recent Developments
Founded in 1919, Tesco was floated on the stock exchange in 1947. Since then it has become the UK's largest supermarket chain. It recently completed a merger with Booker, the United Kindom's largest food wholesale operator. Tesco has diversified over the years, entering into sectors such as books, clothing, electronics, furniture, toys, petrol, software, financial services, telecoms and internet services.
Tesco has had a successful 2021 as the company started to focus on the more lucrative European markets. This allowed Tesco to shed its Asian operation which made a £5 billion special dividend payment and £1.7 billion debt reduction possible last year. After registering its highest market share in the UK in four years, Tesco rode the economic recovery brilliantly. This allowed the company to record total sales worth £30.4 billion and an operating profit of £1.3billion.
Tesco recorded strong sales over the six weeks to January 8th with total sales growing by 3.2% this year compared to 2020 and 8.8% compared to 2019. Management has thus increased its previous guidance from £2.5 billion to £2.6 billion. Tesco has introduced a new Clubcard rewards program for customer discounts. As a result, Tesco's app currently has 8.5m Clubcard users, with 90% of promotional sales being at discounted prices.
Should You Buy TSCO Shares?
Investors should always keep an eye out for inflation in the United Kingdom. Commodity prices have been rising due to the effects of a two-year lockdown and have affected almost all sectors. For Tesco and other supermarkets, expenses related to raw materials, fuel, transport and labour are eating into their already thin profit margins.
Rising costs can easily trickle down to consumers, increasing the prices of products. This cant come at a worse time as consumers are already gravitating towards discount retailers like Aldi and Lidl. Both these discount retailers have jumped in market share and are posing a threat to Tesco. The company is also being challenged by the rise of Ocado's automated warehousing and robotic efficiency with grocery deliveries.
Currently, TSCO shares are at 289p, which means they are trading at a forward price to earnings ratio of 3.3 times.  The company's 3.17% dividend yield is covered well by earnings. While investors feel that the share price is cheap on paper, they should wait for the price to drop further before investing. Tesco has a lot of variables to navigate right now. The coming quarter will be filled with challenges posed by competition from discounters and rising food costs. Considering this, you can add the shares to your watchlist for the time being. But due to the uncertainty surrounding the Omicron variant, investors should wait and see how 2022 plays out for Tesco before considering investing.
Buy TSCO Stock at eToro from just $50 Now!