Syscoin Price Up 9.45% – Time to Buy SYS Coin?
Please note that we are not authorised to provide any investment advice. The content on this page is for information purposes only.
There's been a tremendous amount of interest in the SYS price, with the coin currently outperforming the broader market. The market is still looking to oil out of its bearish momentum – a process that could take a day or two. So, investors might be looking to Syscoin for gains in the meantime.
If you're such an investor, you'd want to know more about Syscoin and the SYS price. Let's dig deep and find out more about this project.
Syscoin: High Throughput and Seamless Cross-Chain Functionality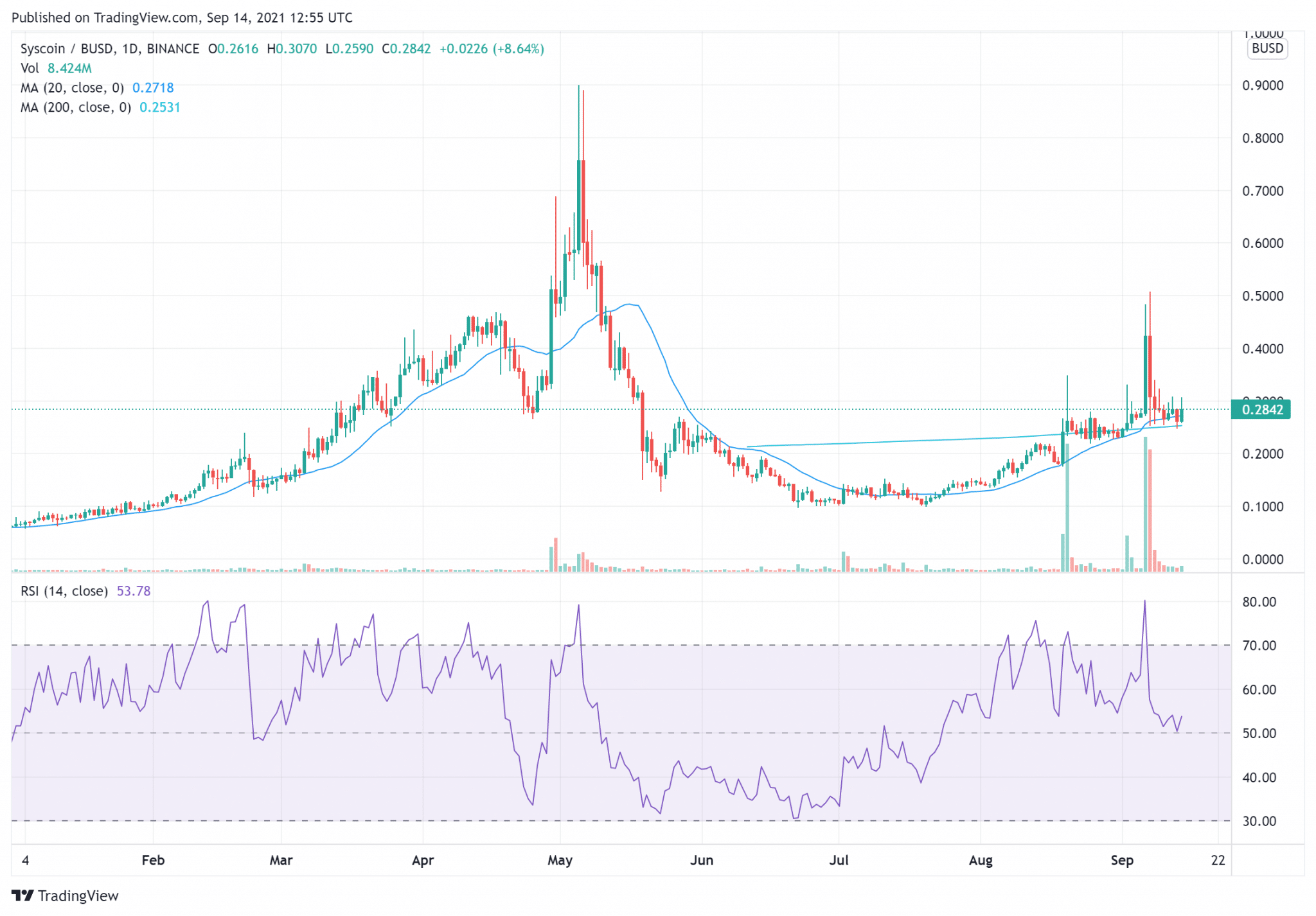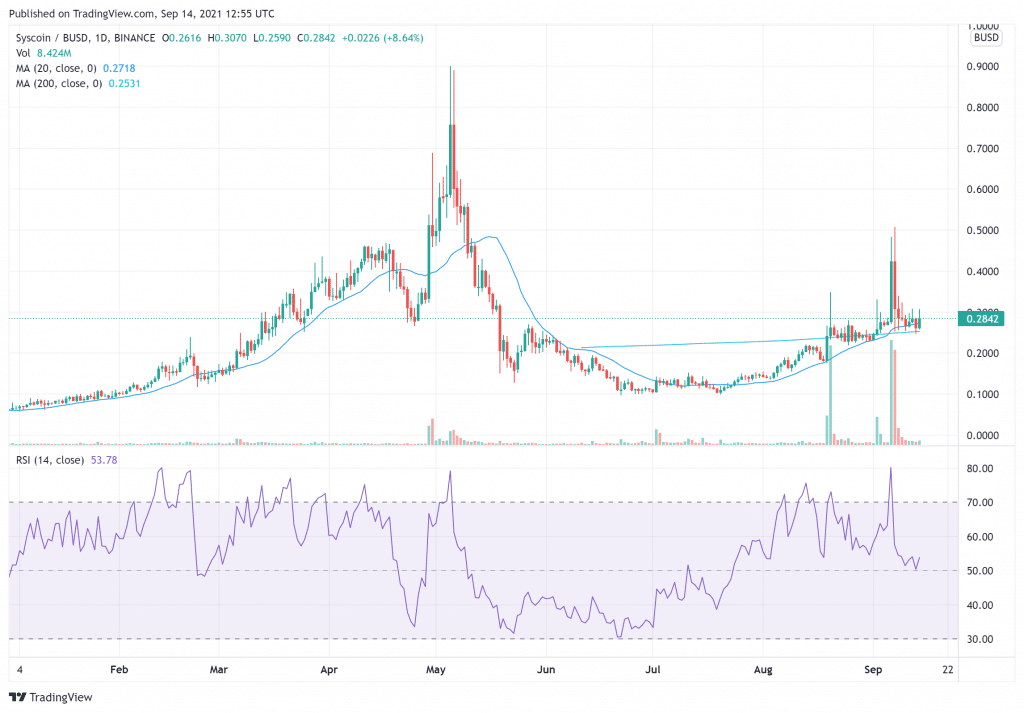 Syscoin is a public decentralized blockchain and development platform that offers a high throughput and cross-chain interoperability to tokenized assets. Launched in 2014, the platform initially acted as a blockchain protocol that expanded on Bitcoin's concepts to offer additional services – such as smart contracts – to create a decentralized marketplace.
Today, Syscoin operates as a fully functional blockchain. It allows users to create their own tokens, and it is compatible with smart contracts. Users will also appreciate the Syscoin Bridge, which offers interoperability with the Ethereum blockchain. Ethereum developers can move ERC-20 tokens between the blockchain snd Syscoin, where they can benefit from its scalability and high throughput.
SYS is the native token for the Syscoin ecosystem. The asset functions like every native token, offering a way to process micropayments and handle gas fees. The SYS price is tied significantly to its adoption.
SYS: Price Movements in 2021
SYS has traveled the same trajectory as many other cryptocurrencies. The asset started 2021 trading at $0.06, and it rode on the larger market rally to notch new highs over the next few months.
The SYS price eventually hit an all-time high of $0.89 – a jump of 1.383 percent from its starting point in the year. The market downturn eventually affected this price, although SYS had started its slump a bit earlier than many other coins.
Thanks to the market slump, the SYS price dropped to $0.12 on May 23 – marking a drop of 86.5 percent in less than three weeks. The slump would be especially challenging for SYS since the coin wasn't especially popular.
With the market going through several other bearish cycles, the SYS price eventually bottomed out at $0.09 on July 19. When the market recovery began, SYS started its long climb. August was a relatively good month for the SYS price, which rose from $0.14 to $0.23 – a jump of 64.2 percent. The gains continued even stronger in September, with SYS hitting $0.50last week. But, after major coins retreated once more, the coin's value dropped significantly.
SYS currently trades at $0.285 – up 9.45 percent in the past day, but down 20.46 in the past week.
SYS: Technical and Fundamental Analysis
The SYS price is currently at an important point technically. Its 20-day moving average (MA) stands at $0.276, and its 200-day MA is not far behind at $0.257. The coin will need to keep posting gains to stay afloat and prevent a downward push.
The coin's relative strength index (RSI) is at 54.09. The metric has been dropping over the past few days, after hitting a high of 80 on September 6 – just a day before it crossed $0.50. This shows that investors are starting to ease off SYS. There's not much to tie to the SYS price movements. The coin is relatively silent, and its developers haven't announced any major upgrades. However, investor sentiment is a bit mixed on the coin, and you would want to approach it carefully.
Buy SYS at eToro from just $50 Now!