Synthetix Up By 19.75%. Time To Buy SNX Coin?
If you are looking for a crypto project that could have massive future returns, then you should buy SNX. This article explores the fundamentals of the Synthetix network.
SNX, the native token of Synthetix, a decentralized finance derivatives protocol, has had a good run so far. The asset increased tremendously and hit its all-time high of $28.77 in February this year.
Although it has plunged since then due to a number of factors, the token's price now seems to be reversing its downward trend. Over the weekend the price climbed high over 15%.
SNX: One Of The Upcoming DeFi Tokens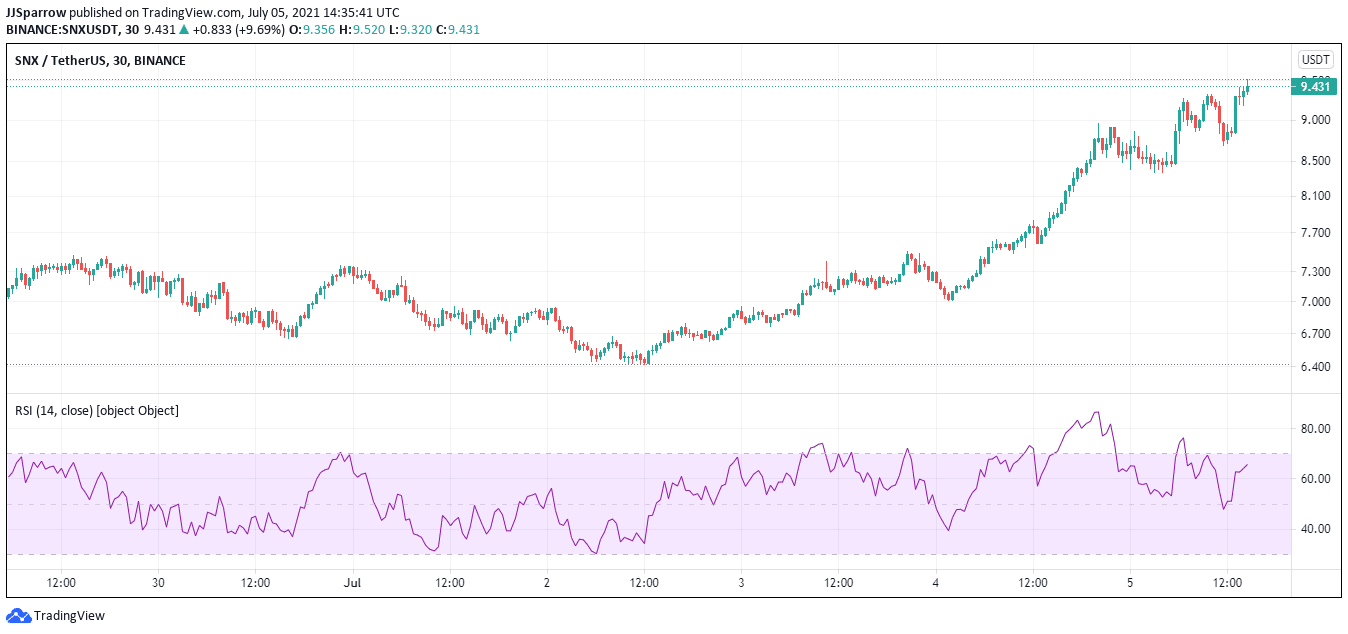 Synthetix is a decentralized exchange (DEX) that enables users to buy and sell synthetic assets using smart contracts. It is also a decentralized finance (DeFi) protocol that provides exposure to a wide variety of crypto and non-crypto assets.
The Synthetix protocol uses a proof-of-stake (PoS) consensus built on the Ethereum blockchain. Synthetic assets also referred to as Synths, are assets in the form of ERC-20 smart contracts that track and provide the returns of an underlying asset without requiring one to hold the asset.
The SNX token is the protocol's governance token used by Synthetix holders to vote on proposals and earn returns from the network fees. SNX tokens are also used as collateral for the synthetic assets that are minted.
Founded in 2017 by Kain Warwick, Synthetix was first known as Havven (HAV) before it was changed to Synthetix a year later. In early 2018, Synthetix raised approximately $30 million through an Initial Coin Offering (ICO) from the sale of its SNX tokens.
Since its launch, Synthetix has grown exponentially surging to an all-time high (ATH) of $28.77 this year. A week ago, the protocol announced it hit roughly one billion in Synth trading volume in one month. This indicated 15% of its total tracked volume of about $6.75 billion.
67% of all retail investor accounts lose money when trading CFDs with this provider.
What is SNX Price?
If you are a value-driven investor you should be interested in the price movements of Synthetix if you intend to buy SNX.
Synthetix debuted in the crypto market at $0.49 in March 2018. However, it closed the year in the red trading at $0.03819 falling over 100%. In 2019, the token grew by 205% when it ended the year trading at $1.2257.
In 2020, the token plummeted back to below $0.4 during a crypto crash that saw many assets fall in March. SNX then began to recover and reached the $7 mark in December.
One of the factors for this is the listing of SNX on major crypto exchange Coinbase's platform. Coinbase had listed various DeFi tokens in December like AAVE, BNT, and SNX.
In February 2021, SNX went as far as hitting $28.77 before it dropped again. As of Friday, the token was at the $6 mark. However, it is currently trading at $9.03 and is up 19.75% in the last 24 hours.
SNX Technical And Fundamental Analysis
On the trading chart, SNX has strong technicals. Crypto investors are beginning to see the token as a good investment opportunity hence the need to buy SNX.
The digital asset's relative strength index (RSI) is bullish at 72.52 on the daily chart. Reinforcing this uptrend is the wolfpack ID strategy which shows the green line trailing upwards.
SNX's 20-day moving average (MA) is at $9.02 while its 200-day MA is at $8.99 signaling a bullish trend. The Moving Average Convergence Divergence (MACD) is also bullish as it is trailing upwards above zero. These indicators show investors that it is a good time to buy SNX.
In terms of fundamentals, Synthetix is doing great. Last month, Swiss digital asset bank, Sygnum launched regulated banking services for tokens of leading DeFi protocols including Synthetix. Other assets launched include Aave, Aragon, Curve, Maker, Uniswap and 1inch Network.
Synthetix described the collaboration with Sygnum as a unique milestone in the DeFi sector. The protocol also talked about the Total Value Locked (TVL) in DeFi applications which have surged from $1 billion a year ago to $60 billion.
Buy Crypto at eToro, the World's #1 trading platform!