Sundial Growers Stock Price Rises 4% – Time to Buy SNDL Stock?
Sundial Growers (SNDL) stock rose almost 4% yesterday. The stock is up almost 53% so far in 2021 but has crashed 79% from its 52-week highs.
Sundial Growers was among the names that were targeted by the Reddit group WallStreetBets. The stock rose sharply amid the short squeeze but has since fallen. The same holds for other Reddit stocks like Naked Brands, AMC Entertainment, and Clover Health. With SNDL stock down sharply from the peaks should you consider buying it now?
Sundial Growers stock technical analysis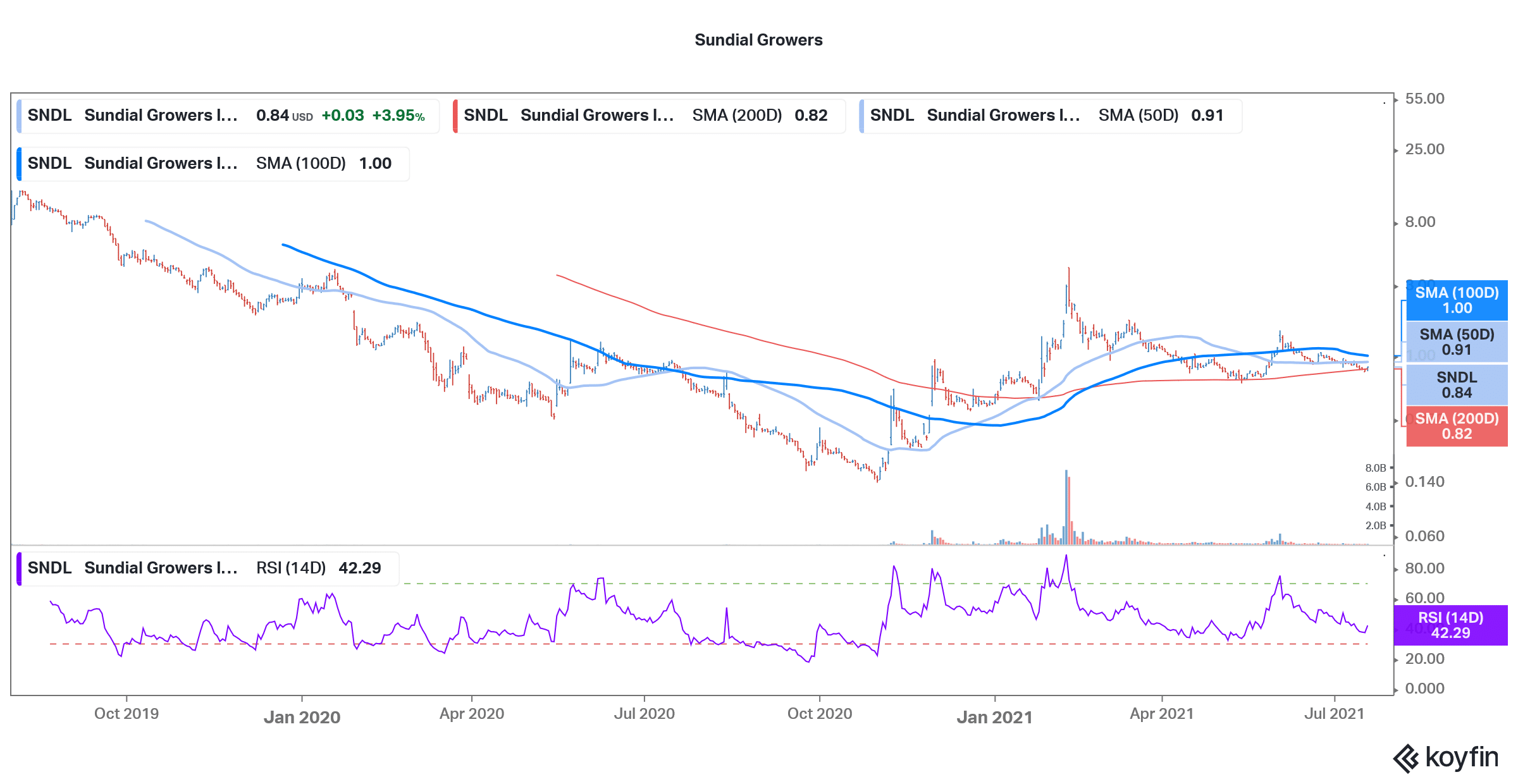 Sundial Growers stock is looking bearish on the charts. It has fallen below the 30-day, 50-day, and 100-day SMA (simple moving average). The stock however trades above the 200-day SMA which has been strong support. If the stock fails to hold the 200-day SMA it could fall even further from these levels. The 12,26 MACD (moving average convergence divergence) also gives a sell indicator. SNDL has a 14-day RSI (relative strength index) of 42.3 which is a neutral indicator and indicates neither overbought nor oversold positions.
67% of all retail investor accounts lose money when trading CFDs with this provider.
SNDL recent development
SNDL has mostly been in the news due to its investment activities. From facing a survival crisis in 2020, the company is cash-rich now, thanks to the massive share issuance that it did amid the Reddit-fuelled rally. In May, SNDL had announced a deal to acquire Inner Spirit for $131 million. It was a mix of cash and equity.
In its most recent update, the company said that it has $623 million as cash and cash equivalents which is very healthy. It has another $273 million as investments on the balance sheet. The company has been using the surplus cash to invest in other cannabis companies. These investments will help drive shareholder value in the future.
Sundial Growers on an acquisition spree
Yesterday, the company announced that it has completed the acquisition of Spiritleaf cannabis retail network in a cash and stock transaction. Commenting on the acquisition, Sundial Growers said that "Acquiring Spiritleaf broadens Sundial's business with a strategic entry into cannabis retail and enables greater access to and understanding of retail markets, product marketing insights and consumer purchasing trends."
Earlier this month, it also announced that it has increased its commitment to SunStream Bancorp Inc to 538 million Canadian dollars. The joint venture is looking at opportunities in the cannabis sector.
SNDL posted adjusted EBITDA
SNDL posted a positive adjusted EBITDA in the most recent quarter because of the income that it received from these investments. The core operations meanwhile haven't been doing well but the company has been working on a turnaround by focusing on value-add cannabis products. The company now operates under two business segments, cannabis, and investments.
Sundial Growers stock forecast
Since Sundial Growers is a penny stock, not many analysts cover it. Its median target price of $0.69 is a 18.1% discount over current prices. Its highest target price is $0.80 while the lowest target price is $0.43. Of the five analysts covering the stock, four have a hold rating and one has a hold rating.
In May, Canaccord Genuity had upgraded SNDL stock from a sell to hold. Yesterday, ATB Capital analyst David Kideckel upgraded the stock from an underperform to a sector perform. He sees Sundial Growers as a different company and finds it "attractive" under the leadership of Zach George.
Should you buy SNDL stock?
SNDL stock looks like a good buy. The company has been investing the money wisely and these investments will add shareholder value in the medium to long term. The core cannabis business should also turn around as cannabis sales in Canada improve from the pandemic lows. Sundial Growers might also consider acquiring a US-based cannabis company to expand its business in the country.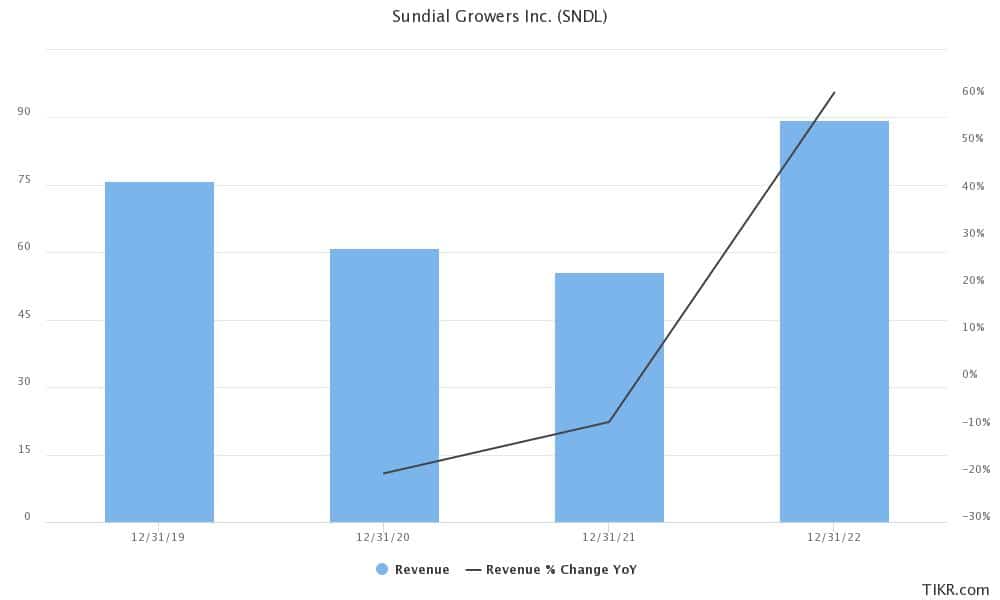 Marijuana legalization
So far 18 US states have legalized recreational marijuana use while 37 have allowed medical marijuana. Democrats have been pushing for federal marijuana legalization even as Republicans don't look amenable to that. Democratic Senators have unveiled the Cannabis Administration and Opportunity Act to decriminalize marijuana at the federal level.
"The War on Drugs has too often been a war on people, and particularly people of color. Not only will this legislation remove cannabis from the federal list of controlled substances, but it will also help fix our criminal justice system, ensure restorative justice, protect public health, and implement responsible taxes and regulations," said Senate majority leader Chuck. Schumer.
Risks of investing in Sundial Growers
There are risks associated with SNDL though. The company has been making acquisitions through new shares which will further add to its already massive outstanding shares. Also, under Canadian laws, it risks being classified as an investment company. The company also needs to show a sustainable improvement in its core cannabis business. That's said, overall, the risk-reward looks favorable at these prices for Sundial Growers.
67% of all retail investor accounts lose money when trading CFDs with this provider.